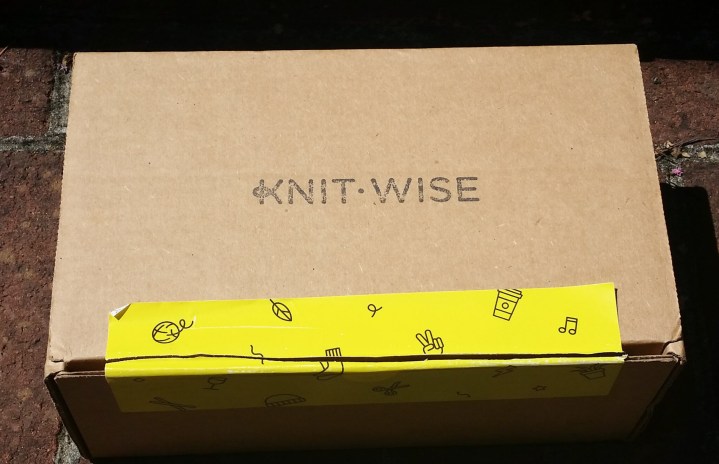 Knit-Wise is a monthly box that arrives with everything you need to create a hand knit project, so you can spend more on the fun part.  According to the site, you will build new skills, save time and money, and learn at your leisure.  You can choose your skill level – either beginner or intermediate/advanced.  I'm a fairly proficient knitter, so I picked the "intermediate/advanced" level.  Subscriptions start at $29/month.
Here's a look at everything in the box.  Knit-Wise promises knitting projects from accessories to home items.  This month's project is stitched necklaces.
Knit-Wise provides nearly all the supplies you need for the project, making it super easy to pickup and finish a project without having to go to the craft store for this and that.  I appreciate that!  Also, in my first Knit-Wise box that I reviewed (see here) this winter, I got a nice muslin bag for carrying my project while I was working on it.  I'm still using that bag for my projects now.
Let's take a closer look at what was in the box and what I made!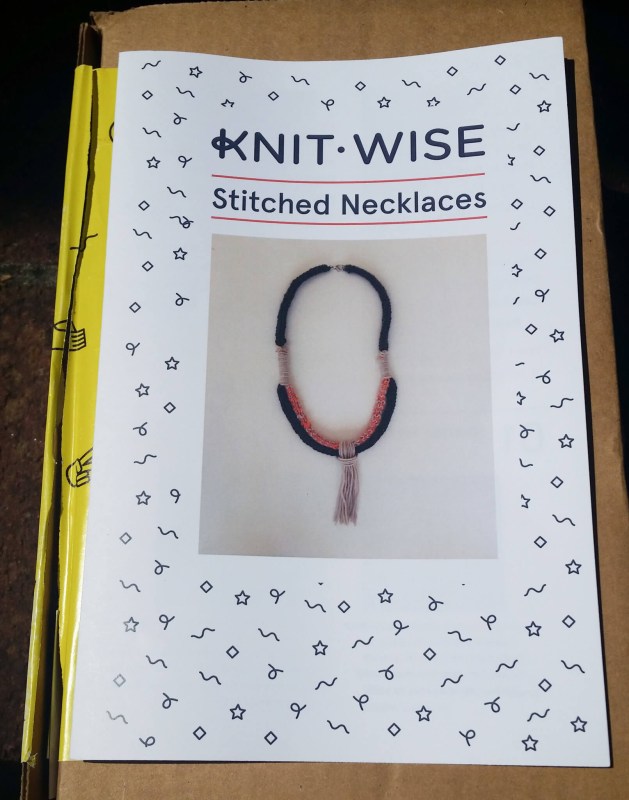 Instructions:  The front of the instruction booklet introduces the project with a picture – this looks pretty!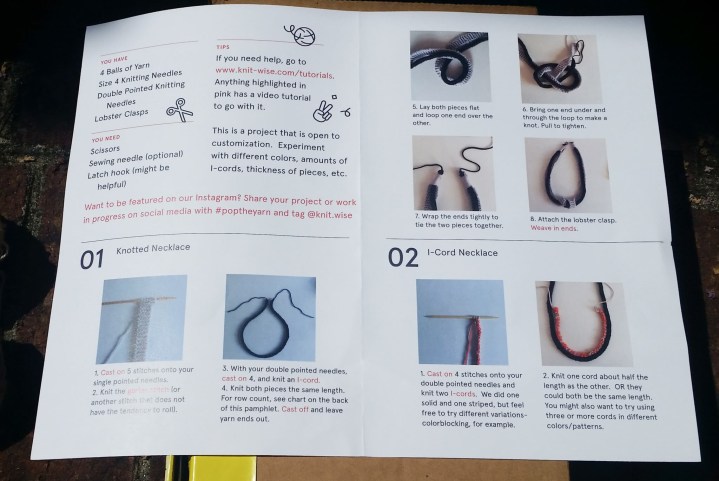 Inside the instruction booklet, there is a list of items provided, as well as a list of the few things you may need from your own supplies — for this project, everything was provided except scissors!
The actual step-by-step instructions were very clear.  Some terms are highlighted in pink ink, indicating that video instructions were available from the website.  For this particular project, I was unfamiliar with i-cord knitting.  I found it super easy to find the video on the website and the video provided a very clear explanation on how to do the stitch.  I found this project to be very straightforward and easy to do.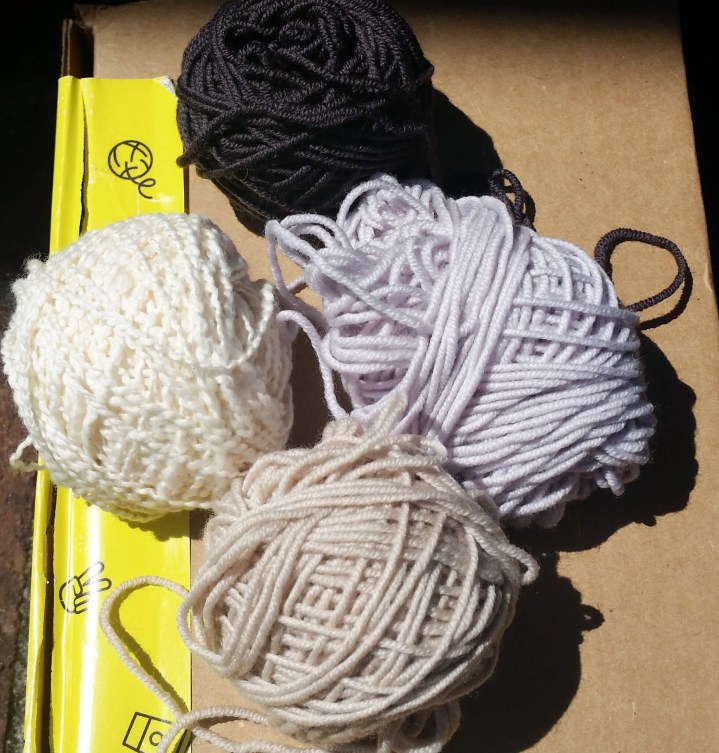 Yarn:  This project included multiple hanks of yarn.  It is a nice quality, natural yarn and I appreciated the different textures.  I've mentioned this before, but I'd like to see more color in future Knit-Wise projects.  All of the Knit-Wise boxes I've reviewed so far have only included neutral-toned yarn.
Needles:  The box this month included a set of straight needles as well as a number of double-point needles.  The projects use both.  Also, since getting my first Knit-Wise box,  I have been a big fan of bamboo needles.  They are nice and lightweight and easy to travel with.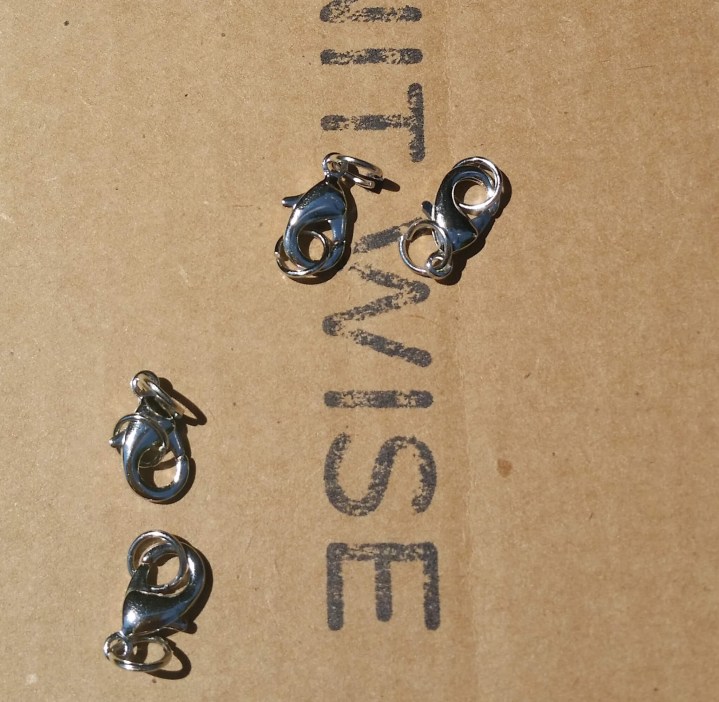 Clasps:  Last, but not least, the box included a few lobster clasps.  With the multiple colors of yarn and lobster clasps, Knit-Wise provides the opportunity to make a number of different necklaces.  The instruction book describes two different necklaces; it also provides information for making necklaces of many different lengths.  So much fun to customize!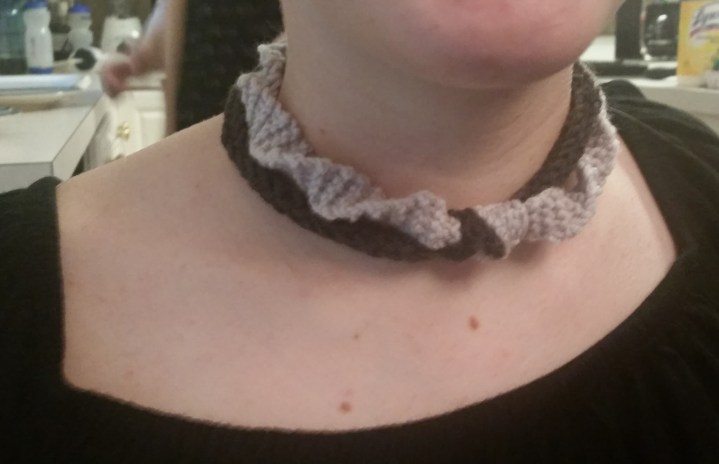 Here's an example of the finished project.  I made a shorter necklace, as my daughters love choker-style necklaces right now.  I followed the directions (using garter stitch and i-cord) but I found that my wide band (the lighter grey piece) still rolled.  I'm sure this is my fault and not the fault of the instructions, because garter stitch does traditionally lie flat…but we also kind of liked the curly look of the rolled garter piece.  This project (one necklace) took me probably 4 hours of knitting – not long at all.  You could easily make a necklace in an afternoon or evening of crafting.
I look forward to making a few more necklaces – I have plenty of yarn and clasps left – but I wanted to get this review published sooner than later!
Bottom line:  This was another fun project from Knit-Wise – and it was definitely nice to do something different…jewelry instead of home accessories.  The directions were easy to follow and the project turned out super cute.   There was nothing challenging about the stitches used for this, which makes it a great project for newer knitters, but even more experienced knitters may enjoy working with a new technique, just as I did with learning the i-cord stitch.
What do you think about this month's Knit-Wise project?
Visit Knit-Wise to subscribe or find out more!
The Subscription
:
Knit-Wise
The Description
: Knit-Wise delivers everything you need to create a hand knit project- no experience necessary. Each box contains yarn, instructions, and all of the tools needed to complete a different project once a month, ranging from home items to accessories.
The Price
: $29.00 per month