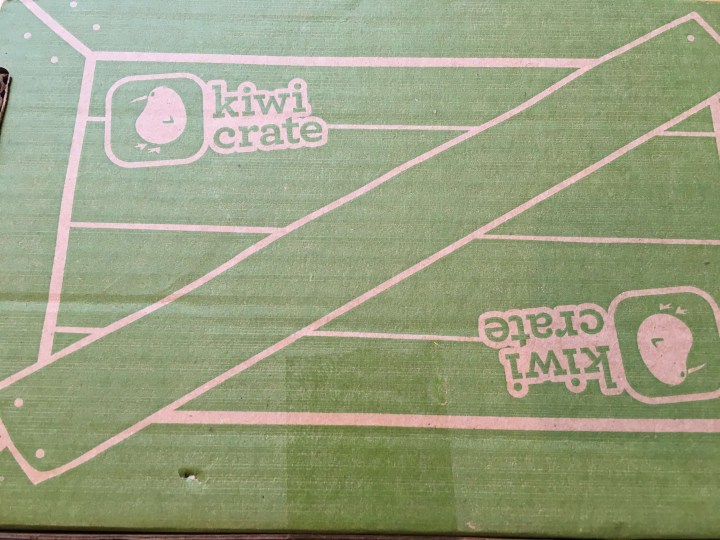 Kiwi Crate is a fabulous monthly subscription for 5-8 year old kids that aims to "inspire kids to see themselves as scientists, artists, creators and makers." Each Kiwi Crate contains STEAM activities (science, technology, engineering, art or math) that encourage kids to "tinker, create and innovate." In addition to their regular monthly subscription, Kiwi Crate produces and sells individual project boxes. This is a review of their Halloween Luminaries stand alone box. It costs $14.95 plus shipping, although shipping is free for subscriptions and for orders over $50 at the Kiwi Crate shop.
FYI – Halloween crafts are selling out FAST! If you want this or any other Halloween Craft, you should grab it now. Also, Thanksgiving crafts are in the shop too!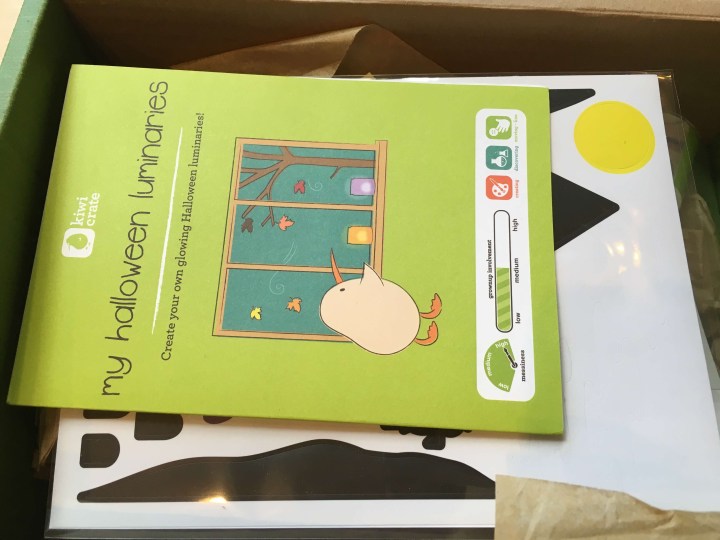 The Halloween Luminaries box arrived neatly packaged with the directions front and center.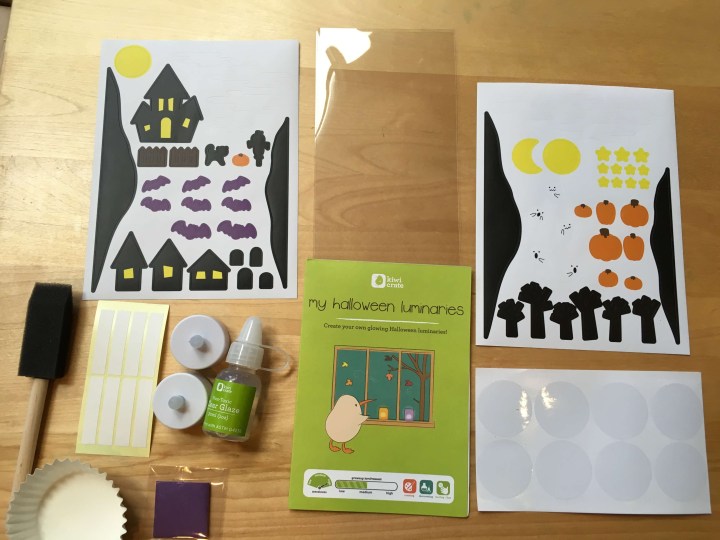 The box included all required supplies.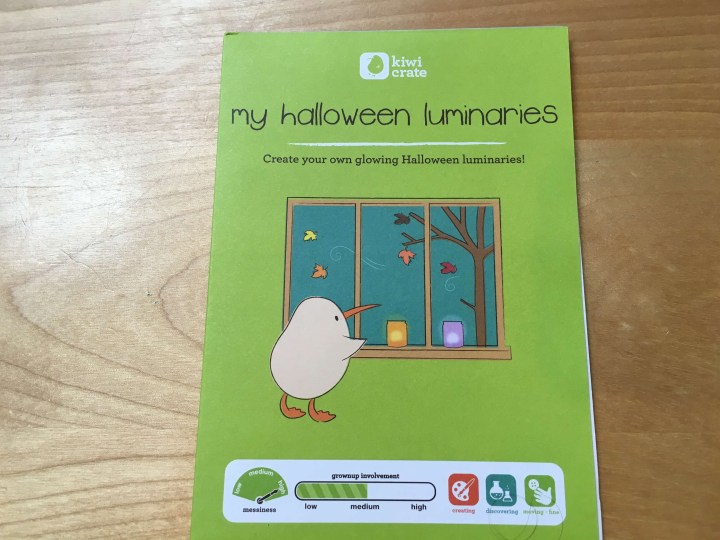 I liked how the front page of the directions included information about messiness, grownup involvement and the types of skills that completing the crate will help develop.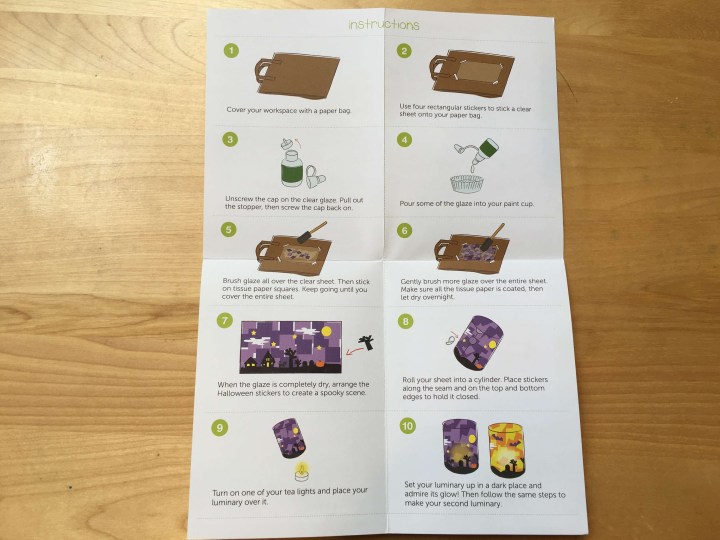 The directions were well written and easy to follow. I especially liked the visual depictions of the different steps. This is great for early readers. It allows them to be relatively independent as they complete the craft.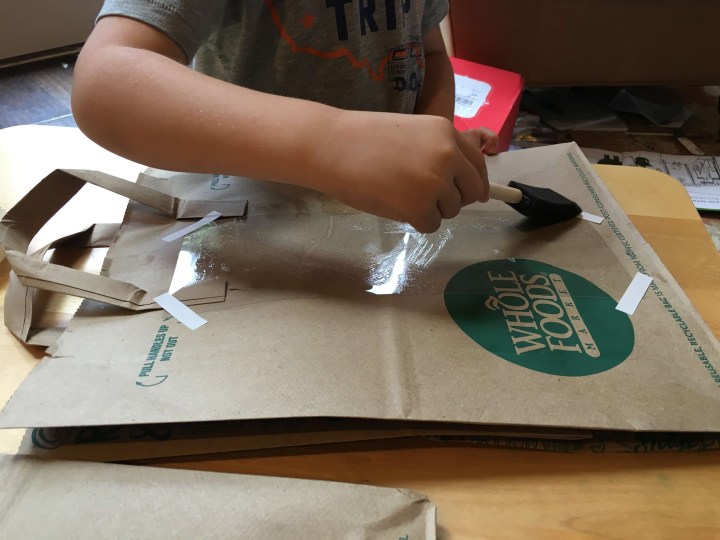 To start, my son affixed the plastic strips to grocery bags with the enclosed tape. Next, he used the enclosed paint brush to cover the plastic with the enclosed nontoxic clear glaze.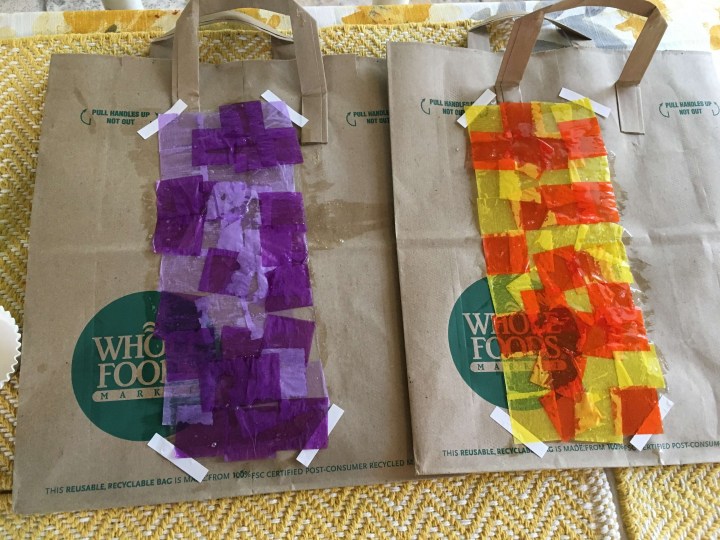 Then he placed the enclosed tissue paper squares over the length of the plastic and painted them with another coat of nontoxic clear glaze. This reminded us of some of the decoupage projects we've completed together in the past.
After leaving the tissue paper coated plastic out to dry overnight, my son got to work decorating his plastic with the enclosed Halloween-themed stickers.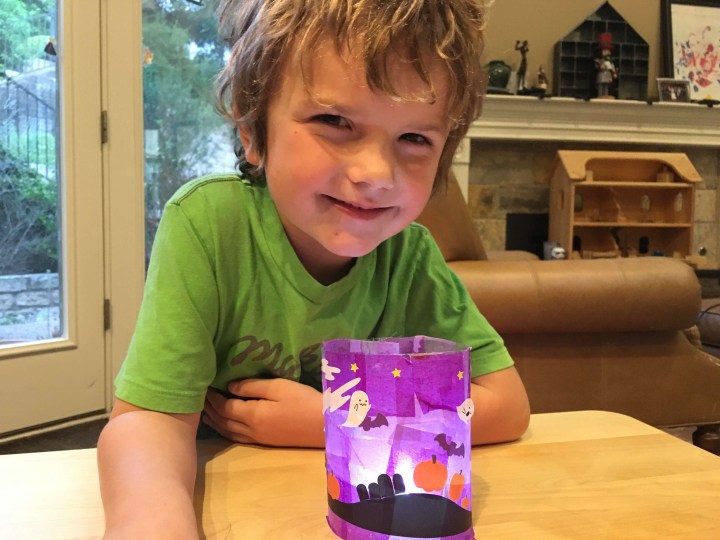 Once he was done with the decorating, he rolled up the ends of the plastic and affixed them together with the enclosed clear circular stickers.
He loved his luminaries! Unfortunately, though, one of the two LED tealights we received with the box wouldn't turn on, so we couldn't take a picture of the two lights together. I plan to stop by our local battery store later this week to see if it's a battery issue. If it's not, I'll reach out to Kiwi Crate to see if I can get a replacement LED tea light.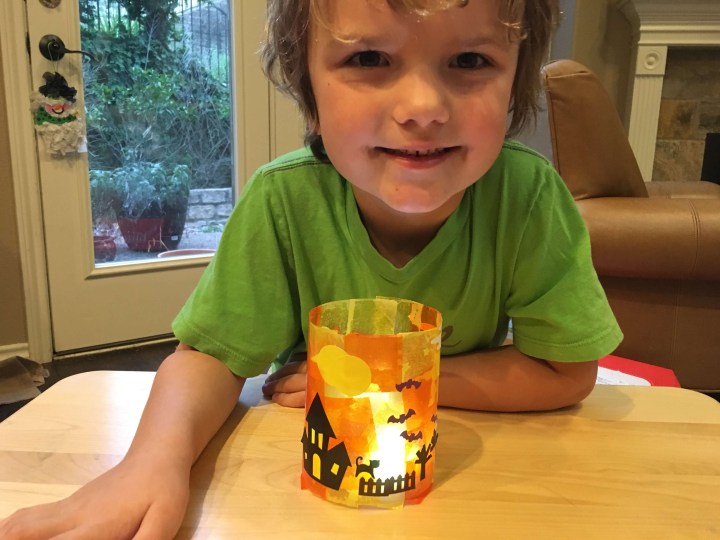 This easy, fun project certainly got us in the mood for Halloween! My son and I are both thrilled with how this project turned out, and we look forward to the fun we'll have with other Kiwi Crates in the future.
Did you pick up a Kiwi Crate Halloween Luminaries crate? How did your project turn out?
If you haven't subscribed yet, you can save 30% on your first box of any crate in the KiwiCo Family – Kiwi Crate + Tinker Crate, Doodle Crate, and Koala Crate – with code HELLO40