Van harte welkom om de Nederland! Welcome to the Netherlands!  Kitchen Table Passport is a meal-centered cooking and exploration kit.  Each kit features a traditional dish from the featured region, providing a recipe, spices, and pairing suggestions.  With the Full Package, the dish is the centerpiece of the evening, but you also receive "discovery items" – mementos emblematic of the featured culture and a stack of beautifully photographed cards replete with trivia and information.  The Taste Only Package provides just the spices and recipe.
Other than stroopwafels, I've never tried Dutch cuisine (that I know of), so this box will truly be a journey.
The fold out welcome card introduces you to the featured culture and provides some suggestions for serving your dish in an authentic way.  I was surprised to learn that Indonesian food is prominent within the Netherlands – Indonesia is a former Dutch colony.  I've noticed that in most cases, the ruling nation seemed to have more of an impact on the colony.
The contents of my box.  I love the little clogs!
Mementos: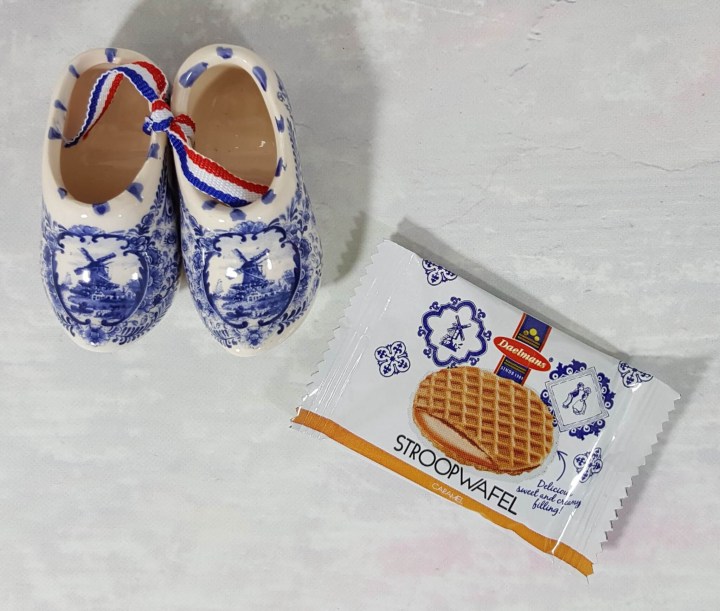 Ceramic Clogs – Klompen are whole-feet clogs traditionally made of wood.  They are officially accredited as safety shoes and still worn by farmers and market-gardeners.  These ceramic clogs are hand painted.  Can you believe the detail on those windmills!?!
Stroopwafel – A layer of caramel is sandwiched between two thin waffles.  Doesn't that sound like a yummy treat?  Well, it is.  I didn't know, but the correct way to eat a stroopwafel is to balance it on the edge of your coffee cup and let upcoming steam warm and melt the caramel inside.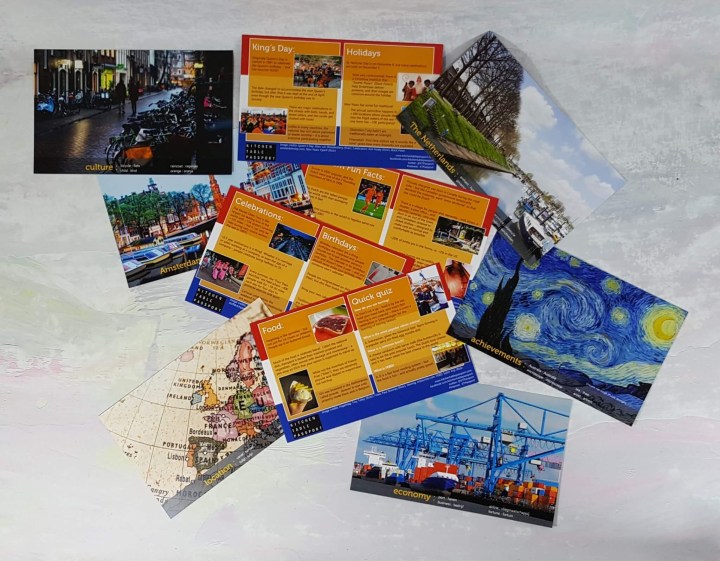 Discovery Cards:  Each card has a picture of notable Dutch places, people, and items on the front.  The back of the card provides cultural and demographic information, as well as some words for you to learn.  These are a good tool to help your younger ones learn about other cultures.  In case you forgot, van Gogh was from the Netherlands – that's his Starry Night on one of the cards above.
Recipe Card:  Bitterballen = bitter balls.  In addition to the ingredients and cooking directions, the recipe card provides a full color picture of the dish, meal suggestions, and a list of equipment/tools that will be needed.  The directions were clear and easy to follow.  I recommend reading the entire card before you begin prepping.  This dish is typically served as a snack and is an accompaniment to Dutch bitters, like Jenever.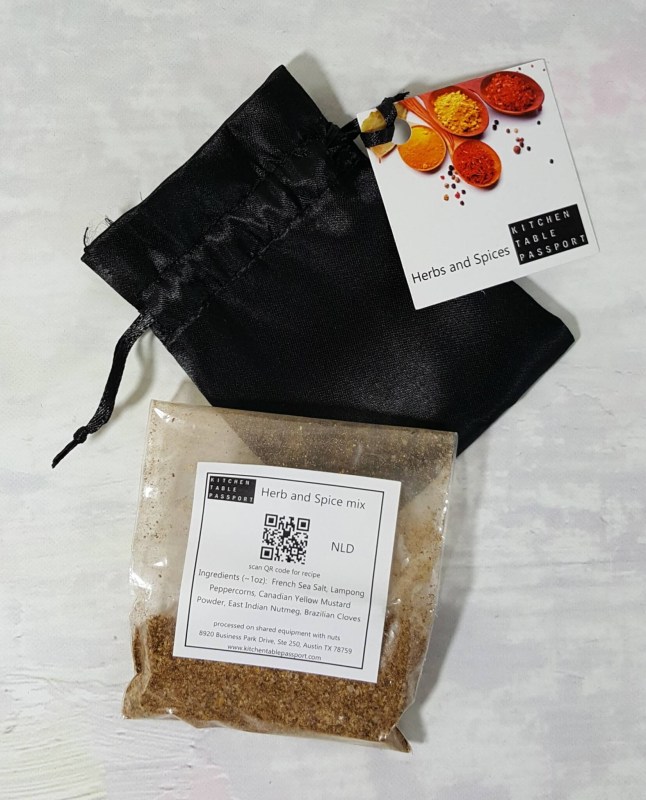 Herb and Spice Mix:  This mix contains a blend of French sea salt, Lampong peppercorns, Canadian yellow mustard powder, East Indian nutmeg, and Brazilian cloves.
You're probably wondering why I've put a conversation into a food box review.  Part of the bitterballen recipe calls for refrigerating the gravy/meat mixture before making balls.  It just so happened that my piece of sirloin was more than called for in the recipe, so I used the excess to make smothered steak for dinner.  There were leftovers, which I failed to clearly label.  In his quest for lunch, my dad did not heat up the leftovers.  Instead he made mashed potatoes and heated the bitterballen mixture.  At least I know that they would have been tasty!  I hope this makes you laugh as much as it did me, and I'm forgiven for not having a dish to show.
The Full Package starts at $29.95 per month; however, this rate can drop to as low as $19.99 with subscriptions that are 6 months or longer.  Not only are you given tools to help prepare an authentic meal, but you are getting an immersive experience with the mementos and Discovery Cards.   And, if you're lucky, you'll have lots of happy memories with friends and family associated with these countries and dishes.  I know I will always remember the Netherlands now.
Have you tried Kitchen Table Passport? You can save $10 on your first box of a full experience subscription with coupon code HELLOTENBUCKS.
Visit Kitchen Table Passport to subscribe or find out more!
The Subscription
:
Kitchen Table Passport
The Description
: Explore the world from your kitchen table! Different focus country every month to learn about with your family and friends. Contains country introduction, amazing photography, fascinating facts, recipe for local dish, unique herb & spice mix to get started, and authentic souvenirs. Choose between the Taste or the Full Experience!
The Price
: $9.95 per month