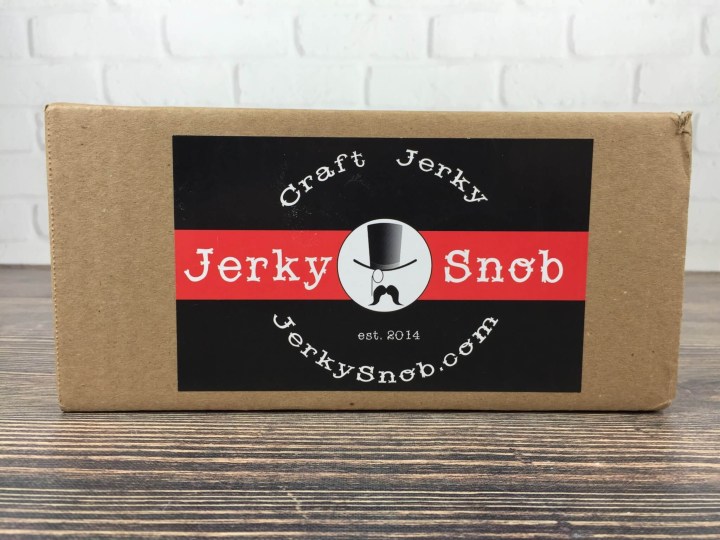 Jerky Snob is a monthly jerky subscription box focusing on finding the best and most delicious flavors of jerky. Every month get either a half or full pound, depending on your selections, of the tastiest artisan jerky. You can choose between medium and mild, or just mild (this one's not about the tongue-searing spice – it's about unique jerky flavors), and even choose only gluten-free flavors.  Every jerky selected is always free of MSG, nitrates and nitrates, and high fructose corn syrup.
Their business card sums up their philosopy — rare finds made without junk.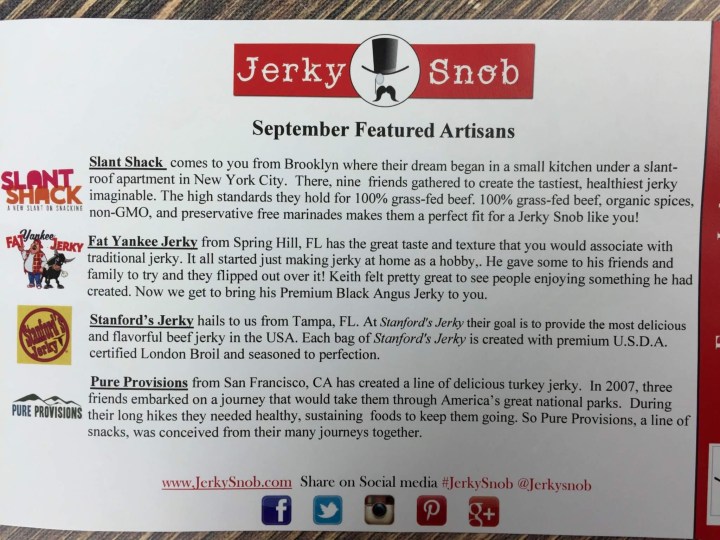 The info card gives a little background on the month's featured jerk purveyors.
Our selection included jerkies from Pure Provisions, Stanford's Jerky, Fat Yankee Jerky, and Slant Shack.  The bags ranged from 1.5 to 3 ounces of jerky.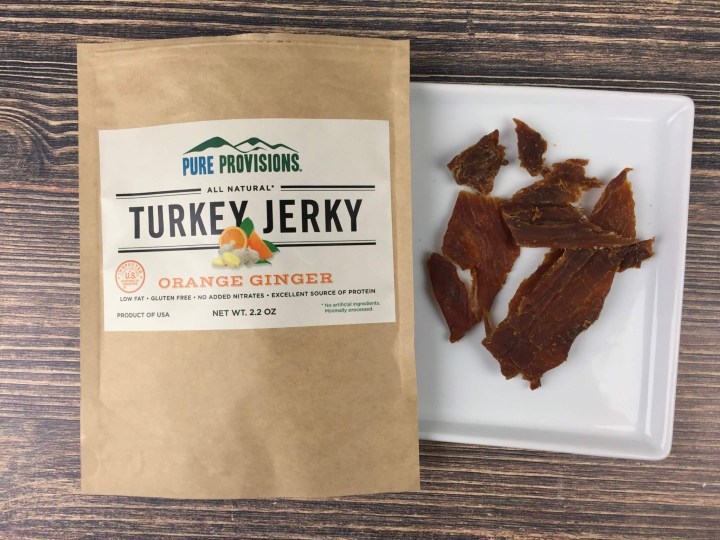 Pure Provisions All Natural Orange Ginger Turkey Jerky:  I'm ordinarily skeptical of jerky that is made from meat other than beef, as it usually has either an odd texture or an off taste.  I loved this jerky, and it was actually my favorite of this set.  The orange flavor is appropriately light, with lots of soy, ginger, and garlic leading the charge.  The texture is what won me over — it was firm, yet tender, quite a bit like my ideal beef jerky profile, with none of the normal mushy or rock-hard extremes to which fowl jerky is prone.  This is a good find.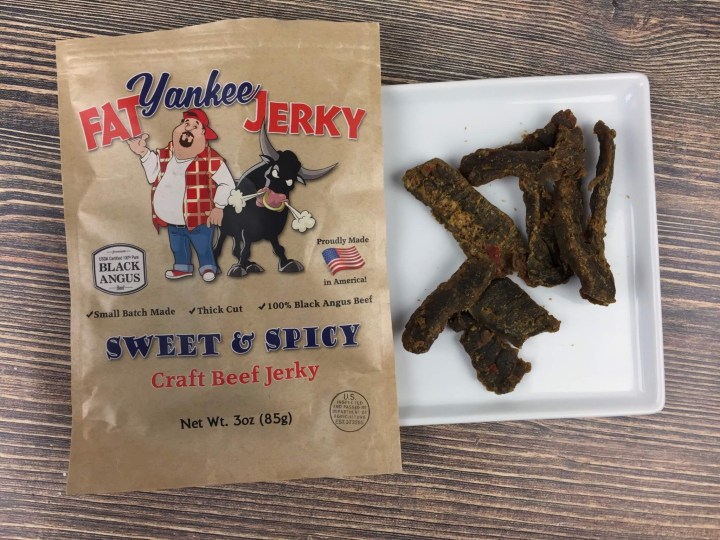 Fat Yankee Jerky Sweet & Spicy Beef Jerky:  This black angus jerky is cut in hearty strips, like steak fries.  It has a dry texture, with a good amount of chew and the most assertive spice level out of this month's selections.
Slant Shack Maple Garlic Steak Jerky:  My second favorite of the batch, this maple-garlic offering is very tender, almost crumbly.  The flavoring is very nice, with a bit of sweetness and a mild heat level.  Slant Shack uses 100% grass-fed beef, so it is very lean — the use of tamari instead of soy sauce means the jerky is also gluten-free.
Stanford's Jerky Gourmet Beef Jerky:  London broil is notoriously lean and tough, relative to other "steak" cuts.  In this instance, it renders a very dense and chewy jerky that is dry and a bit hard.  The flavor is very mellow, with only the liquid smoke really coming through (hence the "campfire" flavor).  I prefer a little less chew and more moisture and seasoning, so I didn't flip over this one — and it was also the smallest bag in the shipment.
This box had a couple great jerkies and a couple OK ones, according to my preferences.  I like getting to sample varieties and brands that I might not otherwise see online or at my local stores, and the excluded ingredients pledge is a great assurance that I'm getting quality food to enjoy.
Visit Jerky Snob to subscribe or find out more!
The Subscription
:
Jerky Snob
The Description
:Every month you will receive a box of carefully selected premium jerky, with no MSG, nitrates or nitrites, or HFCS. Choose Mild or Mild + Medium – only the most flavorful artisan jerkies go in this box. Gluten-free option available too.
The Price
:Half-Pound Box $31 shipped, 1-pound box $60 shipped.