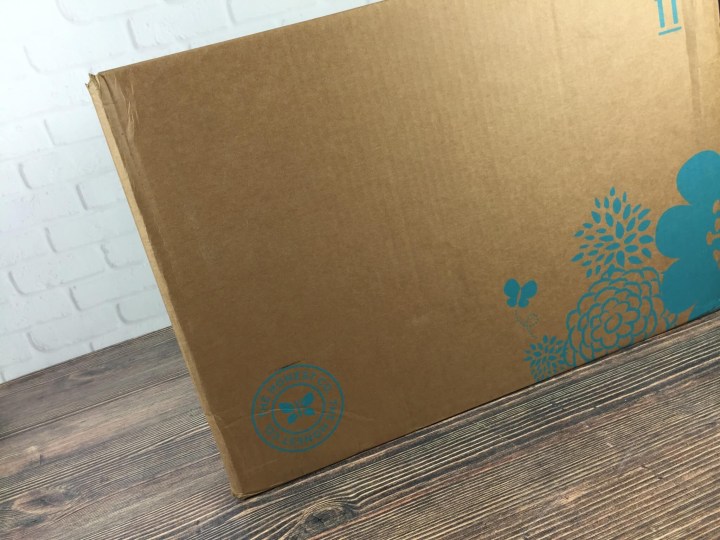 It's been a while since I've done an Honest Company Diaper Bundle review! Honest Company Diaper Bundle is a monthly diaper subscription service from the Honest Company for only $35.95 per month. You'll get cute diaper designs in every bundle, plus wipes. You can also include training pants and overnights in your diaper bundle.
Note that you can get a free trial bundle with 7 Honest Company Diapers & a travel sized wipes for $5.95 shipping.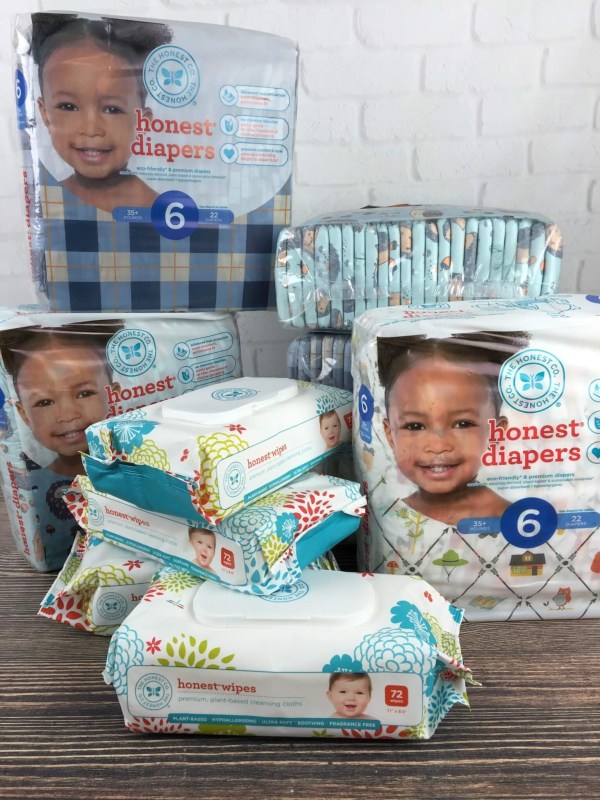 I've been subscribing to the Honest Company Diaper Bundle for around 3 years – plus gifted it multiple times (it makes an amazing baby shower gift!). My current baby (turning 2 this month) has had about 6 packs of other-brand diapers and the rest have been Honest Company. I can say confidently that we have never had a leak, blowout, or even really any sort of diaper rash when using these diapers. Plus they're crazy cute. I highly recommend them.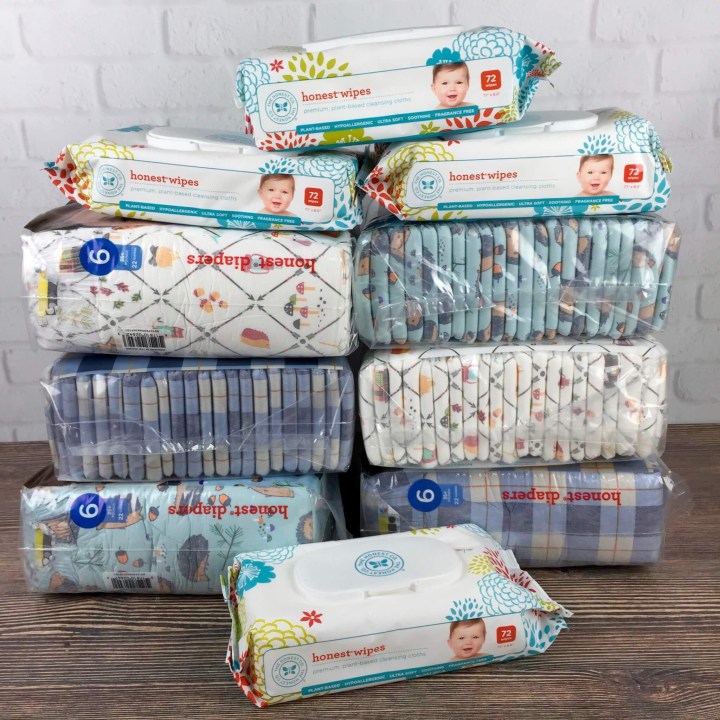 The Diapers & Wipes bundle is $79.95 per month (you can adjust the exact frequency and change the date). You will get 6 bags of diapers and you can adjust how many diapers vs. training pants you get, if you're into those already, and select your patterns. Plus you will also get 4 packages of the wipes.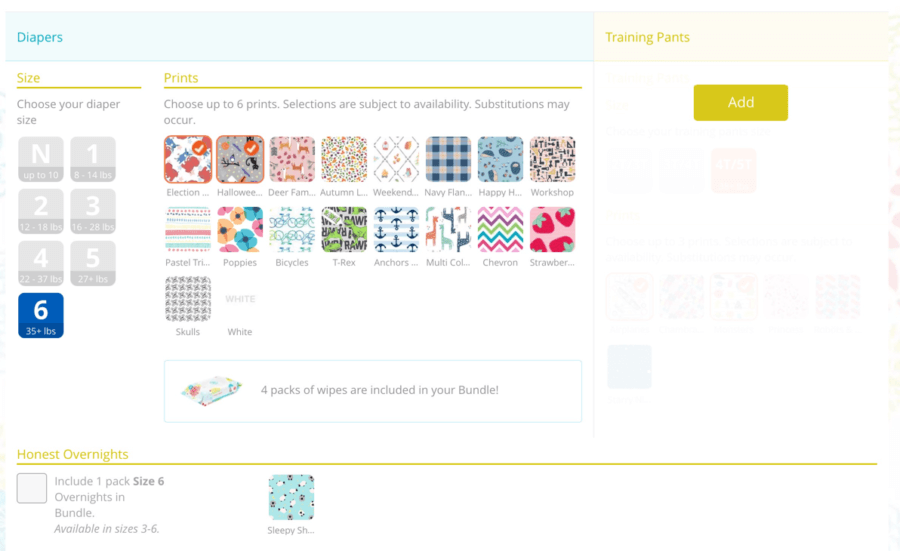 We're not quite into training pants yet, so I go for all diapers, but switch out one of the packs for overnights. I like to go in and update my prints – I love seeing cute baby buns in adorable diapers!
Honest Company Diaper Bundle Add-Ons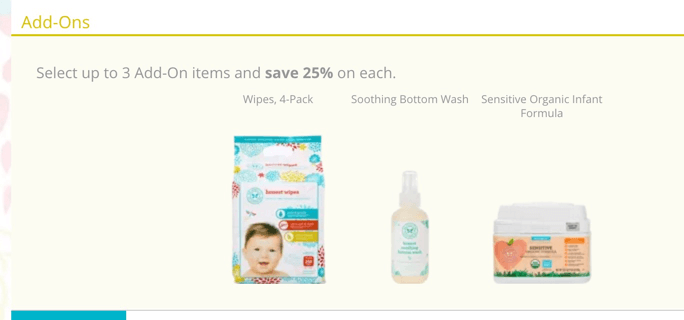 It's super easy to add-on items to your bundle. I'm not actually adding on the Sensitive Infant Formula (we're past that now) but it's a new product, so check it out! FYI – from the moment they introduced their formula to the moment he weaned, my son drank Honest Company organic formula and he's a healthy and hearty baby! See my Honest Company Organic Baby Formula review!
I always add on extra wipes (I have 2 older kids and we just can't get enough wipes) and usually the soothing bottom wash – it's perfect for spraying off poo. It's seriously one of my favorite Honest Company products. A long while back you could only add on baby products to the diaper bundle, but that's all changed – you can add on everything, which is wonderful. Right now our primary Honest Company purchases are diapers so we just add-on what we need that month to this bundle.
Note that your add-ons are 25% off. While you now get Honest Company items elsewhere online (like Target), and even subscribe, the lowest cost is from Honest Company.
Honest Company Diapers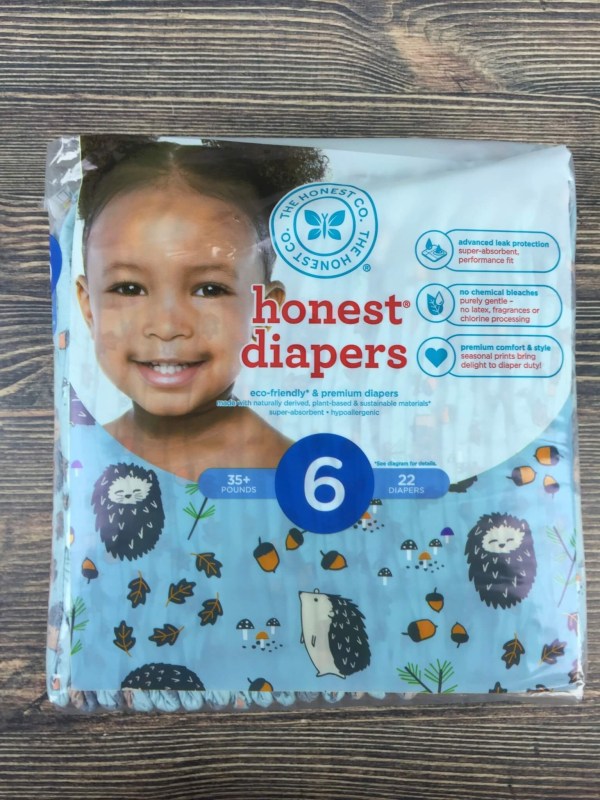 The diapers themselves feature fun seasonal prints. Like other brands the number of diapers in the pack varies

Like my 5 year old, we moved up to size 6 fairly quickly (skipping newborn entirely – this guy was over 10 pounds at birth!) and have stayed there. Every baby is different!
The Honest Company diapers feature plant-based inner & outer layers, no fragrances, chlorine, lotions, or latex. They do have wheat/corn so if your child has a skin sensitivity to those, you cannot use them.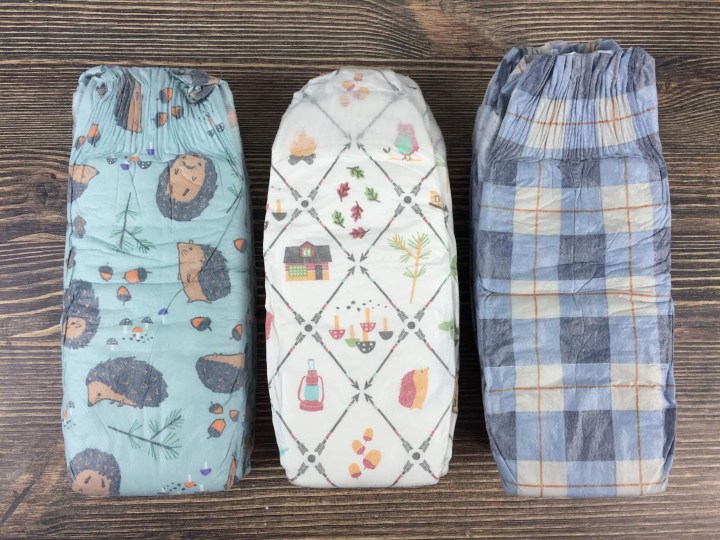 The Diapers are pretty standard looking but have adorable patterns! FYI if you use an oil on your baby's butt/legs, like Weleda calendula oil, the dye will totally come off.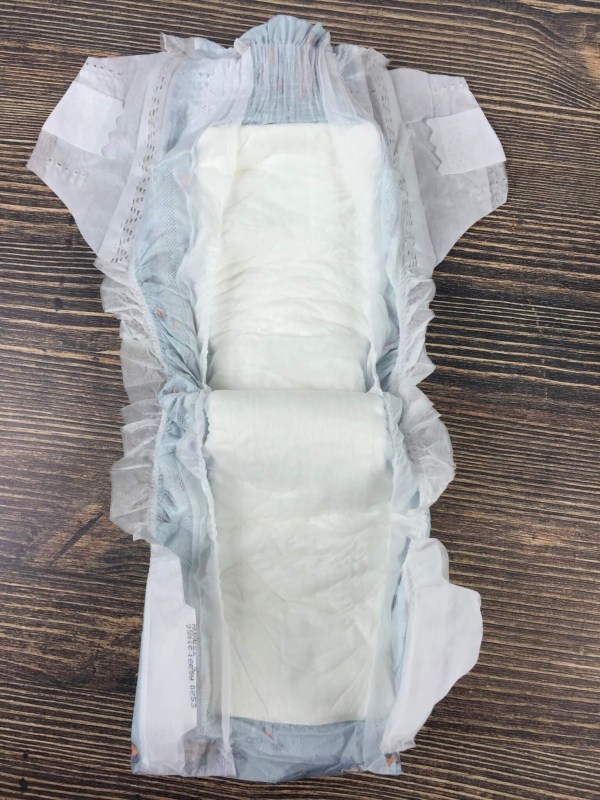 The diapers are standard and comfy with adjustable tabs and waist. I have found they are remarkably absorbent! There's an inner solids catcher and a nice ruffle on the outside for comfort. The liner goes all the way up to the waist.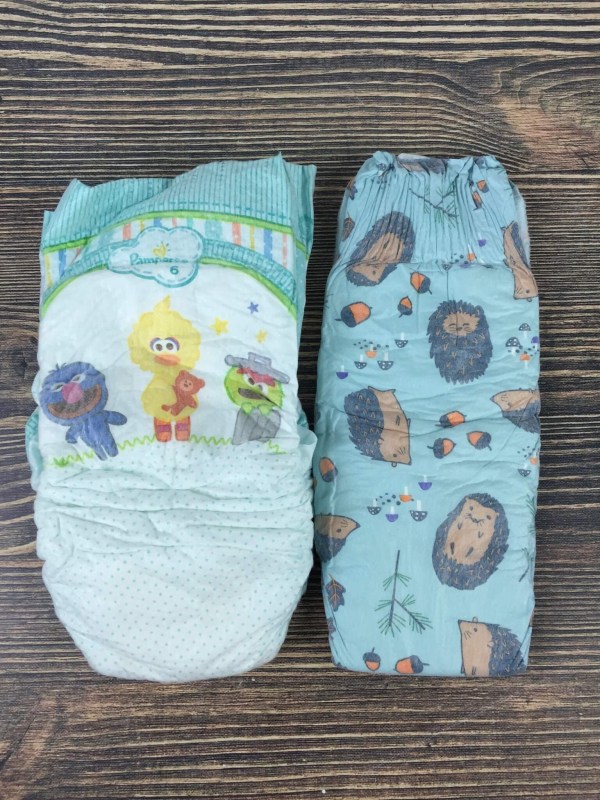 Here's a comparison with Pampers. They are about the same thickness, but I'd say Pampers are a bit softer.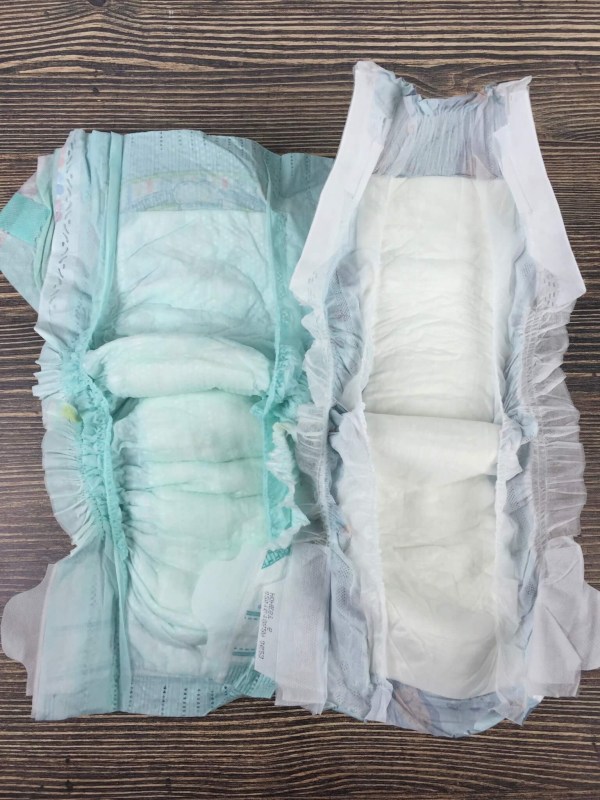 It's a little hard to tell, but there's more liner in the Honest Company diaper than the Pampers, at least as far as placement goes. I find them pretty comparable, but I find them wickedly adorable, and I love the plant-based materials in the Honest Company diapers.
And like I said – adorable baby buns all gussied up!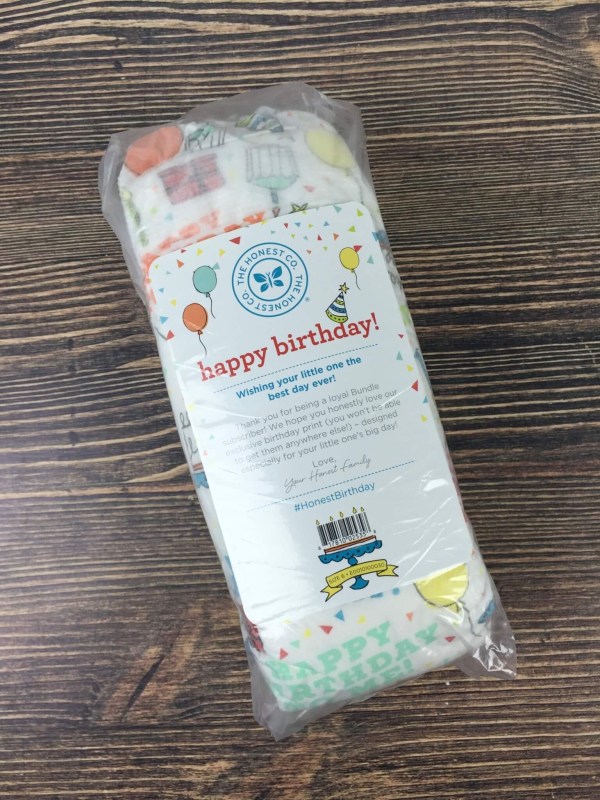 This was a total surprise in my bundle this month – and it's just SO fun! Make sure you get a bundle in your baby's birthday month to get these diapers (and fill out the birth date in your profile). You cannot buy the diapers by themselves!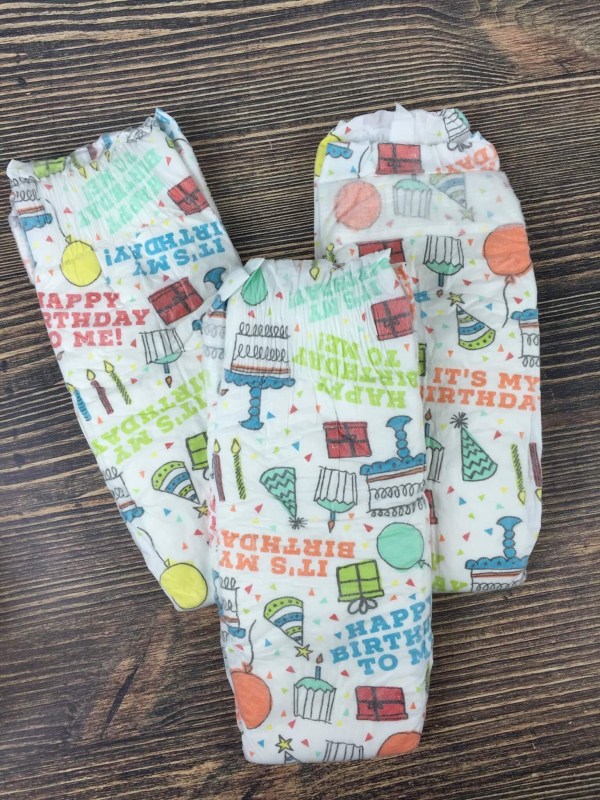 Happy Birthday Baby F!
Even if it's not your baby's birthday, there are new seasonal prints! Election Day diapers and Halloween diaper prints are here. They will certainly sell out fast (I actually ordered another bundle as soon as they came out so I could be sure to get some), so update your bundles and ship if you're a current subscriber. They are 100% unnecessary – but they really make the diaper change activity a little bit sillier, which is good, because diapers.
Honest Company Wipes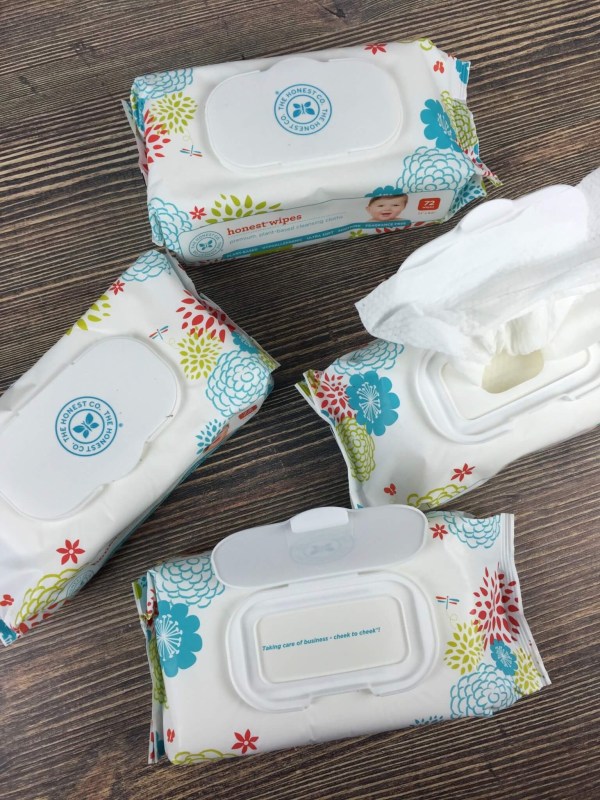 Honest Company Wipes are really fantastic, and I cannot say enough about the new package design – they eliminate the needs for wipes holders and I no longer find wipes packages that have been dried out. The texture is grippy and fantastic and we use them for everything – sticky fingers (my sensitive 5 year old is obsessed and keeps a package at the dinner table for post-meal cleanup), wiping up messes, and of course – bottom wiping!
The wipes are made of Oeko-Tex certified medical-grade cloth and include a blend of pomegranate (antioxidants), chamomile & cucumber (to soothe), and masterwort leaf (to moisturize).  The wipes are made without: alcohol, chlorine, phthalates, formaldehyde carriers, parabens, phenols, quaternary ammonium compounds, SLS, lanolin, or most common allergens.
We have nothing but good things to say about Honest Diapers and wipes! The diapers are truly absorbent with amazing wicking capabilities. This prevents leaks as well as keeps bottoms dry – which means a happy baby! We've never had a torn wipe (ever!) and they really do the job in a gentle way. If you haven't tried them out, grab the free trial below! If you have, let us know your experience in the comments!
COUPONS: Get a free trial for the diapers & wipes bundle or the essentials bundle, or both! Use this link to get the deal. Pay $5.95 shipping. OR Save $20 on your first diaper bundle! Use this link to get the deal.
Visit Honest Company Diapers Bundle to subscribe or find out more!
The Subscription
:
Honest Company Diapers Bundle
The Description
: One-month supply of premium & super absorbent diapers and plant-based cleansing cloths. Mix & match honestly cute designs each month! Super absorbent diapers use naturally-derived citrus and chlorophyll odor blockers and no chlorine processing. A secure fit helps prevent leaks and blowouts. lus save 25% on additional items like diaper cream and healing balm, and tailor your ship date anytime. Can also include overnights & training pants!
The Price
: $35.95 per month