Herbal Bliss sends five amazing herbal products each month. The products cover five categories – Aromatherapy, Blissful Body, Culinary, Well Being and a Spotlight item. Herbal Bliss seeks out small batch producers that focus on the quality products.
Herbal Bliss arrived in two packages this month! The yellow tissue paper is bright and cheery.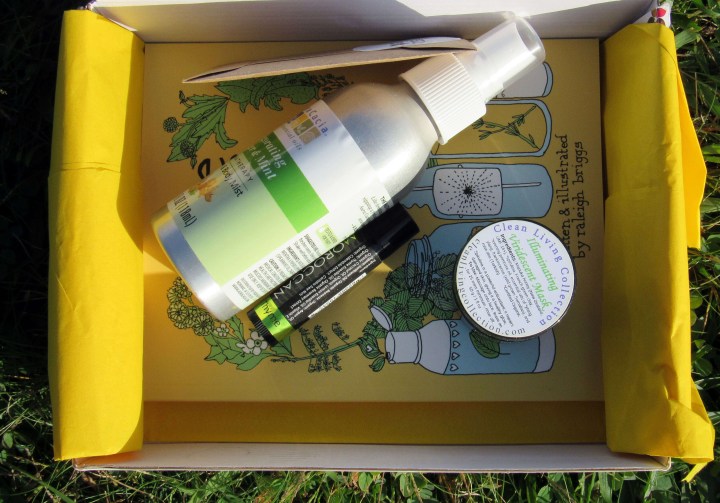 Here is the first peek of what was inside the box. I'll show what came in the envelope further in the review.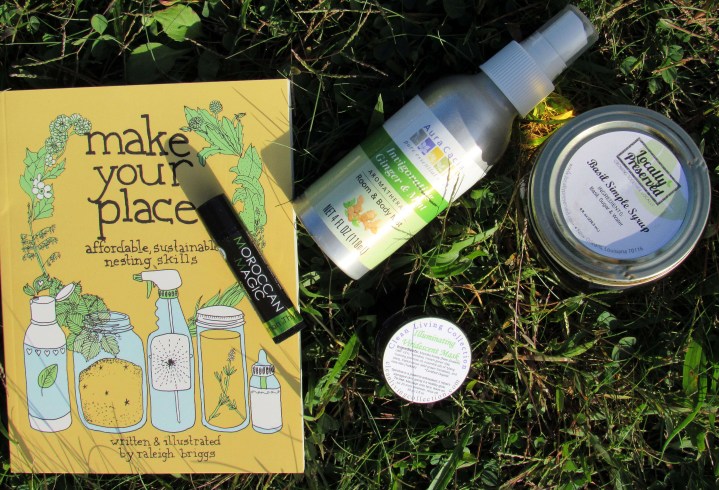 Here are the items in the August Box. I can't wait to check out the book.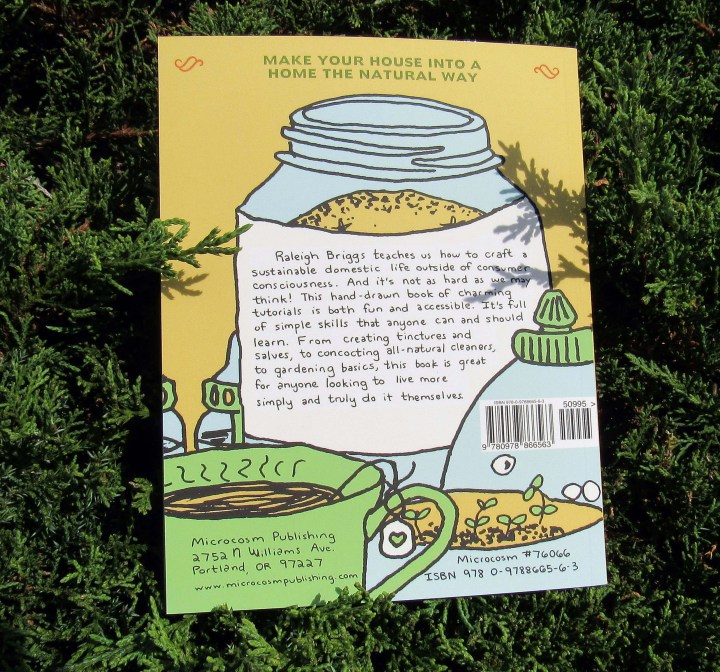 Make Your Place: Affordable, Sustainable Nesting Skills by Raleigh Briggs
I love useful books and am happy to receive the Make Your Place: Affordable, Sustainable Nesting Skills by Raleigh Briggs ($9.95). It makes up for having to visit colleges instead of attending the Mother Earth News Fair! It's easy to understand, easy to implement, and fun to read. Here's a little more from Amazon:
Raleigh Briggs teaches us how to craft a sustainable domestic life without relying on smelly, toxic, expensive consumer products. And it's not as hard as we may think! This hand written and drawn book of charming tutorials is both fun and accessible. It's full of simple skills that anyone can and should learn. From creating healthy tinctures and salves to concocting all-natural cleaners and body products to gardening basics, this book is great for anyone looking to live more simply, create a comfortable nest, and truly do it yourself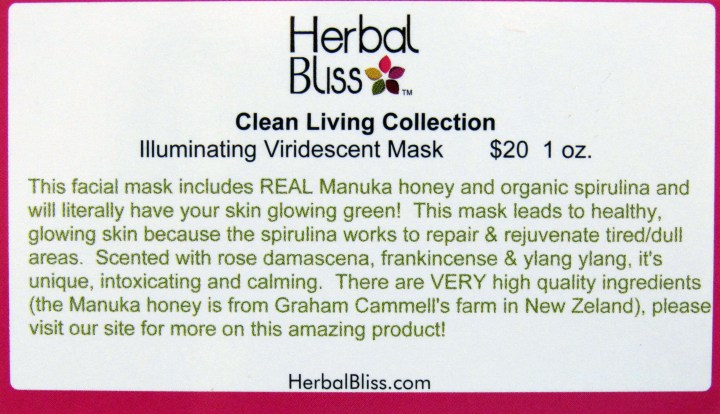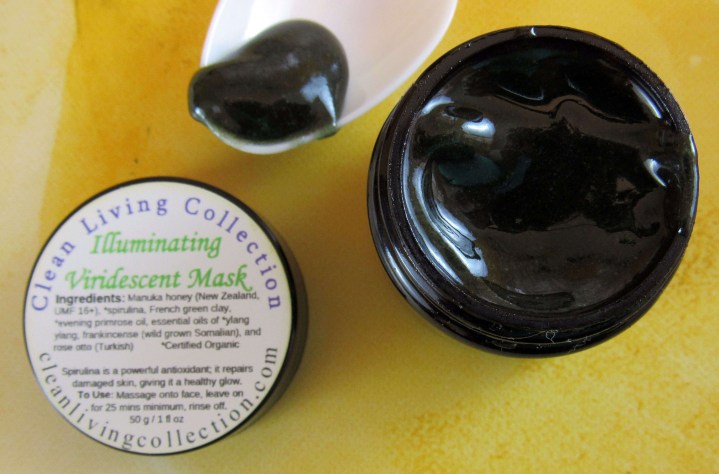 I am excited to try out the Clean Living Collection Illuminating Viridescent Mask (1 oz, $20.00). The first ingredient is Manuka Honey UMF 16 which is sourced from Graham Cammell's farm in New Zealand, UMF license # 1033. Manuka Honey is found only in New Zealand and is known for its high antibacterial agent methylglyoxal counts. The UMF Number (Website plays music) is 16 which means it has superior high levels of Leptosperin, DHA and Methylglyoxal. Very impressive that it is in a face mask. It is an ooey gooey mask but worth the effort. I applied it to a clean face, let it set for 25 minutes, and wiped off with warm water. The rosacea puffiness in my face has been reduced as a result. One ounce is enough for 10 full face masks.
Locally Preserved Basil Simple Syrup (8 oz, $8.00) has three ingredients which are basil, sugar, and water. It can be added to a citrus based cocktail, lemonade, or ice tea. I am going to use the Basil Simple Syrup to make the Refreshing Blueberry Soda for my husband who is hard to surprise! The syrup is clear which is why you can see the dirt and flowers through the glass.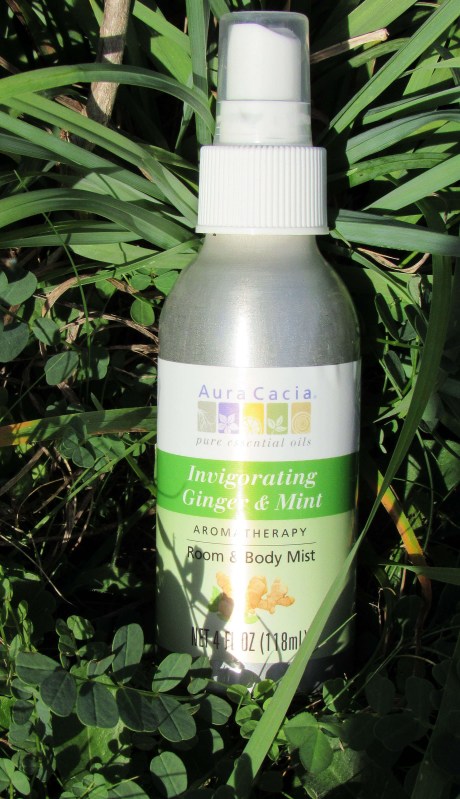 I have found a new room spray to take with me when traveling! The AuraCacia Invigorating Ginger & Mint Room & Body Spray (4 oz, $7.99) is a simple room spray that contains water and a blend of 100% pure lemon, peppermint, spearmint, and ginger essential oils. It has a pleasant minty, slightly spicy scent that awakens the senses and energizes the body.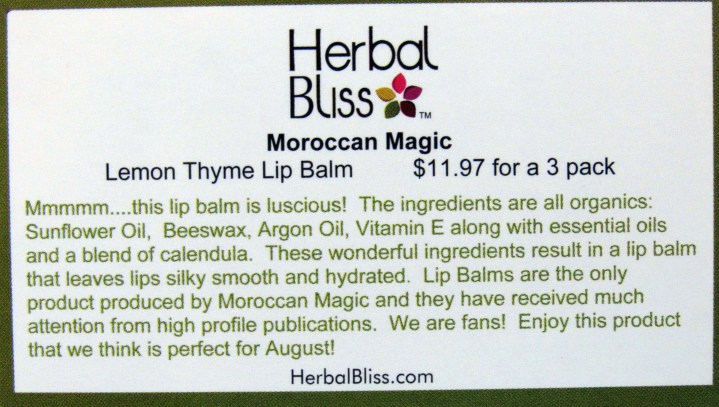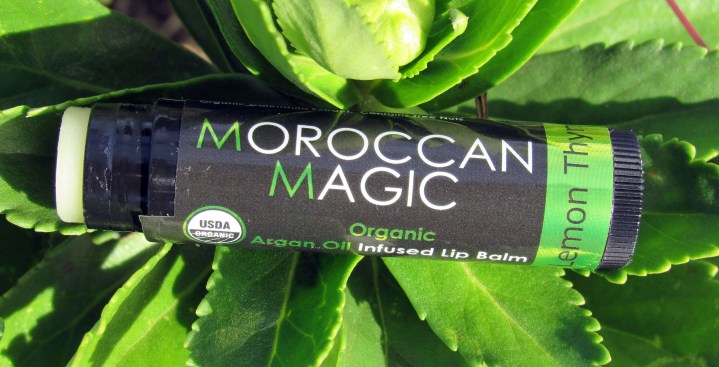 I can see why Herbal Bliss is a fan of the Moroccan Magic Lemon Thyme Lip Balm (.15 oz, $3.99. The organic lip balm has an amazing lemon scent and feels soothing on my lips. Apparently, I can never have enough lip balms because the other day I could not find one no matter how hard I looked! I do love the feel of the lip balm and can see myself using it often.
The August Herbal Bliss Box is amazing. I can't even select a favorite product this month because it is a three-way tie. The products in Herbal Bliss are mostly unique products not found in other subscription boxes which I love. Herbal Bliss is a great way to be introduced to herbal delights or discover new favorites. I will be using everything in the box. I always look forward to my Herbal Bliss box and enjoy the quality products selected. It is an excellent box for someone wanting to add more herbal delights to their lives or is already an herbal enthusiast!
What do you think of the August Herbal Bliss box?  Let us know by sharing below!
Visit Herbal Bliss to subscribe or find out more!
The Subscription
:
Herbal Bliss
The Description
: Herbal Bliss exclusively curates assortment of high quality herbal delights. Each Herbal Bliss box includes five irresistible samples, including products to please your palate, improve your well-being, soothe your senses and bring bliss to your body.
The Price
: $25.00 per month