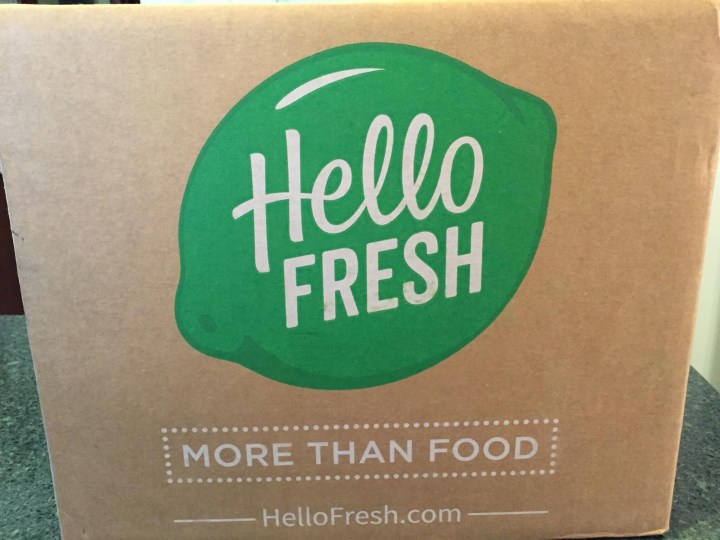 Hello Fresh is a meal kit subscription box with complete recipes and ingredients to make 3 meals every week, with each meal feeding either two or four people, depending on the plan you choose.  
Though it is a subscription, you can pause your deliveries when needed — whether you are out of town, have other dinner plans, or just aren't in love with that week's selections.  The standard subscription provides high-quality meats (free-range chicken, antibiotic meats, etc.) to use in the recipes.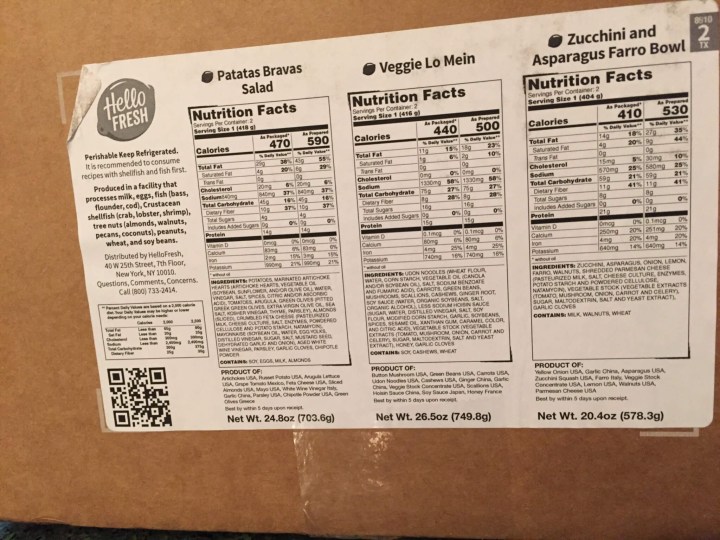 Though we do eat meat, we cook vegetarian three times a week.  Thankfully, Hello Fresh has a vegetarian subscription for both casual and dedicated vegetarians.  This review covers the vegetarian box, which featured a recipe by Jamie Oliver!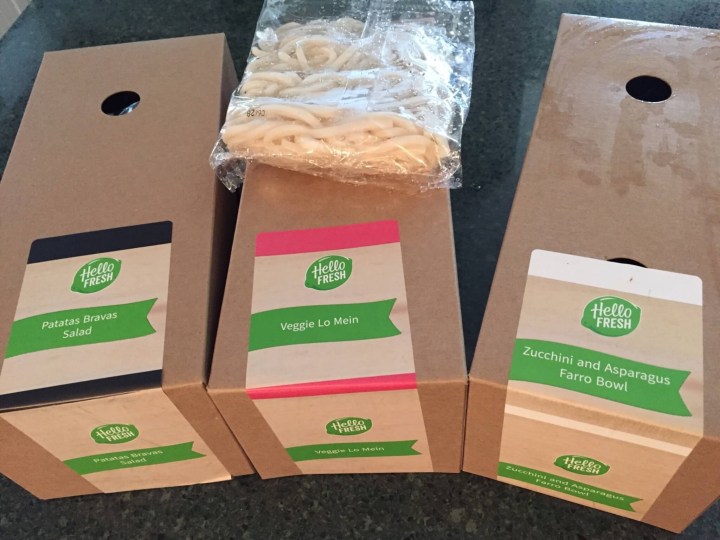 The boxes used by Hello Fresh keep all the ingredients for the recipes in order, and they stack nicely in the fridge.   Within each box, everything but the largest vegetables is separately packaged, and is packed at the bottom. Condiments and canned goods are provided in high-end, commercial packaging.  Hello Fresh usually provides spices in their own, pre-measured branded packaging.
Hello Fresh has great instructions, and they are easy to follow even if you are an inexperienced cook. There are even some kitchen tips included in the information card.

Patatas Bravas Salad With Spicy Aioli, Almonds, And Feta. 30 minutes, level 1, 588 calories per serving.
Busy night tonight, watching the tv for updates on the tropical storm/hurricane.  I live in northwest Florida in a 2 story wooden home with lots of big windows including 3 sets of sliding glass doors on the water (bayou).  If the hurricane gets to cat. 3, we're out of here.  I've already mentally prepared to pack the 5th wheel RV with my Hello Fresh dinners.  They are easy, quick and convenient for almost any emergency.  Even with no electricity I could power up the gas grill/stove to make us the dinners.  It's also the night to take a granddaughter to dance and pick her up and then take her to her moms.  So in between shuttling her and watching tv, I'm cooking.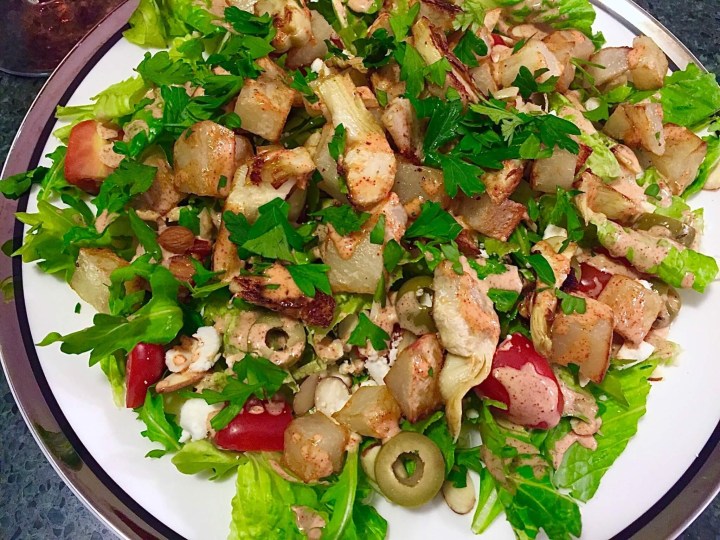 This salad was just perfect for a stop/start cooking kind of salad.  Now I have to admit, again, how I just don't like arugula, gosh knows I've tried but nope.  So I used it but I added romaine lettuce and that made it all good.  That's the wonderful thing about these dinners, you can add or subtract or change anything you like.
This salad is a late-night favorite in Spain but it did remind me of salads that you can order in Northwestern Pennsylvania, where my folks are from.  Their salads will also have french fries on top.  I've always thought that strange but after eating this salad, I know why they do that.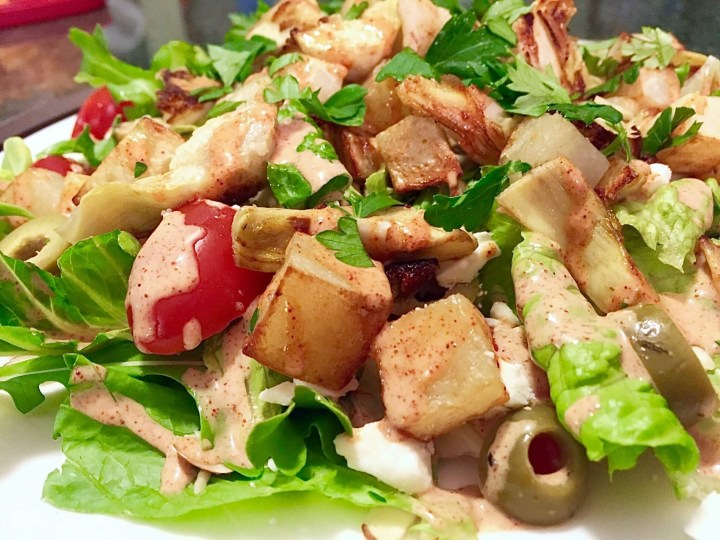 And I really loved the cooked artichokes.  Another new tip!  This was spicy hot and I only added a little of the chipotle chili powder so start out adding just a little, to taste.  But man it was good on the salad.
This was a really good salad, thanks Chefs Freida and Nate.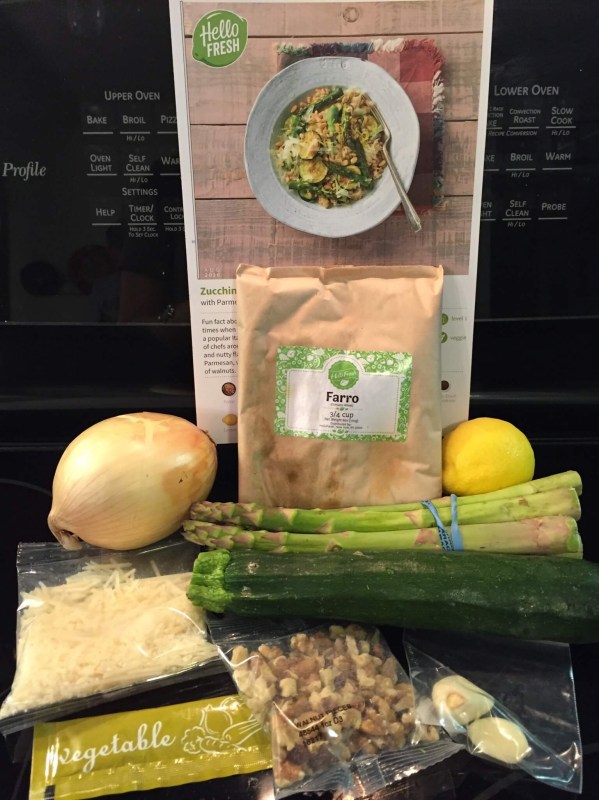 Zucchini And Asparagus Farro Bowl With Parmesan And Lemon. 40 minutes, level 1, 525 calories per serving.
First off, we like the risotto dishes that Hello Fresh has sent so we were thrilled with this risotto-style dish came to the house.  It's made with farro an Italian staple that has a dense, chewy texture and nutty flavor.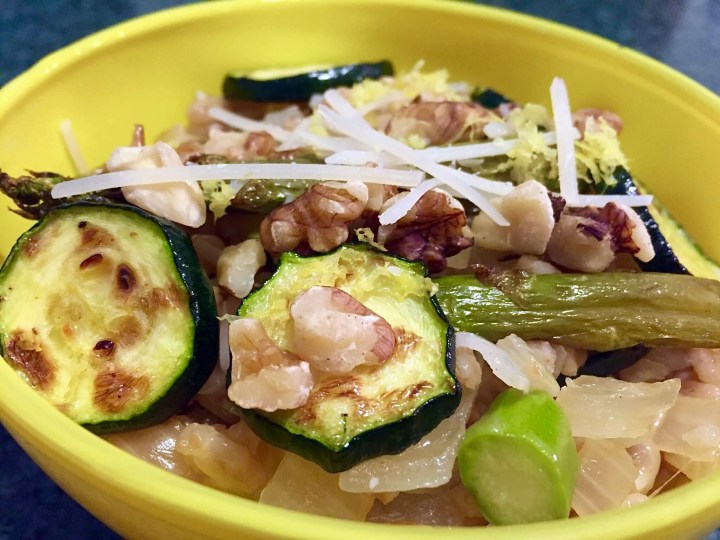 Learned another new cooking tip with this recipe, roughly chop the bottoms of the zucchini and throw into the pot that was cooking the farro the last 5 minutes.  They were cooked perfectly.   What?  Cook 2 ingredients in the same pot at different times!  Never even thought about it.  Obviously, I'm not much of a cook but I'm certainly learning.
My husband and I were both quite filled after eating only 1 bowlful.  My husband really liked the little bit of zest the lemon added to the dish.
Another great dinner!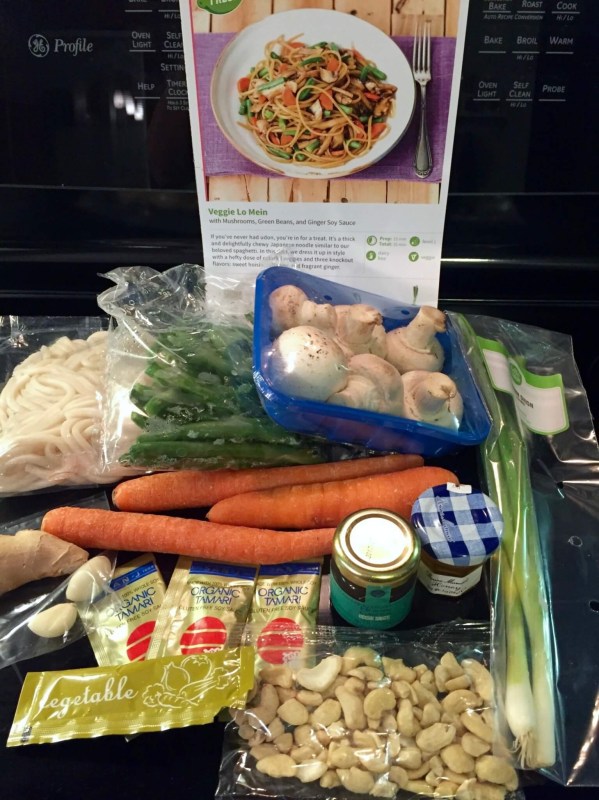 Veggie Lo Mein With Mushrooms, Green Beans, And Ginger Soy Sauce. 35 minutes, level 1, 501 calories per serving.
The hurricane is more to the east of us tonight so no need to plan our evacuation.  So I just cooked dinner and it was delicious.  We ate every bite!  Quickly!  I think we talked about how tasty this was about 10 times during and after dinner.   It was so easy I did the prepping and my husband did all the cooking.  We loved the udon noodles, thick and chewy and the sauce…out of this world scrumptdillyicous.  Yes, that's an urban word and it describes this dish perfectly.
The choice of vegetables was very appealing, also.  Bright colors and flavor in the mushrooms, carrots and green beans.  True eye candy.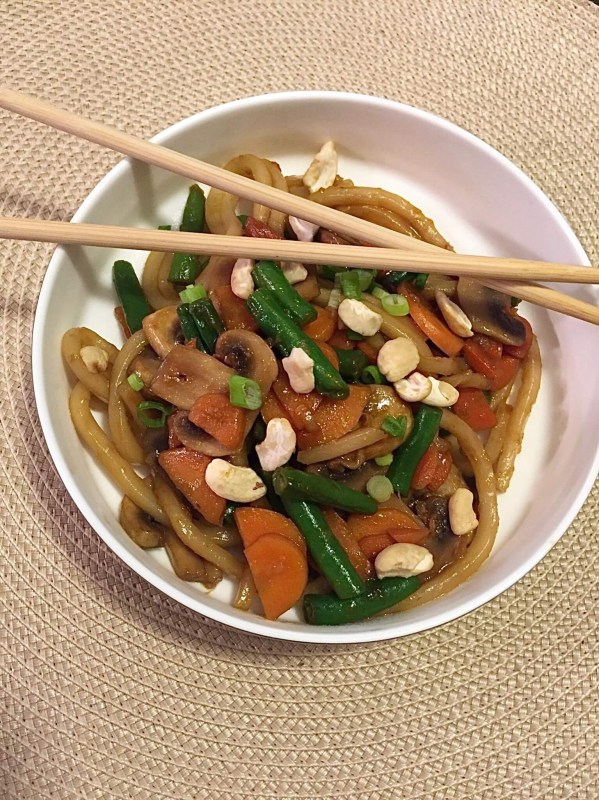 This will definitely be made again and again. Whoever the chef was for this recipe needs a bonus!
BTW, did I mention that Hello Fresh was rated very good by Consumer Reports?  Whoo hoo, Hello Fresh!
Have you tried Hello Fresh? Currently you can get a $50 Discount on your First two Boxes with coupon code HF50SUMMER.If you just want to try one box save $40 off your first box with coupon code 7UT7K8.
Visit Hello Fresh to select your box for next week!
The Subscription
: 
Hello Fresh
The Description
: Each week Hello Fresh delivers beautifully photographed step-by-step recipe cards, with the exact fresh ingredients needed to create a selection of new recipes.
The Price
: $69 per week for 3 meals (59 vegetarian)