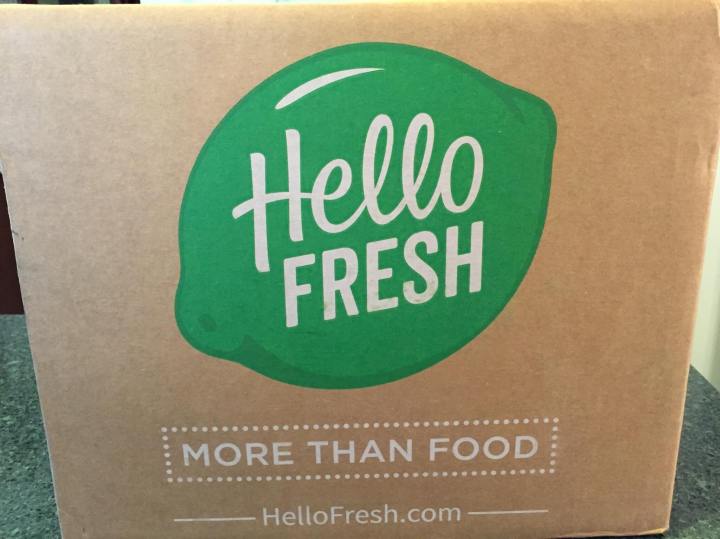 Hello Fresh is a meal kit subscription box with complete recipes and ingredients to make 3 meals every week, with each meal feeding either two or four people, depending on the plan you choose.  
Though it is a subscription, you can pause your deliveries when needed — whether you are out of town, have other dinner plans, or just aren't in love with that week's selections.  The standard subscription provides high-quality meats (free-range chicken, antibiotic meats, etc.) to use in the recipes.  
Though we do eat meat, we cook vegetarian three times a week.  Thankfully, Hello Fresh has a vegetarian subscription for both casual and dedicated vegetarians.  This review covers the vegetarian box, which featured a recipe by Jamie Oliver! 
The boxes used by Hello Fresh keep all the ingredients for the recipes in order, and they stack nicely in the fridge.   Within each box, everything but the largest vegetables is separately packaged, and is packed at the bottom. Condiments and canned goods are provided in high-end, commercial packaging.  Hello Fresh usually provides spices in their own, pre-measured branded packaging.
Hello Fresh has great instructions, and they are easy to follow even if you are an inexperienced cook. There are even some kitchen tips included in the information card.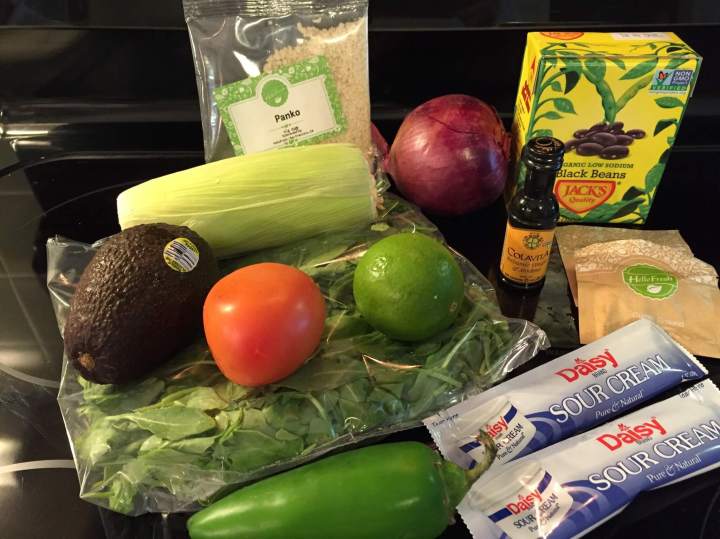 Smoky Black Bean Cakes With Sweet Corn, Avocado Salsa, And Arugula. 45 minutes, level 2, 571 calories per serving.
I do believe this was a rerun.  As soon as I saw the directions, I knew we'd made this before or something very much like it.  The problem I had before was making the patties, there was not really enough mushy beans to hold it all together.  This time I tried using a cookie dough scoop, dipped the open end into the panko crumbs and dropped that into the hot oil.  When that side was finished I smooshed it down just a little.  Two of the cakes held their shape but 2 fell apart.  So I finished cooking those patties, plated them and then I just dumped the rest of the cake mixture into the pan and fried it up!  This really needs an egg to help hold the patties together, in my humble non-chef thinking.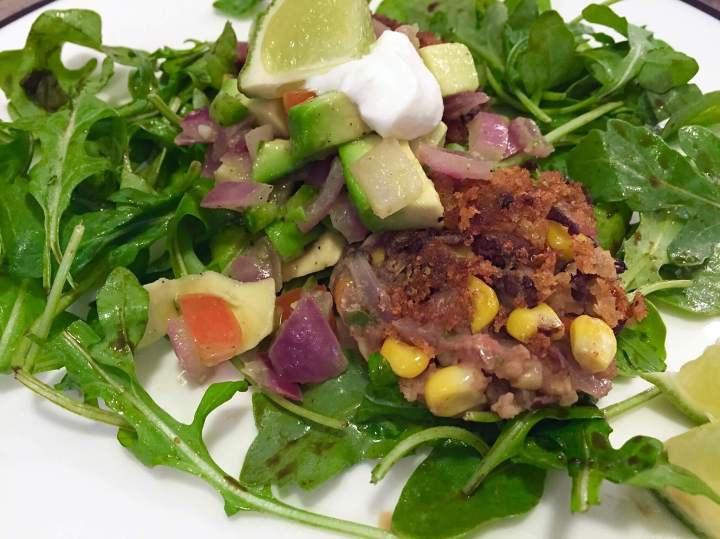 Regardless of whether you have patties or a heap of black beans, this taste profile is awesome.  We should have had leftovers because it makes quite a bit BUT nope, we ate it all.  That might be why my pants are a tad tight! 😉
My husband really liked this dish, we're glad we had it again.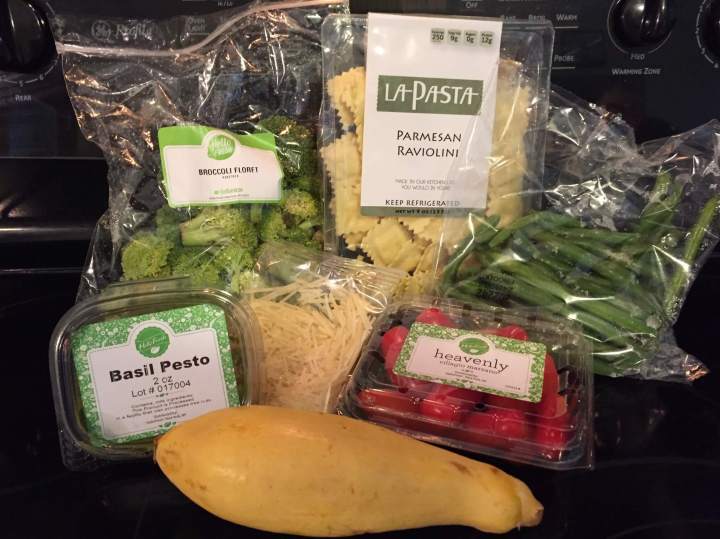 Parmesan Raviolini With Pesto And Summer Vegetables. 25 minutes, level 1, 661 calories per serving.
 Have you ever heard of raviolini?  Me neither!  It's just fancy name for mini raviolis.  We cooked the raviolini and then added it to sauteed and cooked vegetables with pesto sauce and some parmesan cheese.  Quite a simple dish but bursting with flavor.  I did comment to my husband that I've just never thought of green beans as an Italian vegetable.  So I just Googled it and some of the pictures show green beans but not the majority.  I was partially right.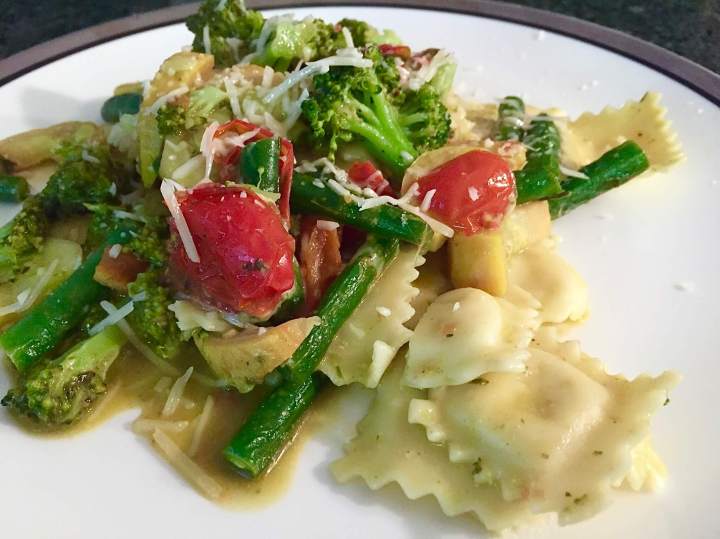 I think this would be a good recipe to clean out the vegetable drawer in your refrigerator.  Note:  here in Florida, on the water, I put all vegetables except garlic in the refrigerator.  Things spoil fast in the summer here even if the AC is on.  Fruit also goes in the refrigerator…fruit flies.  Even bread after a couple of days goes in.  Back to my thought, raviolini with pesto and any sauteed veggies would be a hit in this house.  I'm very partial to pesto.
This makes for a great summer meal.
Vegetarian Bibimbap With Shaved Vegetables, Crispy Mushrooms, And Pickled Scallions. 35 minutes, level 2, 570 calories per serving.
This day started out all of schedule.  I'm an anal type of person and like my schedules, when it's not followed I get all flustered.  I started off being called to one daughter's house because she was running late and needed help with the kids and then another granddaughter called and needed clothes she had left at my house and while waiting on me missed the bus and so the day went!  So finally when it came to dinner I grabbed this recipe card the box of food and the ravioli, took my pictures, prepped the vegetables and then realized…HEY, this ravioli doesn't go with this dish.  But it was the ravioli dinner I wanted.  WAH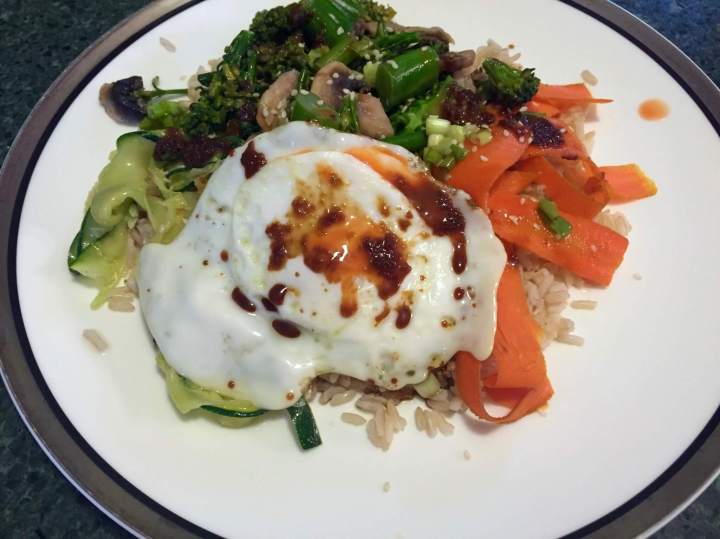 So my first pictures aren't quite correct for this meal but I made it anyway since I had the veggies all prepped.  Fortunately, the meal was easy to make but took longer than the 35 minutes allotted due to the shaving of the veggies, that takes me awhile.
Bibimbap is Korean for mixed rice. Can't figure out the mixed rice part, you really don't mix anything with the rice, you put everything on top.  It was good on top and would have been good mixed.  The only thing I didn't follow was making the eggs sunny side up.  My husband has a weakened immune system and I definitely don't feed him raw eggs or even partially raw eggs, cooked for him but the eggs to go with the dish was a great choice.  All the flavors were wonderful, we really enjoyed the ginger soy sauce, that added the perfect topping.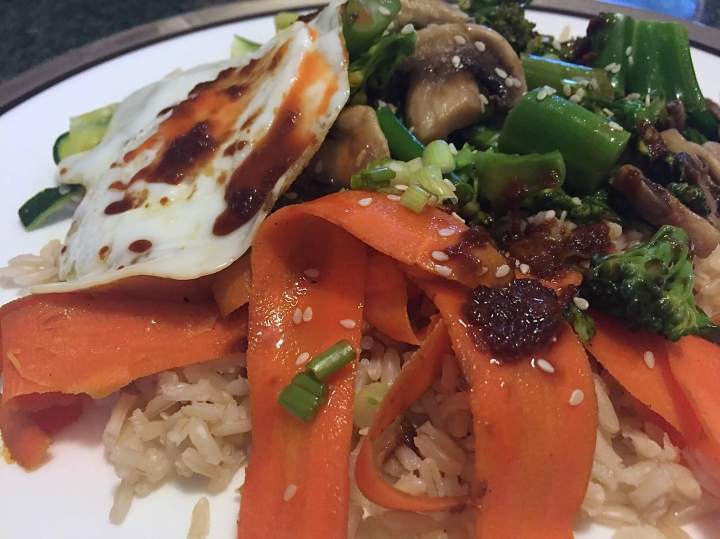 Masjoh-eun!  (That's tasty in Korean.)
 BTW, did I mention that Hello Fresh was rated very good by Consumer Reports?  Whoo hoo, Hello Fresh!
 Have you tried Hello Fresh? Currently you can get a $50 Discount on your First two Boxes with coupon code HF50SUMMER.If you just want to try one box save $40 off your first box with coupon code 7UT7K8.
Visit Hello Fresh to select your box for next week!
The Subscription
: 
Hello Fresh
The Description
: Each week Hello Fresh delivers beautifully photographed step-by-step recipe cards, with the exact fresh ingredients needed to create a selection of new recipes.
The Price
: $69 per week for 3 meals (59 vegetarian)