Hello Fresh is a meal kit subscription box with complete recipes and ingredients to make 3 meals every week, with each meal feeding either two or four people, depending on the plan you choose.  
Though it is a subscription, you can pause your deliveries when needed — whether you are out of town, have other dinner plans, or just aren't in love with that week's selections.  The standard subscription provides high-quality meats (free-range chicken, antibiotic meats, etc.) to use in the recipes.  
Though we do eat meat, we cook vegetarian three times a week.  Thankfully, Hello Fresh has a vegetarian subscription for both casual and dedicated vegetarians.  This review covers the vegetarian box, which featured a recipe by Jamie Oliver! 
The boxes used by Hello Fresh keep all the ingredients for the recipes in order, and they stack nicely in the fridge.   Within each box, everything but the largest vegetables is separately packaged, and is packed at the bottom. Condiments and canned goods are provided in high-end, commercial packaging.  Hello Fresh usually provides spices in their own, pre-measured branded packaging.
Hello Fresh has great instructions, and they are easy to follow even if you are an inexperienced cook. There are even some kitchen tips included in the information card.
Heirloom Tomato Flatbread With Fresh Mozzarella, Prosciutto & Pesto. 25 minutes, level 2, 900 calories per serving.
We were so tired last night we totally forgot the Hello Fresh box sitting on my carport in the Florida evening/night heat.  So this morning when I saw it and after my uh oh! I crossed my fingers and opened it.  The freezer packs were only partially thawed and everything was still nice and cool. Whewww!  We've found another charitable organization that will take everyone one of the freezer packs for their clients with medications.  Recycling…it's a beautiful thing.
So today for lunch we had some leftovers, very filling leftovers.  We picked the flatbread because it appeared lighter than the other meals.  Even after that big lunch we ate almost all the flatbread because of it's deliciousness.  We saved 2 scrawny pieces and some of the arugula salad for tomorrow's lunch.
My 9 year old granddaughter absolutely loved helping make the meal.  I'm excited to report that she taste tested the pesto and pesto is so green and she still tried it!  I might get her to eat veggies yet.
Hello Fresh gets a 10 for the freezer packs.
Hello Fresh gets a 10 for my granddaughter cooking and actually trying some new foods.
This flatbread gets a 10 for being so yummy scrumptious.
Quinoa Stuffed Peppers With Feta, Mushrooms, and Pepitas. 35 minutes, level 1, 558 calories per serving.
In this house, we love stuffed peppers especially when they are in season.  And this is the season. Lots of times I'll take leftovers and chop them up and throw them in peppers, stuffed peppers easy peasy.  No waste in this house.
This was really good and who would have thought to add pepitas?  Not me but I'm sure learning. The feta on top gave it a nice little zing of taste.  We had plenty of the stuffing left over, so it'll be probably tossed with some legumes for tomorrow's lunch.  These dinners go a long way.
You might notice that I cut off the stem before stuffing and Hello Fresh didn't.  When I'm eating, if I can help it, I don't want to be bothered with cutting the stem off.  It's just a personal preference but maybe that's why I had so much stuffing leftover.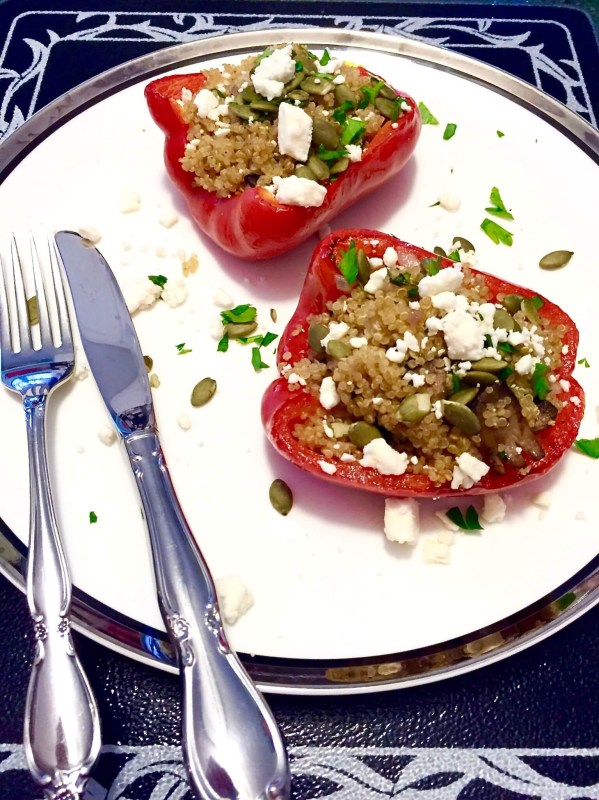 This recipe is a keeper and so easy to adapt to other stuffings.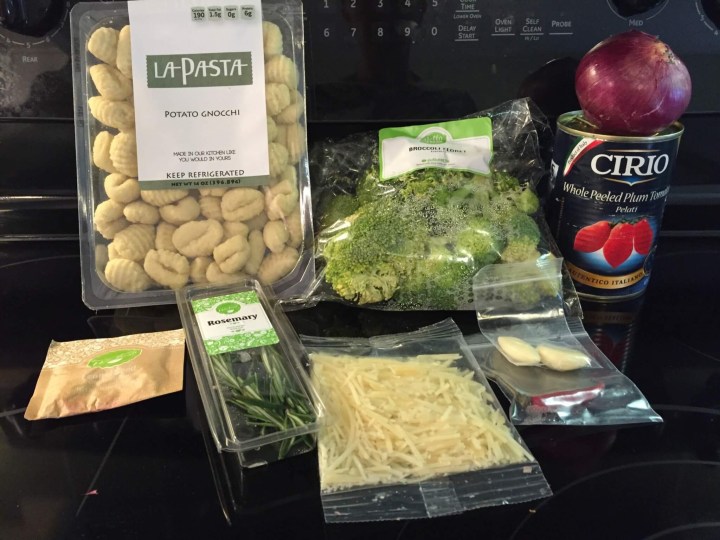 Jamie'S Super Tasty Gnocchi With Broccoli & Chili. 30 minutes, level 2, 496 calories per serving.
We sat down to eat and before my husband even tastes it he says, "would you be offended if I put more Parmesan on this?"  And of course I say yes.  He has to try the dish before adding more stuff! I find that rude.  It's the same with salt and pepper, geez, try it first, you might over do it and then you'll have a mess.  He did try it and said how good it was and then got the Parmesan.  Some people.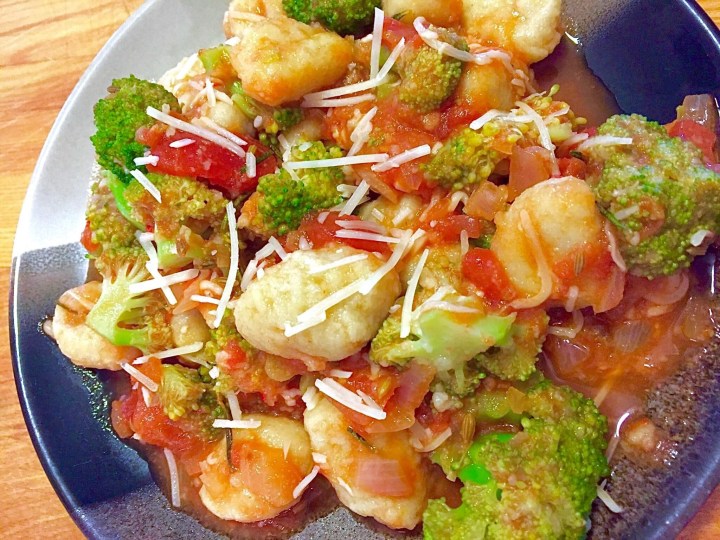 This was really good and tasty.  I was so surprised with the rosemary, chili, garlic and fennel, their flavors blended so well together.  I was afraid about the fennel since, to me, it has such a licorice flavor and I don't like licorice.  This was such a good blend.
My husband has great childhood memories of visiting other kid's homes and eating food with gnocchi, something I didn't grow up with.  He loved it.  Me, not so much because it sticks really well in my braces!  Tastes great though.
I'm not going to bother giving ratings anymore because I was thinking about it and most rate a 10,  unless the "boss" tells me to!  This was really good and I'll be making this again.
Have you tried Hello Fresh? Currently you can get a $50 Discount on your First two Boxes with coupon code HF50SUMMER.If you just want to try one box save $40 off your first box with coupon code 7UT7K8.
Visit Hello Fresh to select your box for next week!
The Subscription
: 
Hello Fresh
The Description
: Each week Hello Fresh delivers beautifully photographed step-by-step recipe cards, with the exact fresh ingredients needed to create a selection of new recipes.
The Price
: $69 per week for 3 meals (59 vegetarian)