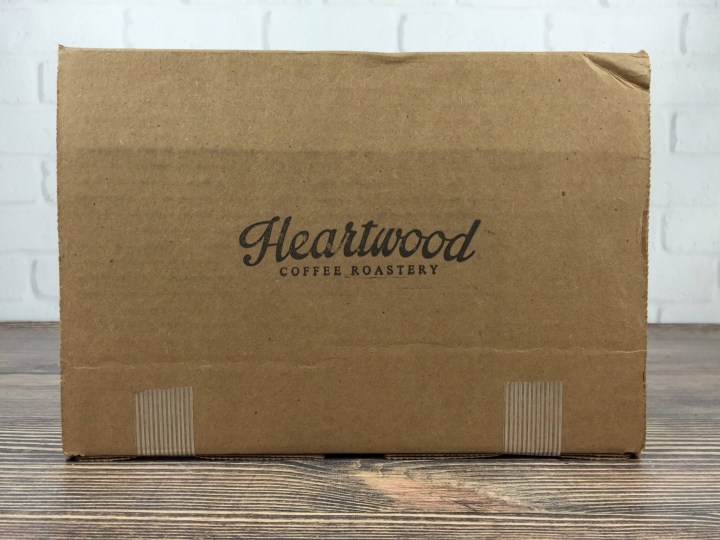 Heartwood Coffee Club is a bi-weekly subscription box for the serious coffee addict. For $28 per month, Heartwood Coffee Club will deliver freshly roasted coffee beans from around the world right to your door every two weeks.  They offer various options as to bean selection and size of order.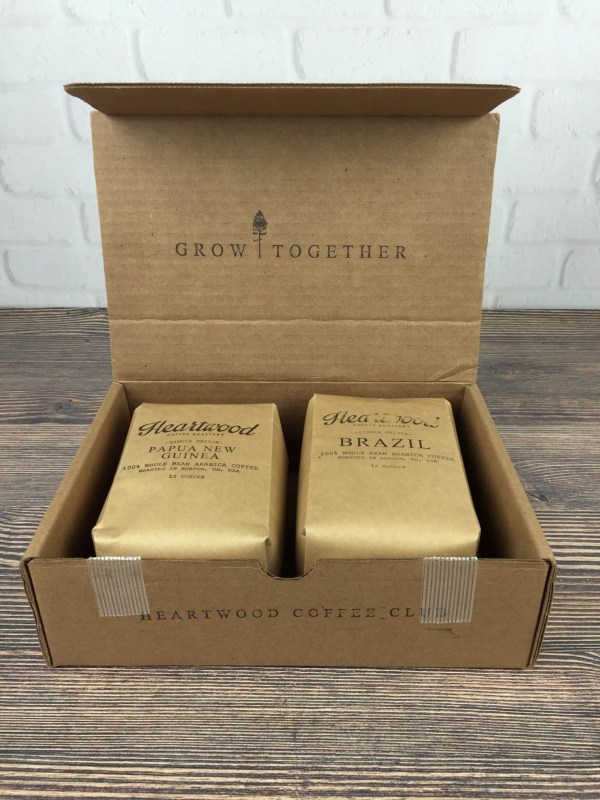 Everything in the box — my two bags of Roaster's Pick!  There are a few options – you can pick one of 3 specific blends – Birdseye House Blend (Ethiopian & Colombian), Old River dark roast, Rosena Espresso blend, or Roaster's Pick.  I went with the Roaster's Pick, which promises the highest quality single origin coffee.  I chose to receive two bags in each shipment — sometimes you get two identical picks, and other times they are mixed.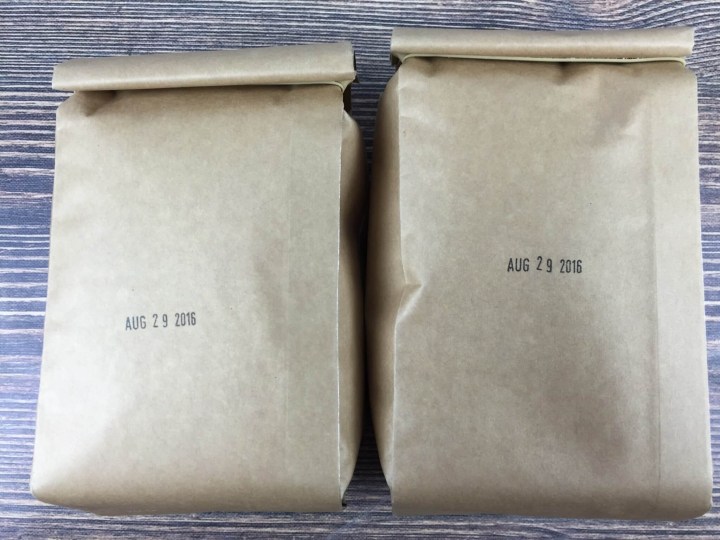 The packaging is simple and uncluttered, with the beans packed in respiration-controlled resealable (by bendy strip) bags.  The roasting date is clearly stamped on the back.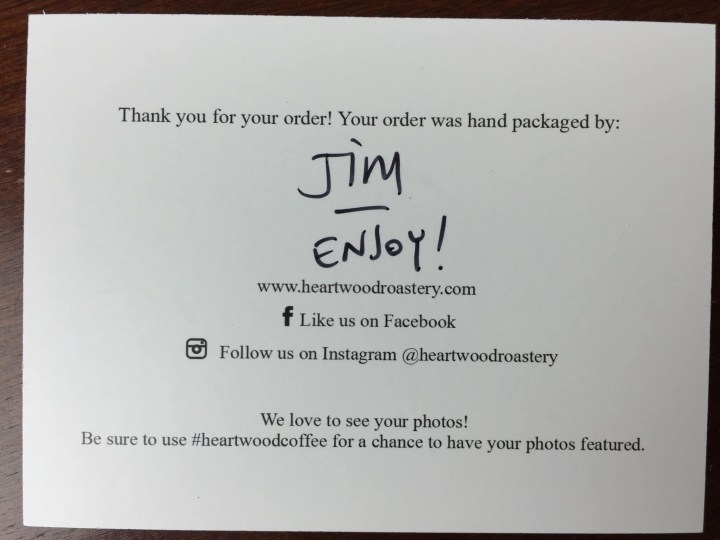 An information card is included in the box, letting us know Jim packed our beans, but it doesn't provide more details about the coffee that was sent.  The exact farmers, process, and varietals remain a mystery, but we know they are all Arabica beans (which is de rigueur, though Robusta are gaining a following in some circles).  The beans are "single origin," but I am not sure how big or small an origin we are talking about.  Usually the term implies that the beans are at least from within the same county/province/district, or the same geographic region if it crosses political boundaries.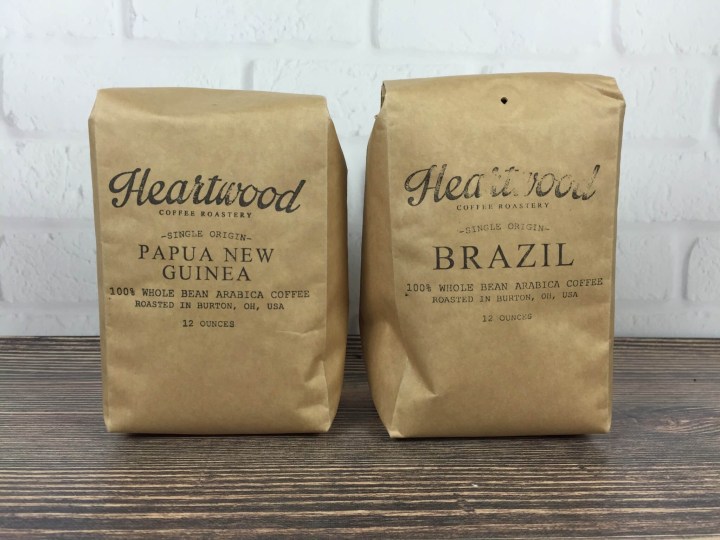 This batch of coffee beans are organically grown and fair trade acquired from Brazil and Papua New Guinea– they were roasted in Burton, Ohio, and shipped the very next day.  I like the roast level on the beans.  It is slightly darker than the roast employed by many single-origin purveyors, resulting in a mellower brew.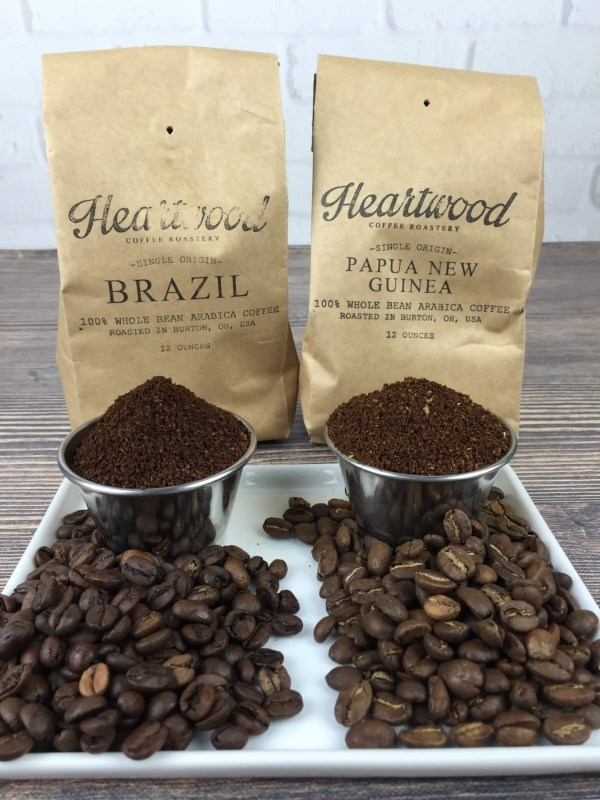 Brazil:  Deep and mellow, this brew has strong notes of tobacco.
Papua New Guinea:  The ground beans smell like tangy barbecue, loaded with molasses, nutmeg, and caramelized tomato.  Brewed, it smells of apricot.  The taste is earthy, with notes of Brazil and macadamia nut, nutmeg, and oak.  This brew is balanced, but it has very earthy, woody, and slightly tannic qualities.
Heartwood doesn't do much in the way of explaining their beans, they just let the coffee do the talking.  Their selections, though single origin, still have a wonderfully versatile and approachable flavor profile, and this quality has made Heartwood my go to for a great everyday cup of coffee.
Get 50% off your first box! Use coupon code TRYHEARTWOOD.
Visit Heartwood Coffee Club to subscribe or find out more!
The Subscription
:
Heartwood Coffee Club
The Description
: Heartwood Coffee Club is a coffee subscription for the serious coffee drinker. We deliver freshly roasted 100% arabica coffee directly to your doorstep. We cater to coffee addicts and let our subscribers control how much coffee they want to receive. Upgrade you plan, downgrade your plan, skip a shipment, or cancel at any time. No commitment, no fees, just great coffee!
The Price
: $28.00 per month