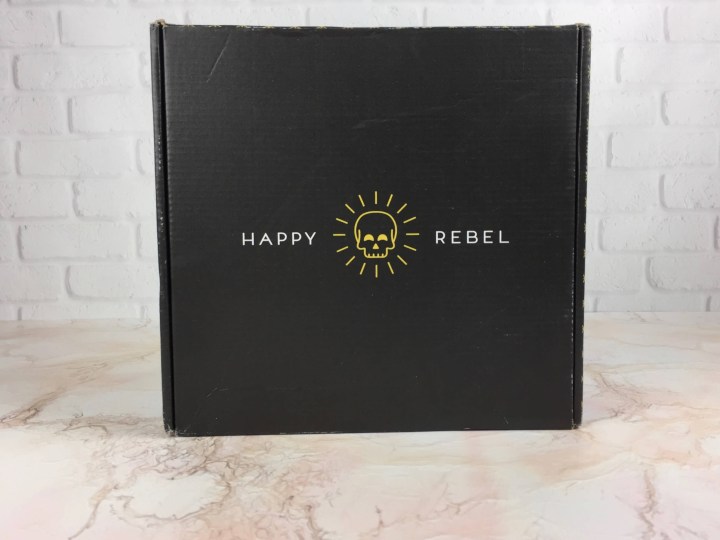 Happy Rebel Box is a quarterly subscription box for the modern woman that prefers to express herself through alternative fashion choices. It's a collection of polished, yet also edgy statement pieces from up-and-coming new designers, as well as well-known brands. Boxes will include distinctive hand-picked accessories, jewelry, household items, and more.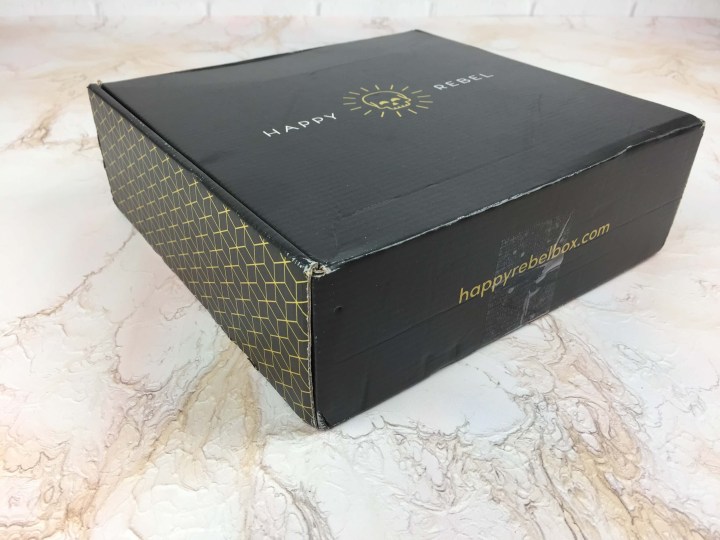 Such a cute clsssy box. Is grown up glam goth a thing? Because that's what this quarter is. A little gold. A little shine. A little black. And a little skull action!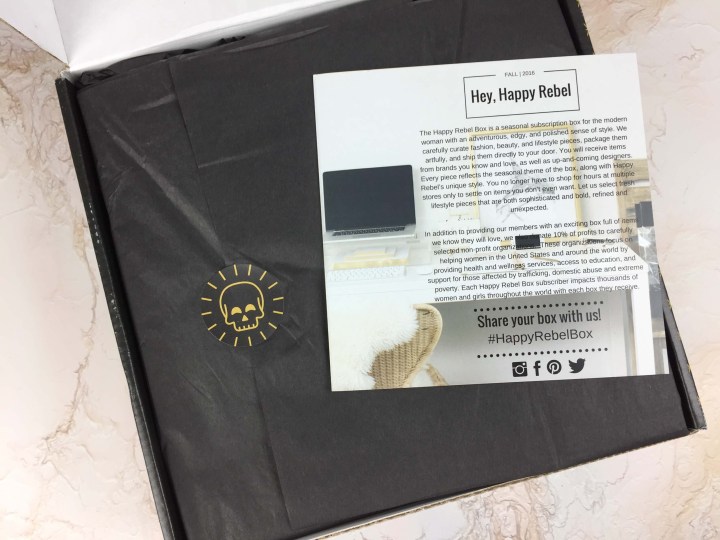 Every box comes with a seasonal theme, and this Fall, the theme is "Worked To The Bone."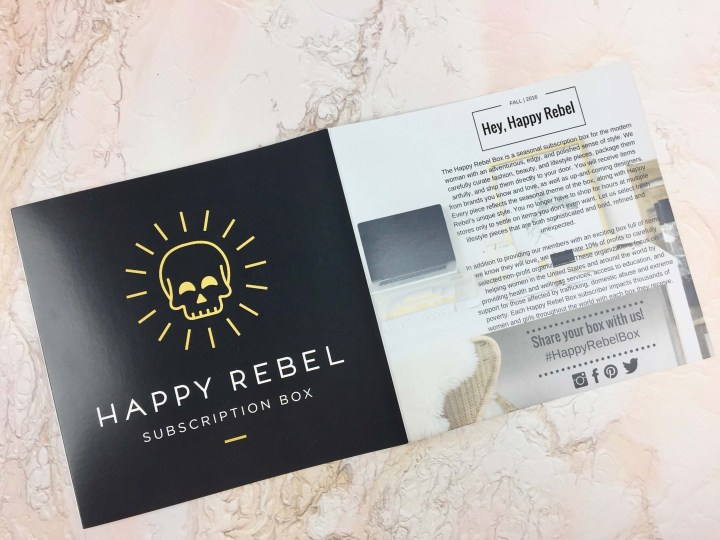 The box includes a fold-out information card that explains all the product details, as well as the charitable causes of Happy Rebel.
Happy Rebel promises to donate 10% of their profit to non-profit organizations benefiting girls and women around the world. This quarter, the charity was Dress for Success.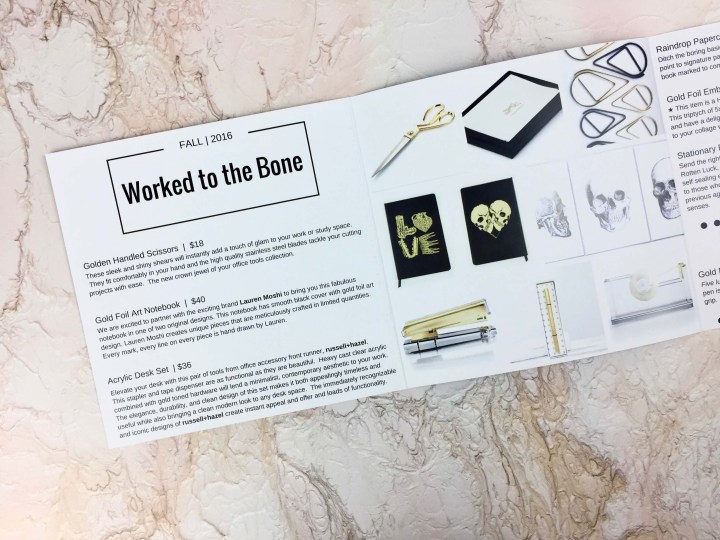 All the details about each item is provided, as well as its retail value.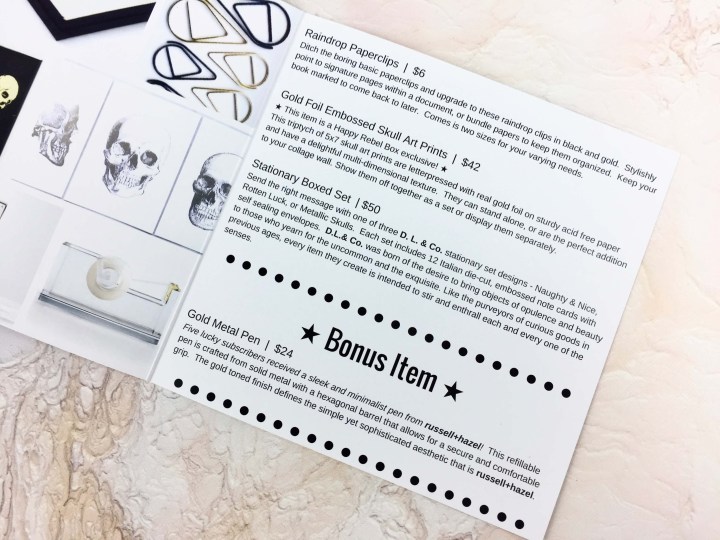 There was also a bonus item included in this box for five subscribers.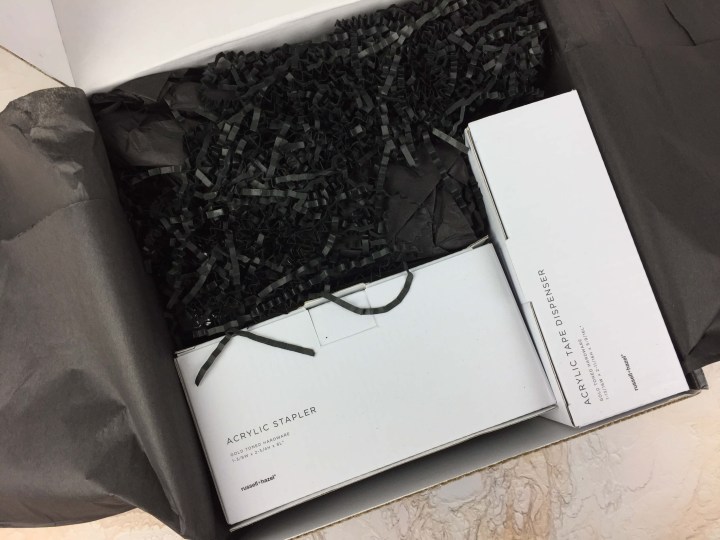 Everything in the Happy Rebel Fall 2016 Box!
Raindrop Paperclips ($6 on card, $1 per pack of 12 pieces on Etsy)
Golden Handled Scissors ($18 on card, $28.18 similar item on Amazon)
Love those chic paper clips! The scissors are super fabulous, have a nice weight, and slice smoothly with stainless steel blades.  I seriously got mesmerized opening and closing them!
The item values we found were a little off but it looks like they evened out!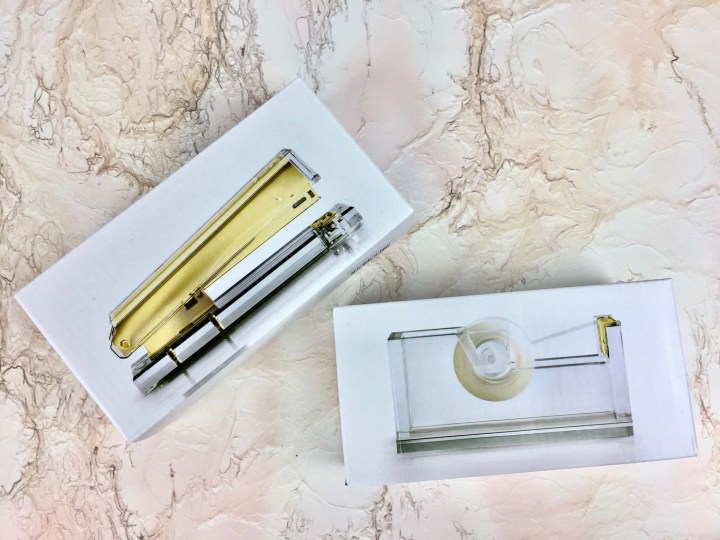 russell + hazel Acrylic Stapler ($18)
russell + hazel Acrylic Tape Dispenser  ($18)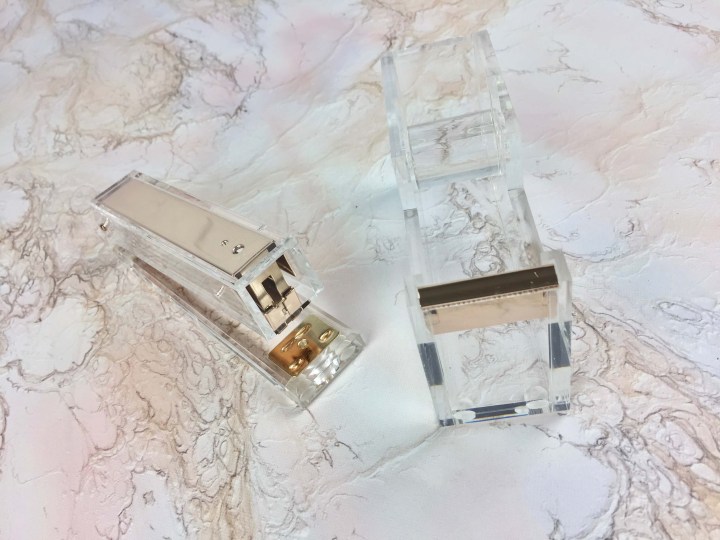 The most luxe stapler and tape dispenser! I love the acrylic look accented by rose gold. They are really classic and beautiful.  I felt that were I an instagrammer I would style them in a black flokati rug and it would be everything.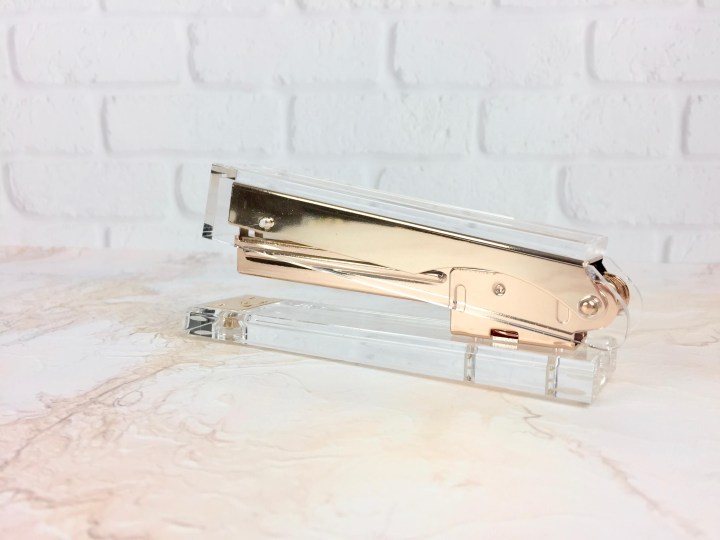 Now I want to staple all the things!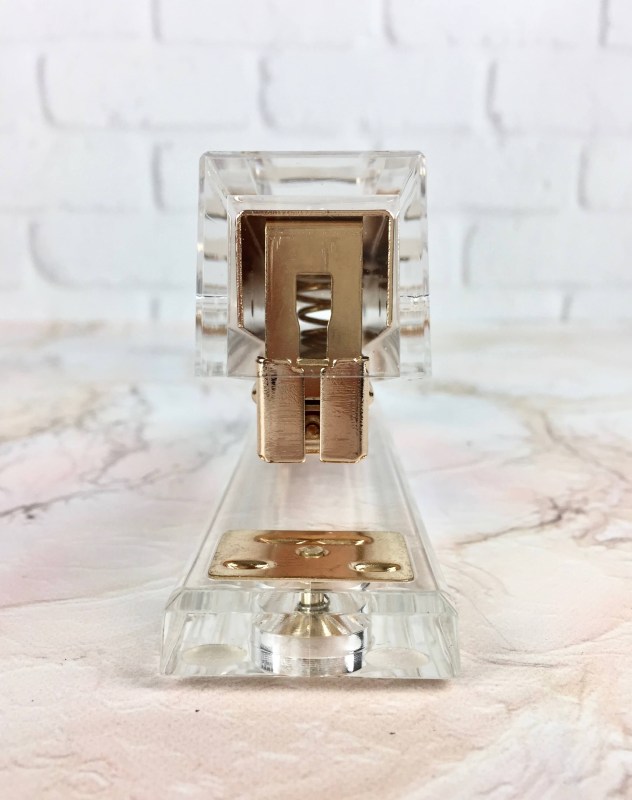 Plink! This is so great to keep on your desk!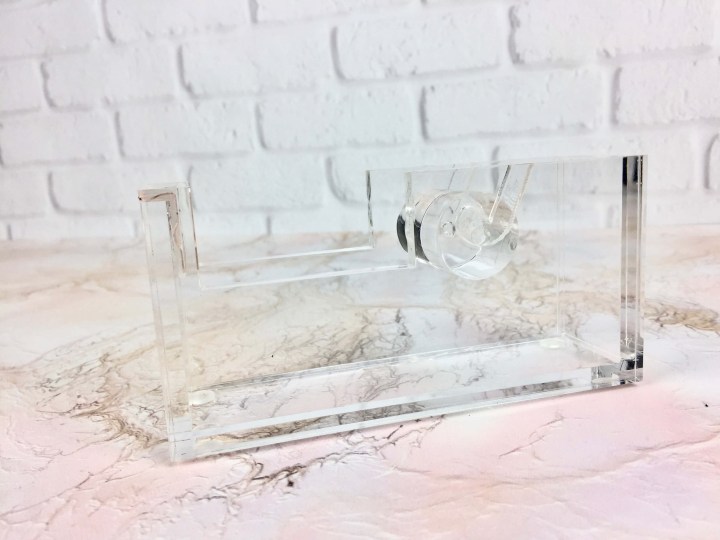 The rose gold accent on the tape dispenser is so subtle that it disappears at this angle.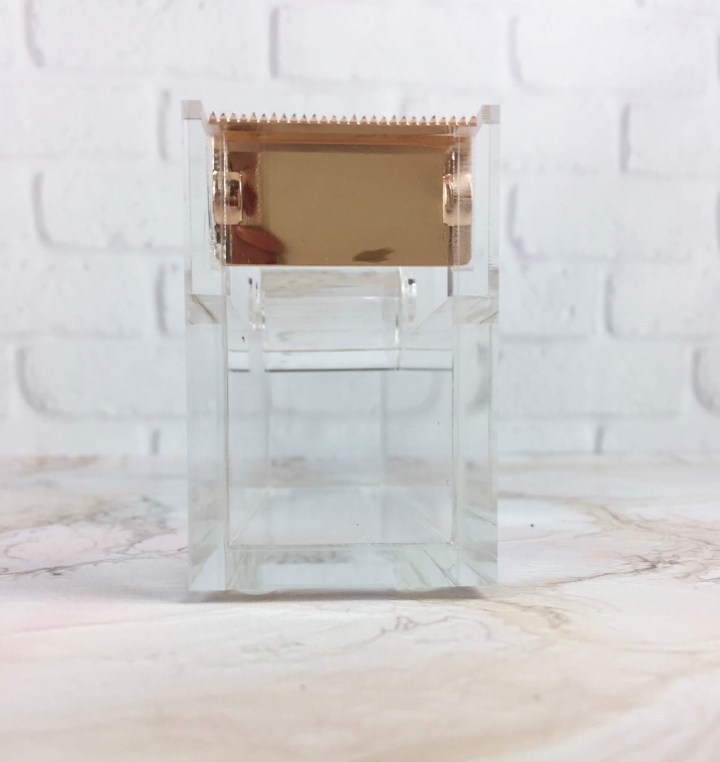 Once again – fabulous. And if you've been scratching your head at these items, which admittedly would be fantastic in a totally non-rebellious subscription box, they match perfectly with the other items curated for this quarter!

Gold Foil Embossed Skull Art Prints ($42) These are fab! I think they would be great displayed as a triptych, either in one frame or perhaps Separate floating frames. Really these prints are just fantastic and I love that they are metallic gold skulls.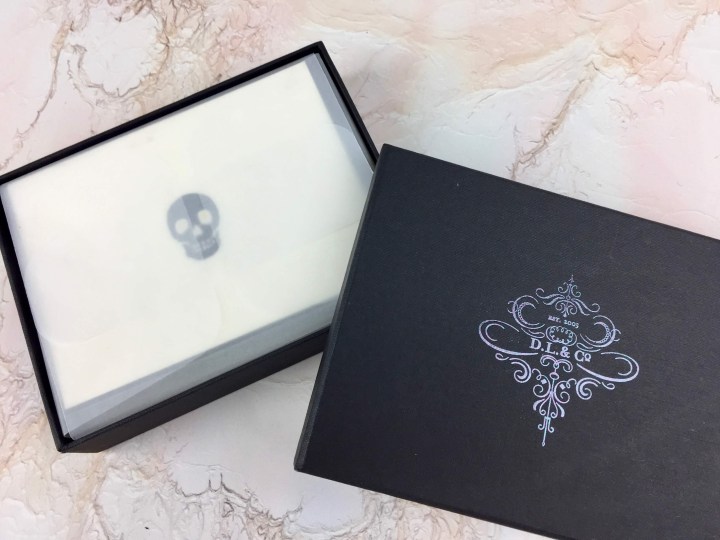 D. L. & Co. Stationary Boxed Set ($50) This stationery set carried on with the luxe goth sort of theme – and I have to point out that the packaging had a clear iridescent logo foiled on. It was so eye catching that I will reuse this box for sure!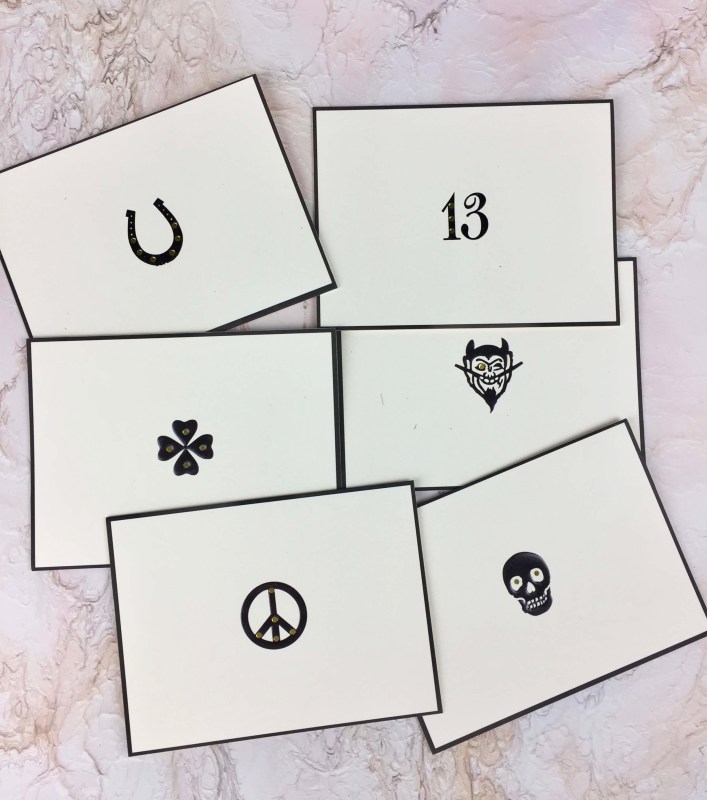 Two cards of each design were included. Subscribers received one of three sets: Rotten Luck, Naughty & Nice, or Skull.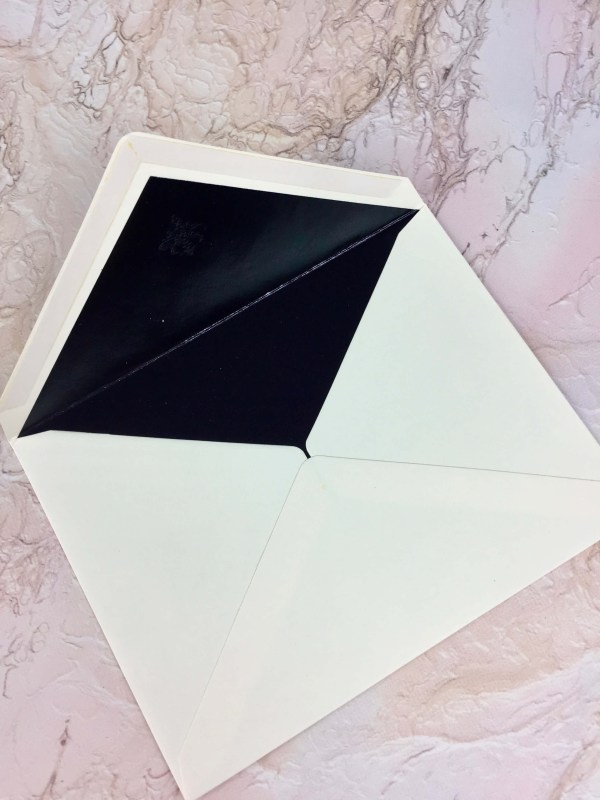 Plus envelopes. The paper was luxe and creamy and perfect for writing. This happy rebel was thrilled to see peel away adhesives on the envelopes! No crass licking required!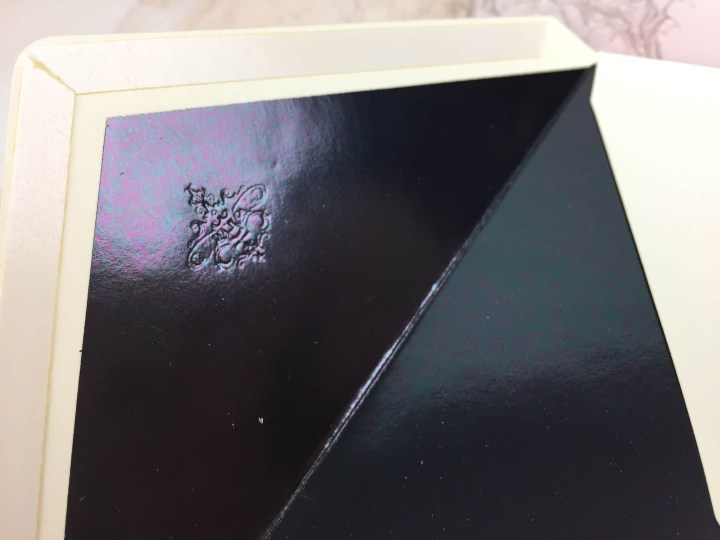 The black inner envelopes were also iridescent. Love this.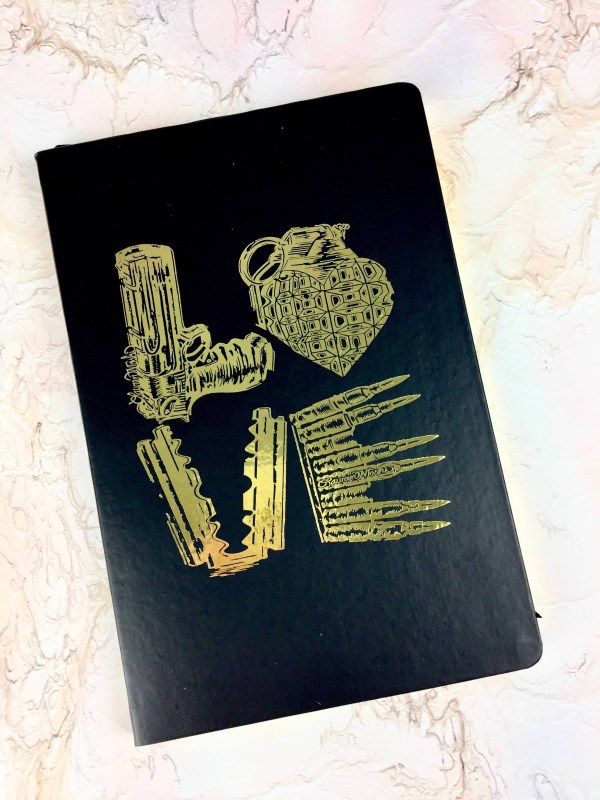 Lauren Moshi Gold Foil Art Notebook ($40) Subscribers received this or the Skull notebook. I love the provocative design of this one.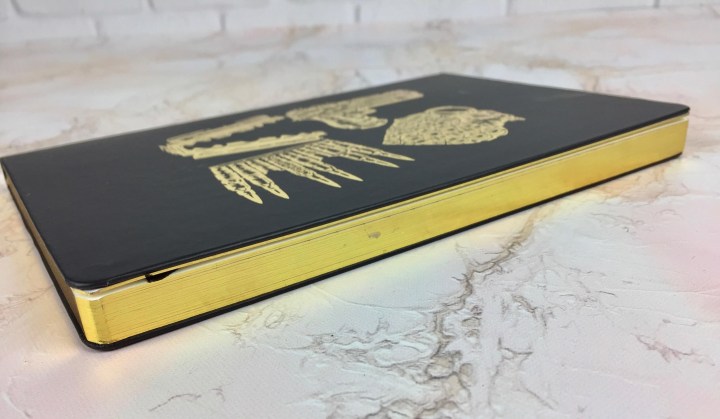 The book is gilt-edged and has a ribbon bookmark.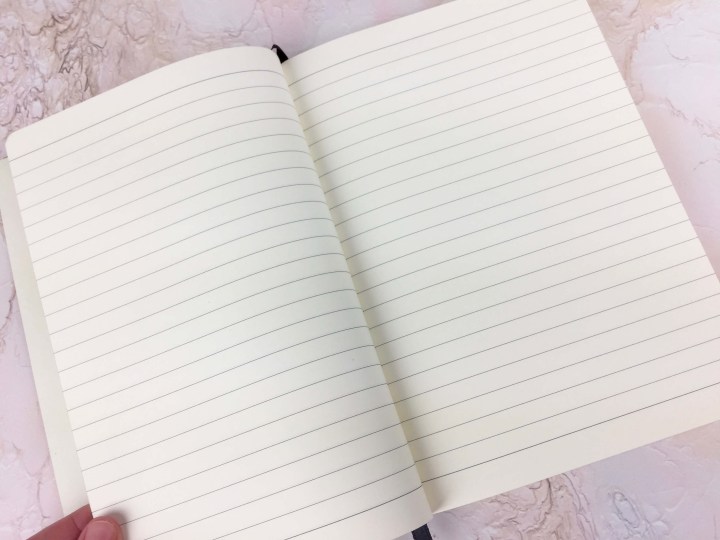 The pages are lined.
I loved the luxe theme for this box – which was a great twist on the lush themes I've been seeing in other lifestyle subscription boxes designed for fall, but with a definite dark twist! The total value according to the card was $192, which definitely reflected the selection of some great high-quality artisan items. I think this box is really well put together – and it makes me super curious what they have up their sleeves for winter!
Save $10 on your first box! Use coupon code HELLOSUB10.
What did you think of the fall Happy Rebel Box?
Visit Happy Rebel Box to subscribe or find out more!
The Subscription
:
Happy Rebel Box
The Description
: The Happy Rebel Box is a subscription box geared for the modern woman with an adventurous, edgy, and polished sense of style. We carefully curate fashion, beauty, and lifestyle pieces, package them artfully, and ship them directly to your door. You will receive items from brands you know and love, as well as up-and-coming designers. Every piece reflects the seasonal theme of the box, along with Happy Rebel's unique style. In addition to providing our members with an exciting box full of items we know they will love, we also donate 10% of profits to carefully selected non-profit organizations focused on helping women in the United States and around the world by providing health and wellness services, access to education, and support for those affected by trafficking, domestic abuse and extreme poverty.
The Price
: $100.00 per quarter