Gwynnie Bee is a clothing rental subscription service for sizes 10-32.   To start, browse through the numerous apparel pieces and add items to your closet.  After you've selected 25+ items, Gwynnie Bee will send you the first three that are available. There is also a feature that lets you prioritize items, so you can have some control over which items are more likely to arrive.  Wear for as long as you like, and then return the pieces to get more!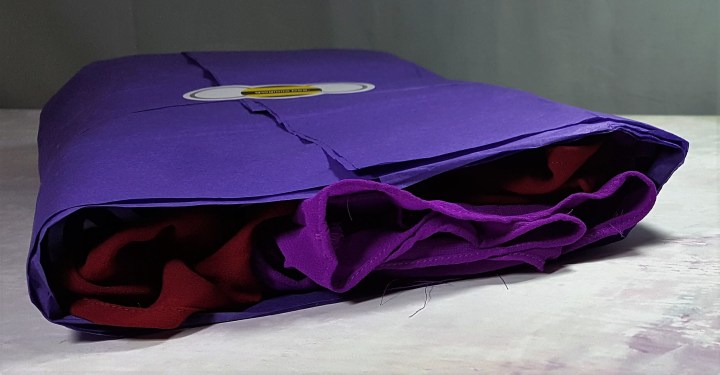 Neatly packed and wrapped in tissue.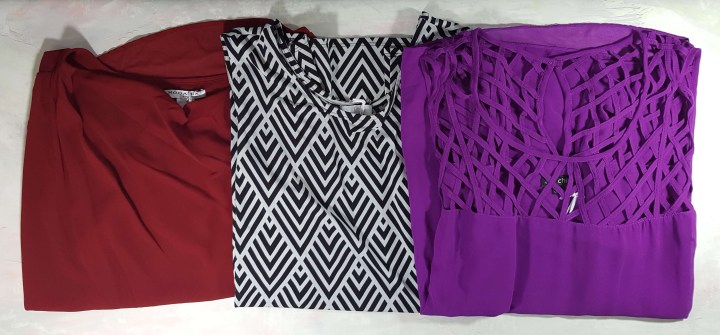 My September Gwynnie Bee closet items.  I was looking for lightweight tops that were office appropriate and set these as priority.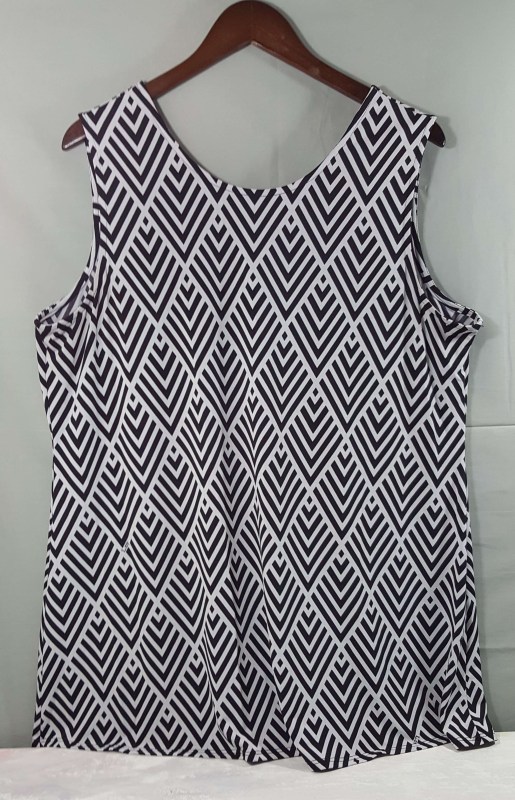 Leota Tank Tunic in Portico (cost to buy $51.00):  Jersey tank tunic with scoop neck, stretch-knit fabric, straight cut, allover geo print.  With its stretch fabric and relaxed cut, this black and white top goes weekend to work, and beyond.
This was my least favorite item in the box, but the one that I got the most compliments for.  I do like the top, just not as much as the others.  The top draped nicely, hiding quite a few flaws, and was long enough to cover my hips (yay!).  Plus, the jersey knit gave extra stretch even though I didn't need it.  For my bustier ladies, I was amazed that the pattern didn't look stretched out over the girls.  I've tried so many tops that get distorted across the bustline.
I'm going to rant just a bit here.  One of my cons with rental subscriptions is that clothing is dry cleaned – not laundered.  Synthetic fabrics have a tendency to hold onto odors even after dry cleaning; such was the case with this top.  I had to wash the entire order because the odor from this one top was so overwhelming that it got into the other pieces.  OK, rant over.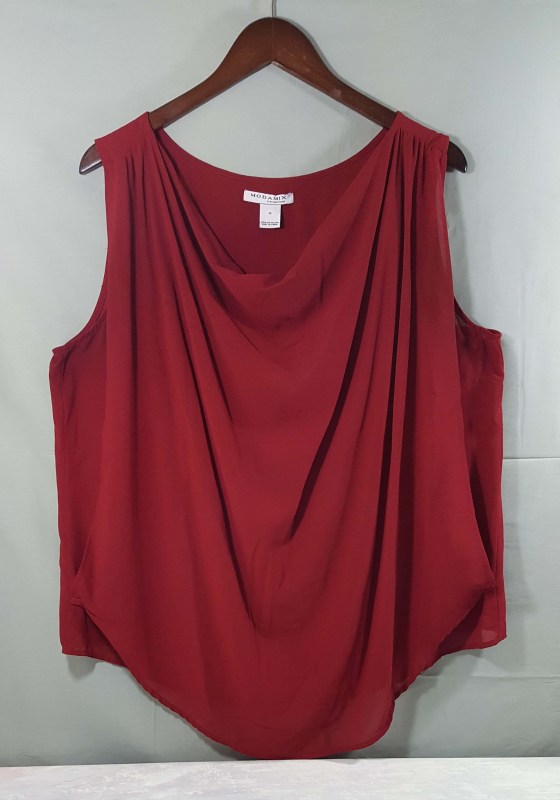 Modamix Cowlneck Sleeveless Top in Sundried Tomato (cost to buy $55.00):  Double-layer crepe shell top with draped cowl neck.  Designed in a woven fabric that holds its shape time and time again, the Cowlneck Sleeveless Top in Sundried Tomato makes a timeless addition to your wardrobe thanks to a simple cut and stylish neckline.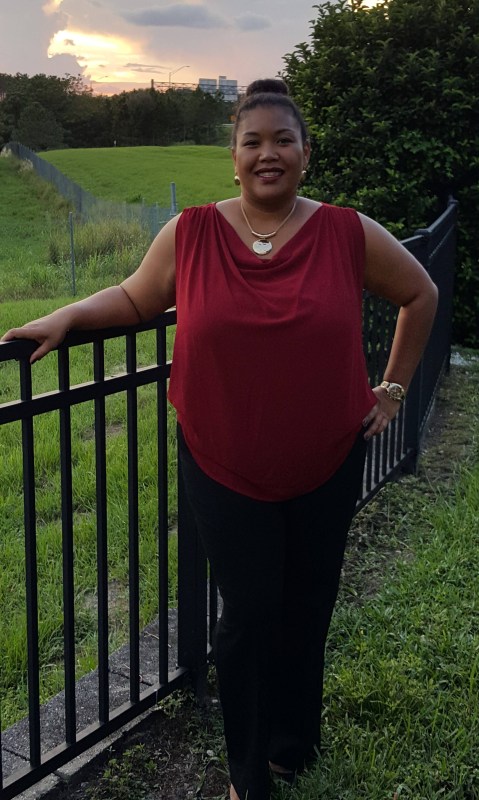 LOVE, LOVE, LOVE this top!  It reminded me of a Grecian toga, and the simple silhouette provides a great backdrop for a statement necklace.  The front draping is great for hiding flaws around my middle.  I am having a hard time justifying the cost for this and need your help on whether to buy now or hope it lasts until a sale comes.  Side note:  My niece wanted to capture the sunset because it was so pretty.  Your little bit of natural beauty for the day.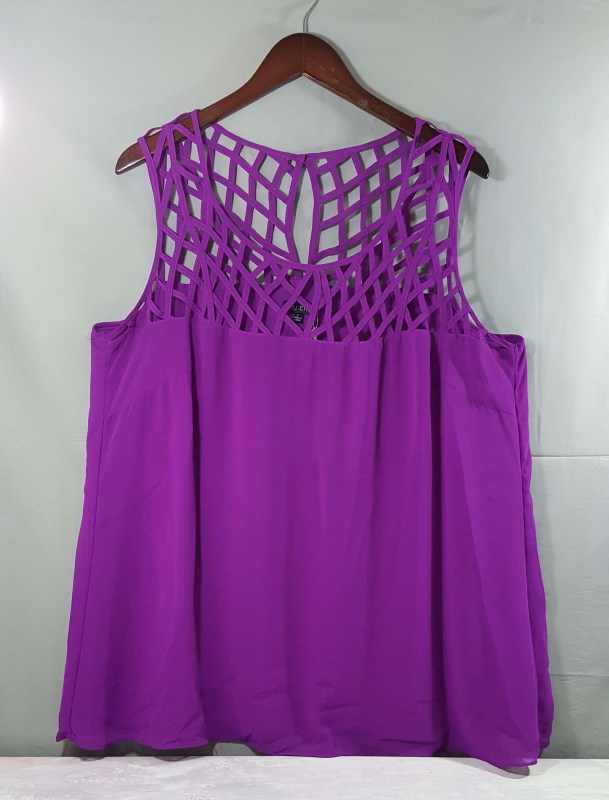 City Chic Crosshatch Top in Orchid (cost to buy $32.00):  Semi-sheer sleeveless chiffon tunic top with scoop neck.  Designed in the lightest chiffon fabric, this semi-sheer tunic top has an exposed yoke with lattice detailing and a cute keyhole at the back. Don a monochrome style and pair with black denim and platform sandals.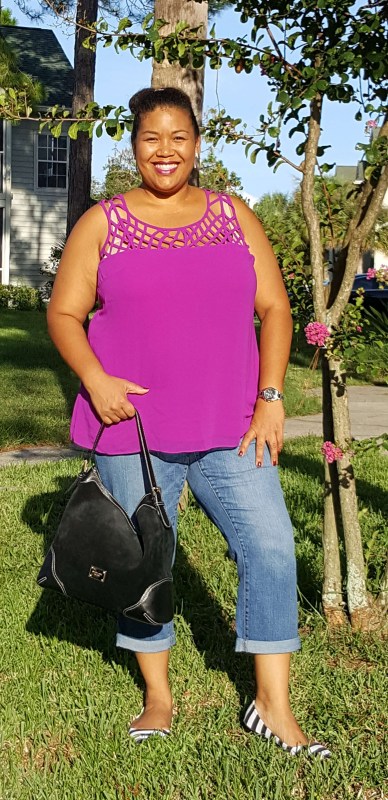 Yeah, I didn't heed the styling suggestion in the description.  BUT, that's the great thing about fashion – you don't have to follow the rules.  If you like something, create a look that suits you and own it!  Now, back to the top.  The color on this is beautiful, and I can't get over the crosshatch details on the yoke.  This would look better with a strapless bra, but I haven't found a comfortable one out there.  (If you have any suggestions, let me know.  I'm always on the lookout.)
Whew!  I thought I was losing my touch in knowing what looks good on my body; I've made some interesting choices in the past months that didn't go over too well.  This month's Gwynnie Bee rack goes back to my normal, safe wardrobe choices.  What did you think of my fashion choices?  Share your thoughts with a comment below.
Currently when you sign up for Gwynnie Bee you can get your first month for FREE, (no code needed, just use the link) which is an awesome way to just try it out and see if you love it.
Visit Gwynnie Bee to subscribe or find out more!
The Subscription
:
Gwynnie Bee
The Description
: Plus size clothing subscription rental service. Unlimited exchanges, free shipping & returns. Hot brands for curvy ladies sizes 10-32! Because this is a rental service, this is not quite a plus-size Stitch Fix. However, you can purchase the items you love, usually at a significant discount. We recommend trying it out for a month!
The Price
: $49.00 per month
The Coupon
: Currently when you
sign up for Gwynnie Bee you can get your first month for FREE
, (no coupon code needed!)
A couple things to remember (besides free laundry!):
you can mark your shipment as outgoing so your items ship out faster
you can purchase items that you love at huge discounts
use the community at Gwynnie Bee to help you select the best items for your body and the right size for that garment.
All the garments are inspected and I've never really had an issue with anything I've received in terms of condition.
 It's also worth a mention that the clothes are higher end clothes, so they all have better construction and fabric than what you might normally purchase for yourself.
The plans are as follows:

1 item/ $49 per month
2 items/ $69 per month
3 items/$95 per month
5 items/$139 per month
7 items/$179 per month
10 items/$199 per month