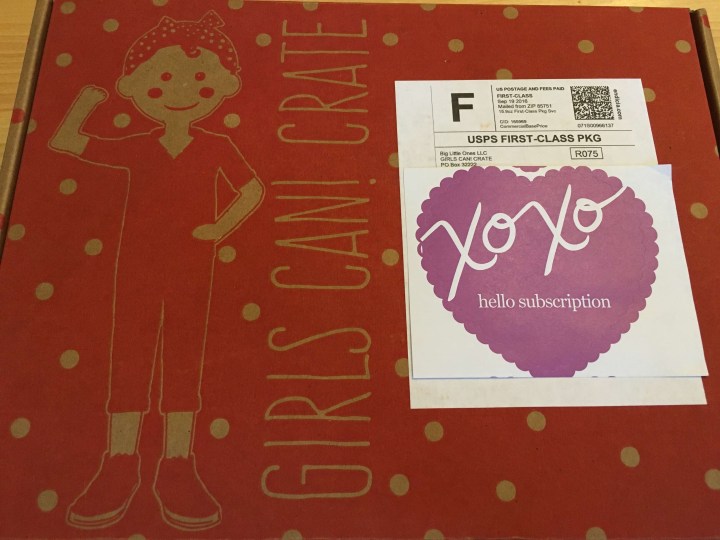 Girls Can Crate is a monthly subscription for children between 5 and 10 years of age that promotes the idea that girls can do whatever they set their minds to. Each month features a different female pioneer whose story inspires girls to achieve. Each box includes a 20 page activity book that includes the heroine's story, 2-3 STEAM activities and creative play props. Boxes cost $29.95 each month and can ship to either the United States or Canada. Although this box is intended for girls, I'm a firm believer that it's crucial for boys to believe that girls can do whatever they set their minds to! I'm excited to work through this box with my son.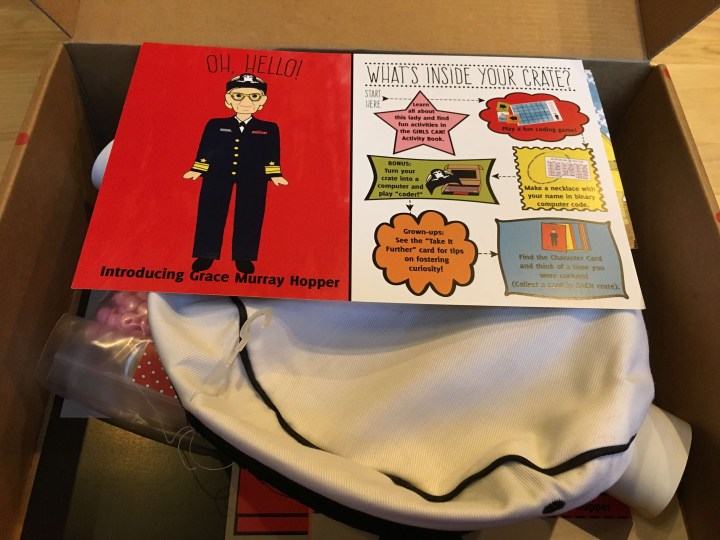 Each box arrives well packaged with attractive squiggles.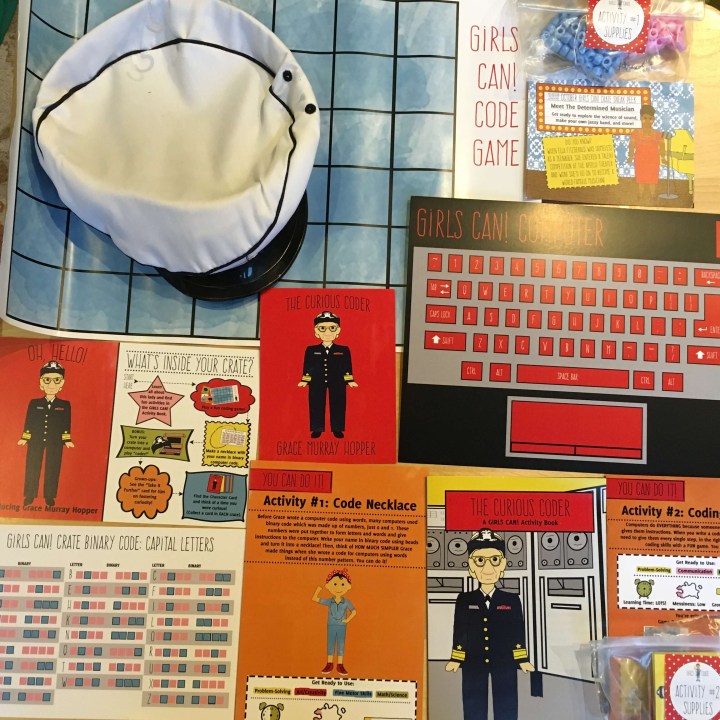 September's crate is chock full of information, activities and supplies!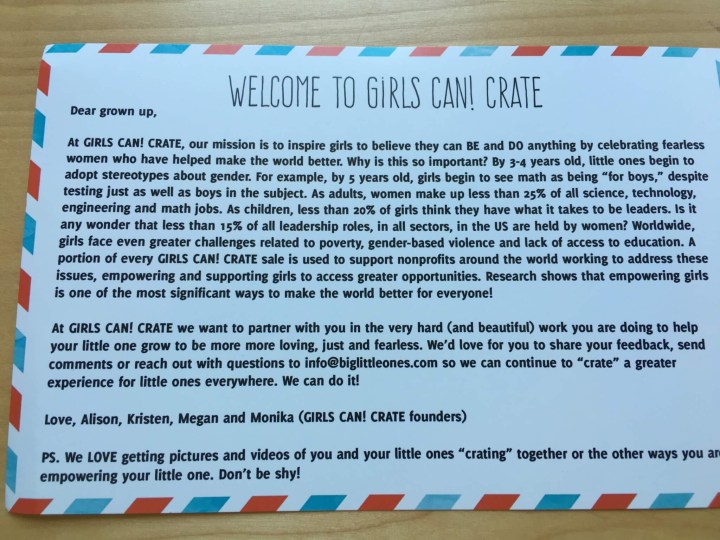 I was fascinated to learn that gender stereotypes start so early in life. I'm glad my son and I are working through this crate now, when he's young.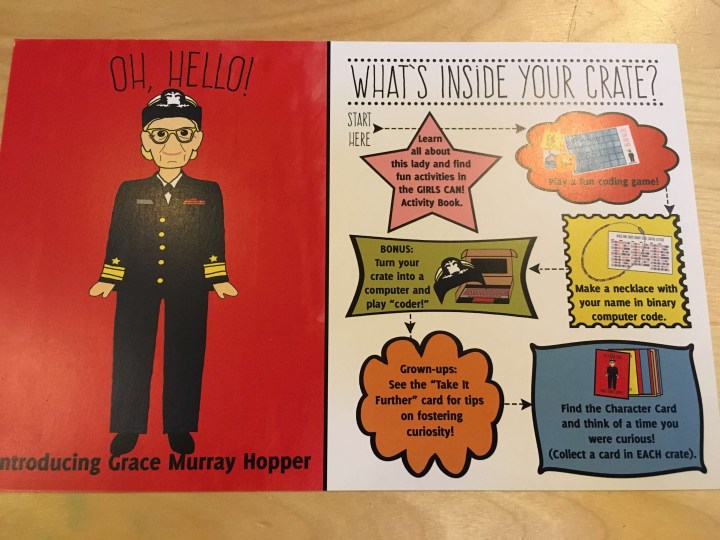 Grace Murray Hopper is the heroine of the September 2016 Girls Can Crate. An academic who joined the Navy out of patriotic duty during World War II, Grace became a computer expert. She even invented the first computer language that used words as opposed to binary! She was so instrumental to the Navy's mission that she was awarded the Defense Distinguished Service Medal. Despite her effort to retire multiple times from the Navy Reserve, she kept getting called back up to active duty. Her work was too important!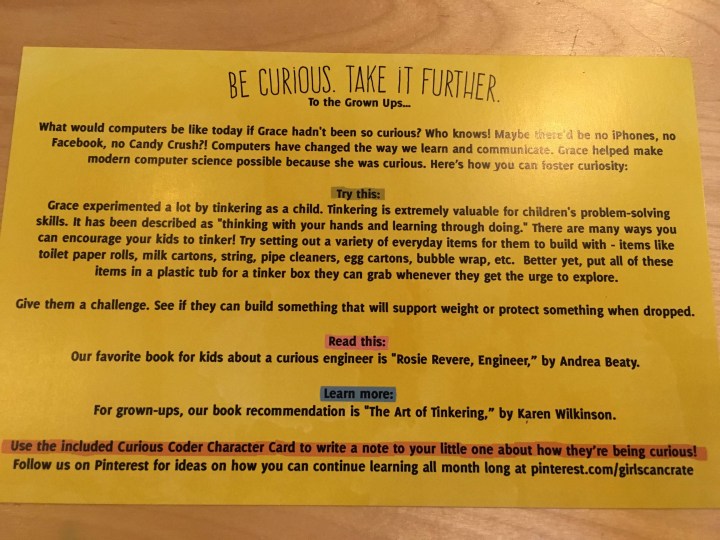 I think these pointers are spot on! My son loves "Rosie Revere, Engineer," and I enjoy "The Art of Tinkering." If only we had more time to tinker! I like Girls Can Crate's suggestion of a tinkering tub. I'll have to make one!
I'm embarrassed to say that I had never heard of Grace Murray Hopper prior to exploring this Girls Can Crate with my son. After reading this brief outline of her life, I was intrigued and wanted to learn more!
The enclosed activity booklet promised more details.
I like how the booklet explained desirable traits exhibited by the heroine of the crate. I found talking about these traits with my son very worthwhile.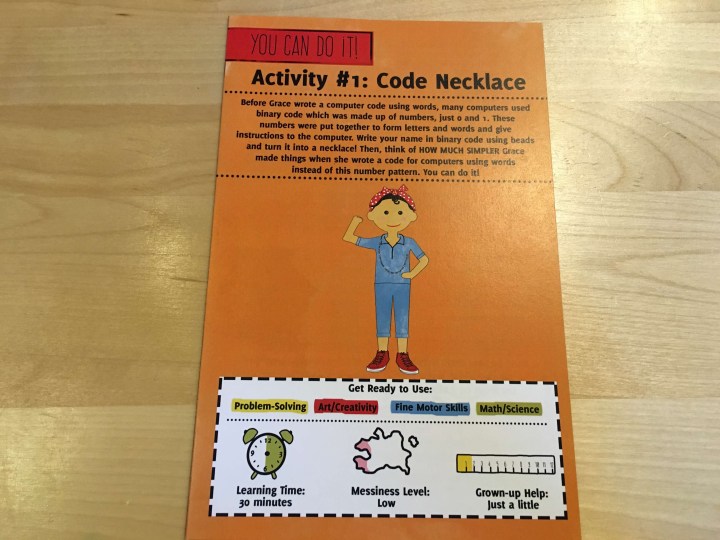 I like how Girls Can Crate offers suggestions for timing the activities within the main activity book. This helps me as a grownup structure my son's time as he explores his crate each month.
The first activity asks children to make a necklace that spells their names in binary. Cool!
Everything they need to produce their necklace is provided. Pink beads stand for 0 whereas blue beads represent 1.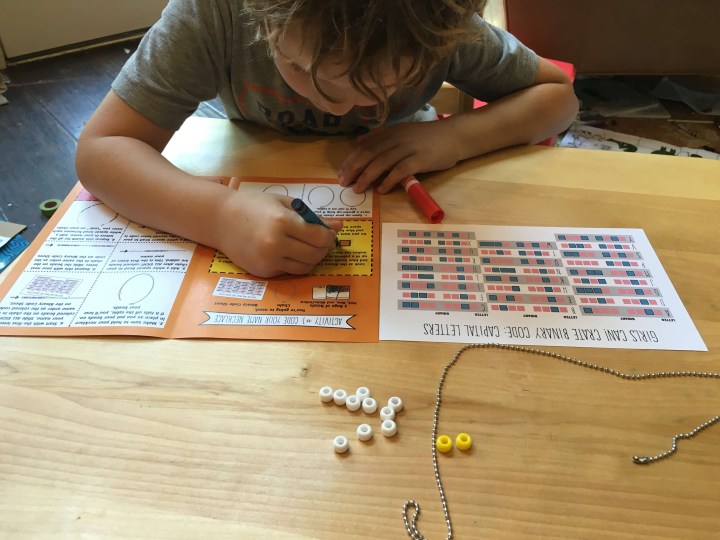 To get kids comfortable reading the binary sheet, Girls Can Crate included spaces for children to write in the binary pattern for "A."
After figuring that out, my son got to work. In addition to the exposure to binary, I really liked how this activity encouraged my son to think of the beads as representing something else, in this case 0 and 1. I think that this ability will serve him well as he progresses into more complicated math.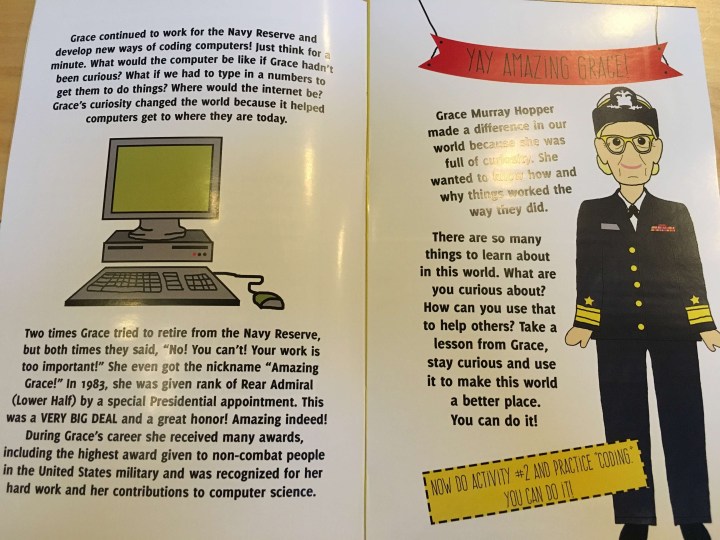 After grappling with binary, my son was eager to try his hand at a coding game.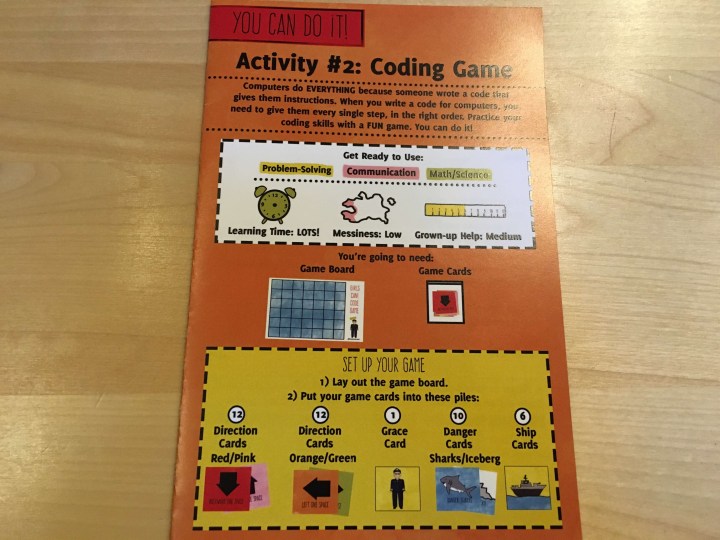 This game reminded me of Robot Turtles.
Children (or grownups) place Grace and her ship on the game board. They can also place up to 10 danger cards on the board. Then they have to code the path that Grace needs to take to get to the ship while also avoiding the danger cards.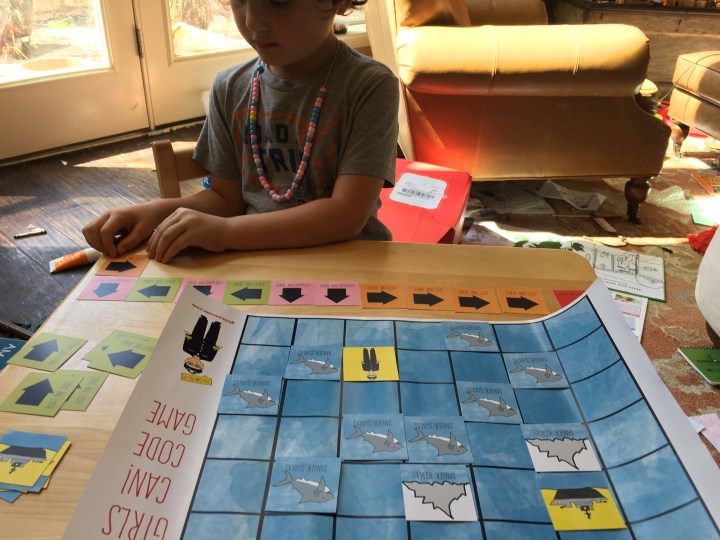 My son loved this game! I liked how it helped reinforce left and right for him.
The back of the booklet contains a number of activities for children to complete. My son had a lot of fun with all of them! He especially enjoyed the dots and boxes game!
My son thought the science experiment at the back of the book was cool. We had to amend it a bit, though, as our intact lemon didn't float! My son enjoyed watching the peel float, though!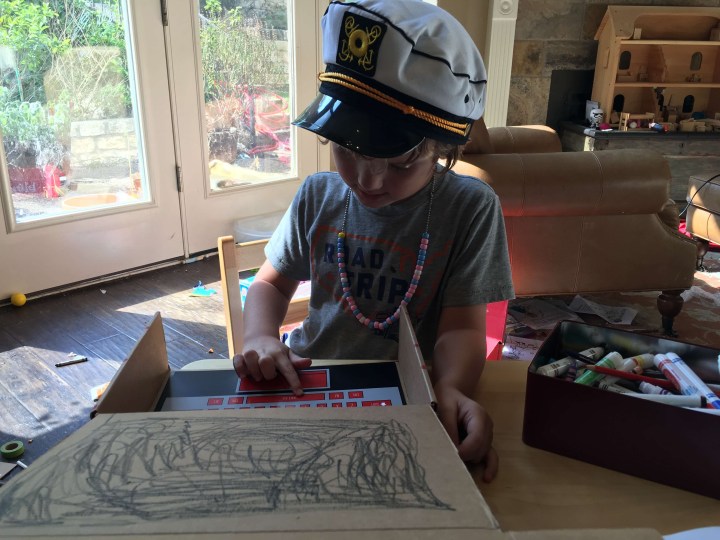 Finally, he had a lot of fun pretending to be Grace Murray Hopper. He thought this computer (his first!) was pretty cool!
I like the quote from Grace Murray Hopper on the back of the booklet. My son and I had fun discussing what it meant.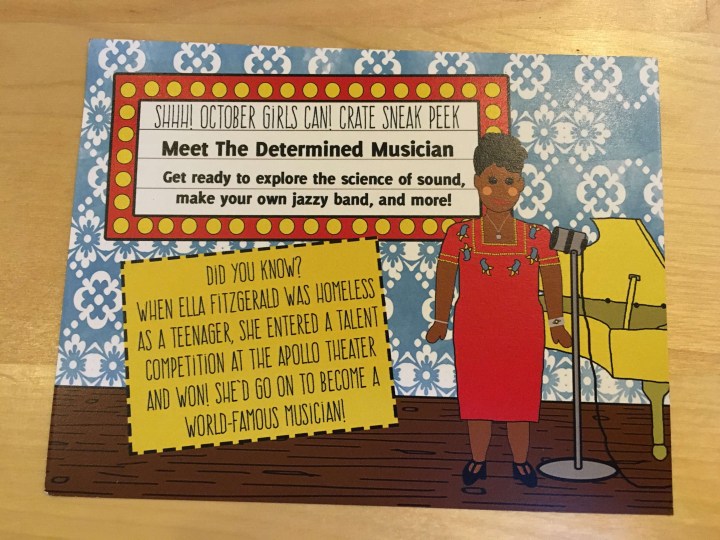 What a fun box! My son loved the coding theme this month, and we had a lot of fun learning together about Grace Murray Hopper! It looks like next month will feature Ella Fitzgerald. We can't wait! My son loves to scat, and who better to learn from than America's First Lady of Song?
Do you enjoy Girls Can Crate as much as we do? What's your favorite thing about this subscription?
Visit Girls Can! Crate to subscribe or find out more! Save 25% on your first box! Use coupon code  HELLO25.
The Subscription
:
Girls Can! Crate
The Description
: Inspire and empower girls ages 4-8 to believe they can be and do anything by celebrating fearless women who have helped make the world better. Each crate includes: 2-3 hands-on activities about a different inspiring woman and her field, 20-page activity book, creative play props, a monthly character trait that the inspiring woman exemplified, and collectible character card. Boxes are designed to encourage a love of STEM, foster artistic expression, build self-confidence, encourage critical thinking and support literacy development. 10% of the proceeds from every crate purchased goes to nonprofit organizations working to empower girls.
The Price
: $29.95 per month