The Flippin' Box is a Subscription Box designed specifically to fully equip you to refinish furniture.  Each box contains 10 to 12+ full size items for flippin' (redoing) furniture.  The first box you always receive and the box that we are reviewing is their welcome box.  The welcome box has everything that you need to get started flippin'.  Every quarterly box thereafter will be a seasonal or themed box with fabulous new color schemes and project ideas.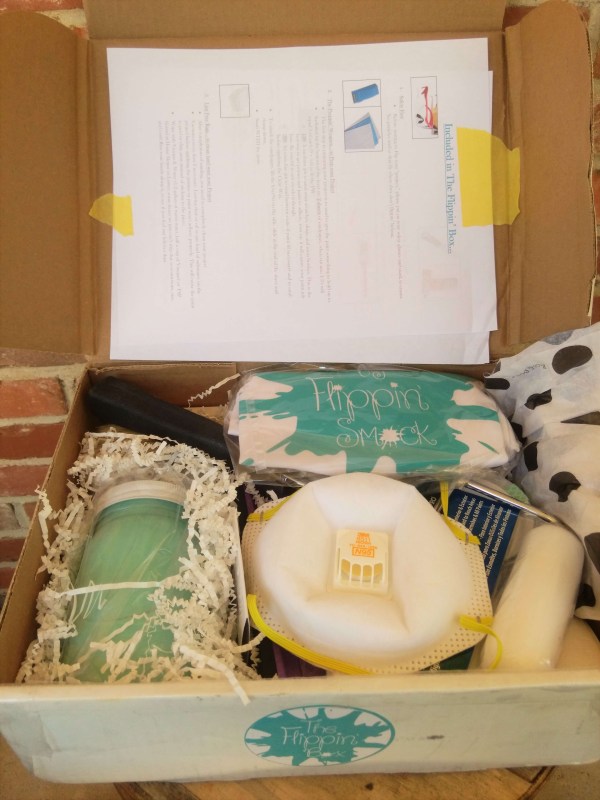 The box ships every 3 months beginning the month that you order (boxes will ship around the 5th of each month).  Each box is $99 plus shipping, a little less if you prepay for two or more quarters.  Our welcome box was absolutely full to the brim with flippin' goodies!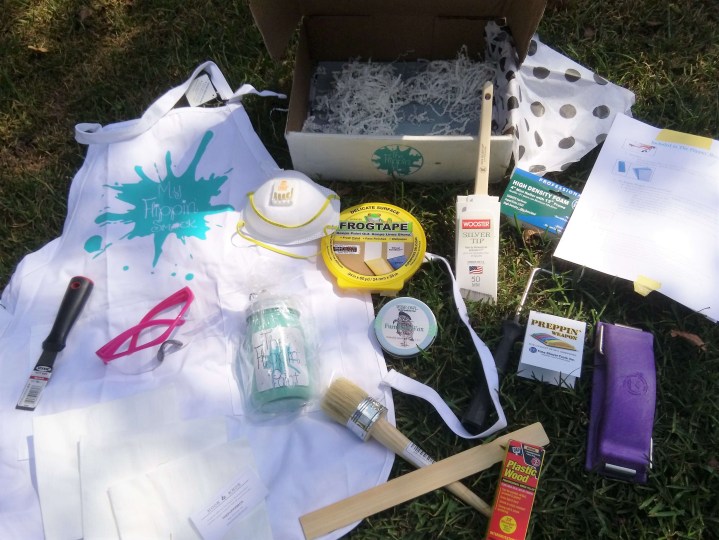 Here's all of the goodies!!  I was surprised at the number and quality of the items.  (That's a Wooster Paint Brush.  The really nice one that I always hesitate to buy because they are expensive).  And, all the items are like that.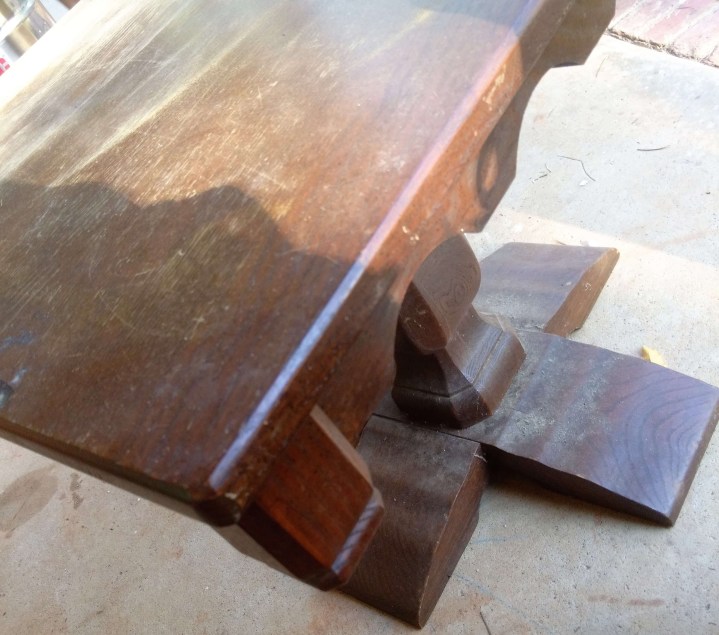 Here's the end table I will be flippin'.  It has great lines, but there are a few cracks and the finish leaves much to be desired.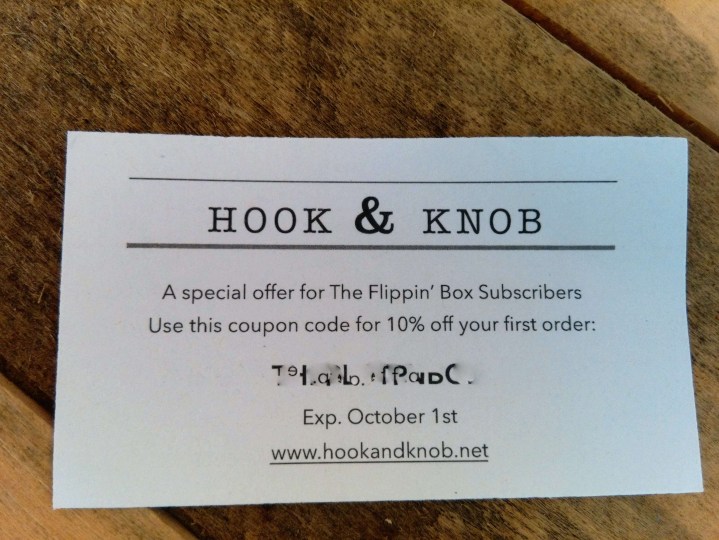 This coupon code for 10% from Hook & Knob was in the box.  They are an Etsy shop with gorgeous knobs, hooks and the like.  They have some decent deals on there.  Check these out, only $2.50 a piece before the coupon.  My likes.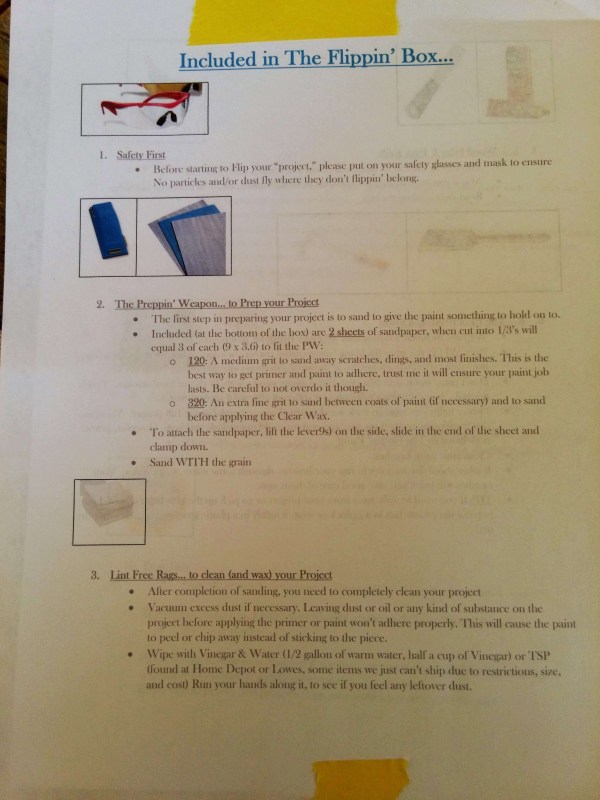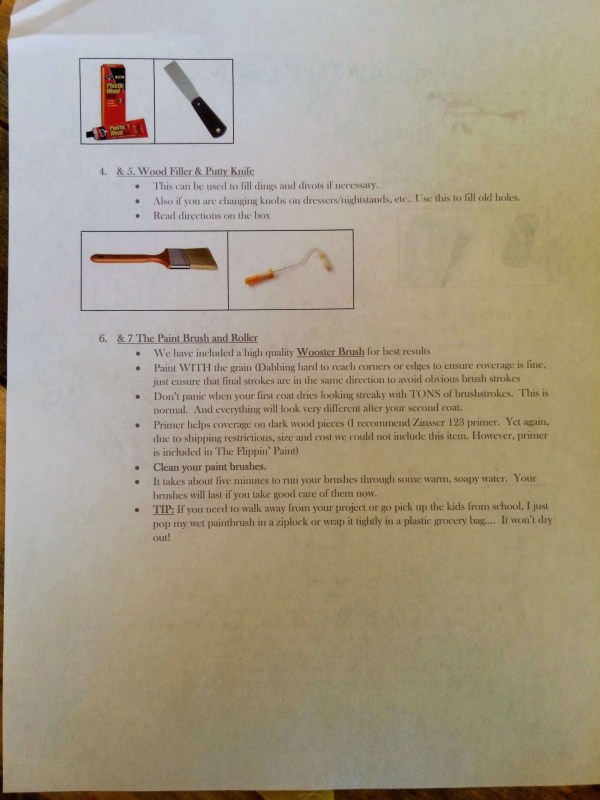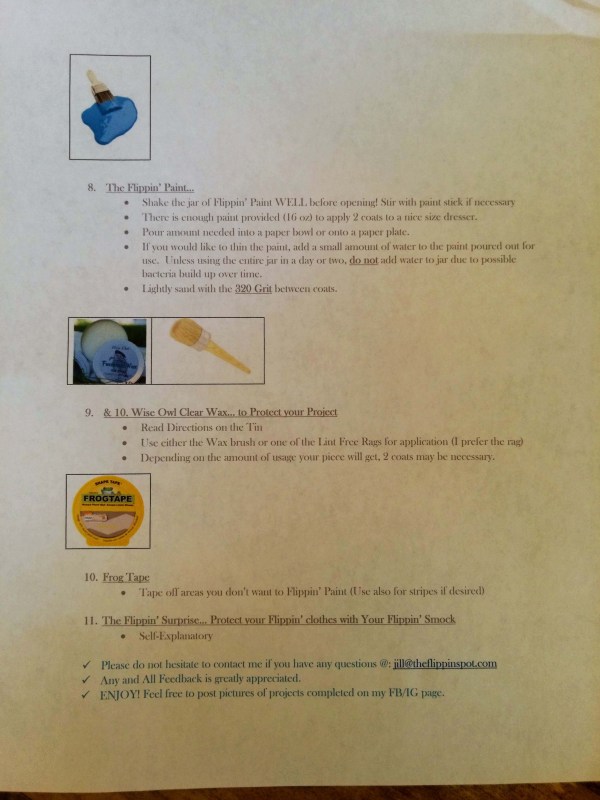 All the product information is printed in detail and was appropriately taped to the top of the box with painter's tape.  They go into detail (3 pages worth) about how to use each product and walk you through redoing your furniture.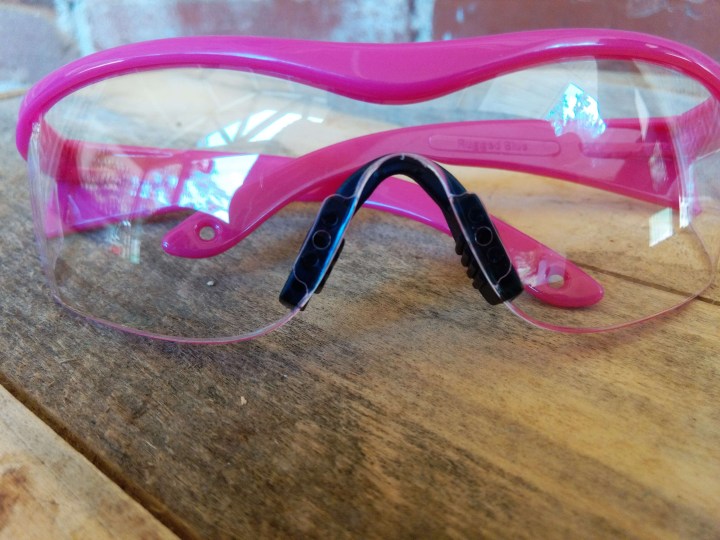 These cuteness of cuteness safety glasses ($2.99) from Safety Girl were in the box.  They are sturdy (no cheap junk here) and pink.  Did I mention they were pink?   I love it.  Maybe it will discourage the men people in my house from stealing them.  Maybe.  And, ooh la la, they have a whole site of safety related products for women (and men too).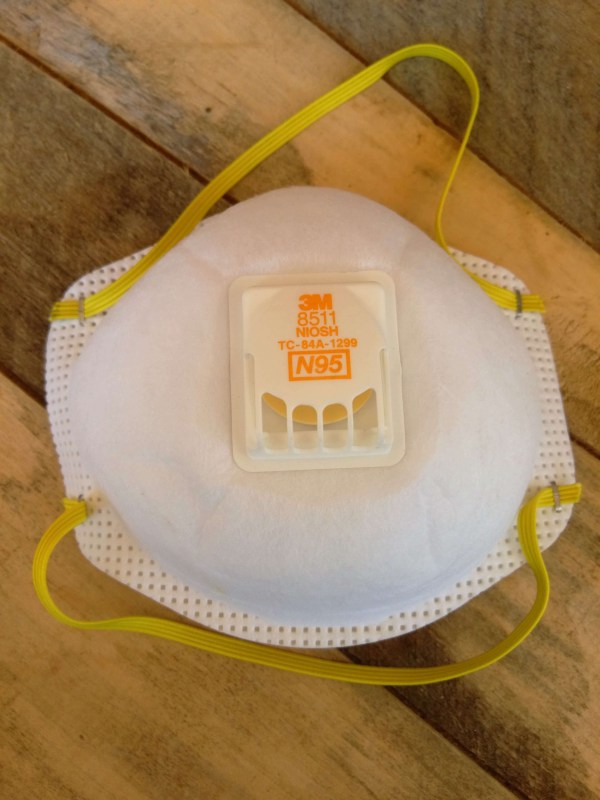 To protect your nasal passages and lungs this 3M Sanding And Fiberglass Mask ($3.97) was in the box.  They really thought of everything.
This genius contraption was in the box.  It's called a Preppin Weapon by Time Shaver Tools ($20.99).  You flip those metal levers 180 degrees and the little metal clip on the end extends out.  You can put up to four sheets of sandpaper under the clips at once.  And then you flip the lever back to it's original position and the clip tightens back towards the block to secure the sandpaper.  It worked great.  I sanded to my hearts content and the paper stayed held secure by the clips.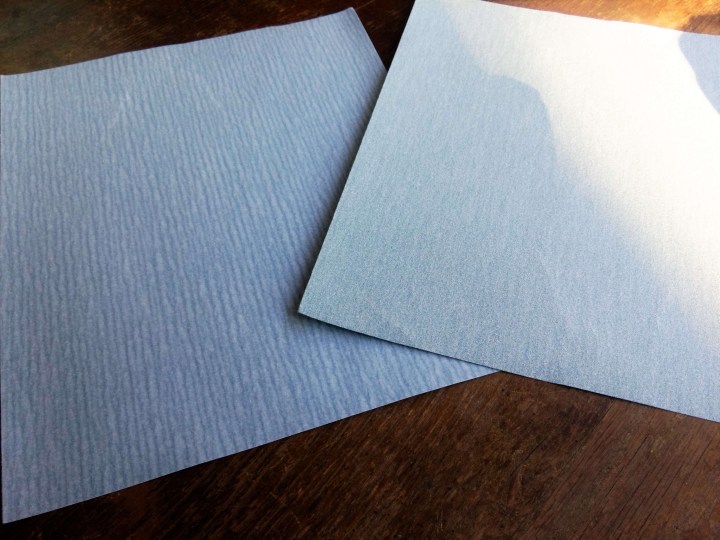 These two sheets of 9X11 Norton ProSand sandpaper ($1) were in the box.  The Flippin' Box instructions say to cut them into thirds to fit your Preppin' Weapon sanding block.  This worked great!!  And as a bonus, did you know that cutting sandpaper can actually sharpen scissors?  The 120 grit is for a prepping before painting and the 320 grit is finer for sanding between coats of paint.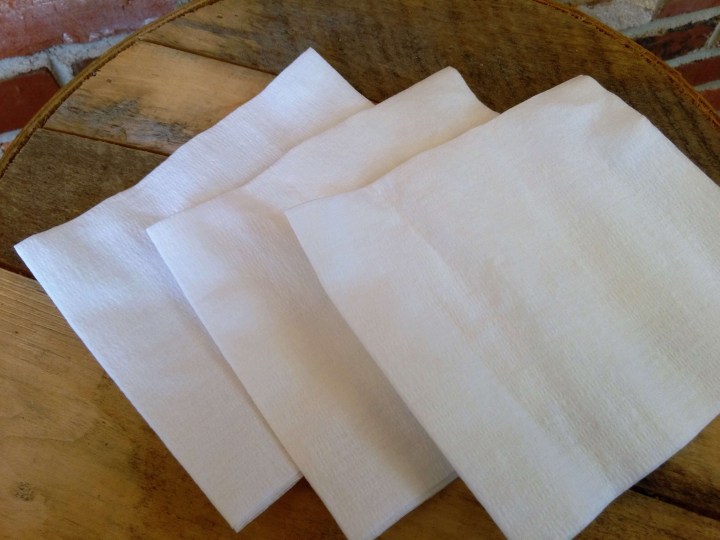 These three lint free rags were in the Flippin' Subscription Box.  You have to clean your project thoroughly after sanding it.  They suggest vacuuming your project after sanding and then cleaning with a solution of water and vinegar or TSP cleaner and one of the lint free rags.  I used TSP (you can find it at major retailers) because I already had some.  (They can't ship it to you in the box because of postal regulations.)  I also used these later to wipe off excess paint for a washed look and to wipe of excess furniture wax.
Next in the box was this Dap Plastic Wood Filler in natural ($6.00).  I used this wonderful stuff to fill in the cracks (they weren't very big) in my end table.  It was easy to use and dried quickly.  I am normally have to wait several hours if not overnight to sand a project after using wood filler, but this stuff is ready to sand in 15 minutes!!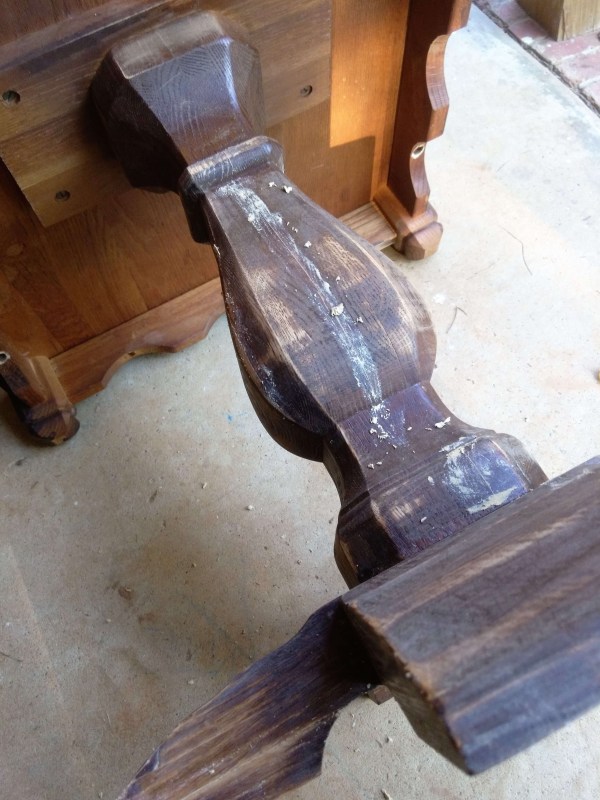 On the curves and hard to get to places I pushed the putty into the cracks using a gloved hand.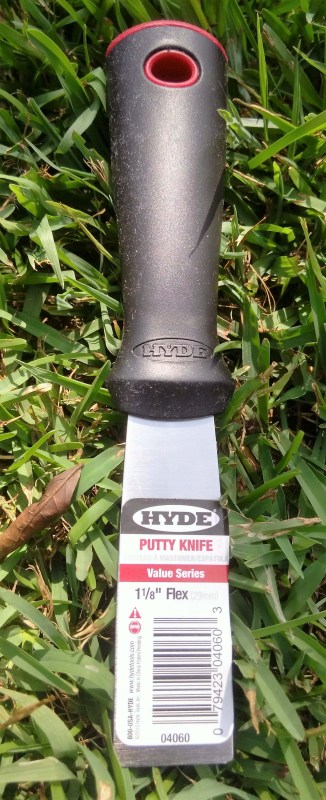 For the flat surfaces, they included this handy Hyde Putty Knife ($1.98) in the Flippin' Box.  It's your standard putty knife, but it is much better than the ones I usually grab at the dollar stores.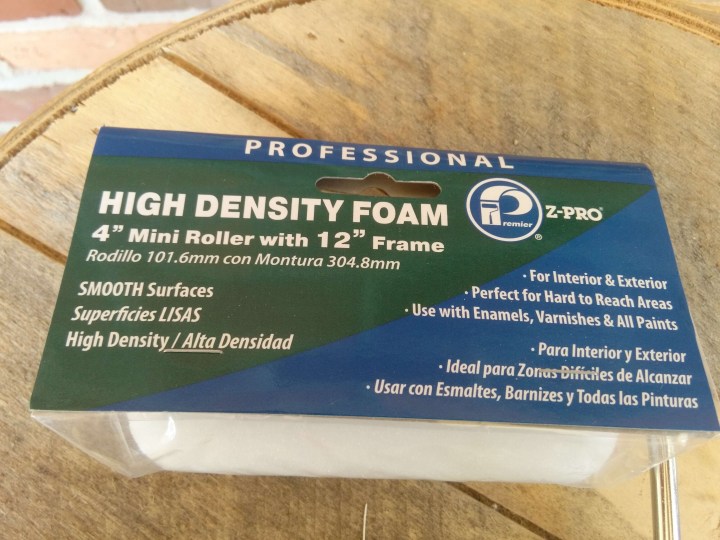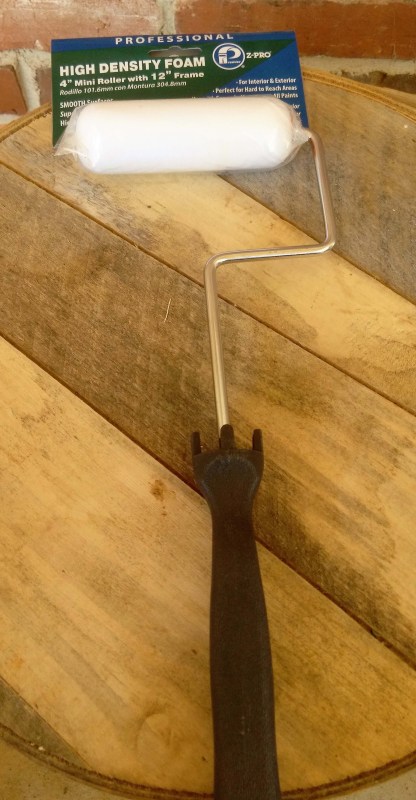 This Premier High Density Foam Roller ($1.97) was in the Flippin' Box.  I haven't used this one yet, but I recently redid my kitchen cabinets (painted them white) and these small rollers are indispensable for getting a smooth finish on large flat areas.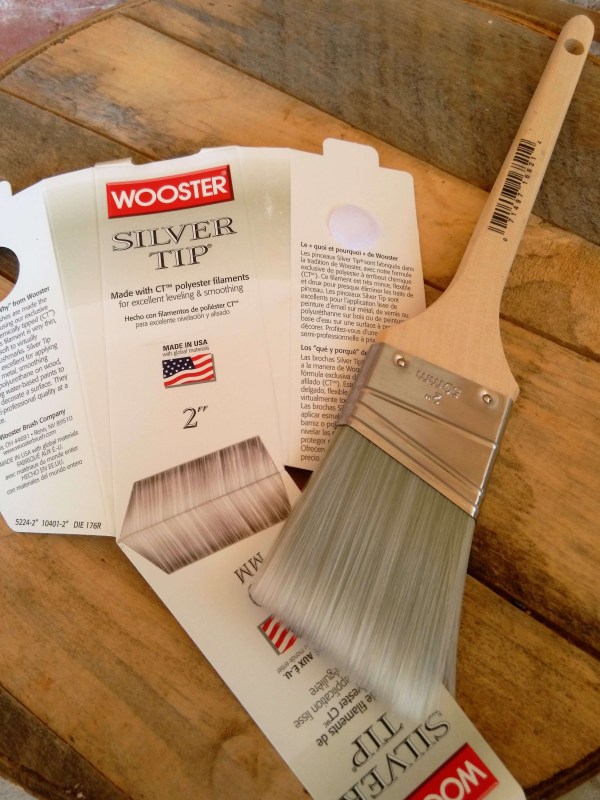 Here's my Wooster Paint Brush ($7.32).  I usually can't bring myself to pay for the more expensive brushes (I usually grab the 3 pack at the dollar store), but there is a big difference.  My main praise is that the bristles stay put.  The cheap brushes are constantly loosing bristles which you have to pick out of your paint, which is a pain in the hoo-ha.  I did use this brush to apply the paint to the table that I was flippin'.  It worked wonderfully and I washed it up for the next project.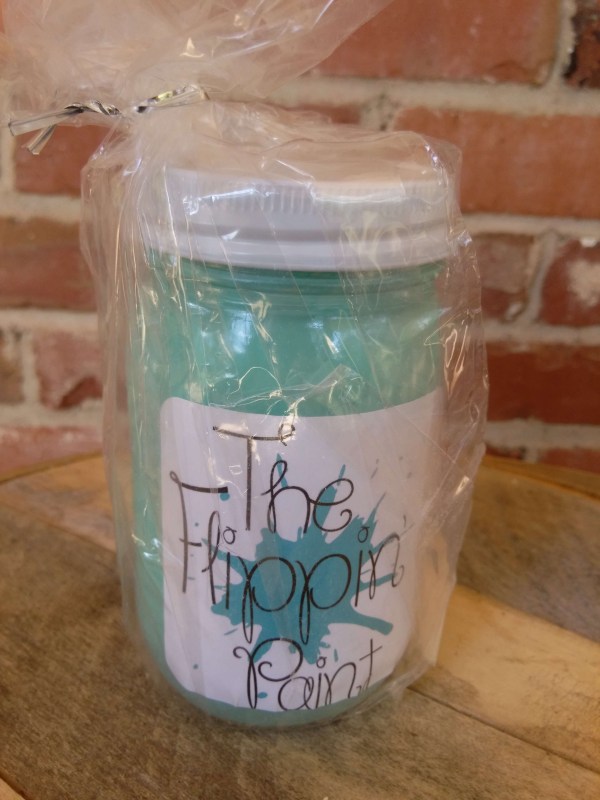 This is the Flippin' Paint that was in the Flippin' Box.  Ain't it pretty?  When you subscribe you get to pick the paint color that you receive with your welcome box.  The choices are turquoise, white, gray, coral, green-blue, and blue.  It is a full pint (16oz) and the included product information sheet ways that it will put two coats of paint on a good sized dresser.  I used it to paint the top and edges of my table and I used a little less than a third of it.  It really is a beautiful color, looking at it in the jar does not do it justice.

This paint stick was in the Flippin' Box.  It's just your average paint stick, but proof once again that they really thought of everything.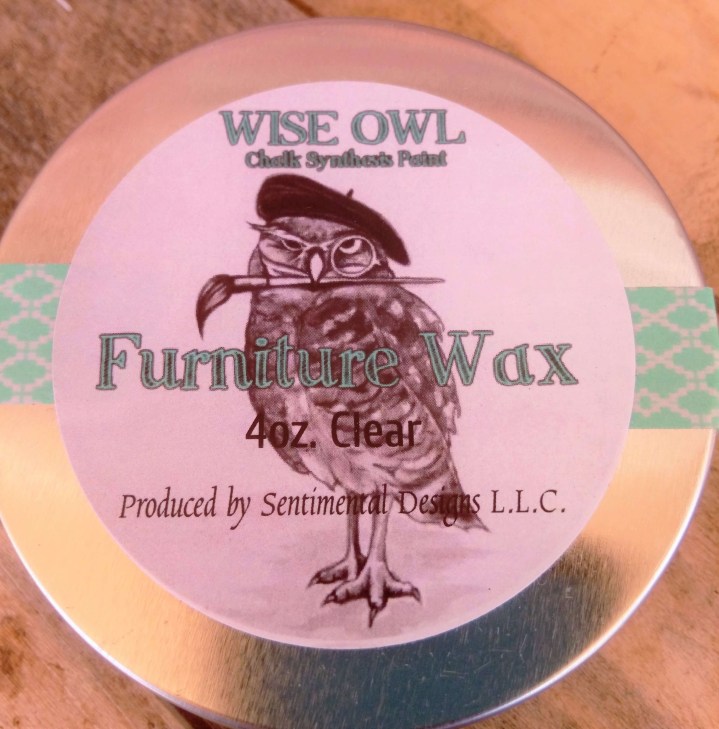 This Wise Owl Furniture Was in Clear 4oz ($13.00) was in the box.  The wax is all natural and solvent free.  When it dries it makes a nice smooth finish for your project.  This magical stuff is great at protecting your project and is very forgiving.  Whereas varnish can easily bubble when you are applying it (and then you have to wait for it to totally dry and sand it back off and start over…..bleck), was is easy to apply with a brush or a rag (see the brush next) and you just wipe off the excess.  Easy-peasy.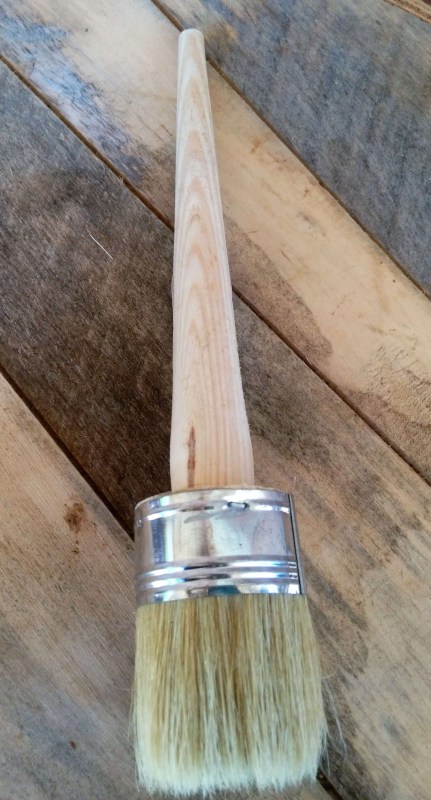 This wax brush was in the box.  I had never used one, but it worked great for getting the wax in all the cracks and curves of my table.  I applied the wax with the brush and then wiped off the excess with the included lint free rags.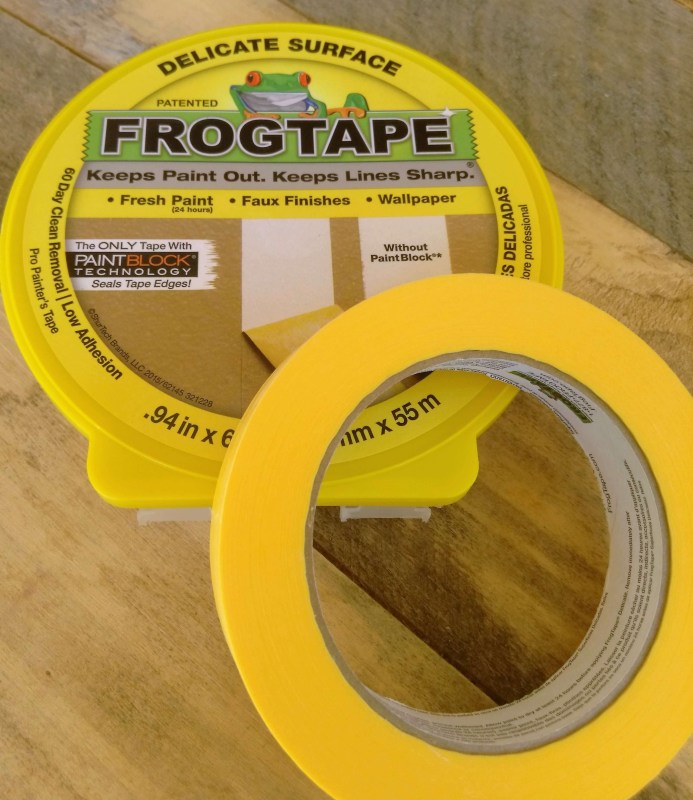 This Delicate Surface Frog Tape ($6.94) was in the box.  I didn't need this for my little table I was flippin', but they recommend using it for stripes.  I have seen people make some awesome chevron designs using this stuff.
And, lastly this Flippin' Smock was the Flippin' Surprise in the Flippin' Box.  I really needed this.  I am not a neat painter.  One of my friends can paint an entire dresser and not get a drop of paint on herself.  I am usually wearing more paint than is on the furniture when I am done.  I really don't understand how she does it.  So, pass me a smock please.
So, here it is.  My flipped table thanks to the Flippin' Box.  I used some white paint that I already had for the base.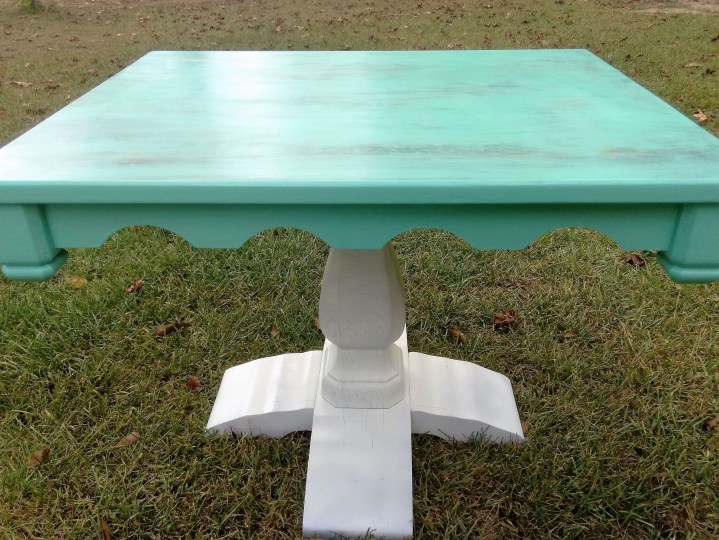 For the top I painted it with the Flippin' Paint and then wiped the paint back off with one of the lint free rags for a washed look.  I put two coats of the Flippin' paint on the sides and the bottom edges.  Then I coated everything with a coat of the Wise Owl Wax.  I will probably put another coat of the wax on the top because this is going in my girls' room and they are rough on furniture.  I love how it turned out!   The paint color is gorgeous, it went on great and the Flippin' Box was very thorough at thinking of everything that I would need to complete a project (plus plenty of supplies leftover for another project).
Have you tried the Flippin' Box?   What piece of furniture did you turn from frumpy to fabulous?  What color did you choose for your Welcome Box?
Visit The Flippin' Box to subscribe or find out more! Save 10% on your first box. Use coupon code  FLIPPIN10.
The Subscription
:
The Flippin' Box
The Description
: When You Sign Up For The Flippin' Box You Will Receive 10-12+ Full-Size Hand Picked Items Specifically For Flippin' Furniture (& More).  The First Box is Always The Welcome/Starter Box. This Box Has What You Need To Get Started Flippin' Furniture… Beginning With The Sanding Tools & Finishing With Waxing Supplies . Every Box Thereafter Will Be A Seasonal/Themed Boxes With New Color Schemes and Project Ideas! As A Flippin' Extra, There Will Always Be A Surprise Item!
The Price
: $99.99 per quarter