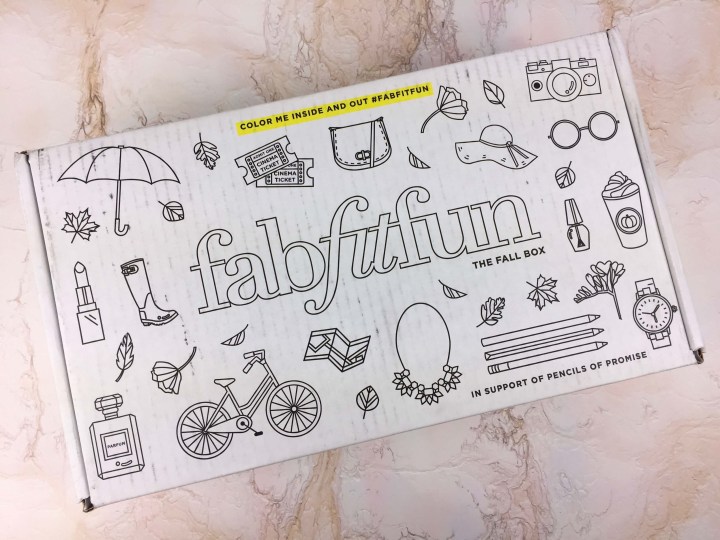 FabFitFun Box is a quarterly women's subscription box that promises fabulous beauty, fashion, and fitness items every quarter.
As of the time of this post, this box is still available! Pick it up for less than $40 with coupon code FALL!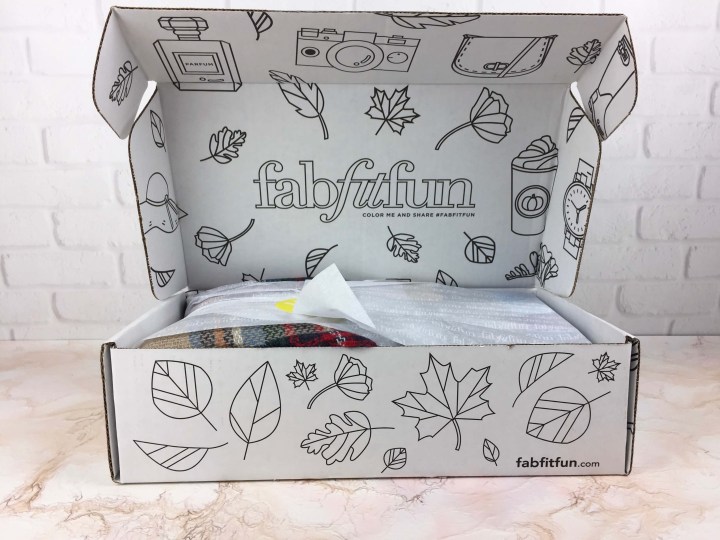 And the outside box? I love it! So fun!!
This box is packed full of goodies!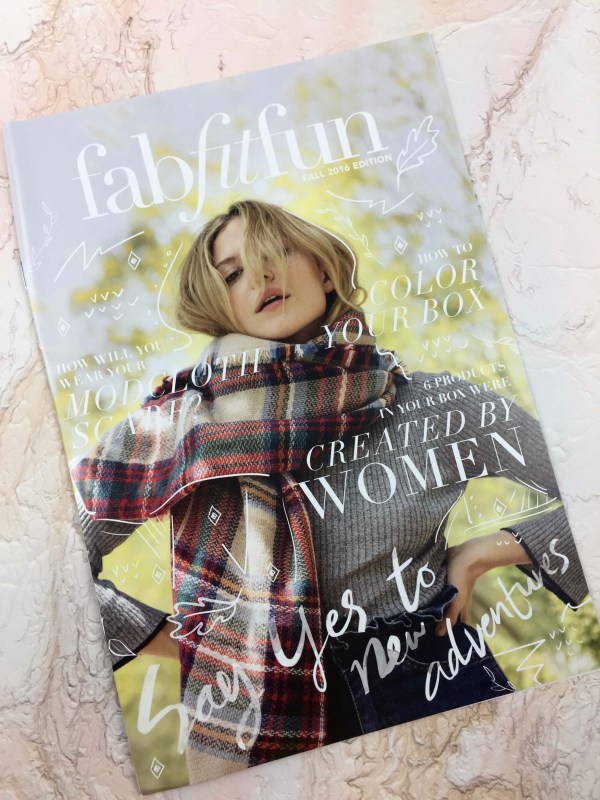 A large format mini-magazine comes in the box – it provides all the details on the products, plus fun lifestyle articles too!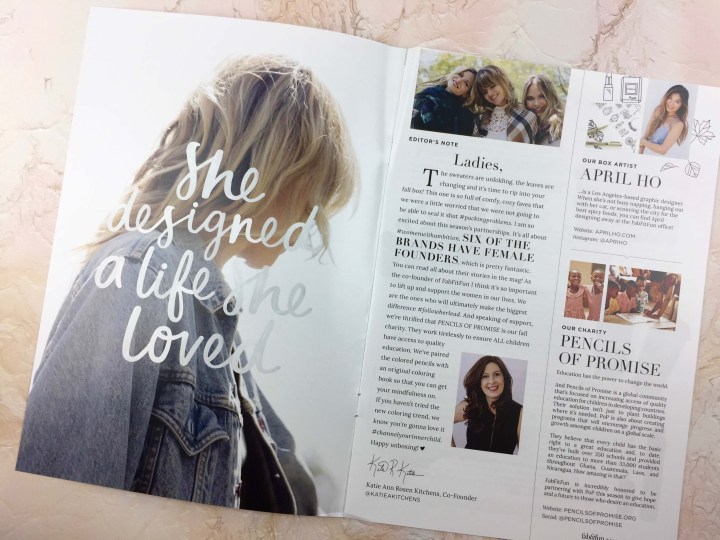 The magazine is full of lifestyle features as well as the featured charity – Pencils of Promise.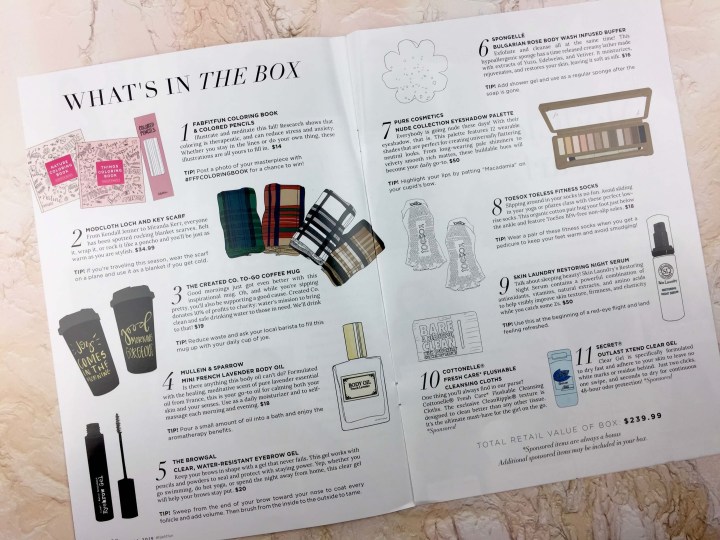 A full spread gives details on every item in the box.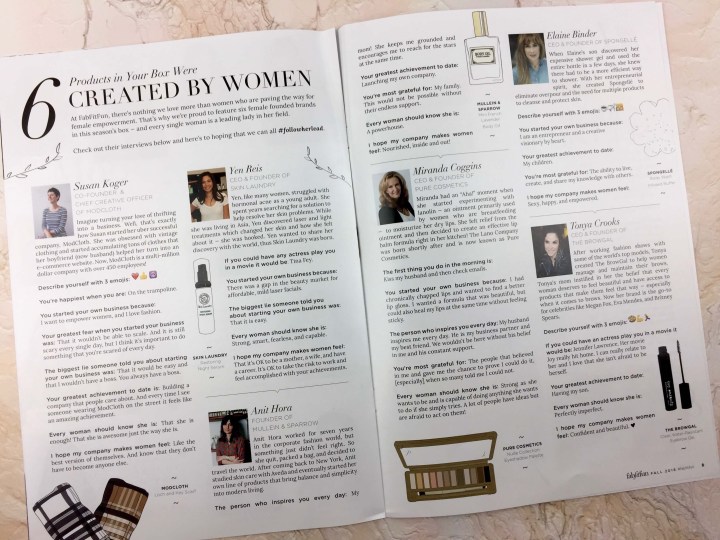 I thought it was great that they highlighted all the products created by women: 6 this quarter!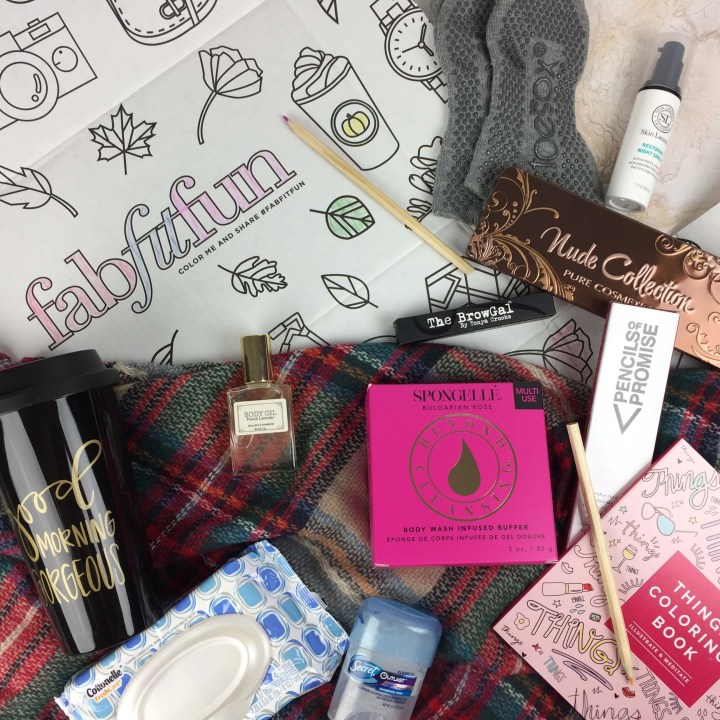 Everything in the FabFitFun VIP Box for Fall 2016!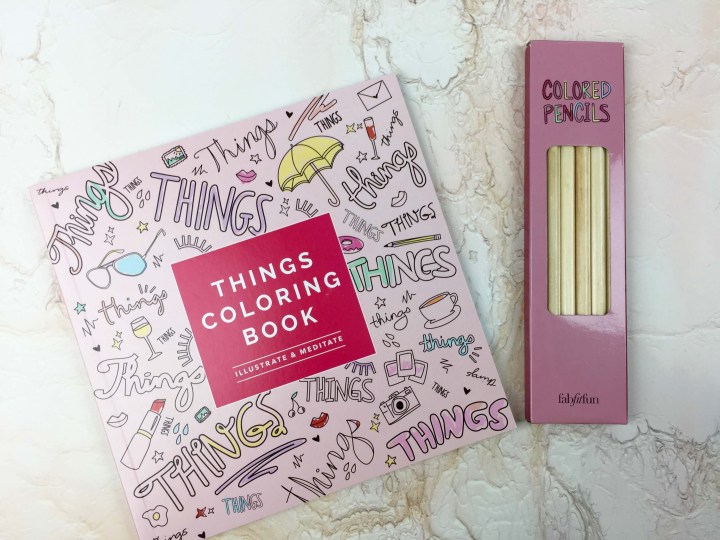 FabFitFun Coloring Book (Nature or Things) & Colored Pencils ($14) Annual FabFitFun subscribers have the option of choosing the variation for a few selected items each quarter. I picked Things! Nature was also a choice. FYI – quarterly subscribers receive a random variation, which is also fun!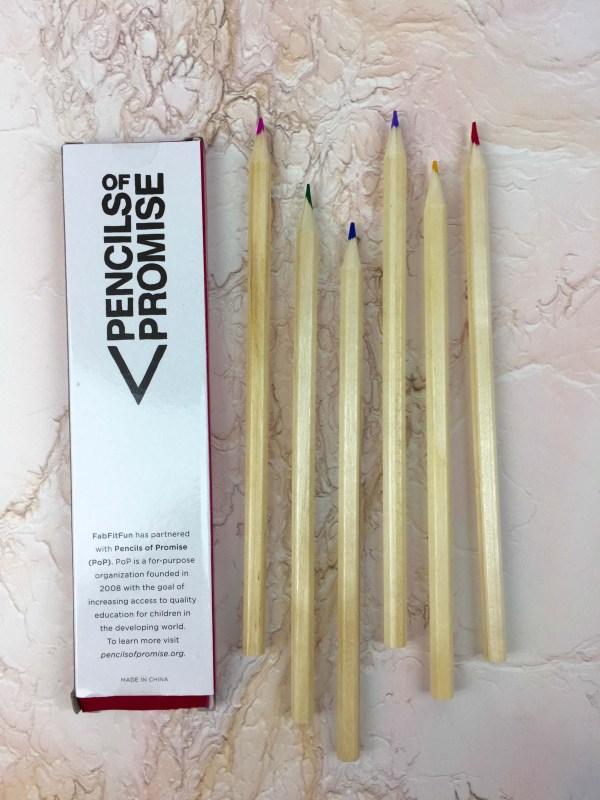 A set of coloring pencils was included. This item benefits Pencils of Promise, bringing education to underserved kids around the world.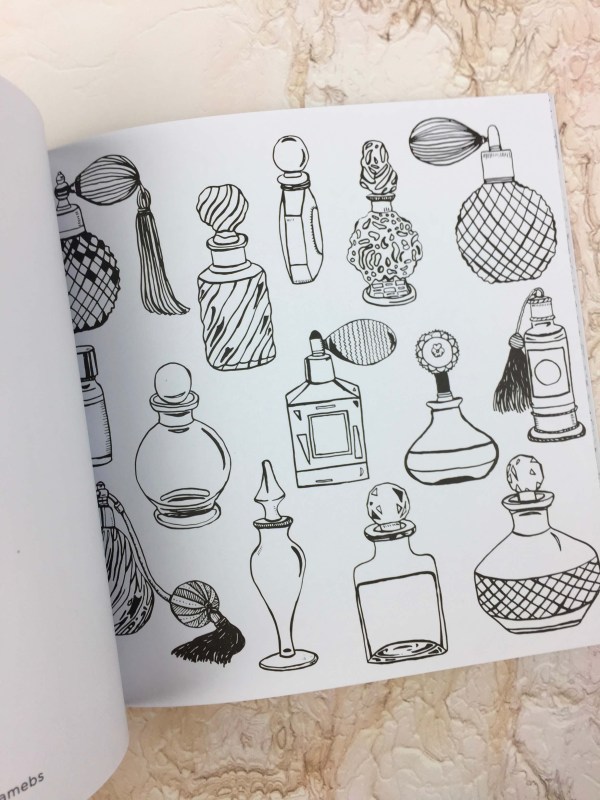 The pages are one-sided so if you want to use markers you're all set.
The coloring pages are quite varied with something for every coloring mood!

I am sure you can tell I colored this myself! Since this was the first of the really big subscription boxes to include a coloring book (what took y'all so long?!) I expect all the other ones to follow suit shortly. I expect to see a colorable Birchbox and a coloring book in the next 3-4 months in POPSUGAR. It's like metallic tattoos all over again, I can feel it.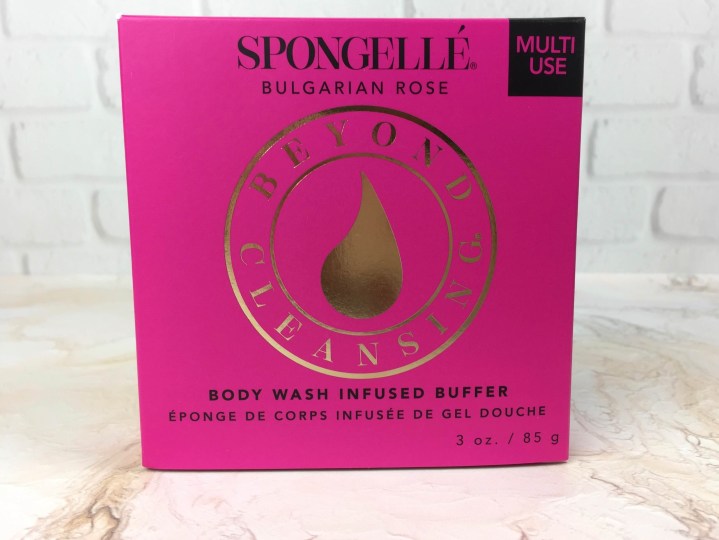 Spongelle Bulgarian Rose Body Wash Infused Buffer ($16) Such a fan of this buffer, which is infused with fragrant body wash!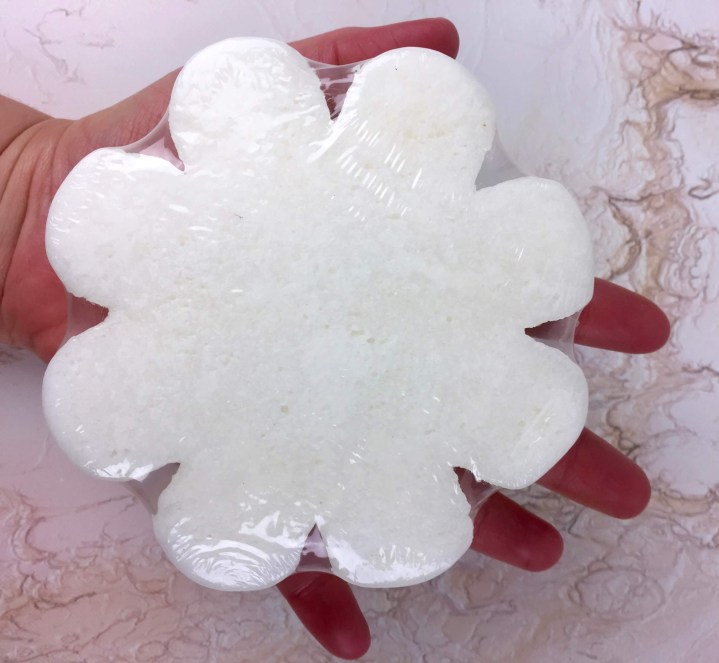 It's also ginormous! FYI – they packaged this item in a sealed zipper bag to prevent the fragrance from permeating the rest of the items. I was really impressed with that. It's good for a couple weeks of showers and definitely lasts if you hang it up.
Skin Laundry Restoring Night Serum ($50) A light gel-like serum that uses peptides to help reverse aging. Whenever I use this kind of product I feel like I used a sheet mask, but without the hassle. I approve.  It's designed to brighten sun spots, hyperpigmenation, and melasma so I feel like it's an excellent fall choice for restoring post-summer skin!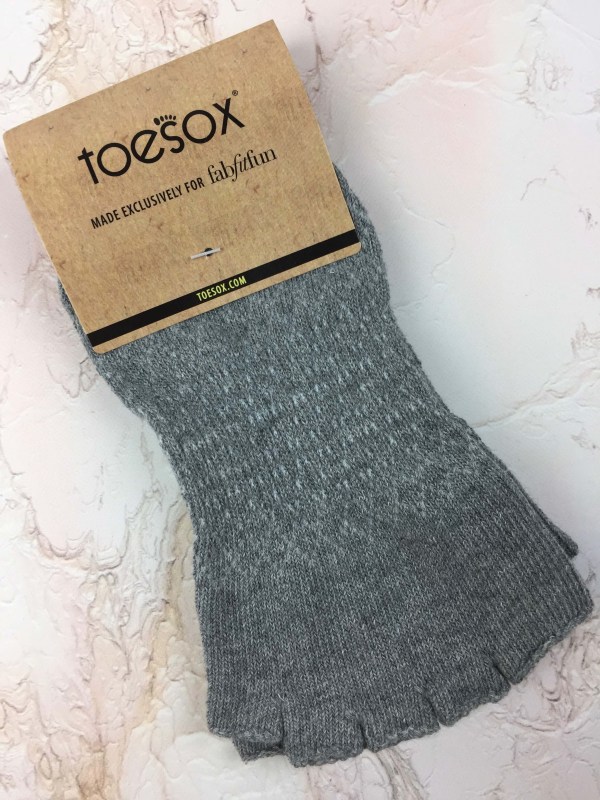 Toesox Toeless Fitness Socks ($17) I am not sure if I can wrap my head around this one. I can't imagine a situation where I would personally want toeless toe separator socks. But I am sure they are awesome for yoga, so I think I will gift to a yogi friend!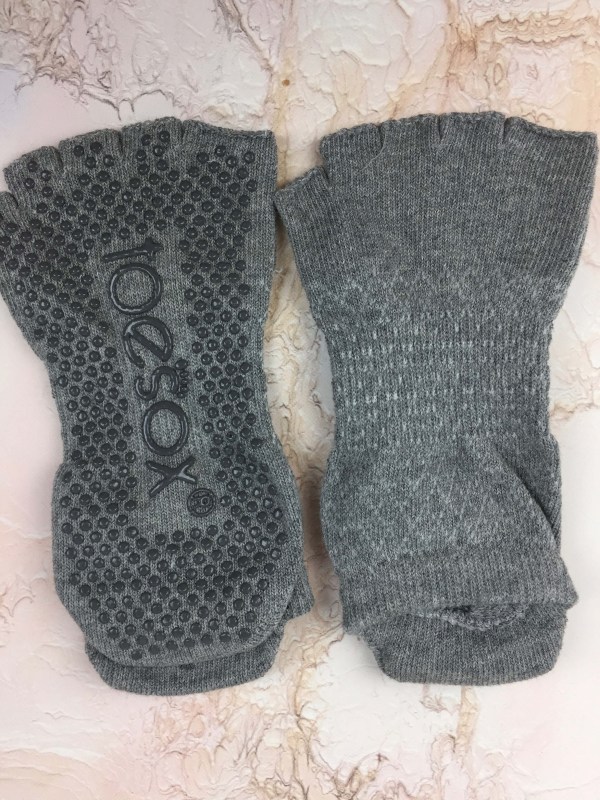 They have great grippy bottoms!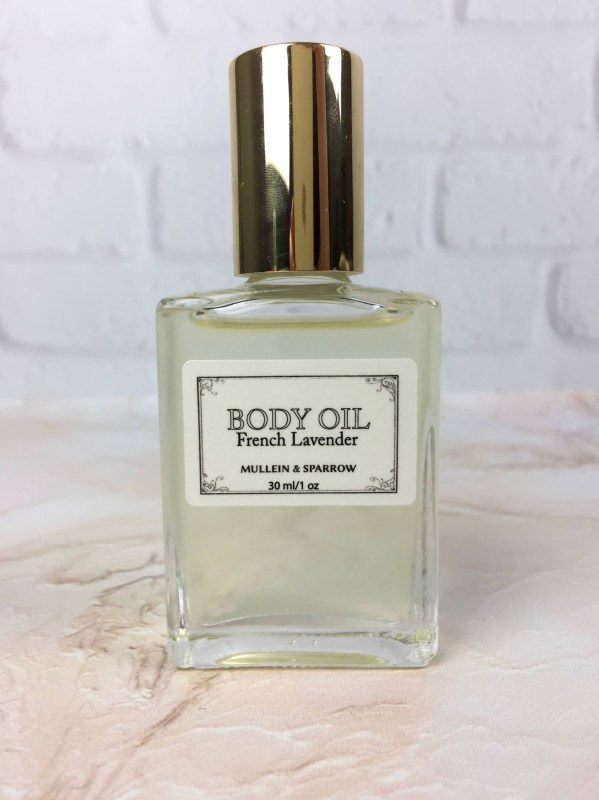 Mullein & Sparrow French Lavender Body Oil ($18)  This one is lovely and simple in its ingredients: Helianthus annuus (sunflower) oil*, Lavandula angustifolia (lavender) essential oil*, tocopherol (vitamin e). The * denotes organic! It's a great way to get the benefits of lavender oil.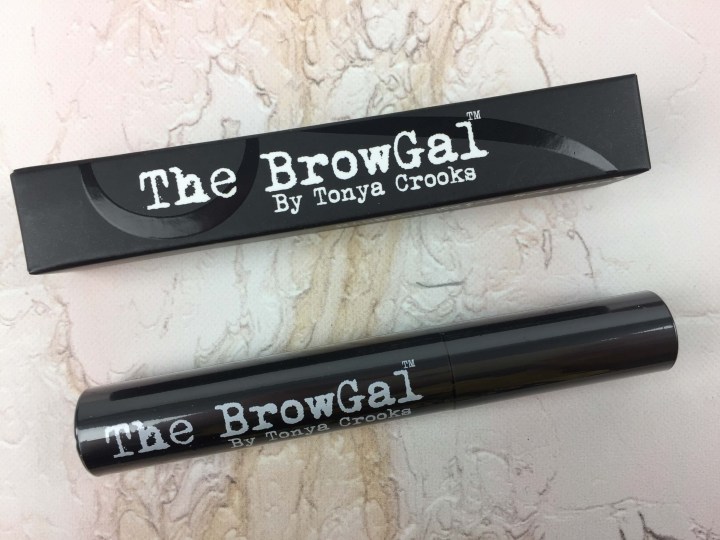 The BrowGal Brow Gel ($20) Fall is the season of the brow and you'll want a fantastic brow gel to keep them on point! This is a great full size item and can also be used to waterproof mascara. That's a new-to-me use for this item, so I will be testing it out soon.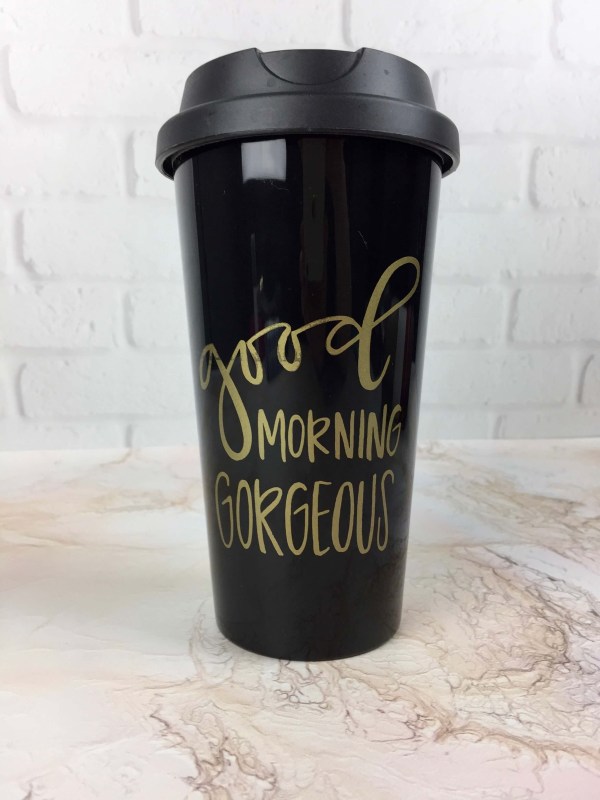 The Created Co. Good Morning Gorgeous To Go Coffee Mug ($19) Hello fabulous glossy black… you'll match my new iPhone perfectly.. when it finally arrives… in 2 months! As a select member I was able to choose my variation – some subscribers received the Joy Comes In The Morning mug. But seriously, I wasn't all about this mug until I decided on the glossy black, then it all made sense. I think the FFF curators are psychic!
In case you didn't know – the cap twists off! It's polypropylene, but not intended for the dishwasher!

Modcloth Loch and Key Blanket Scarf ($34.99) in Red & Tan. 100% acrylic.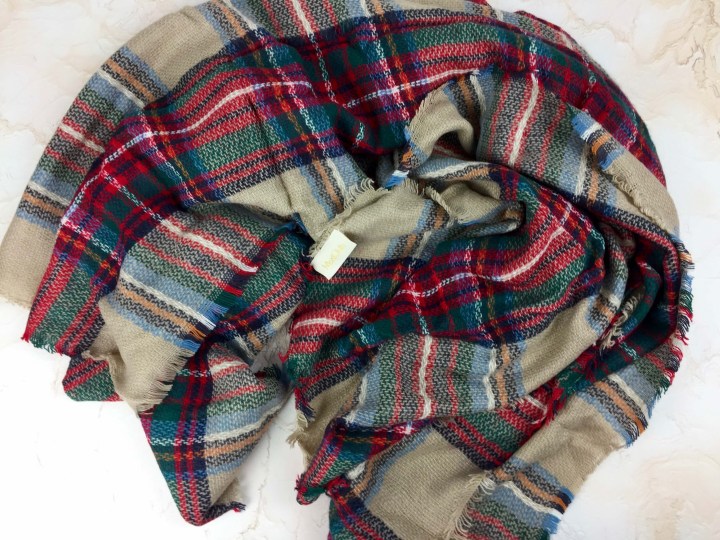 This scarf is a true blanket – 55″ square (and if you don't love scarves use it for a pop of fall in your home decor!).
I like going full bandana with mine!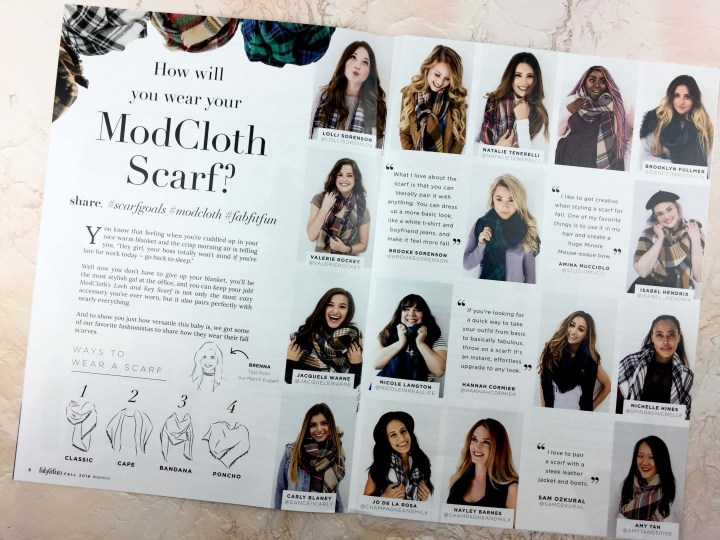 Helpfully the magazine included multiple styling ideas – the other colors are shown here too.  If you need more than one color, it's pretty much crazy not to just pick up another box because you can use all the extra goodies for holiday gifts!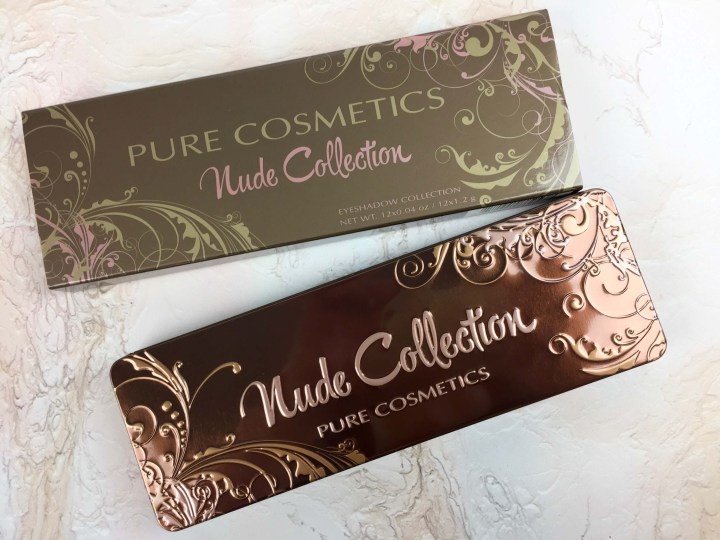 Pure Cosmetics Nude Collection Eyeshadow Palette ($50) This palette is paraben- and fragrance-free and not tested on animals.
This palette is clearly inspired by UD's Naked series, and a nearly exact copy of this Naked2 palette. It's a bit tough to pop open, but once you do you'll find 12 pretty and fall inspired shades, plus a double-ended brush.
And swatches! I did notice the shadows got a bit crumbly when using the included brush, which may be due to their more natural ingredients.
There were also two extra sponsored items in the box!
Secret Outlast Xtend Clear Gel Completely Clean Deodorant ($1.61) This gel deo dries pretty fast!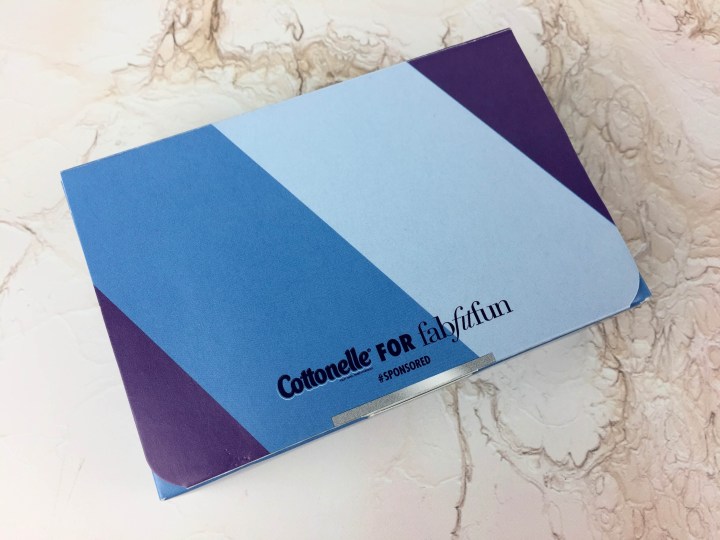 Cottonelle Fresh Care Wipes ($1.59) And the most elaborately packaged butt wipes in the world!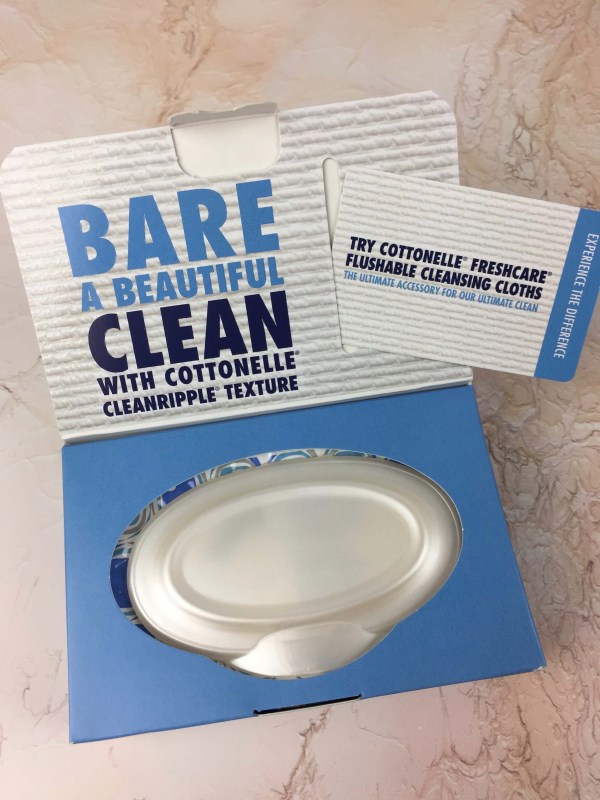 The ultimate accessory!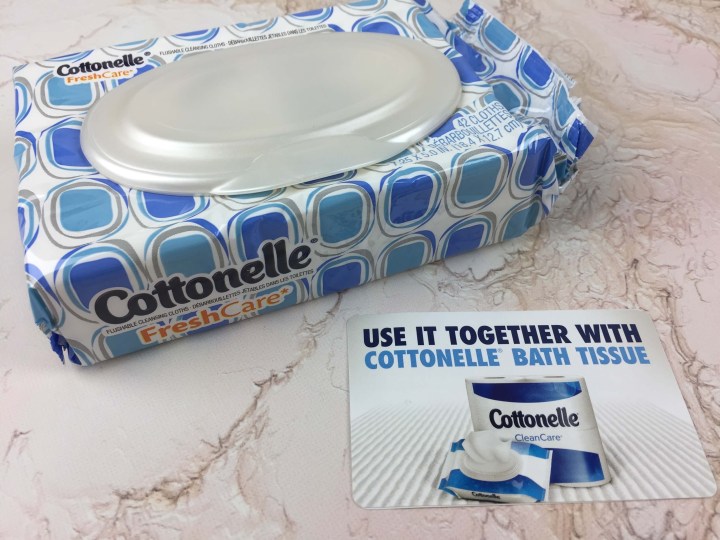 It's… a 2-step process "To help you feel cleaner and fresher than with toilet paper alone"!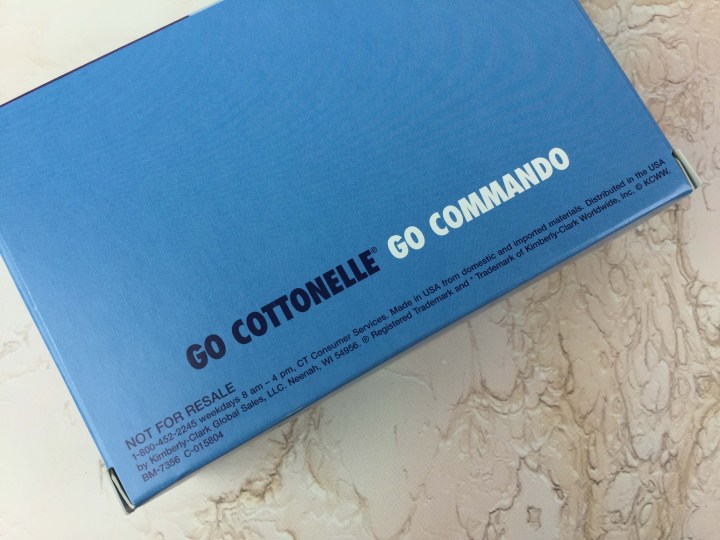 Keeping it real, but also keeping within a fashion theme! Cute!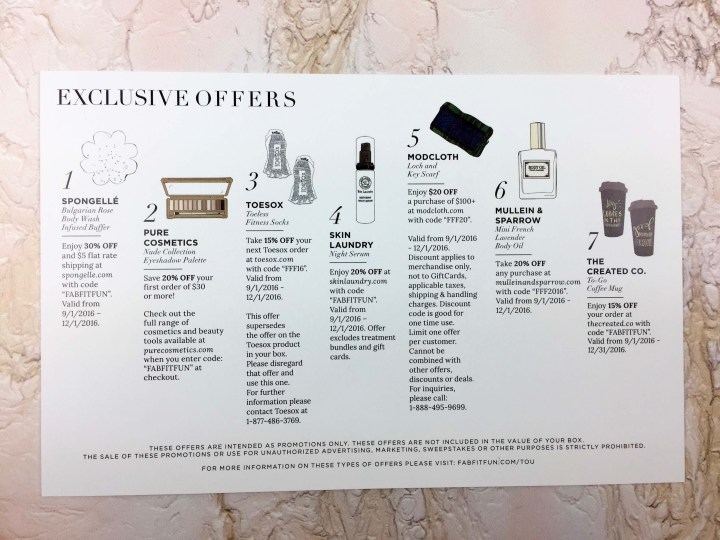 There was also a card with special offers from the brands in the box!
What can I say?! This box was ridiculous. It had about $240 in value, was perfectly themed for fall! All the other boxes seemed to be missing the fall mark – when I think fall, I think of all this #basic things that a lady needs, like tweeds and hot beverages – and this box really delivered! There were so many products in this box – and I didn't even think about the gift cards FFF used to have. This box was just perfect.
This box is still available and you can use coupon code FUTURE10 to save $10 on your first box!
Visit FabFitFun VIP Box to subscribe or find out more! Use coupon code FUTURE10 to save $10 on your first box!
The Subscription
:
FabFitFun VIP Box
The Description
: FabFitFun VIP subscription box is a quarterly lifestyle subscription box from FabFitFun. The VIP box features a mix of beauty, fashion, fitness, wellness and home products that help you feel good from the inside out. The box includes full-size products and premium items.