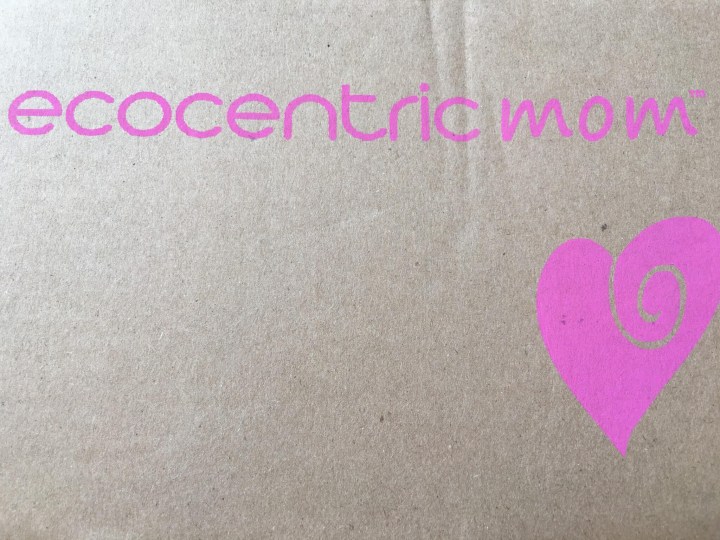 Ecocentric Mom is a monthly subscription box that delivers goodies for moms-to-be and moms at any stage of motherhood (Pregnancy, Mom and Baby, Mom). During the sign-up process, you get to specify where you are in the journey of motherhood and the folks behind Ecocentric Mom curate a box specifically for you! Thus, moms-to-be and moms with small children may receive different products than I did, as I received the Mom box. All selected products will be ecoconscious. They may include products for one's home, health, beauty and baby. You can also choose bimonthly deliveries!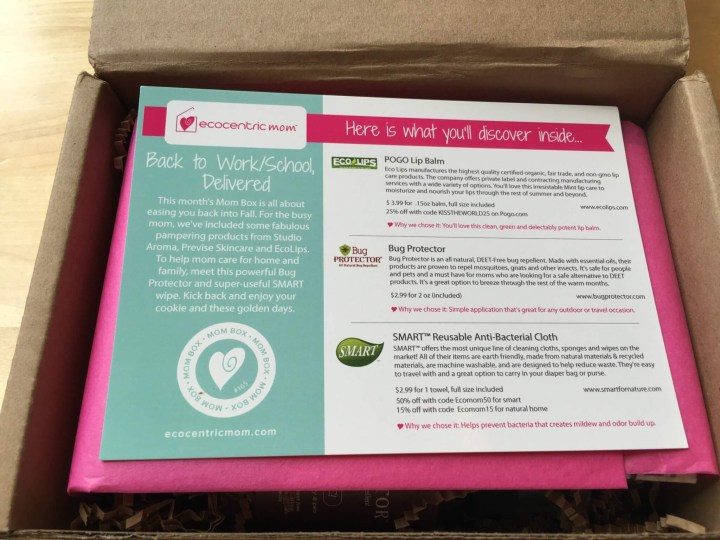 My box arrived well-packaged. The tissue paper was very attractive.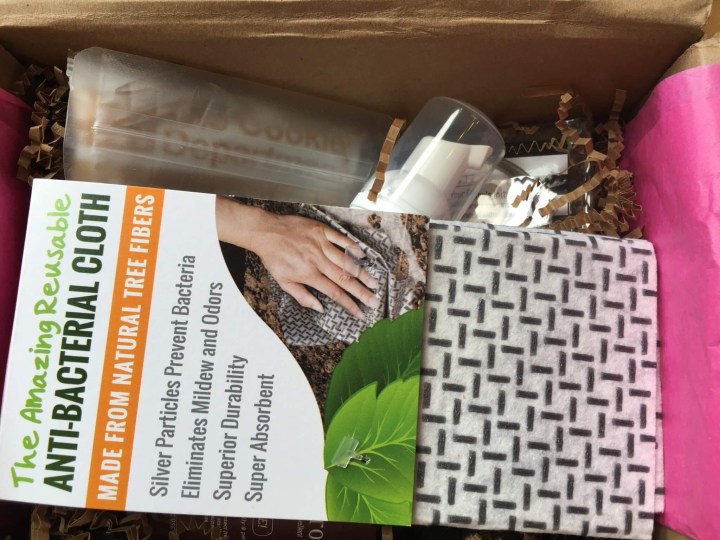 When I opened up the tissue paper, I was really pleased with the range of products: beauty supplies, cleaning supplies, food, jewelry and bug spray.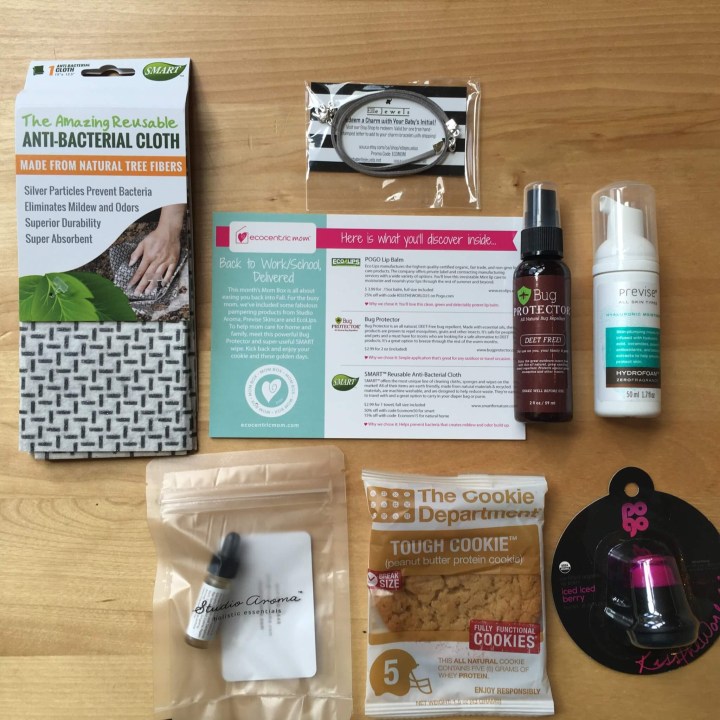 I couldn't wait to open up and try everything!
All of the main products come listed on a nice large notecard. Ecocentric Mom's Box's August's theme is Back to Work/School, Delivered!
This month's Mom Box is all about easing you back into Fall. For the busy mom, we've included some fabulous pampering products from Studio Aroma, Previse Skincare and EcoLips. To help mom care for home and family, meet this powerful Bug Protector and super-useful SMART wipe. Kick back and enjoy your cookie and these golden days."
I very much enjoyed using Eco Lips' POGO Iced Iced Berry Lip Balm ($3.49)! Flavored with peppermint, spearmint and a hint of raspberry, coconut, rosemary and calendula, I was surprised this is called "iced iced berry" (the mint is by far the most prominent flavor). Still, it made my lips look and feel great! I also love that it's organic, fair trade and cruelty free!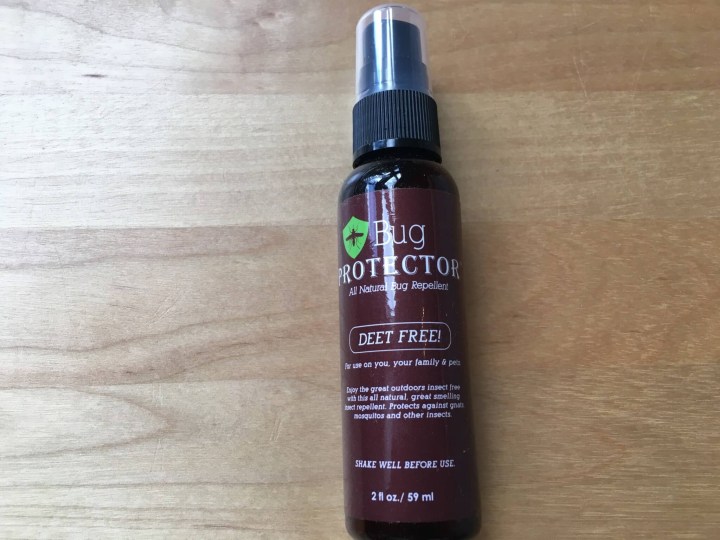 I can't wait to use this DEET-Free Bug Protector ($3.49)! The lemongrass, geranium, peppermint and cinnamon oils smell great but repel mosquitoes and other insects. The added vanillin helps to improve the effectiveness of the essential oils while also prolonging their protection time. With mosquito season in full-swing in Texas, I've been searching for an effective DEET-free spray for my family to use. I'm thrilled to receive this to try. Thanks, Ecocentric Mom!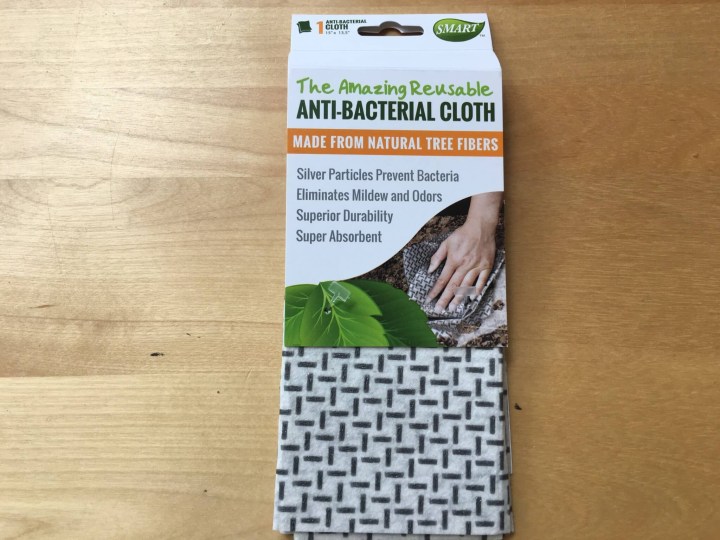 Smart's Amazing Reusable Anti-bacterial Cloth ($2.99) looks awesome! The embedded silver particles prevent bacteria from growing on the cloth, thereby also eliminating mildew and odors. Made from tree fiber, these cloths are also reusable–just throw them in the washing machine and air or tumble dry with no heat!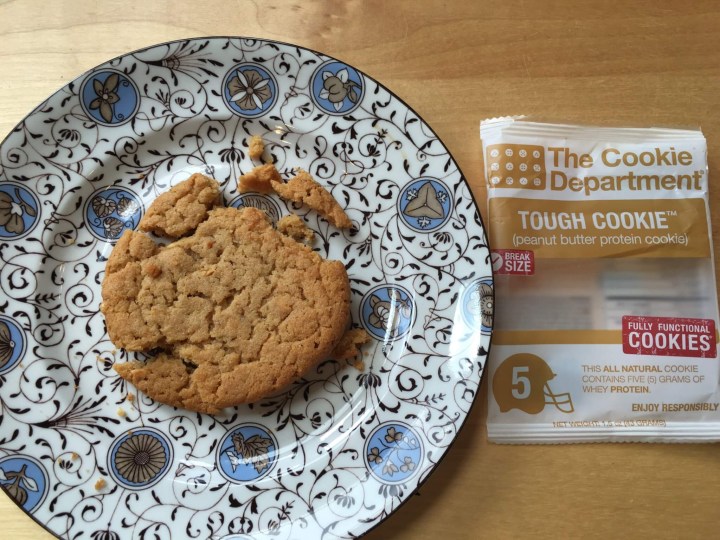 The Cookie Department's Tough Cookie ($2.33 based on the cost of 12) is a decadent, delicious treat! It's billed a protein cookie, but you'd never know it. It tastes just like a homemade peanut butter cookie. Yum!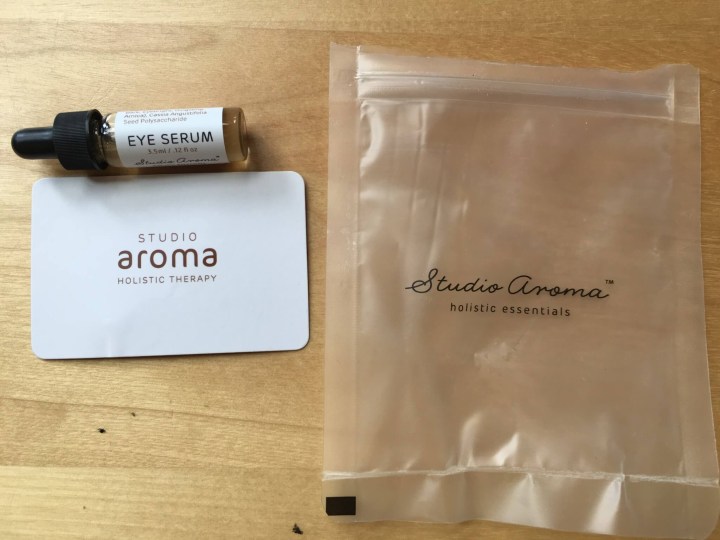 Studio Aroma's Eye Serum ($14) is made from aloe vera leaf juice, water, damask rose, roman chamomile hydrosol, myrtle leaf extract, samphire extract, rye seed extract, linseed extract, lupine extract, aspen bark extract, eyebright extract, gingseng extract, arnica extract and cassia angustifolia seed polysaccharide. It's formulated to fight causes of aging while fortifying the eye area with antioxidants. It also tones and firms the delicate eye area. I've been searching for a reasonably priced eye serum that doesn't react with my eyes, and this fit the bill perfectly. I'm thrilled to have received it in this month's Ecocentric Mom box!
Previse's Hydrofoam Hyaluronic Moisturizer ($48) is a brand new moisturizer for moms! Naturally fragrance free, this is great for new moms who want to shield their little ones from scents. Designed to hydrate skin and smooth fine lines, this bubbly brew aerates in its antioxidants to fight oxidation without clogging pores. When I applied it, it felt like a light foaming cleanser. But once absorbed, my skin felt instantly refreshed and hydrated. Win!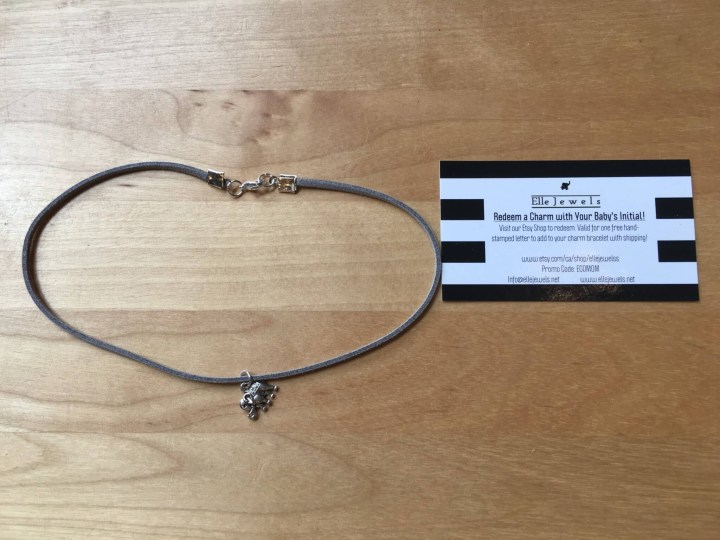 Elle Jewels' Simple Suede Double Wrap Charm Bracelet and Elephant Charm ($17.34) is adorable! Ecocentric mom included a coupon to use for an additional letter charm to add to the charm bracelet so that you can always be reminded of how lucky you are to get to spend your life with your little one.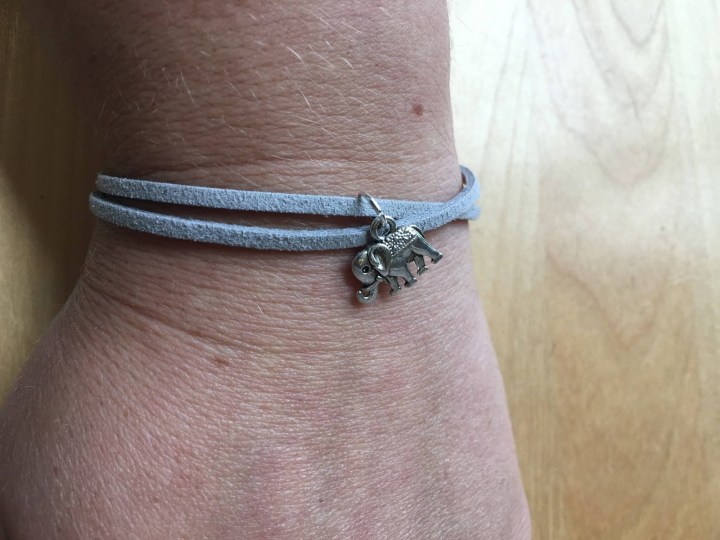 I loved this bracelet! For years I've been hoping that my husband would get me something like this, but it hasn't happened yet. Now, thanks to Ecocentric Mom, I have a gorgeous charm bracelet that fits the bill perfectly. I can't wait to redeem my coupon for an additional charm. I may just have to buy another so that I have one for each kiddo.
I loved this installment from Ecocentric Mom! I think the Mom box is more in line with my wants and needs than the Mom and Baby box right now, as my "baby" is now a "girl baby," or so she says, anyway. I can't wait to see what they send me two months from now!
Have you tried Ecocentric Mom? What's your favorite item in this month's box?
Visit Ecocentric Mom to subscribe or find out more! Save $5 off first monthly box. Use coupon code HELLO5.
The Description: Discover conscious brands and products for home, health, beauty and baby delivered to your door every two months. Whether you're a mom-to-be, a new mom, or have kids of any age, your baby box will contain goodies selected for your stage of motherhood. As your family grows, update your box choice so it always fits your needs.
The Price: $24.00 every other month