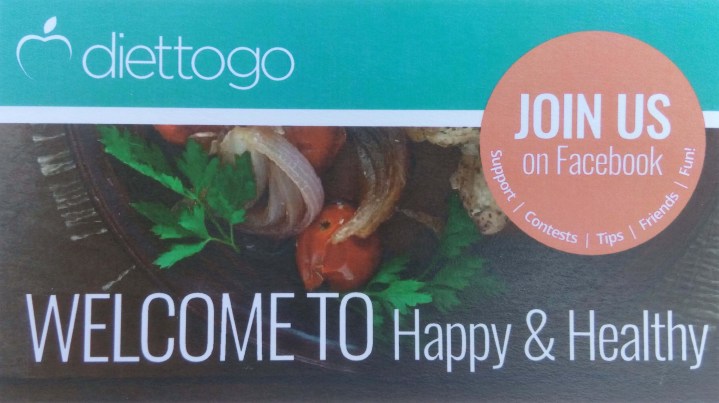 Diet-to-Go is a diet delivery subscription that is meant to help you achieve your weight loss or healthy eating goals by delivering healthy, portion controlled, restaurant quality meals to you for less than the cost of eating out.  There is no preparation necessary on your part.  The meals are fully prepared and beyond anything you expect delicious!!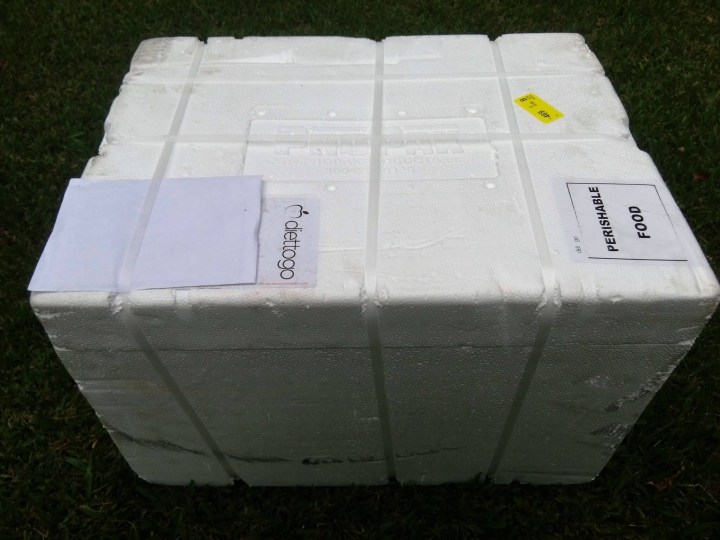 All the meals were carefully packaged in a large cooler box.  The meals were prepared on Thursday and overnight delivered to my front door by Friday afternoon.  Shipping fees are $19.98 per week.  In certain areas they offer local pickup so you can grab your meals at the designated pickup location and skip the shipping wait.  You can check here to find out more about local pickup and if they offer it in your area.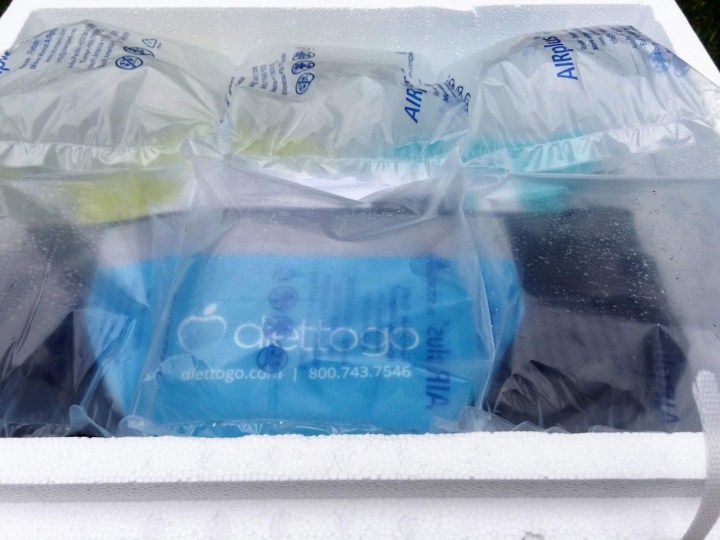 Everything was carefully packaged so that there was no shifting during shipping.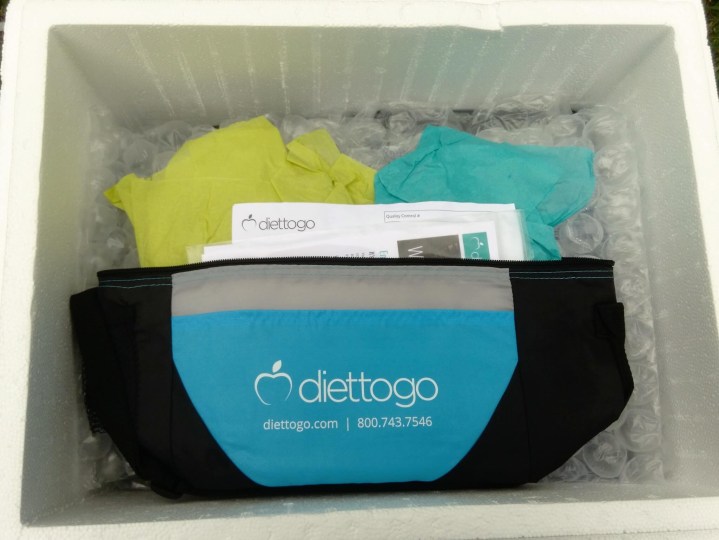 Our shipment included a handy Diet-to-Go lunch bag packed with information cards and goodies.
There were a total of 7 of these frozen gel packs keeping our meals cool and fresh.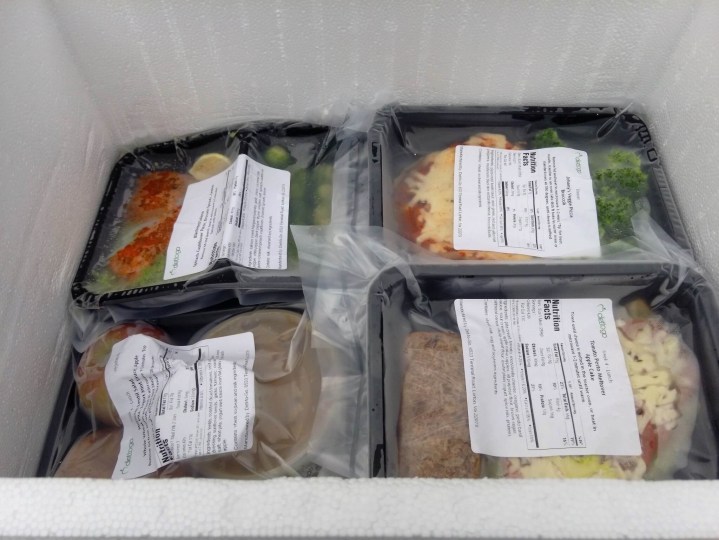 Here is the yumminess!!  All the meals are vacuum packed in their own ready to heat trays.  These are perfect to grab to take to work or on the run.  This is real food.  Think high end to go.  These are not frozen dinners!!   Everything is prepared fresh.
Diet-to-Go sent me seven meals try.  There were 3 lunches (one vegetarian) and four dinners.  The meals can be eaten in any order you choose (lunches for lunch and dinners for dinner).  They will stay fresh in the fridge for 7 days or you can freeze them for up to one month (pull out any fresh fruit and condiments).
They offer three diet plans to meet your needs, Balanced, Low Carb, and Diabetic.  You can get each of these plans in original, vegetarian and no seafood.  Then you choose between a 1,200 calorie size and a 1,600 calorie size.  And lastly you choose if you want breakfast or not (reviews say you do – it's really good) and if you would like your meals 5 days a week or everyday.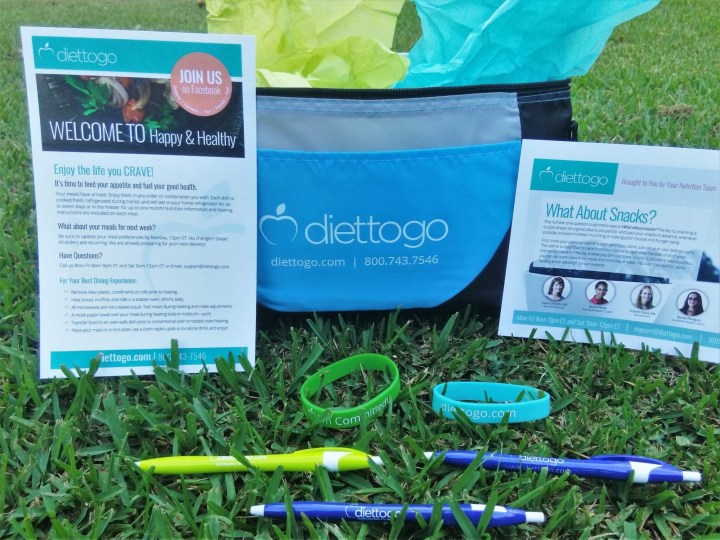 In addition to the lunch bag, there were some Diet-to-Go pens and bracelets.
Diet-to-Go offers online support to help you make the best choices for you  to reach your goals.  You can log in to their online community, call or email them to adjust your menu for the following week (meal management feature), manage your deliveries, and discover tip to success.  (I'm allergic to shellfish, so I had them avoid those dishes.)
Their staff includes a Registered Dietician,  a Nutritionist, and a Certified Health Coach.  The customer support team is pictured here and all the information is given for you to contact them multiple ways so that they can support you on your weight loss or health journey.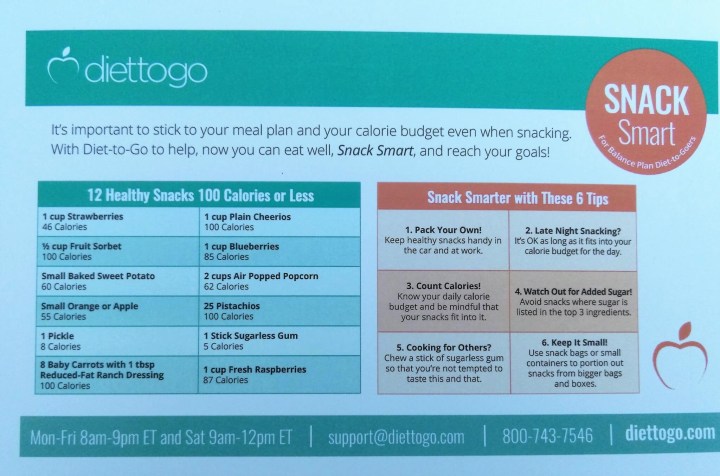 This card encouraged us to snack smart or in other words to eat portion controlled snacks (in addition to the meals that they send you) that fit within our calorie budget.  They have recommended a few on the back of the card and offer tips and tricks to avoid snacking that does not fit into your calorie budget.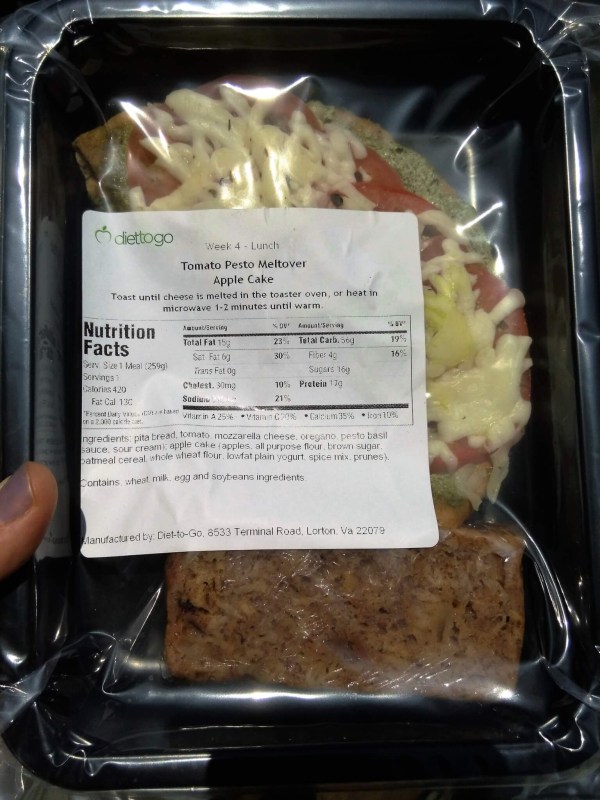 The first meal that we tried was a lunch, the Tomato Pesto Meltover and Apple Cake.  Every meal came neatly vacuum sealed like this with a label listing the nutritional information and ingredients as well as heating instructions.  I popped the Meltover in the toaster oven and slightly warmed the Apple Cake in the microwave.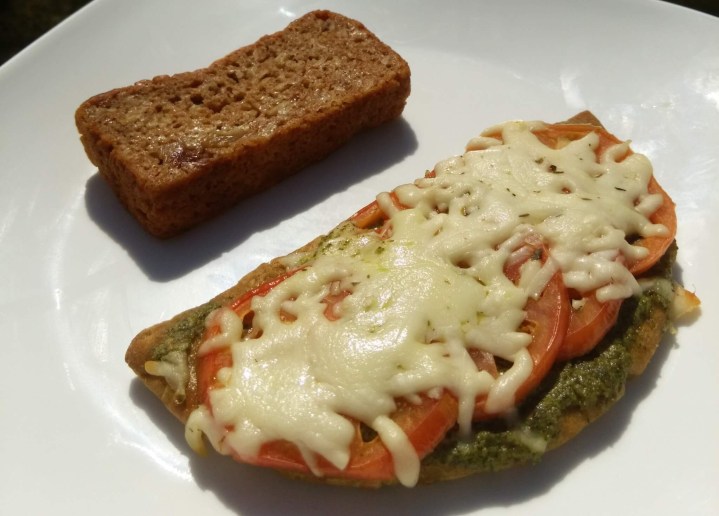 Look at this!!  That's real cheese!  This was so very good.  I usually feel sorry for myself when I try to diet.  (Look at poor pitiful me over here eating a salad.  Sniff.)  But, no more!!  How can you feel deprived when the food is this good?  It was half a pita with pesto sauce on it, then sliced tomatoes, and topped with delicious melty cheese.  And yummy apple cake for dessert.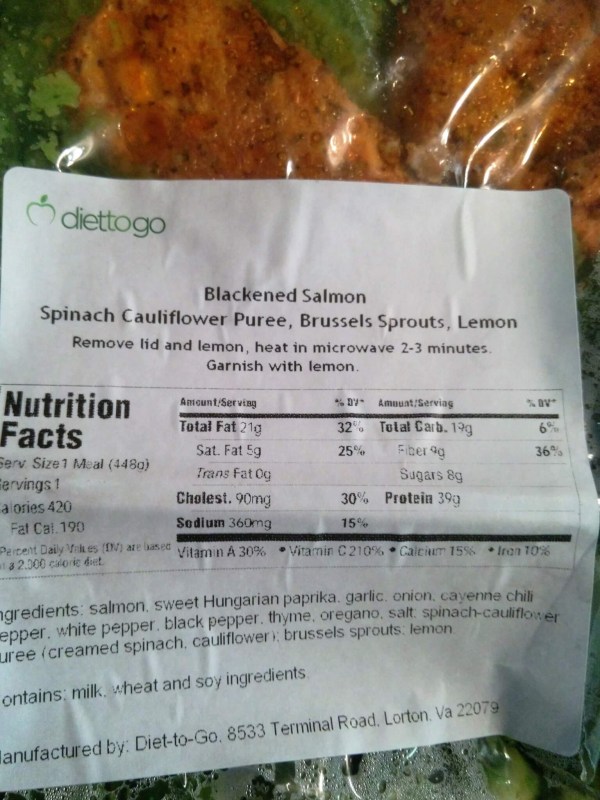 The next meal was a dinner, Blackened Salmon, Spinach Cauliflower Puree, Brussels Sprouts and Lemon.  I microwaved it for 2 minutes and, wow!  This was off the charts fabulous.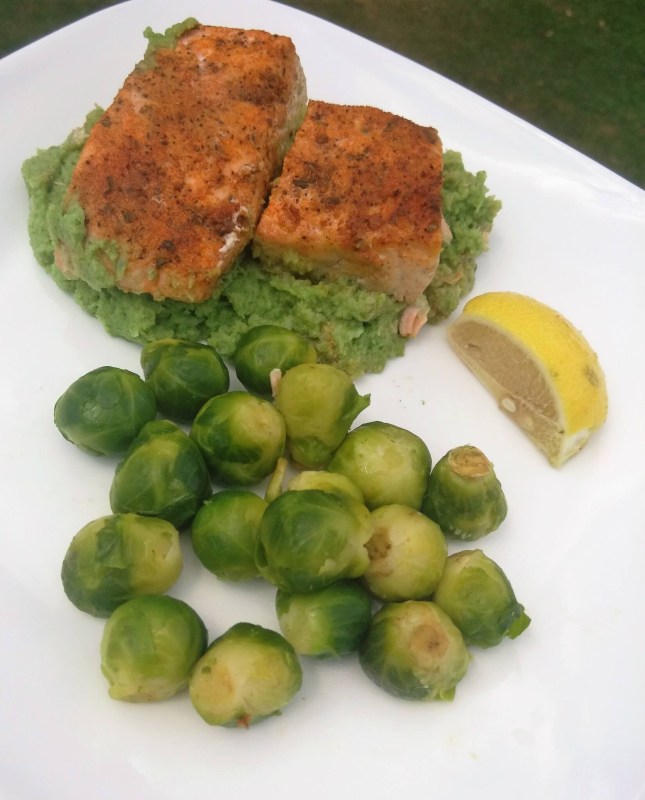 The fish was tender, flaky, and  perfectly seasoned.  And, the puree was a new one on me, but I am all about a good vegetable.  It was awesome!!  And, Brussels sprouts are always one of my favorites.  Scrumptious.
Next was another dinner meal, Chicken Parmesan and Broccoli Florets.  I microwaved this one too.  And it was perfect.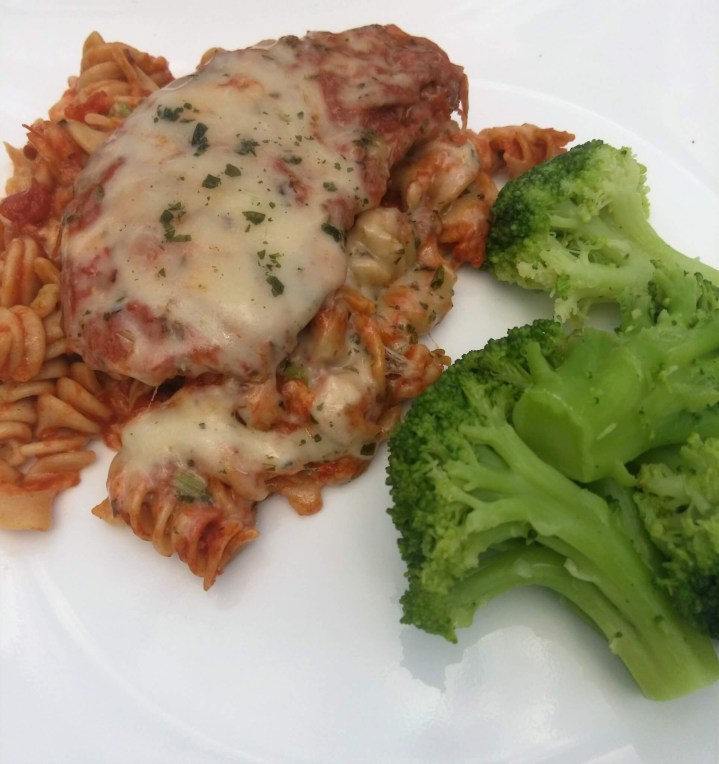 This was a large piece of tender chicken, not rubbery at all.  And, covered in cheese for the low dietary price of 520 calories.  I'm impressed now.
The next meal I tried was a vegetarian lunch.  I was a little skeptical with this one.  Moroccan Lentil Salad, Whole Wheat Pita, Yogurt Mint Sauce, and an apple.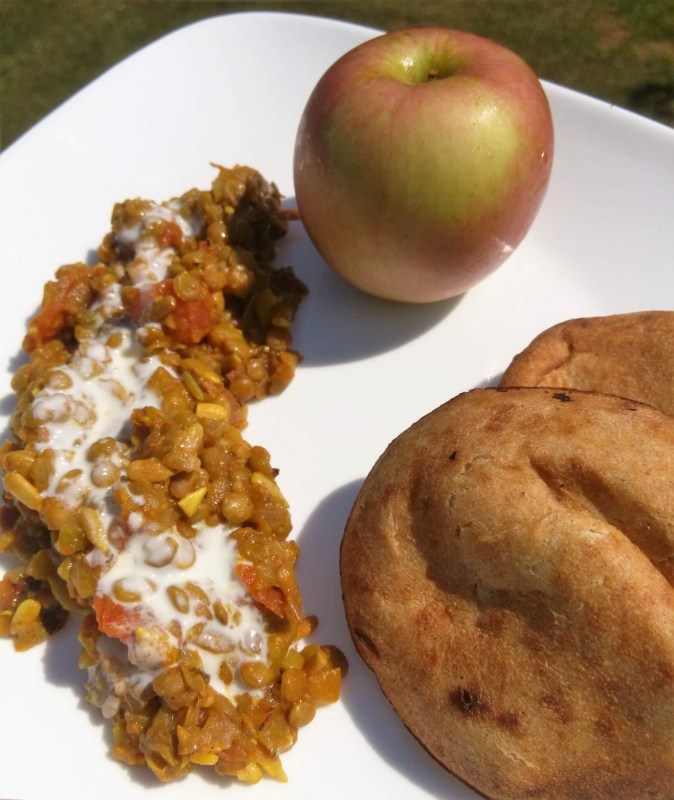 This was my favorite out of the meals that they sent!!  Really.  I know, you preferred the lentils over the salmon?  But, yes.  This meal was so good.  I microwaved the lentils as they suggested and lightly toasted the mini pitas in the toaster oven.  And, the mint sauce.  I was kind of expecting over powering mintyness, but it was just lightly minty and barely sweet.  I scooped up the lentils with the pita and it was like heaven in my mouth.  This is diet food?  Where do I sign?  The apple was fresh and crisp too.  But, the lentils and pitas were so filling that I saved the apple for a snack later.
The fifth meal we tried out was Sliced Turkey, Mashed Potatoes & Gravy, and Green Beans with Almonds.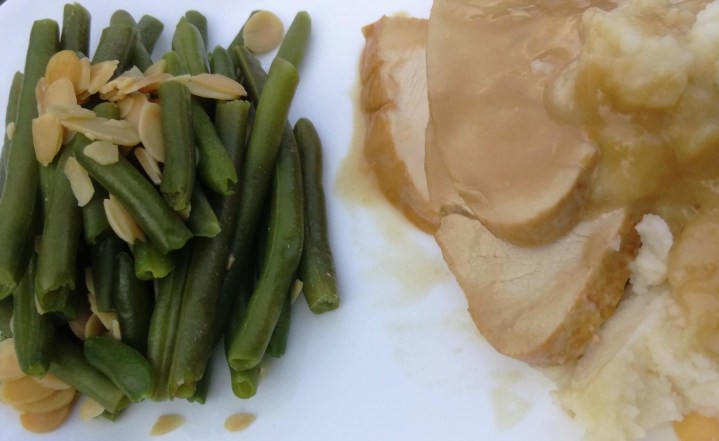 Gravy?  You can have gravy on a diet?  And check it out, this meal is all in for only 400 calories.  Again, I kind of expect poultry to be rubbery from the microwave, but Diet-to-Go destroyed that presumption.  The turkey was tender and moist.  This meal really had that grandma's house home cooked feel to it.  Very good.
Next up was this lunch meal.  Chicken Black Bean Wrap, Aztec Quinoa Salad and Sour Cream.  They suggest this be served cold, but I did warm the wrap just slightly (like 20 seconds).  And, it was scrumptious!
I couldn't figure out what the different flavor in the wrap was until I went back and checked the ingredients and realized that it was cocoa powder and cinnamon.  I wouldn't have thought those ingredients would tempt my taste buds in a wrap, but boy was I wrong!  Yummy.  Diet-to-go has perfected the use of spices and seasonings to deliver a meal that leaves you not only feeling satisfied but indulgent, as if you have eaten a decadent calorie rich meal when in fact it is a healthy low calorie meal.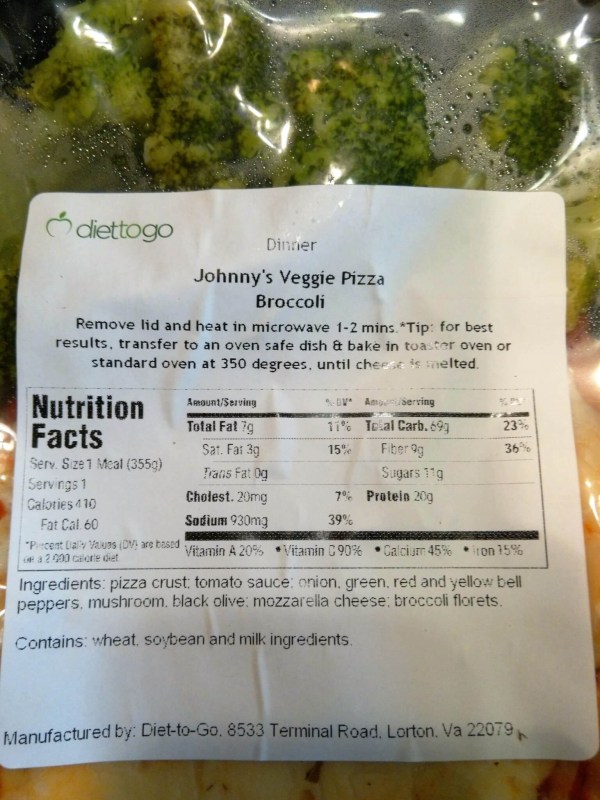 Johnny's Veggie Pizza and Broccoli dinner was the last meal we tried out.  A whole mini pizza and side for 410 calories.  Impressive.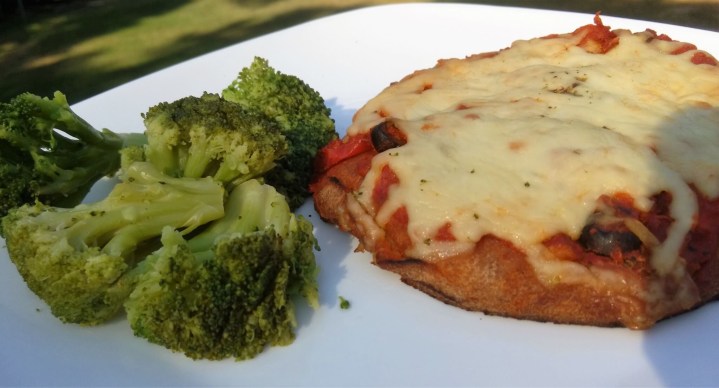 I warmed the pizza in the toaster oven and threw the broccoli in the microwave.  It was a delicious pizza, cheesy and yummy.
The Diet-to-Go meals were beyond what I was expecting delicious!!  And, if for some crazy reason you don't agree, their guarantee is awesome!  They have a 100% satisfaction guarantee.  If you aren't pleased with their products or services for any reason just give them a call and they will make it right and refund your money.
A week of meals including breakfasts will run you about $180 per week for 7 days a week (21 meals) and  about $160 for 5 days a week (15 meals).  There are no long-term commitments, signup fees, or anything like that. You subscribe per week, and you can pause or cancel at any time.  They will also work with you if you only want certain meals each week, just give them a call and they will tailor a plan just for you!
I thoroughly enjoyed the Diet-to-Go meals.  I felt none of the usual diet self pity.  In fact, I felt quite spoiled by the scrumptious food, and ease of preparation and clean-up.  And when you consider that everything is supplied for your meals and customized diet plan and support the price is really quite reasonable.
Coupon: Get 10% off your first meal delivery order with this link – no coupon code required!
Visit Diet-to-Go to subscribe or find out more about this weight loss plan!
The Subscription
:
Diet-to-Go
The Description
: Get delicious, healthy and portion-controlled meal plans and access to expert support staff. For less than the cost of eating out you can have healthy, restaurant-quality meals at home or on the go. Traditional, vegetarian, and low carb menus for women or men, 5 or 7 day plans, breakfast or no breakfast.
The Price
: $160.00 per month