DC Legion of Collectors is an incredible bi-monthly subscription box that includes 100% exclusive Funko Pop! Vinyl, apparel, accessories, collectibles and more from Funko & DC Comics.  Each box has a theme and the folks at DC have some of the best female characters in all of comic books.
Lots of really cool content that you'll want to keep locked away to keep it all safe.  Stuff to wear, stuff to read and stuff to make your shelves look awesome!
Popping open the box is a big part of the fun.  You get a look at a couple of the items – the exclusive pin and patch – and a look at the art inside the box.  Take a look at the pictures below for the art.
The women of DC Comics are all over the inside of this box.  Wonder Woman, Batgirl, Raven, Hawkgirl, Black Canary and more!
Description Card.  It's a checklist to show everything received as well as the creative process behind the making of all the items!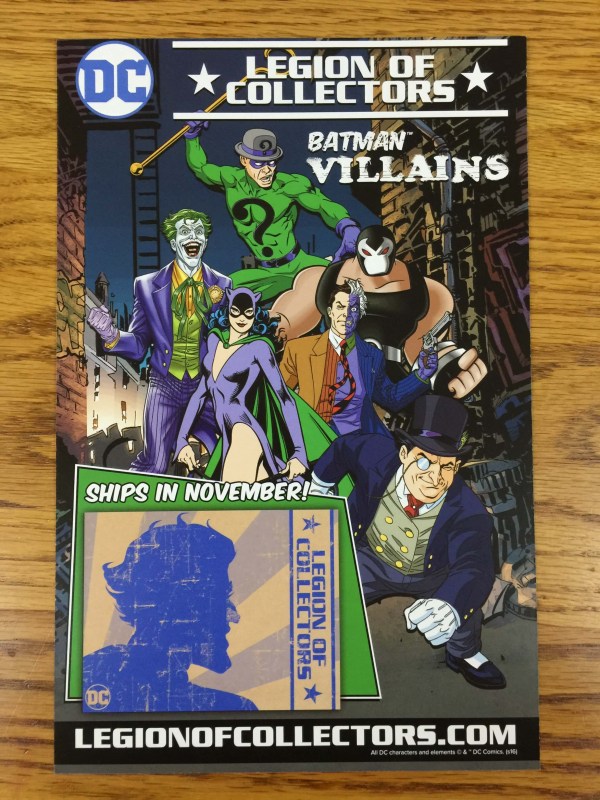 The other side of the description card is a sneak preview of the November 2016 box.  The Villains of Batman!  Batman has some of the most notorious villains in the DC Universe and I'm excited to see what direction Legion of Superheroes decides to go.


Batgirl #35 – Variant Cover.  This comic quickly became famous as Batgirl's costume changed and the book had a different feel to it.  Batgirl is a great character and this book helped bring her closer to the forefront of DC's female superheroes.  In DC's most recent "Rebirth," Batgirl now has two titles that feature her namesake and even makes an appearance in the new Nightwing series.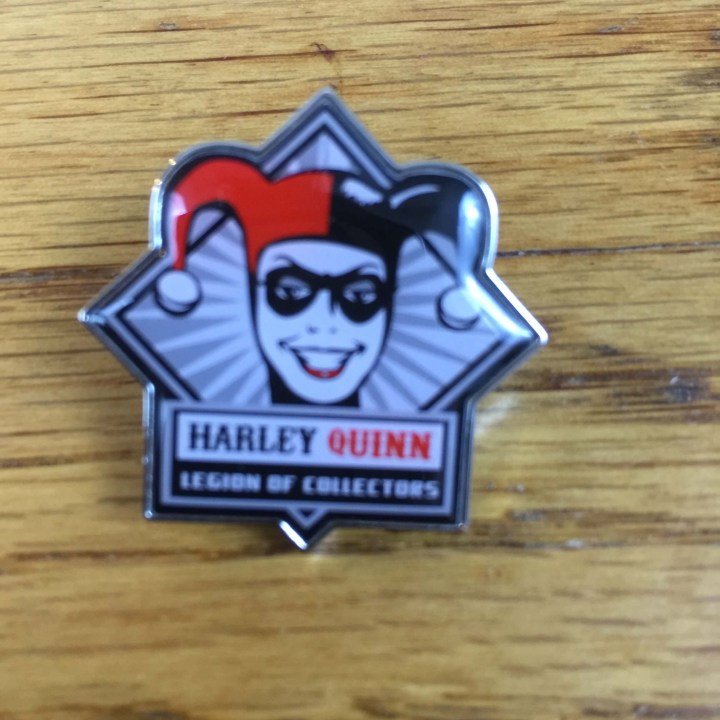 Harley Quinn Legion of Collectors Pin.  This classy looking pin has the fastest rising star in the DC Universe on it.  The look of Harley Quinn is much more reminiscent of her original look when she was introduced in Batman: The Animated Series.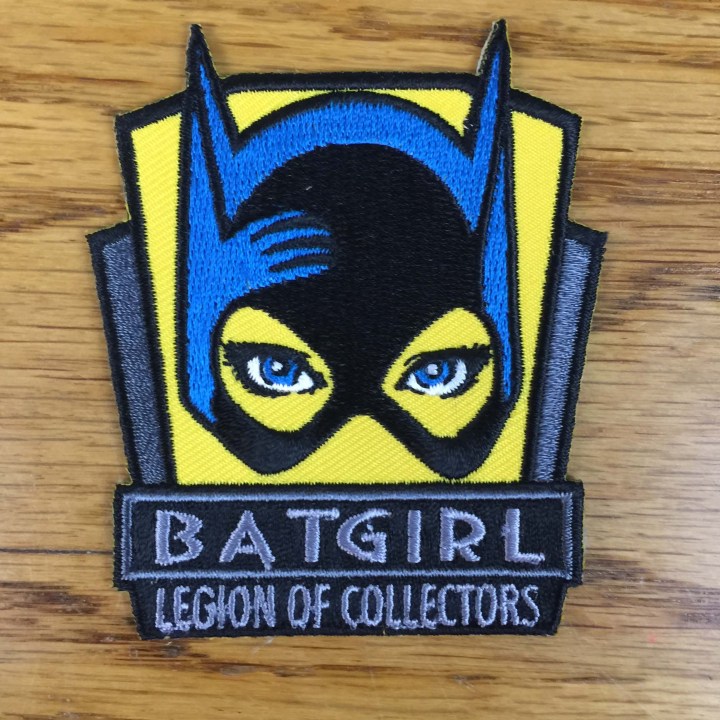 Batgirl Legion of Collectors Patch.  So not just a cool comic book in this box but also a good looking patch!

Funko POP! Hawkgirl.  This is another exclusive for the DC Legion of Superheroes subscription box.  I became a fan of Hawkgirl during the Justice League and Justice League: Unlimited animated television programs.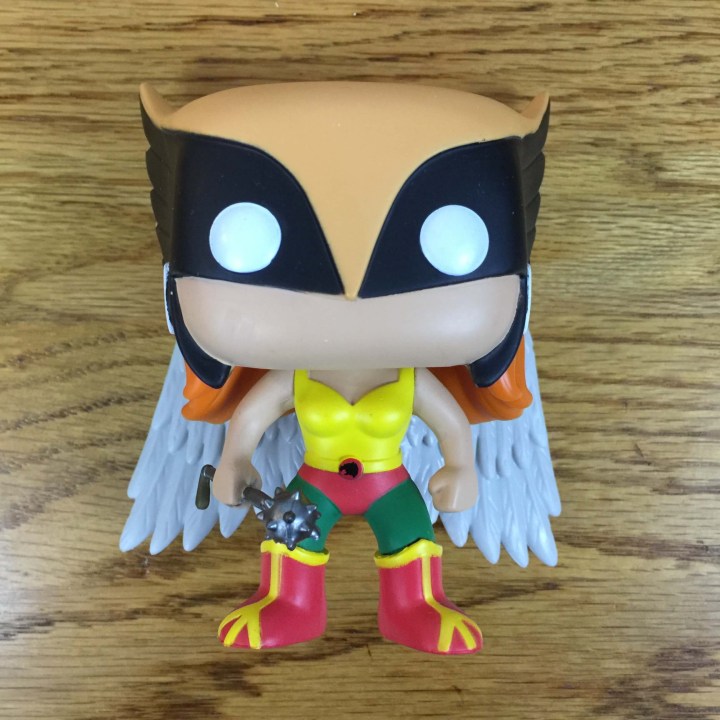 These collectibles are a hot item and it's great to get one that you can't get elsewhere – it's totally exclusive to this box, and currently valued $45 on the POP Price Guide. She is super detailed and looks amazing.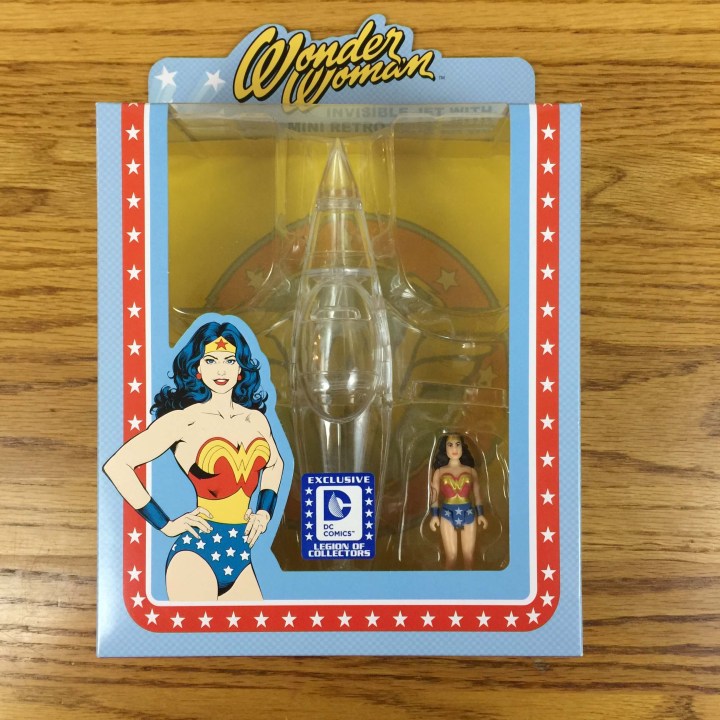 Wonder Woman with Invisible Jet.  This is one of the coolest collectibles I've received since I started receiving this subscription box.  Wonder Woman is amazing and including the invisible jet was a jaw-dropper.  Well done!!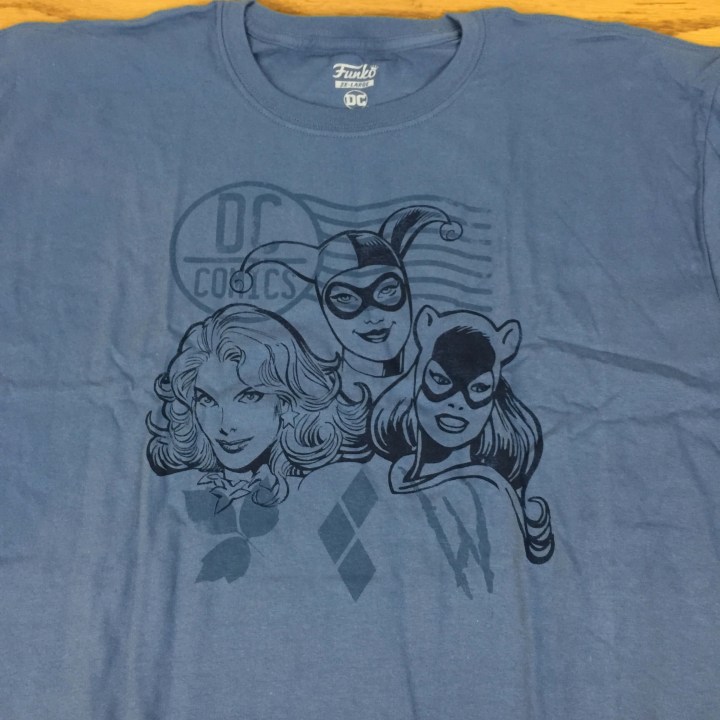 Women of DC T-Shirt.  Legion of Collectors had two versions of this t-shirt.  One with heroes and one with villains(pictured).  I like the blue used for the t-shirt and the old school look to the villainous women.
DC Legion of Collectors is amazing!  This is such a fun box and worth every penny.  Clothing, comics and collectibles – it's everything a person could want in a subscription box.
What did you think of the Women of DC edition of Legion of Collectors?
Visit Legion of Collectors to subscribe or find out more!
The Subscription
:
Legion of Collectors
The Description
: Legion of Collectors is a DC Comics subscription box from Funko that features 100% exclusive Funko Pop! Vinyl, apparel, accessories, collectibles and more – $50 in value with no fluff or fillers.
The Price
: $31.95 every other month