CleanerFilters is a subscription service that sends replacement filters for your heating and air conditioning system on a schedule determined by you. You can have them sent every 30, 60, 90, or 120 days based on your home's requirements. It is important to keep up with your HVAC manufacturers recommended schedule but monthly or every three months is pretty common depending on the type of filter you use. (Note: my box had a return address that said it was from magazines.com, which was confusing because the box was lightweight and I thought it was a lot of packaging for something like a magazine!)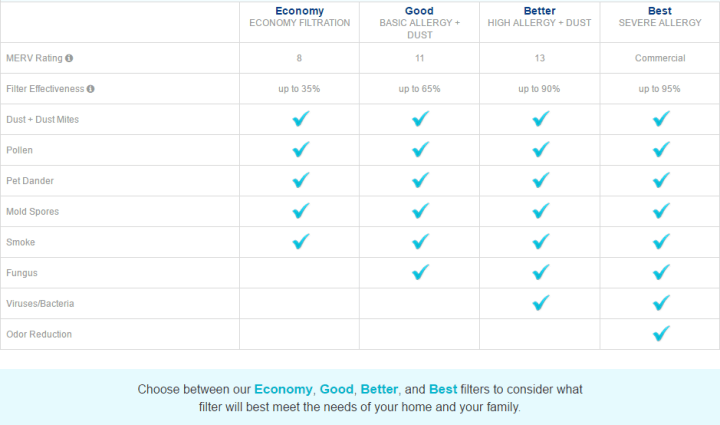 CleanerFilters offers 4 different types of filters to choose from and more than 250 sizes to fit your needs. As you can see, the type of filter you pick depends on your preferences; if you have severe allergies you may need to choose a higher grade of filter. I received the "Good" quality filters for this review.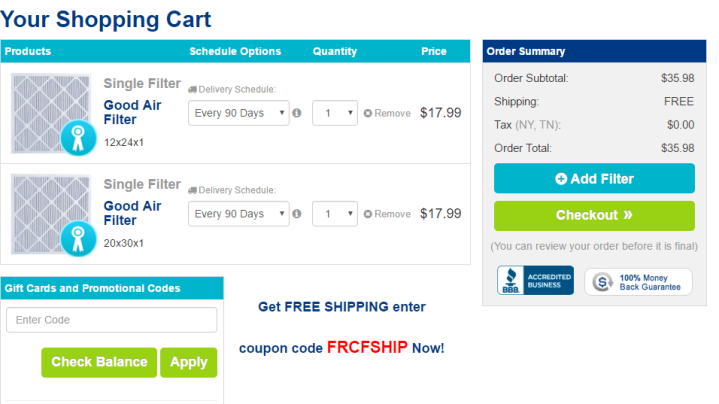 I clicked around on several different sizes of the "Good" filters and the ones I clicked on were between $17.99 – $27.99 each. The "Economy" sizes of my same filters were only available in a 4-pack (which made them $8.99 each), the "Better" ones were $19.99 each, and the 'Best" ones were $24.99 each. All of the sizes were available in 4-packs with a better price per filter in bulk. Check out their website to choose the correct filter size for your system.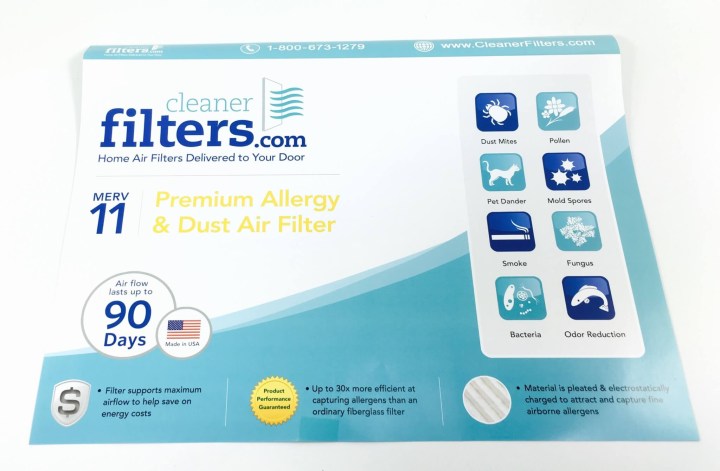 There wasn't any packing material or info cards other than a tiny printout with my filter sizes listed. The filters were wrapped in plastic and had an insert that gave some info on the filters, such as how often to change them out and how to actually replace them in the system.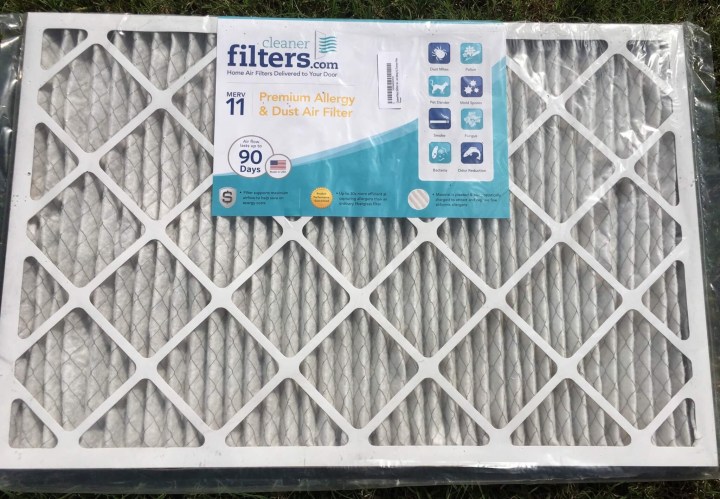 I received two filters for my home; one goes in the hallway, and the other one goes in my bedroom. Oddly enough, as my husband was changing the one in the hallway he discovered that we have a THIRD filter that we didn't know about and that hasn't been changed since we had our house built 9 years ago. OOPS!
Notice how the filter has an accordion pleat? That is so it can trap more particles than the traditional, inexpensive, flat fiberglass filters.
Here is my husband changing one of the filters. This is when we discovered the other, unchanged filter that we will need to replace ASAP.
My filters had a value of $35.38 and are good to go for the next 90 days. This service is very convenient if you keep forgetting when to replace your filters since they will show up on your doorstep and all you need to do is change them out. It also saves you from having to drive around looking for replacement filters, especially if yours are hard to find.
Visit Cleaner Filters to subscribe or find out more! Receive 20% off your first order of air filters. Use coupon code  HELLO20.
The Subscription
:
Cleaner Filters
The Description
: CleanerFilters.com is an air filter subscription service for both residential and commercial heating and cooling systems. We offer the highest quality air filters on the market and provide a 100% satisfaction guarantee. Breathe easier and never forget to change your air filter again!
The Price
: $17.99 every 2 weeks