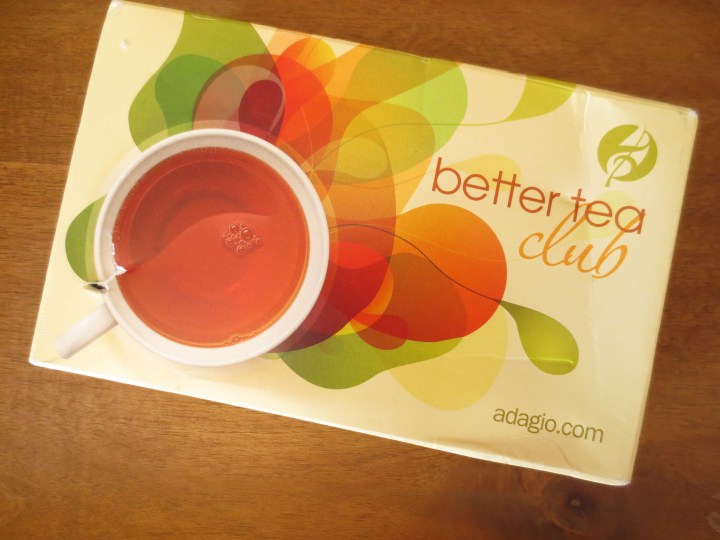 Better Tea Club is a monthly subscription tea from Adagio Teas. For $6.99 per month, you get a sample of premium teas delivered to your door. You can choose to receive loose, bag or cold-brewed iced tea. My box was beaten up, but everything was still intact inside.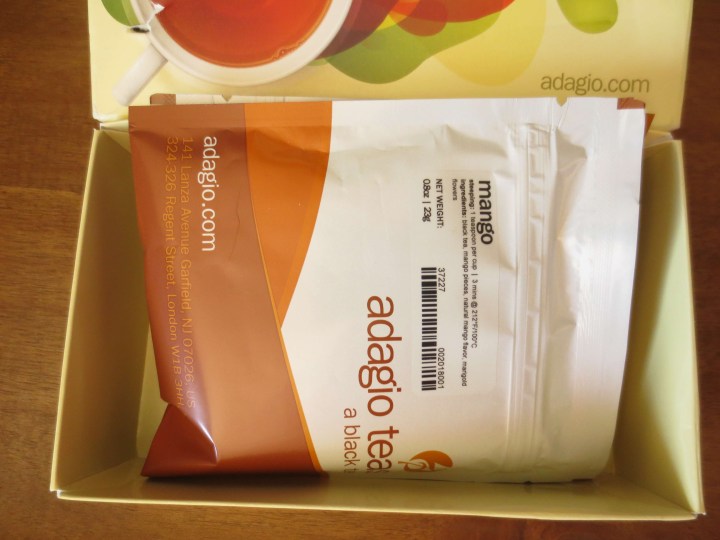 I've received three loose teas sample for September. There is no information in the box about the teas. Each bag contains 0.8oz, or 23g, perfect for 10 cups of tea from each.
Everyone receives the same samplers and all the information about each teas can easily be found on their website. This month, we have Mango Black Tea, Rooibos Herbal Tea and Assam Melody Black Tea. I'm not the biggest black tea drinker, so I was a bit disappointed to receive two of them. I wished I had a green or white tea instead. For variety!

On the back of the black tea samplers, there's the expiry date as well as some general information about their black teas.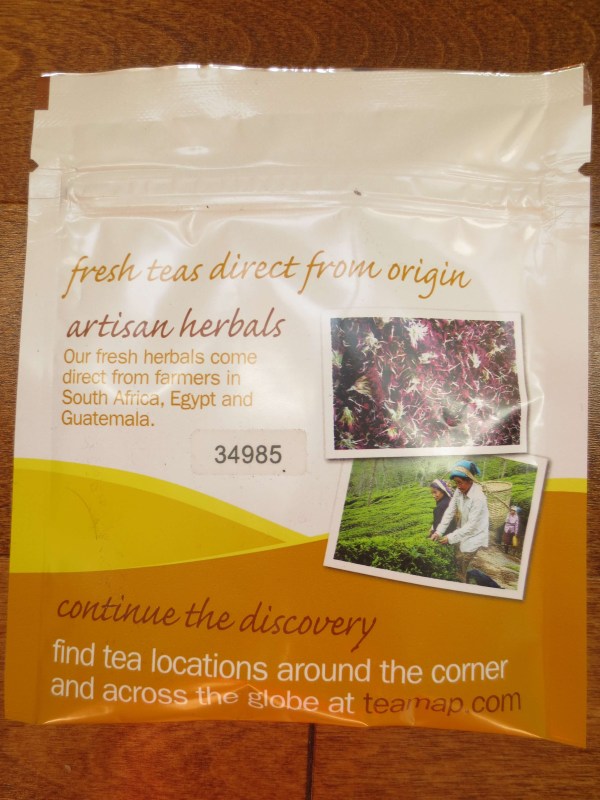 There was not expiry date for the rooibos and the information is very generic.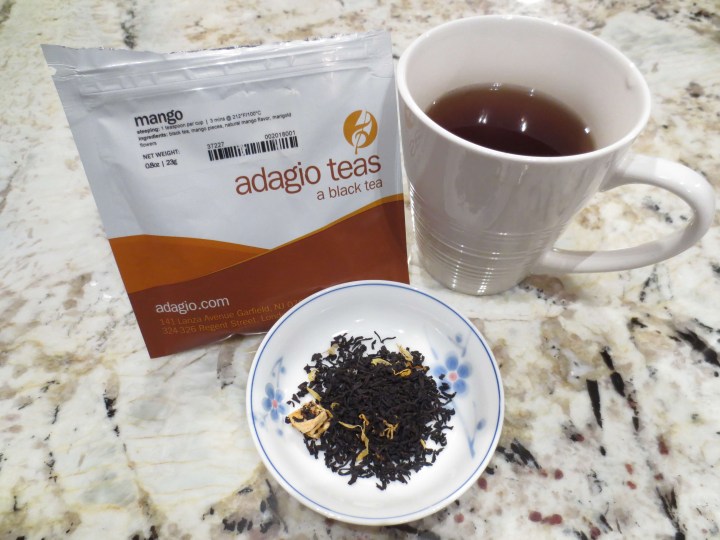 Unlike me, my husband is a big fan of black tea, so he had no problem sharing it with me. We started with the mango flavoured black tea and I must admit it was smelling divine! We both love mangoes so it was a nice treat. There are chunks of mangoes as well as added flavor in the blend. From the information on their website, it is a blend of Ceylon Black Tea. It was not only smelling good, but it was quite tasty as well! I was savouring it and in no time, I was asking for more! My husband found it very smooth, velvety, and with just the right amount of sweetness from the mangoes. I was afraid it would be bitter, but it was perfect!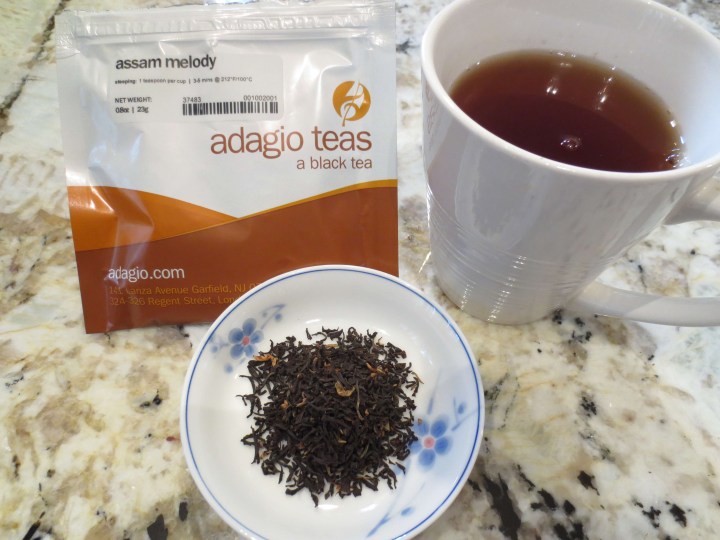 Next one up, the Assam Melody Black Tea. This blend is from the Assam region in India. Once again, I was really impressed by the smoothness, but full flavour of this tea. I ran out of coffee one morning and it was a nice mellow substitute to my craving!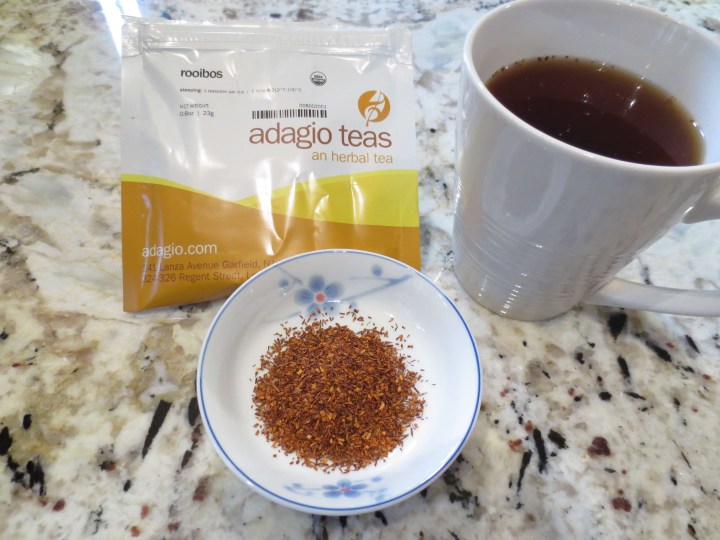 I was happy to see a straight rooibos in this box. I'm used to all the flavoured one, so it's nice to get back to basic once in a while, and this one didn't disappoint! Sweet, fruity, mild, it was a nice afternoon treat. It was a very fine blend, so a lot of it ended up in my cup instead of staying in my strainer, but I don't really mind it.
Despite my initial reaction, this box was great! I've noticed on their website that the cold-brewed iced tea choices were the same as this box, so I'm tempted to try both black teas as iced teas. It's sounds delicious!
What did you think of this month's Better Tea Club by Adagio Teas?
Visit Adagio Teas Better Tea Club to subscribe or find out more!
The Subscription
:
Adagio Teas Better Tea Club
The Description
: If you like tea, you'll love our premium products, superior to anything sold in your local stores. Fresh teas, brimming with flavor, will arrive at your door each month. Each shipment is just $6.99, delivery fee included. Choose loose, bagged, or cold-brew iced teas. Change clubs or cancel anytime. See what you're missing! Better tea is just a click away…
The Price
: $6.99 per month