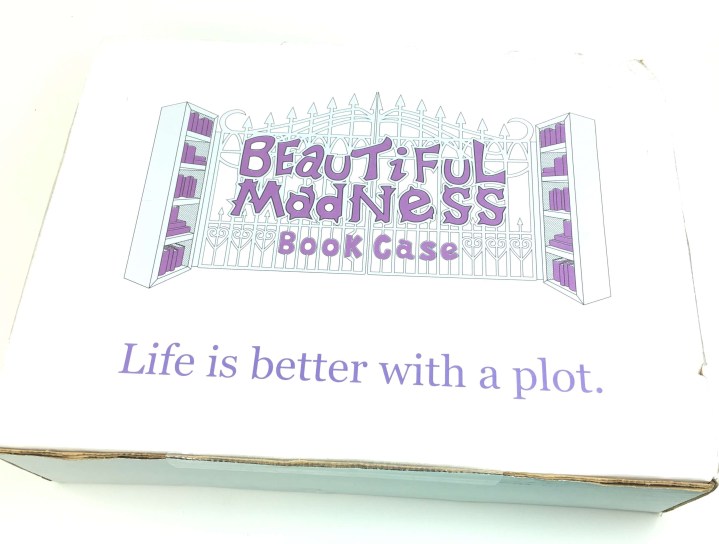 Beautiful Madness Book Case is a themed monthly subscription box from a former bookseller who wanted to offer something different. This box has a care package feel to it and will contain a book, a drink mix of some sort (coffee, tea, hot chocolate), a snack, and 2-3 items to complement that month's plot. It is $46.50 a month and there are discounts for 3, 6, or 12 month plans and all plans auto-renew. This box ships for free and is currently only available in the US. Some of the previous boxes are still available in their online shop as a one-time purchase.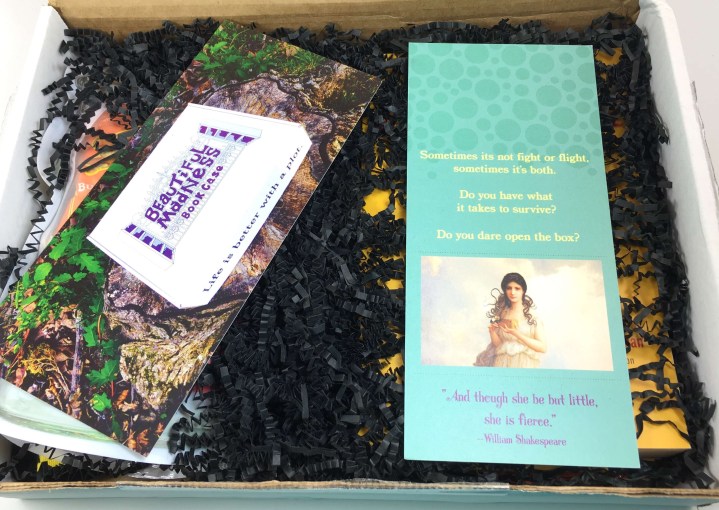 In keeping with the literary theme, this box was called "Chapter Four: Should You Open the Box?".
Sometimes it's not fight or flight, sometimes it's both. Do you have what it takes to survive? Do you dare open the box?"
Books sent may be fiction, non-fiction, or young adult. In the future they hope to offer either a genre or fiction/nonfiction choice for each box, but the book itself will still be a mystery.
My items were cushioned with shredded black paper squiggles. This box always has a great presentation.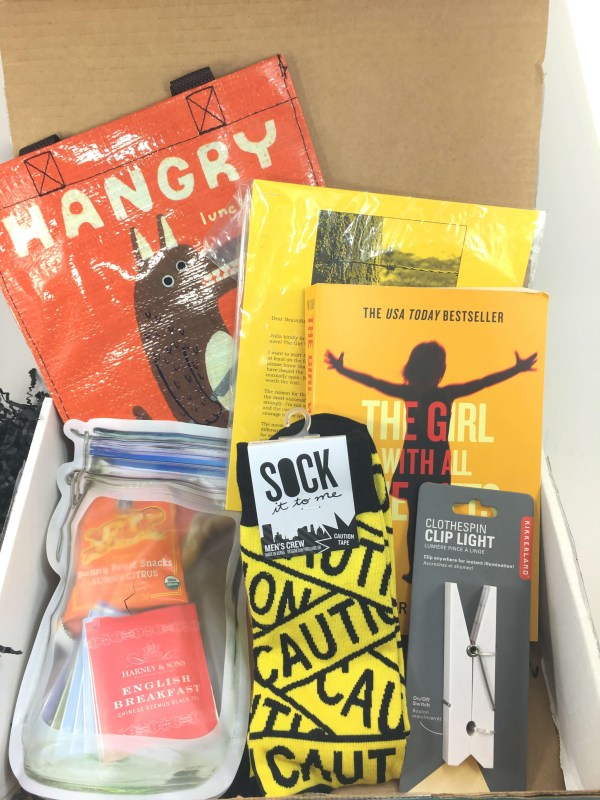 Everything in the box!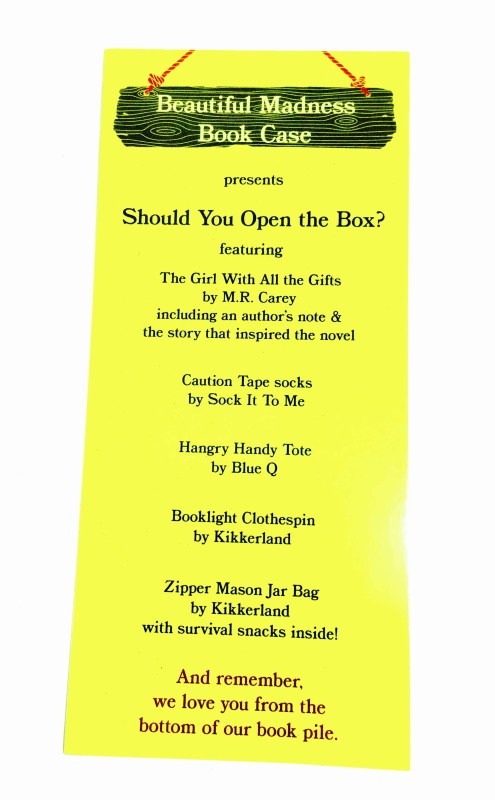 First up is the product information card.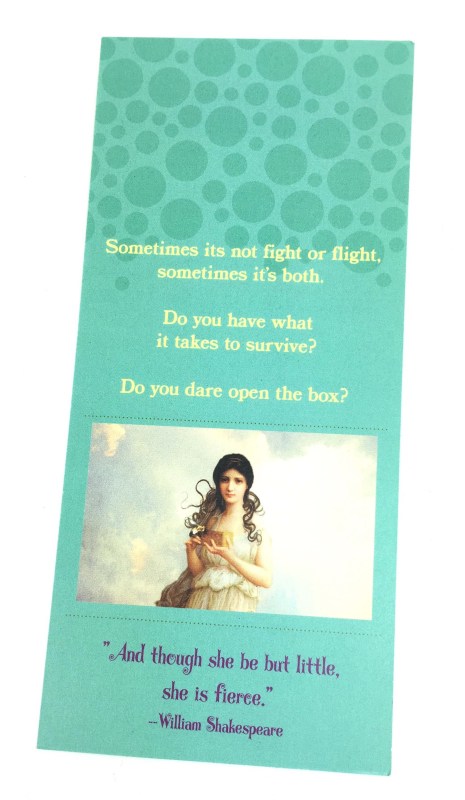 Ohh, I think that is Pandora on the flip side of the info card (which makes a great bookmark).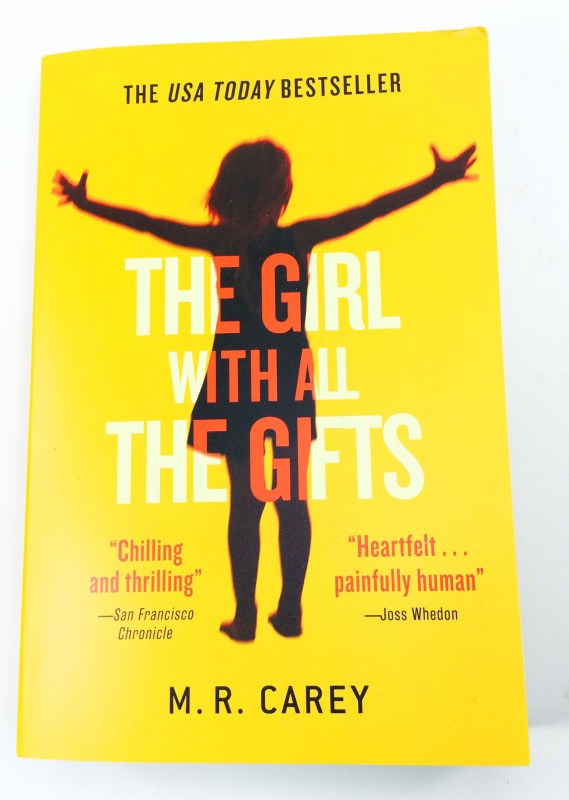 The first thing that popped up in my feed when I searched for this book was movie showtimes! The Girl With All the Gifts by M. R. Carey ($15 $11.48) is a dystopian post-apocalyptic thriller/suspense novel with high ratings on Amazon and Goodreads:
The USA Today bestseller

Melanie is a very special girl. Dr Caldwell calls her "our little genius."

Every morning, Melanie waits in her cell to be collected for class. When they come for her, Sergeant keeps his gun pointing at her while two of his people strap her into the wheelchair. She thinks they don't like her. She jokes that she won't bite, but they don't laugh.

The Girl With All the Gifts is a groundbreaking thriller, emotionally charged and gripping from beginning to end.
I can't wait to start reading this book! I'm not going to give any spoilers (ok, maybe a couple) but the movie trailer looked pretty good in a bloody sort of way.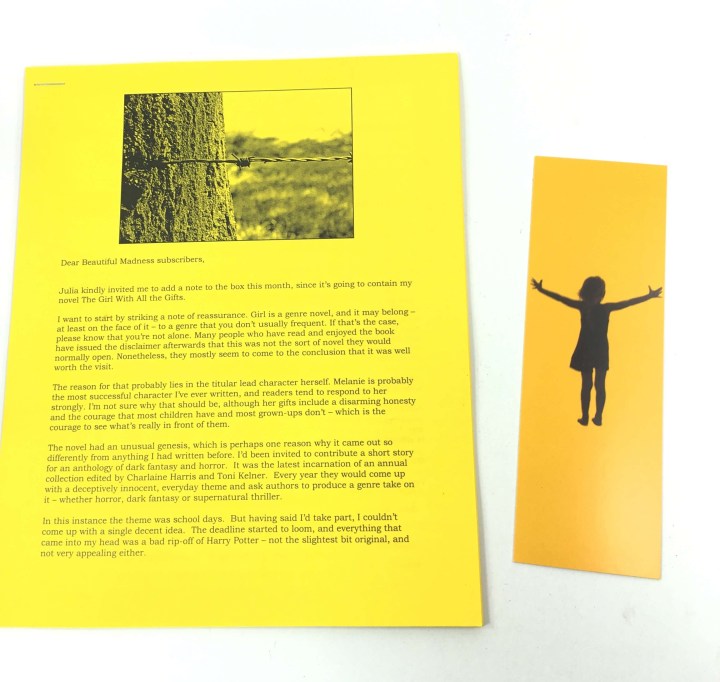 There was also a note from the author along with his short story that eventually turned into a full novel. They also included another bookmark. How did they know that I am always in need of more bookmarks?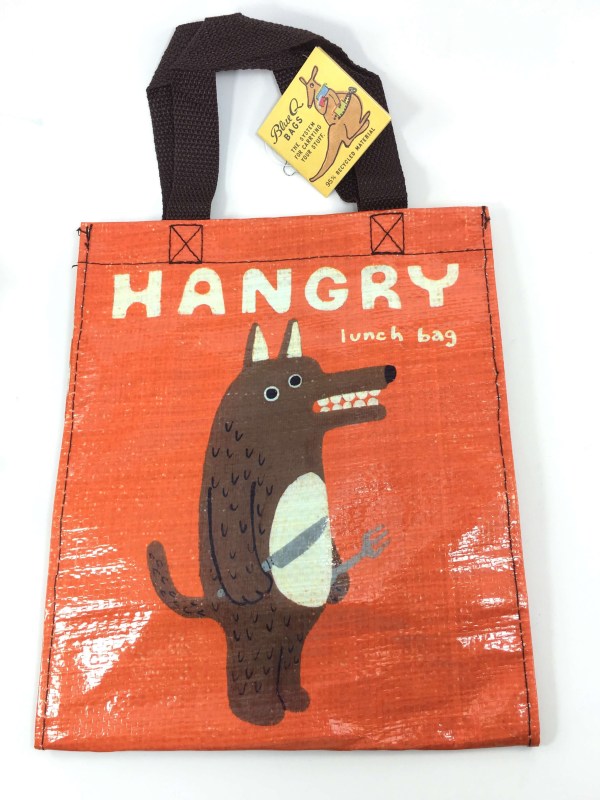 This cute Hangry Handy Tote by Blue Q ($9.99) is made of recycled woven polypropylene and is great for carrying more than just lunch. Try packing it with supplies you might need if you have to escape due to the emergence of the walking dead or something.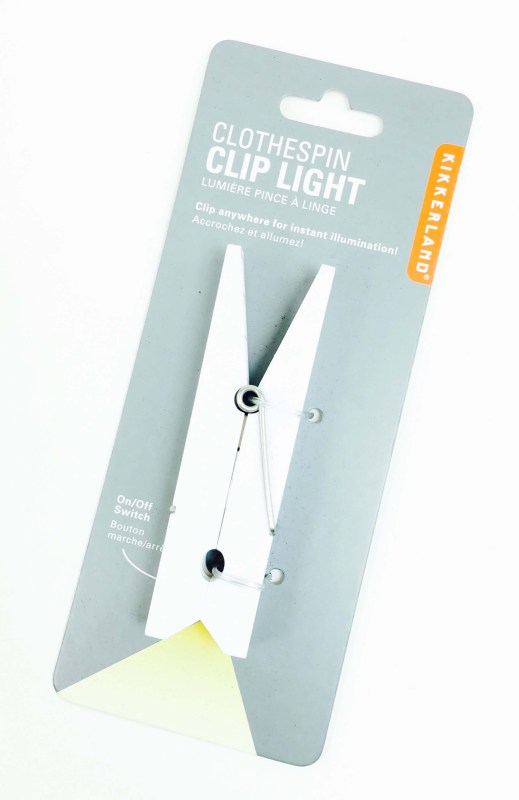 The Kikkerland Clothespin Clip Light in White ($7.50) can be used when staying up late to finish your can't-put-down-read, or stash it in your Hangry bag just in case you have to flee from the living dead in the middle of the night.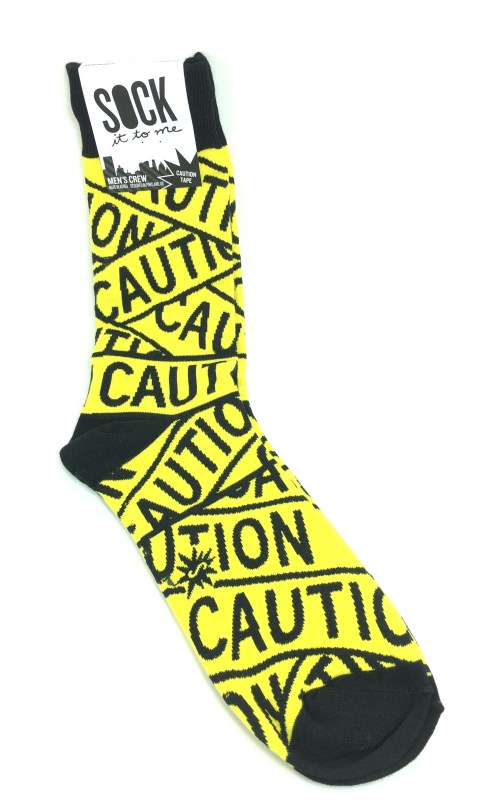 I'm saving these Men's Caution Tape Crew Socks by Sock It To Me ($11.50) for crazy sock day at school! Plus, they're perfect if you have to put on your athletic shoes to run for your life.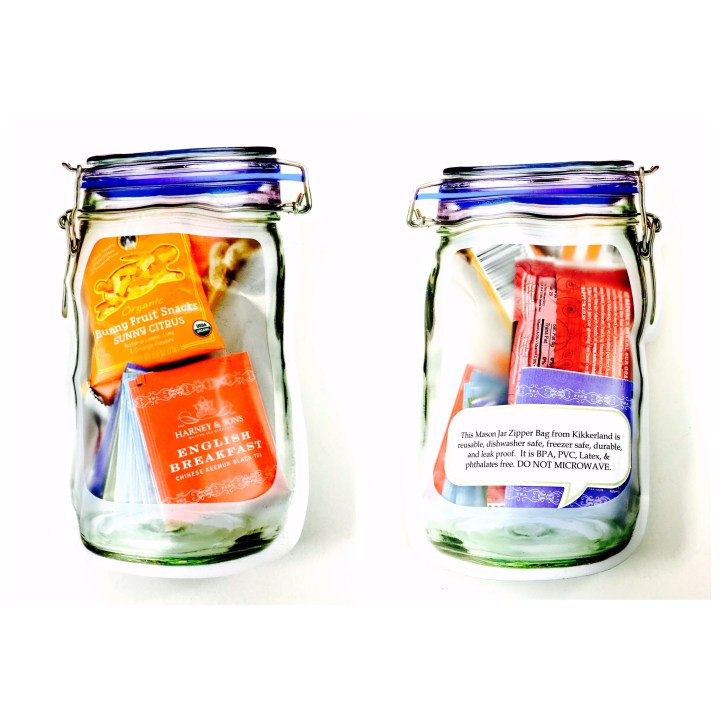 I thought the Kikkerland Mason Jar Zipper Bag ($2) looked very realistic and the fact that it came stashed with snacks made me love it even more! This bag will stand up when filled and is dishwasher safe and BPA-free.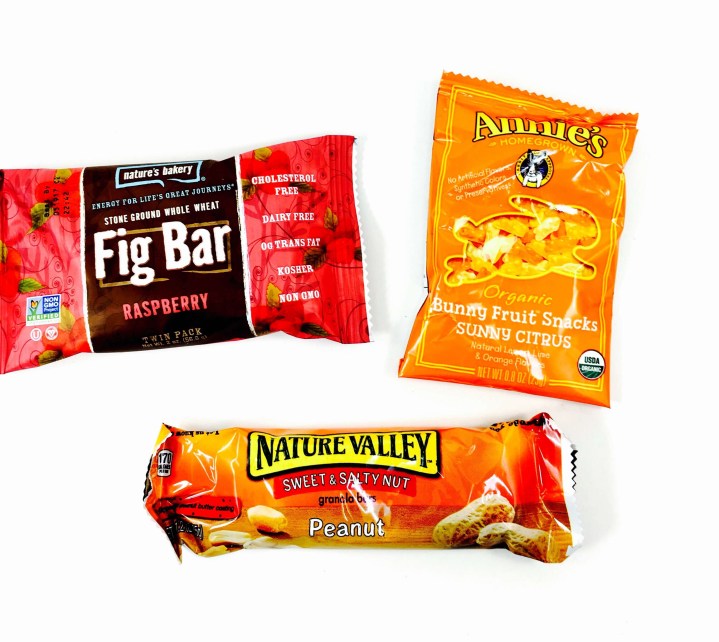 I liked this variety of snacks! I had never tried Nature's Bakery Fig Bar in Raspberry before but it was delicious and kept me going until lunch. These are made with whole wheat which is what I grew up eating and prefer to the bland white flour bars. Annie's Sunny Citrus Organic Bunny Fruit Snacks are vegan and contain a day's worth of vitamin C. I usually have a stash of Nature Valley Sweet & Salty Nut Granola Bars in the pantry but I don't think I have ever bought the Peanut flavor before and it will make a nice change from the usual ones I get. ($5?)
There was an assortment of tea bags from Harney & Sons (10 bags, $2.40). Tea is my favorite drink and I now have a choice of flavors to jazz up my month: Paris is a fruity take on the classic Earl Grey; English Breakfast is my drink du jour; I haven't tried Japanese Sencha or Jasmine yet but we're only halfway through September so I have something to look forward to! Hopefully the pep I get from this tea will serve me well if I have to make a speedy escape.
Beautiful Madness hits the nail on the head again! This is one of my favorite subscriptions and I get a kick out of the kookiness of it but the curation is also spot on. I loved the way all of the products fit the theme and the quality of the products was great. This month's value was around $50 but that doesn't include the short story and this box is more about curation anyways and it's simply fun, and sometimes terrifying. I really look forward to getting this box and can't wait to see what comes next. Where do you think Beautiful Madness Book Case should take us next month? (Hint: It was a dark & stormy box…)
Save $4.00 off your first box! Use coupon code SIMPLYMAD.
Visit Beautiful Madness Book Case to subscribe or find out more!
The Subscription
:
Beautiful Madness Book Case
The Description
: Beautiful Madness Book Case sends a box of happiness to every subscribers every month. The box will include a handpicked book, a snack, a drink that can be brewed or made, and two to three items that complement the book. All you need to do is find your cozy spot, and get lost in a great book.
The Price
: $46.50 per month