Bargain Bead Box is a monthly bead subscription service. Each month, you'll receive over 40$ worth in top-quality jewelry supplies. It can be a mix of loose beads, bead strings, findings and pendants. You can share your creation on their social media for the chance to win a 25$ gift certificate to their sister store Bead Box Bargain. Boxes are $15.95 per month. Shipping is free in the US and $7.50 to Canada. Even if it's technically a subscription box, it comes in a teal bubble mailer, which is less expensive than a box so they can send more beads! And more beads is more fun!
Inside the bubble mailer, the beads come nicely packaged inside three bags and wrapped in tissue paper. Inside the bags, everything is in individual plastic bags.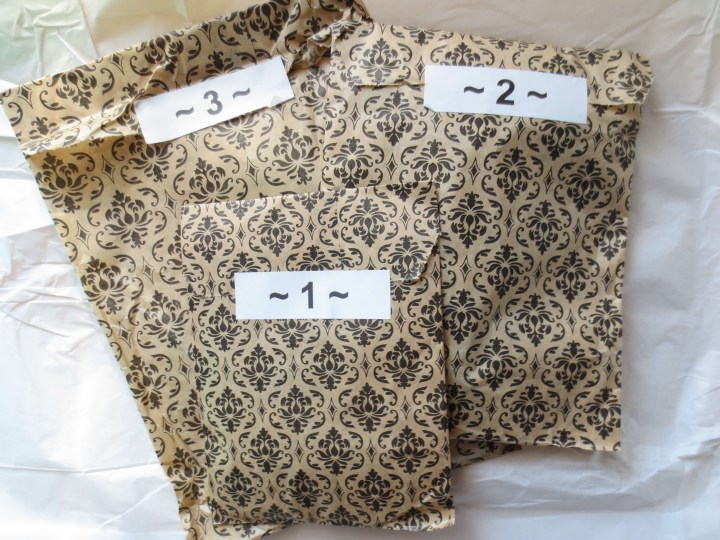 Each month is curated around a different theme and all the beads and findings are coordinated. This month's theme is "Copper Forest" and promises browns and greens, perfect for an autumn feel! Copper is the metal this month. With the note, included in the package, you also get a discount for their sister store "Bead Box Bargains".
On the reverse of the letter, the content of the three bags are described.
BAG 1 : Forest Findings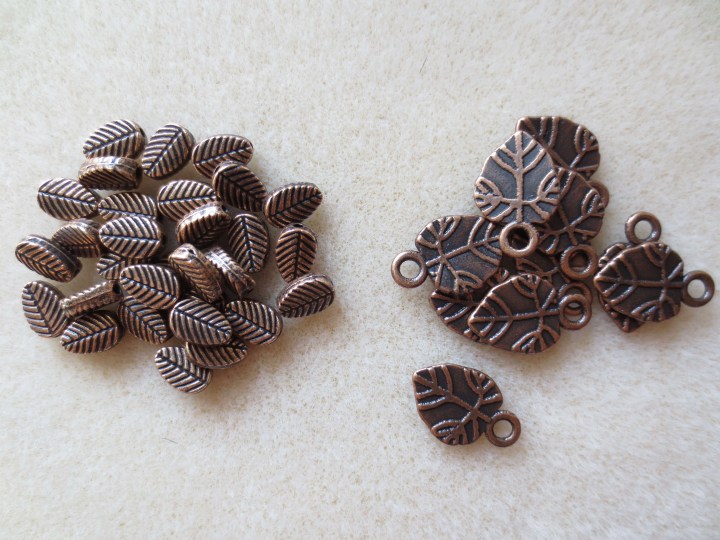 30 leaf beads and 10 leaf drops. I'm already liking this box! The beads are of a simple and delicate design, but they would be great surrounded by green beads. I could seen them being transformed into little pendants on a chain for a nice, autumn chain. The leaf drops would find their place on earrings or on a bracelet.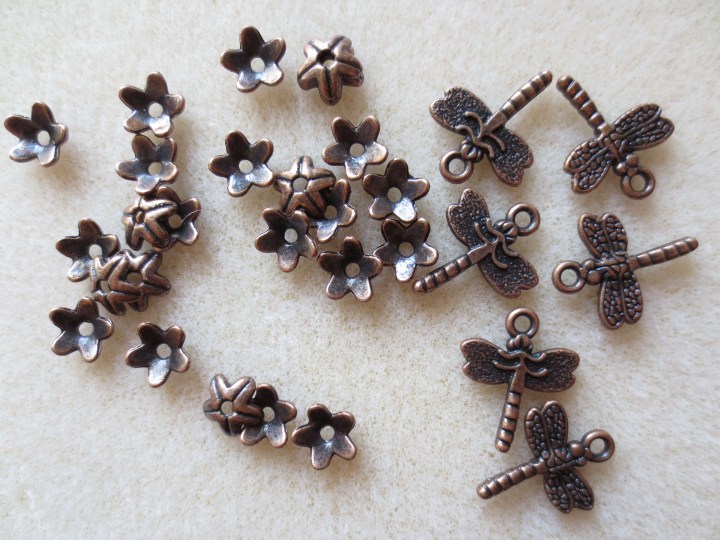 24 bead caps (9mm) and 6 dragonfly charms (20mm). You can never have to many bead caps in your collection. It changes the look of a simple bead. The dragonfly are adorable and I would make myself a pendant with different charms on it. Also, it could be placed in front of a flat stone pendant, as if the dragonfly had landed on it.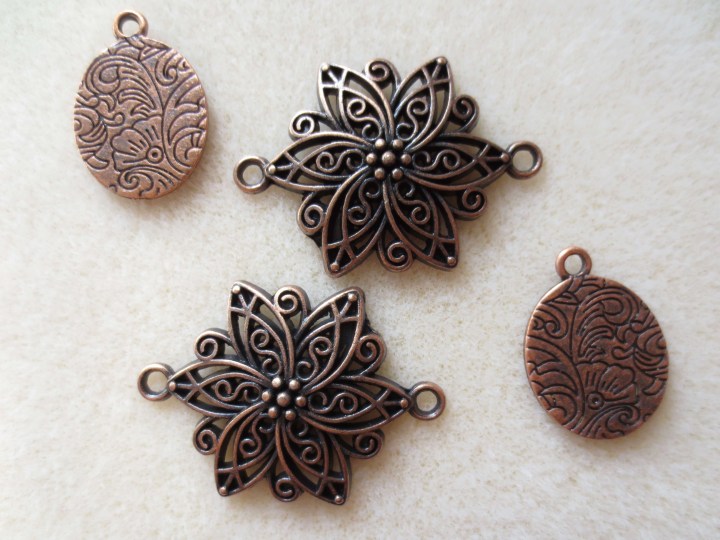 2 Filigree flower link component. This are quite interesting. Both could be used on a necklace, holding a string (or more) of beads between them. One could also be used as a focal with strands of beads or chains hanging from them.
2 Floral embossed pendant (24mm). With a dragonfly charm, it could be a cute little pendant on a simple chain. I love the details on these ones, but I'm not sure what I'll do with them yet.
BAG 2 : Pendants and gems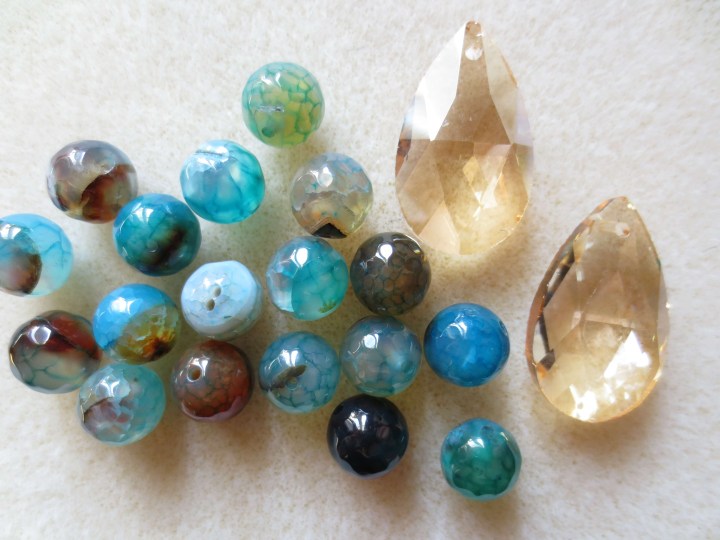 18 dragon veined faceted agate beads (10mm). They are GORGEOUS! Even though they were dyed or heated to obtain that colour, they are so pretty. They remind me of lakes and mountains. I want to use them everywhere and I will probably go get some more in different size. As I've mentioned multiple time, I love getting gemstones in my boxes, they're like little treasures.
Champagne cut glass crystal teardrops (28mm). These are great as well, but I never seem to know what to do with them. They sparkle, they are pretty, I like the colour, I just don't know what to do with them! I'll keep them on the side for the moment.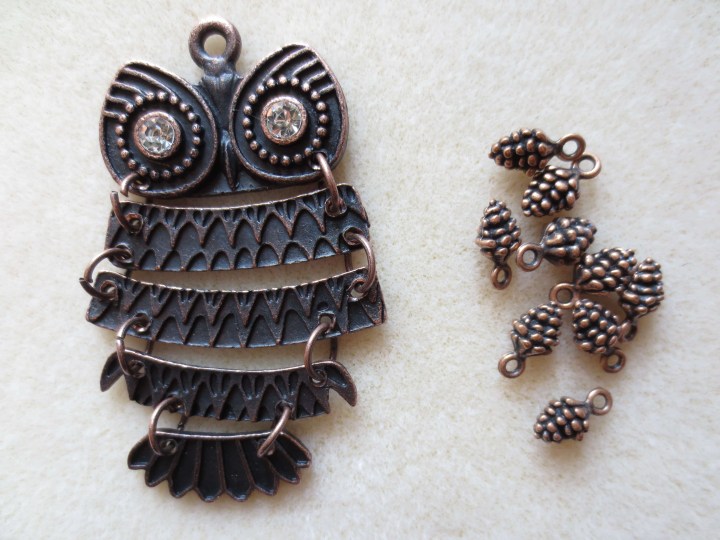 BIRD!!!!!!!! (and pinecones, but mostly OWL!!!!!!) Look at that pretty bird! This is already a statement piece by itself, with it's articulated body parts and it's rhinestone eyes. I'm thinking of making a choker with some of the other beads to hang this little guy from it. An other idea I had involved wind chimes… (I still need to see how I would turn this pretty bird into a wind chimes with sparkling beads. It's tempting.)
9 pinecone drops. Although they are quite small (13mm), they are quite heavy! Among leafy beads, they would feel at home!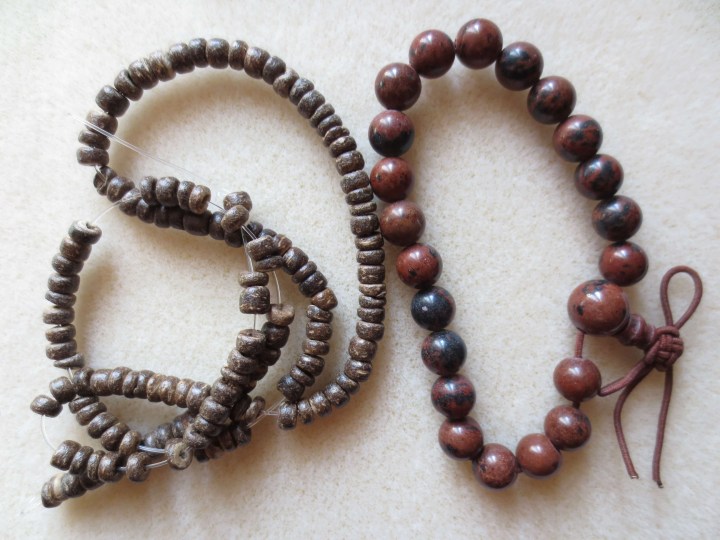 Coconut shell heishe beads. These are perfect to add a little boho vibe to a design. I like that we received some form of "wood" for this theme, but I feel they clash a bit with all the copper and the greens in this box. They are nice, but I see them more fitting with a tropical theme.
Mahogany obsidian gemstone beads. The colour reminds me of terra cotta, but smoother. They go well with the green beads and brings some earthiness to the whole box. For a moment, I thought of wearing this set as is as a bracelet, but it felt like 2 or 3 beads were missing to work properly. I might just restring them and call it done!
BAG 3, into the woods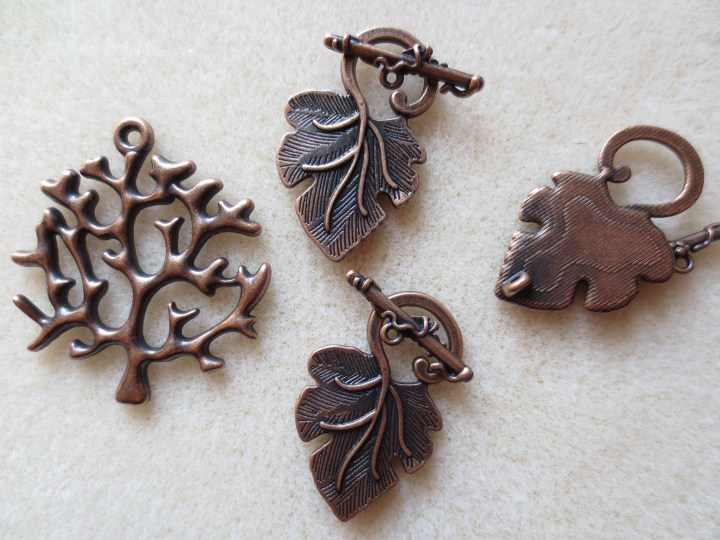 45mm autumn tree pendant. I love this tree! I'm thinking of wire wrapping some seed beads to it, but I like it simple as is. It would make a nice pendant on a leaf chain.
3 sets of toggle claps. One think is for sure in Bargain Bead Box, they always includes some clasps. I like this one and it would make a great tassel front closure.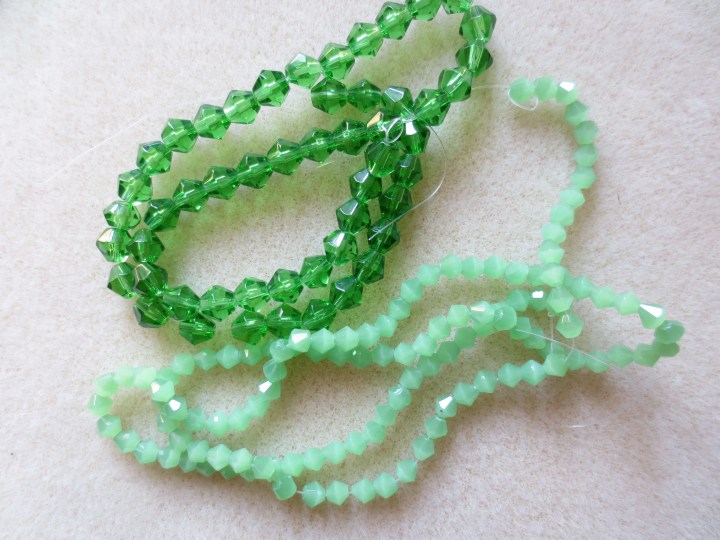 6mm green glass bicone beads and 4mm Chinese crystal bicone beads in green jade. The 4mm are opaque with an opal effect in them. Both are pretty and make great accent beads to all the copper in this box! The 6mm have soft edges, so they are quite comfortable to wear. I love the rich deep green colour.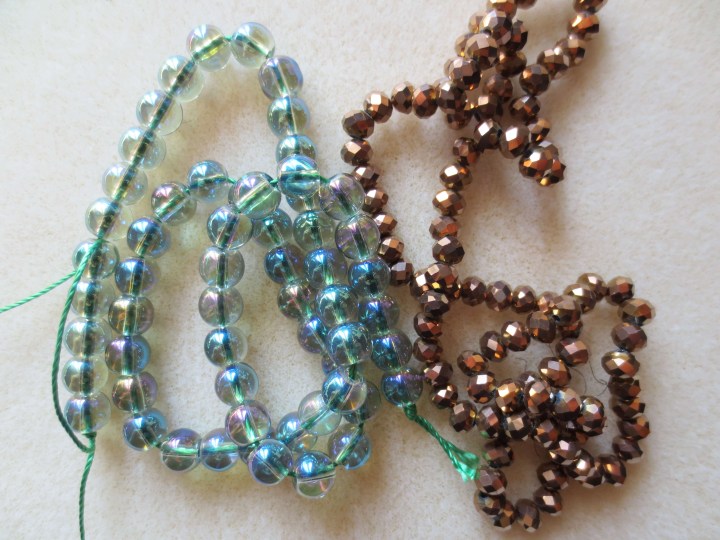 Chinese crystal rondelle beads in copper finish. I love metallic beads like these ones. They are shiny, but they blend nicely with the metal findings in a project. They can be used as spacer beads or to frame light coloured beads, such as the champagne teardrops.
8mm round glass beads, rainbow iris green. They remind me of raindrops on sunny days. They are lovely and simple.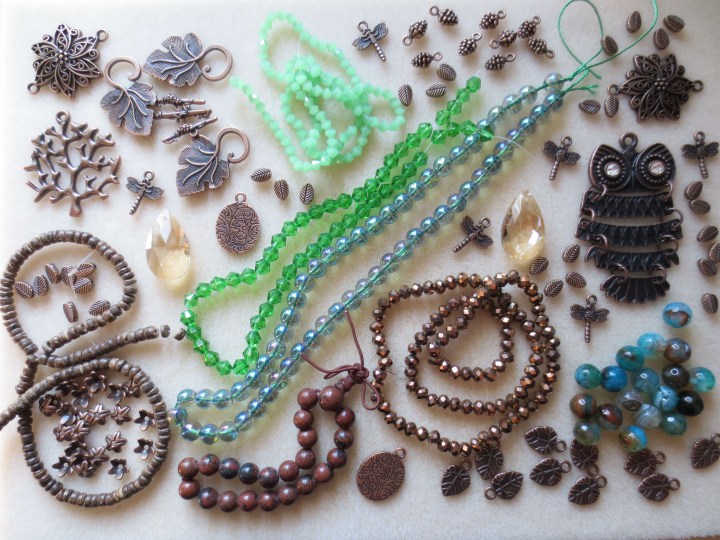 Every month, we receive so many beads through this subscription that it takes me quite a while to use them all. So many projects can be created with this! So this month, I made an effort to use a lot of beads. Even though I love copper, I realized that I don't have that much copper findings. I actually used all my copper wire for this project.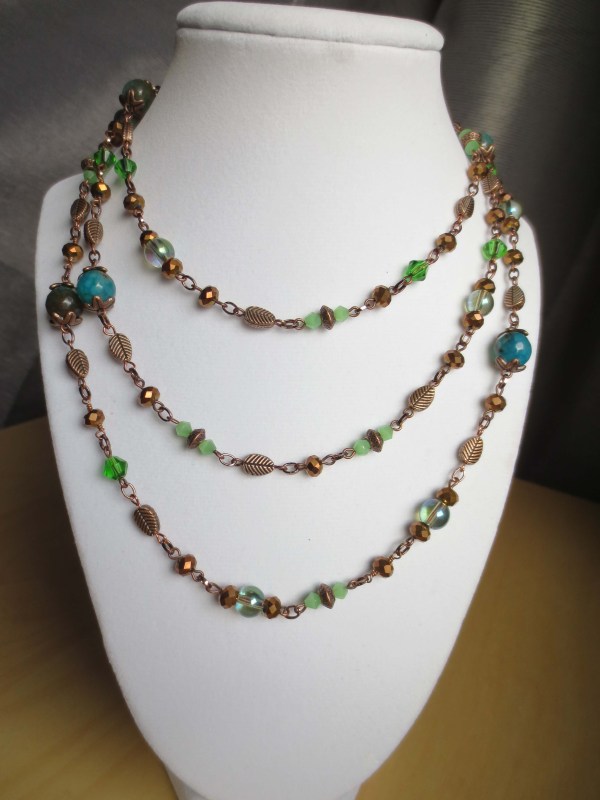 This is actually one long chain that can be worn as a single long row, two, or three smaller rows. I've only added copper wire and spacer beads to the content of this box. I still have a lot of beads. A lot!
As always, the quality of the beads, for the price of this box, is great. There's always something for everyone : something small, something bold, a lot of spark, and a lot of inspiration! I also appreciate to get some new findings every month, even though it's a different metal every month (gold, silver, brass, and copper).
What did you think of this month's Bargain Bead Box?
Visit Bargain Bead Box to subscribe or find out more!
The Subscription
:
Bargain Bead Box
The Description
: Get $40+ of designer-quality factory closeout beads delivered monthly! Subscribers get 10-15 full-size packages and strands of glass, crystal, gemstone, and/or metal beads & findings each month.
The Price
: $15.95 per month