The 2016 Barbie Advent Calendar is available now! This calendar is $19.99 on Amazon, and you can find past calendars in the $20-25 price range, too! I found a previous year's calendar on Mattel's site as well.
Celebrate the holidays in signature style with the Barbie Advent Calendar! Open a compartment each day — for 24 days — to discover a fab Barbie doll fashion (doll sold separately), cool accessories and even a gift for you! With items for Barbie doll, like a party dress, shoes, purses and jewelry, as well as extra-fun pieces like a wrapped present, cell phone and puppy, girls will love playing out Barbie doll's busy holiday schedule. And in the 24th compartment, they'll find two cute hair clips they can wear to look festive, too! From shopping to gift-giving, holiday parties to wintry fun, there's something to play it all out — because with Barbie, you can be anything!
Here's what comes in this advent calendar!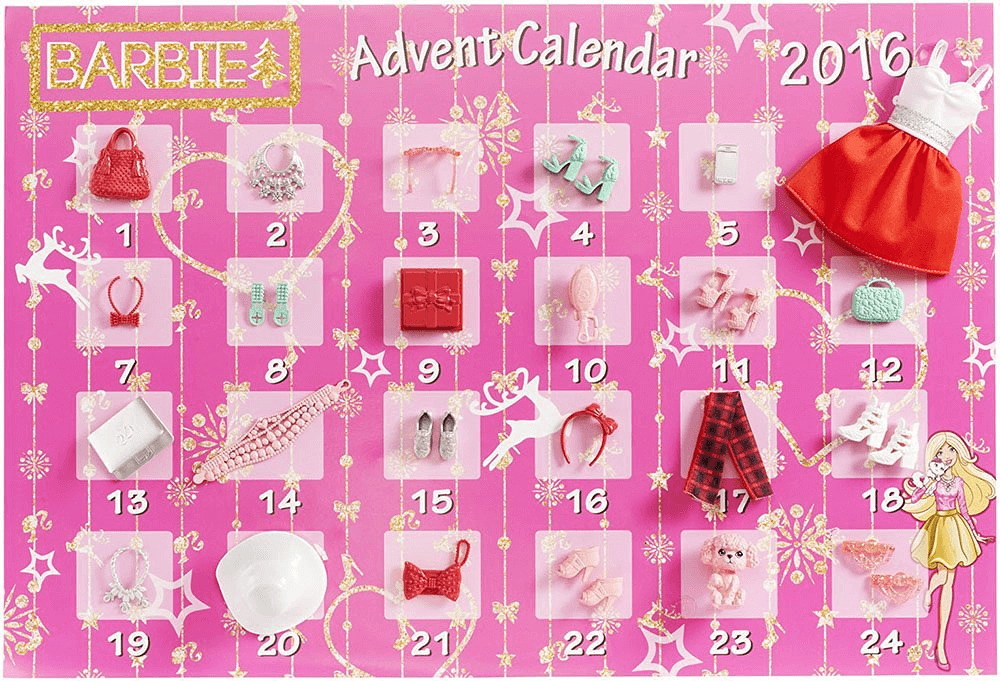 The Barbie advent calendar includes 24 items, including one pair of hairclips for girls, one dress for Barbie doll and 22 accessories for Barbie doll; doll not included. Fashions fit most Barbie dolls. Colors and decorations may vary.
Looking for even more advent calendars? Check out all our posts on Advent Calendars or find more on Amazon!
Pssst, we're making a list of Advent Calendars! We have a bunch more to enter, but if you find an amazing/unique calendar, let us know about it in the comments!