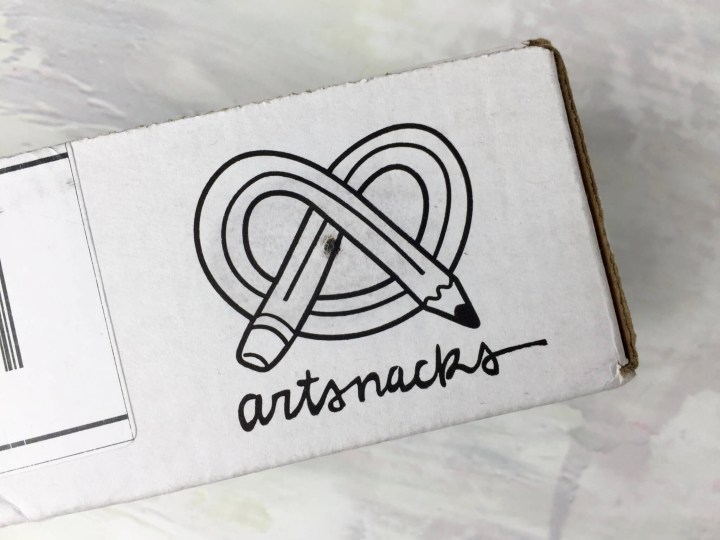 Art Snacks gives any artist a reason to stock up their supply every month, for only $20 per month. Every box contains 4 to 5 unique, high-quality art supplies curated by professional artists. You'll also get tips and tricks from experts each month. Shipping is free to the US, $10 for other countries.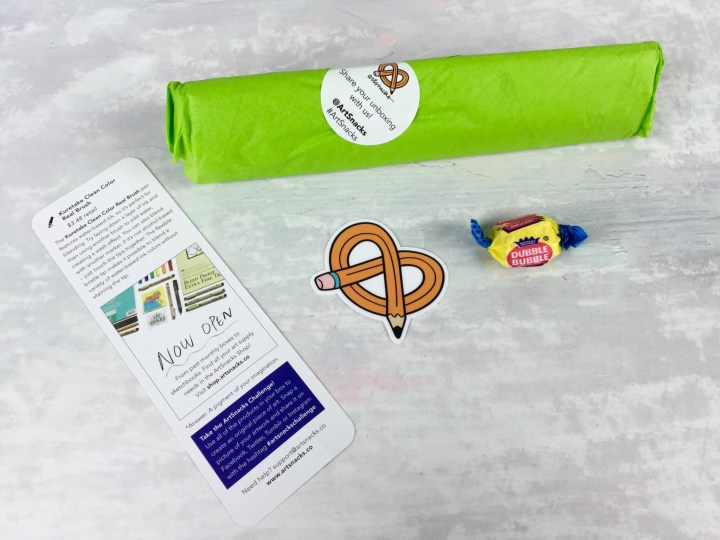 Everything is packed tight! The Art Snacks box is a fun assemblage of thoughtfully selected art supplies as well as a few snacks to nourish you along on your creative endeavors.  This box gets a huge 'thumbs up' from me and I'll explain why below!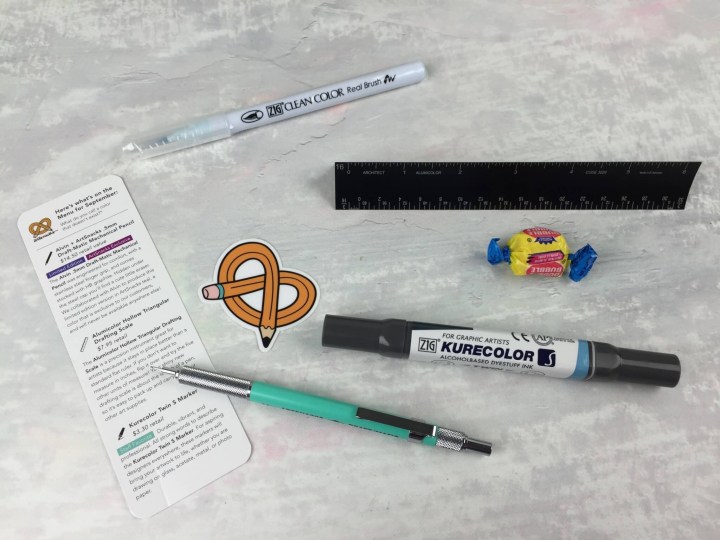 All the goodies this month!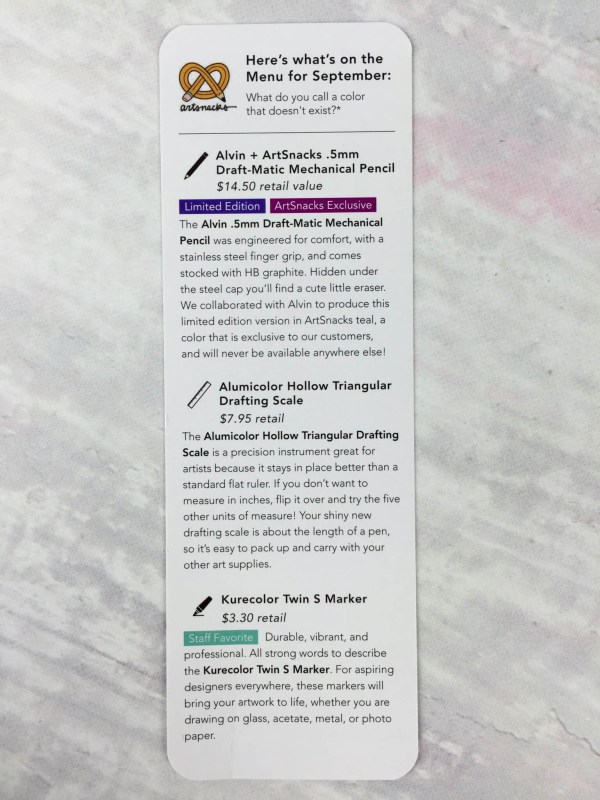 The information card, which can also be a bookmark, gives you a list of all the items included in the box, plus a brief description. I have to give a shout out to the ArtSnacks info card. It is probably one of the most concise and yet  informative info cards I've run across. From their monthly art related joke, to indicating which item is a  staff favorite, and news about the company, this little thing packs it all in with a very readable and clean  layout. Little things make the difference!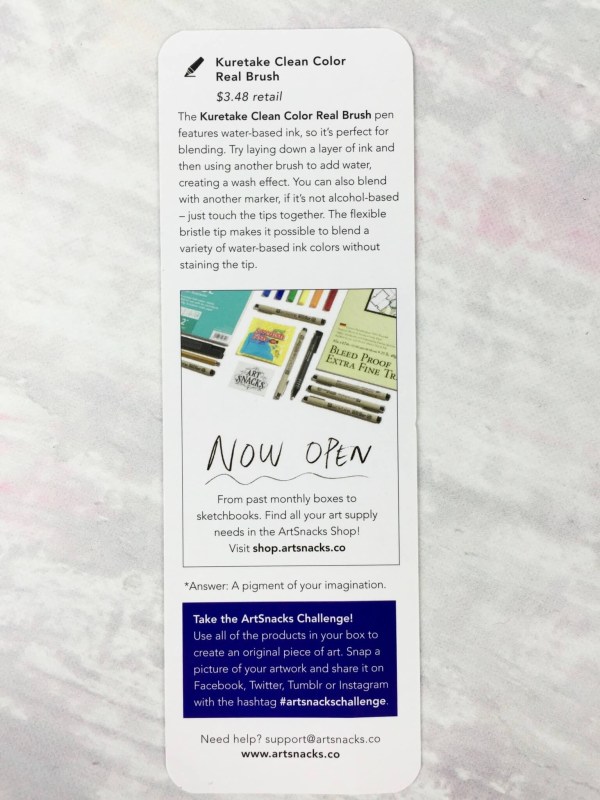 According to this month's card, the new ArtSnacks shop  offering art supplies and even past boxes is now open, so head on over and give it a look!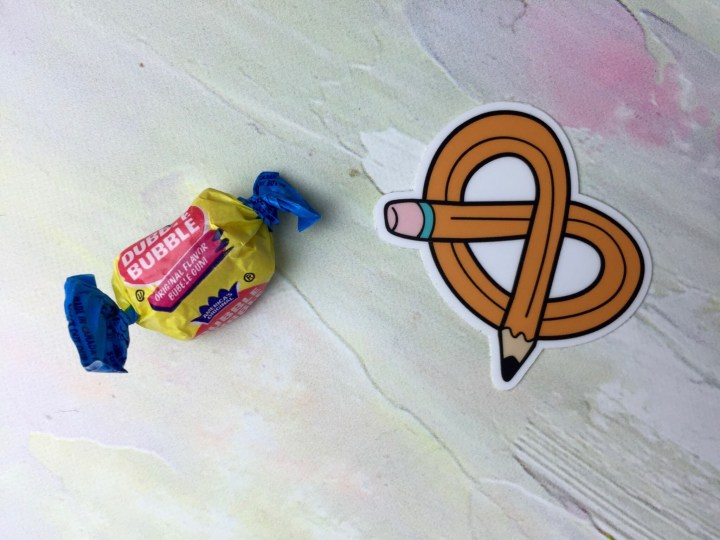 Our snack part of the box was a blast from my childhood. I loved nothing more than finding these bright  yellow wrappers in my trick or treat bag or sitting in an unguarded candy dish. I still have the same  complaint now as I did then: the wonderful flavor doesn't last anywhere near as long as it should, but in  terms of a tasty treat and bubbles the size of your monitor, Double Bubble is second to none!
Zig Kurecolor Twin S Marker ($3.30, $4.17 on Amazon). This contemporary to the Copic marker system is made by the Kuretake Company, a well-known  Japanese maker of quality art supplies. This marker is an alcohol-based dye that is quick drying, xylene  free and permanent, making it extremely useful for a variety of surfaces including glass, plastic, metal,  photo paper, and of course, regular paper.
Alumicolor 6″ Hollow Triangular Drafting Scale ($7.95). Marked with a total of 6 units of measurement, this unique ruler is perfect for drafter and artist alike.
Zig Kuretake Clean Color Real Brush ($3.48, $1.30 on Amazon). These fun water-based markers are a dream to use and extremely flexible. Use them alone or with a  water brush for a watercolor effect. They blend well with each other and most any marker that is not  alcohol-based. Touch the tip of the Clean Color to whatever other marker you have for instant shading  and the Clean Color's tip will not stain.
Alvin + ArtSnacks .5mm Draft-Matic Mechanical Pencil ($14.50, $10.39 on Amazon). This collaboration between Alvin, a wholesaler and manufacturer of art and drafting supplies since 1950,  and ArtSnacks brings subscribers a quality drafting pencil.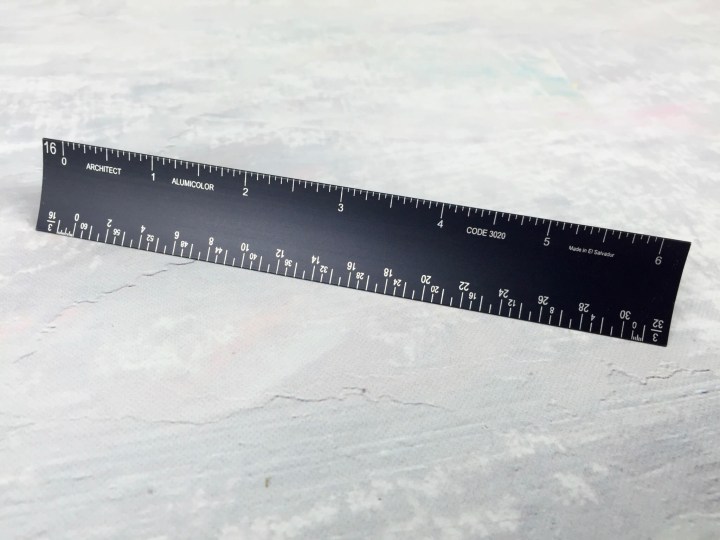 This light weight ruler is conveniently shaped to ensure that it stays in place while used and its demure size allows it to be easily packed along with writing utensils.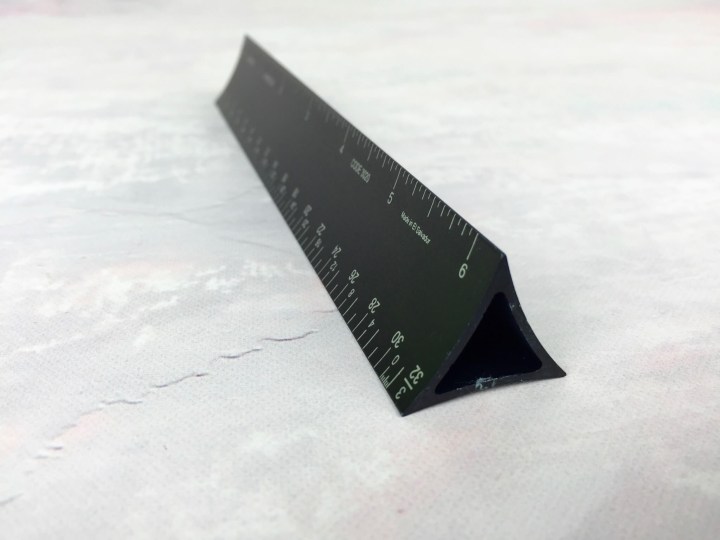 The edges of the ruler where it comes to a point are a bit sharp, so watch that, but otherwise, this is an incredibly useful offering.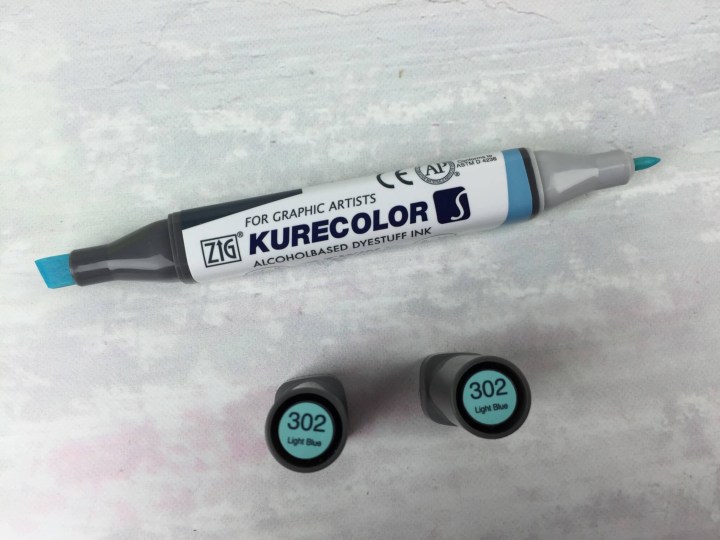 They come in 135 colors, including a blender, and feature  two tips: a 6.5mm broad and a 1mm fine.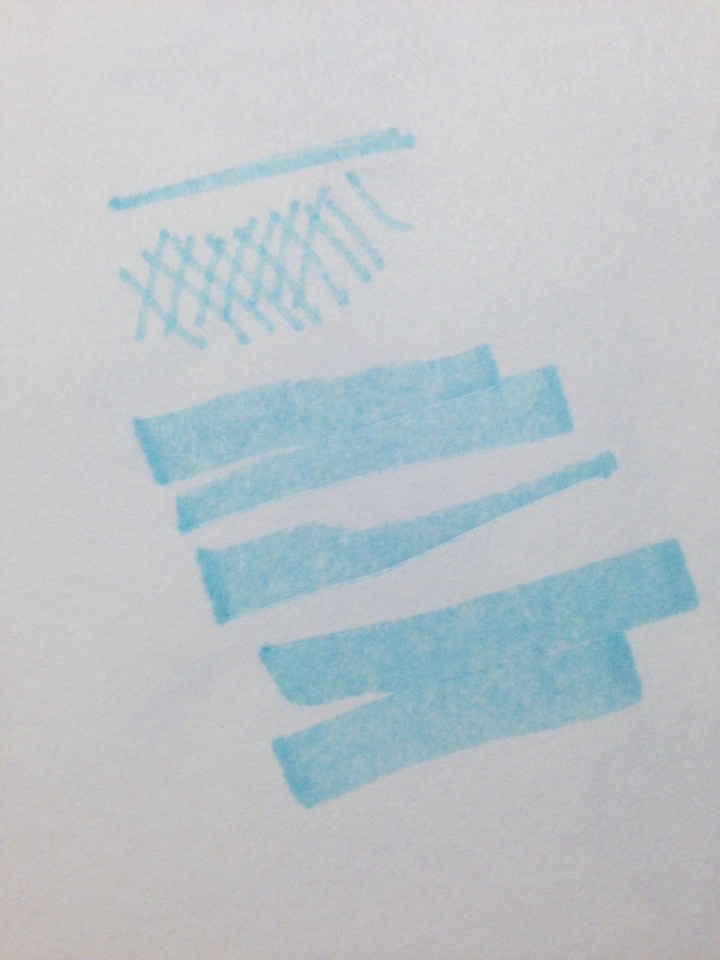 Our box contained marker color 302, Light Blue, and it was  beautiful on paper and played well with the Zig Clean color and the Uni Pin pen that I used it with.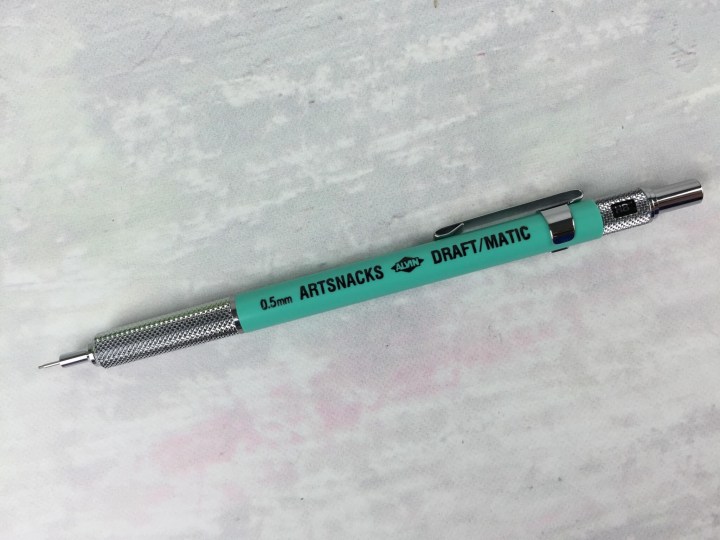 This Alvin Draft Matic pencil comes in .5 mm  and an exclusive teal barrel produced only for ArtSnack subscribers. The pencil has a good weight in  hand and a stainless steel grip that is designed to all but eliminate finger slips. It comes stocked with HB  lead and a refillable eraser is hidden underneath the steel cap.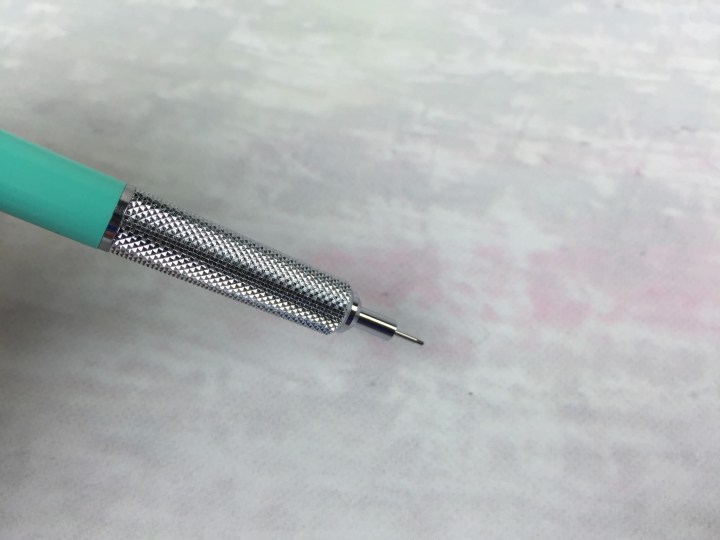 Two other points that I really enjoyed  about this pencil is the tip and the area near the eraser. The tip is designed to give you a clear view as  you're drawing- a great feature for sketching or details, and the area near the cap has a small window  which can be rotated to choose a lead designation.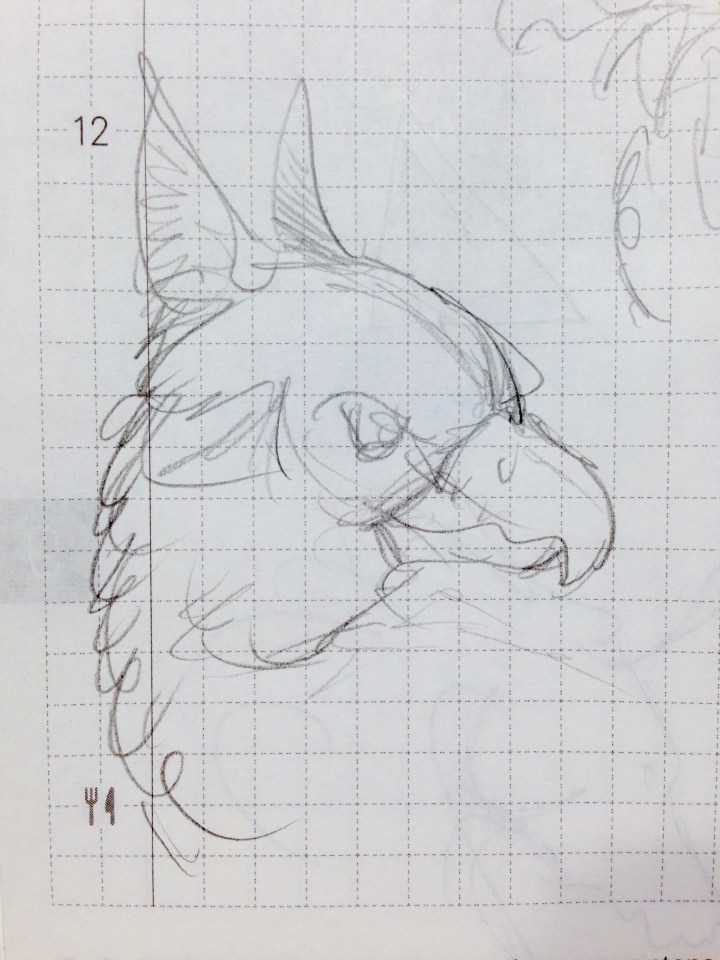 This is a very nice pencil that will be with you for a  while!
I have a whole herd of these markers and will use them in my  Hobonichi journal from time to time. Intense artistic forays with these markers on Hobo paper may  bleed through, so go gently!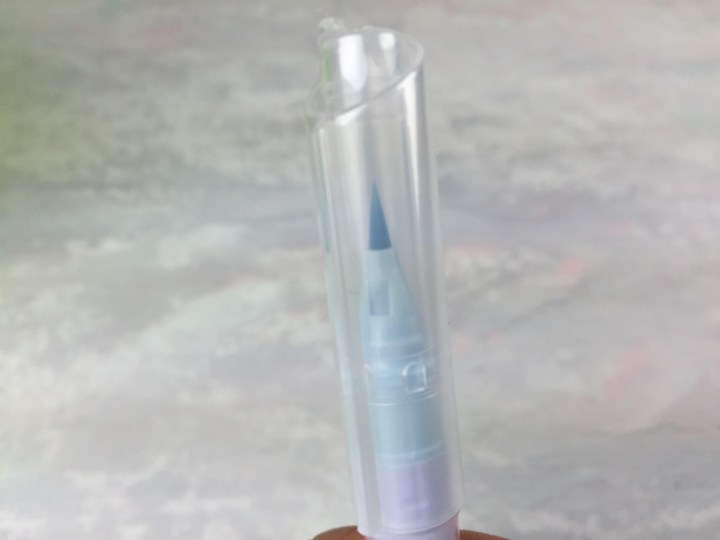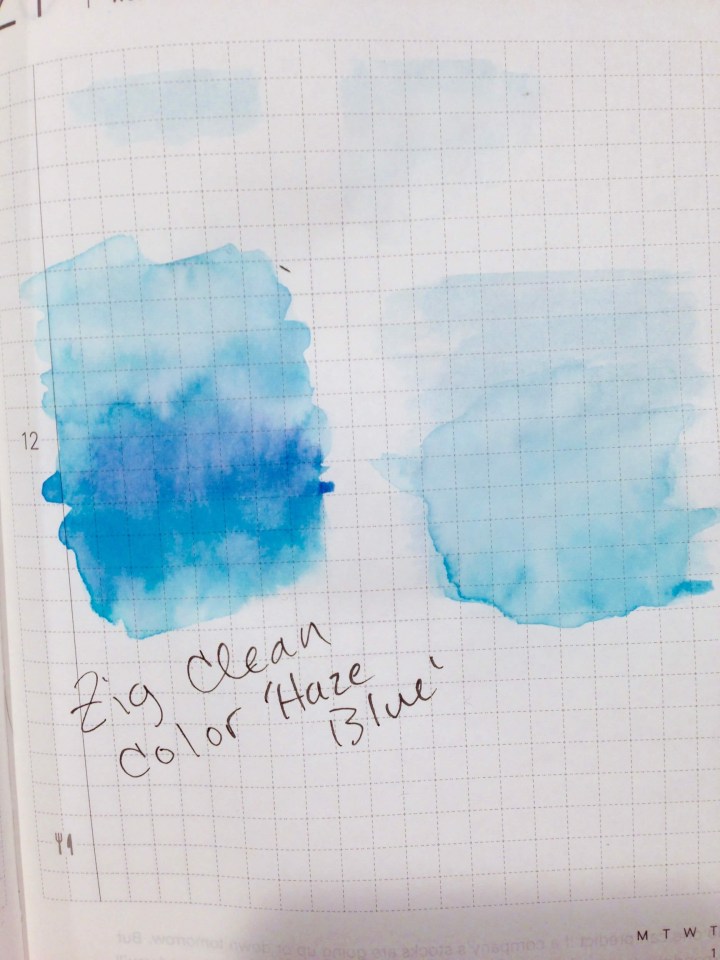 Our box contained the very beautiful 'Haze Blue' color and I enjoyed how it  seemed to be chosen to pair with the Kurecolor marker also in the box.
These markers are a fun and  versatile addition to any artist's palette.
ohmywordohmywordohmyword!!!!!!   Squeeeel- a mystery marker from Copic will be in the October Artsnacks box!!!!!!!
Visit Art Snacks to subscribe or find out more!
The Subscription
:
Art Snacks
The Description
: 4-5 Unique, high-quality art supplies tested by working art professionals delivered to your door every month. Learn tips and tricks from experts.
The Price
: $20.00 per month