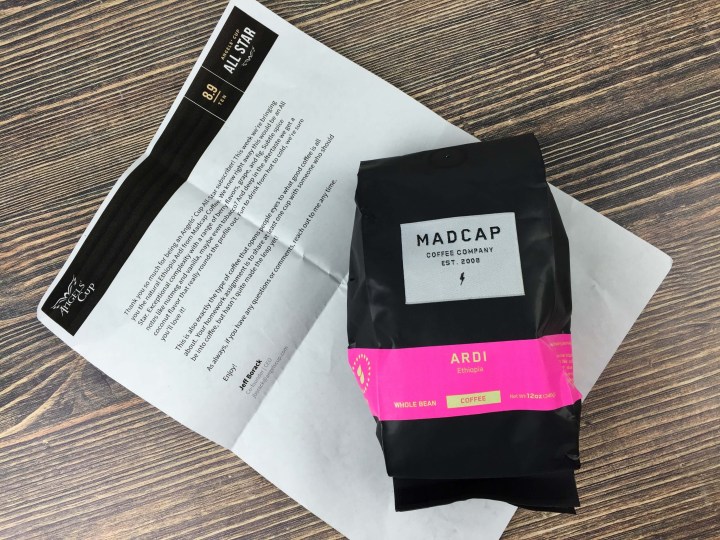 Angels' Cup is a subscription coffee sampler that offers several ways to discover great coffees.  Aside from the Cupping Flight and the Black Box, excellent subscriptions showcasing good to exceptional coffees, Angel's Cup now offers the All-Star Box.  The All-Star Box provides a single variety of bean that has impressed the Angel's Cup team sufficiently to be a featured offering.  Unlike the other samplers, the All-Star box provides a single bag of coffee, though at 12 0z it is the largest of the samplers by volume.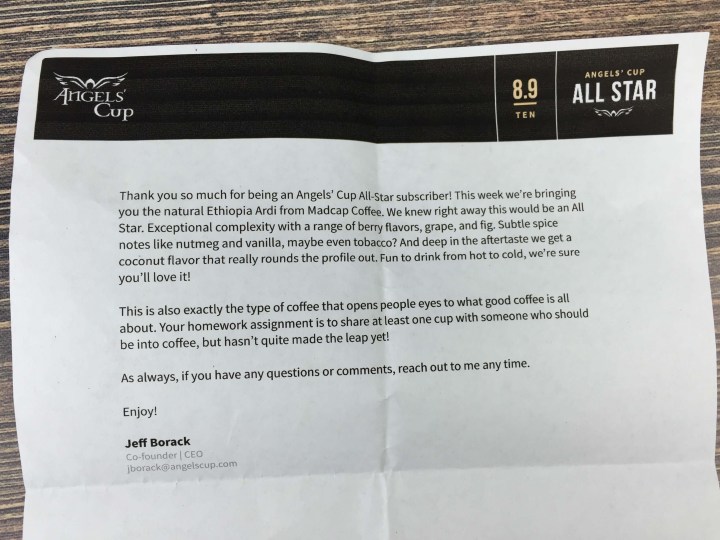 The information sheet provides more details about the featured roast.  It clues you in to flavor notes that impressed the tasters, telling you why this bean was chosen as an All-Star.  This subscription has a robust mobile app – see the details about this app in my cupping flight review.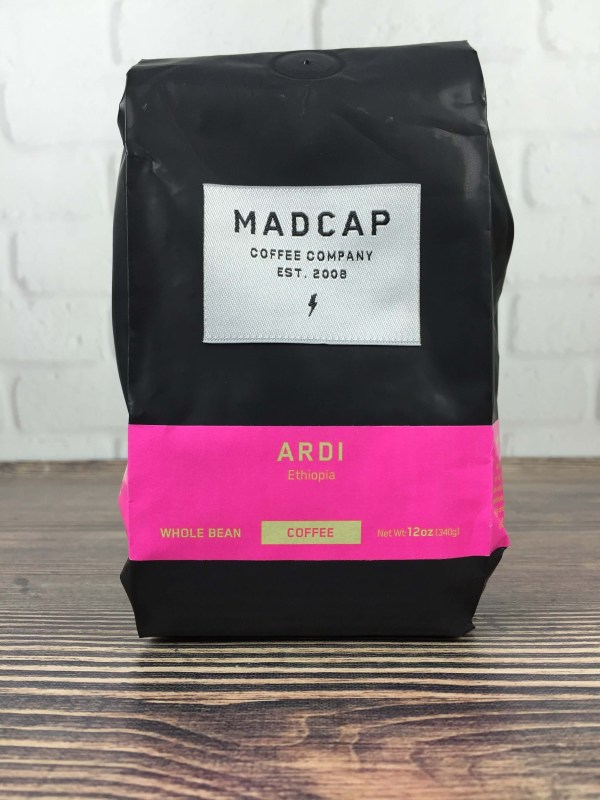 The roast this week is the Ethiopian Ardi from Madcap Coffee Company.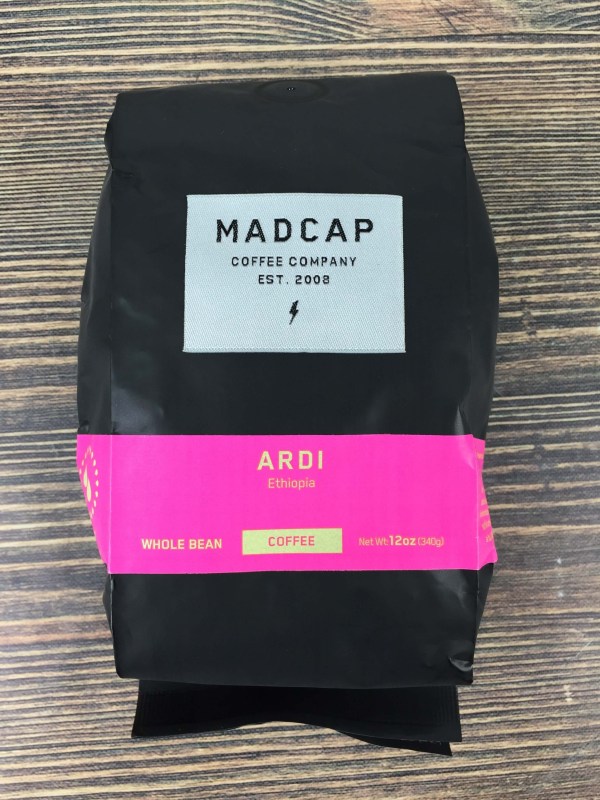 The All-Star selections ship directly from the individual roasters and are packed in the roaster's own commercial packaging.  Some bags have tons of info on the beans or roasters; others like to keep it simple.  Madcap has a pretty striking look to their bag, and the silver tag is made of textured fabric.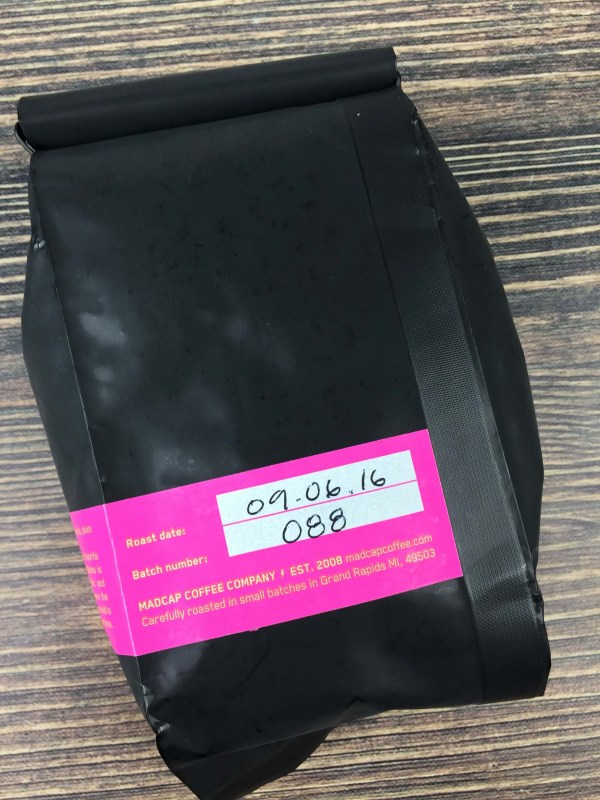 Every roaster includes a roast date, so you know you are getting their freshest offerings.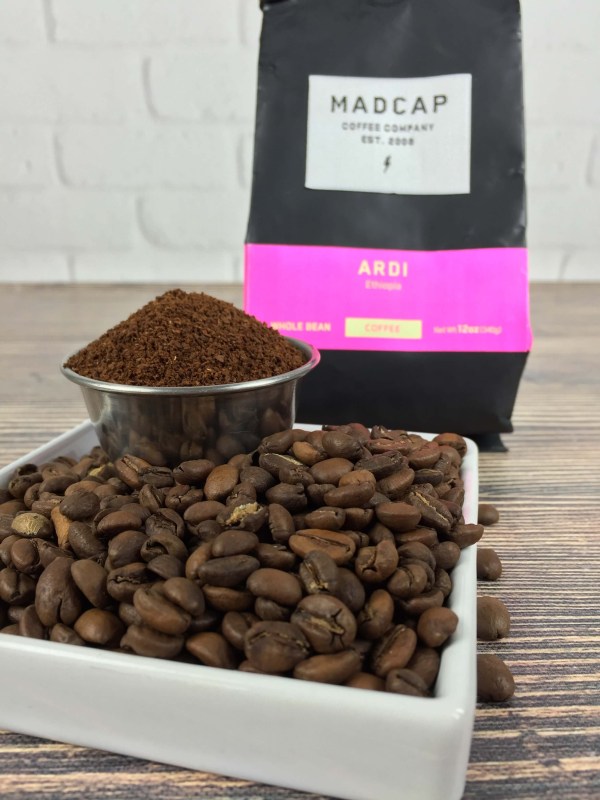 The Ardi beans showed a lot of character, with great variation in color and tone.  The natural processing (beans dried inside intact outer fruit of coffee berry) really developed the fruit and floral notes, something Ethiopian selections excel at.  I got a lot of fig and vanilla, with a distinct, pleasant tobacco note dominating, and some nutmeg coming through, as well.  I enjoyed this cup immensely — I really have a soft spot for the tobacco flavored coffees, with the notes evoking the tantalizing scent of fresh pipe tobacco (not stale cigarette or cigar smoke).
What do you think about Angel's Cup? Get 20% off your first month in a pay per shipment plan! Use coupon code HELLO20.
Visit Angels' Cup to subscribe or find out more!
The Subscription
:
Angels' Cup
The Description
: Coffee tasting experience. Every tasting flight features different roasters and different origins, making every cup special! Flights include four 1 oz samples of coffee, or 2.5 oz for the Black Box. You can order just one or subscribe.
The Price
: $8.99 per delivery (weekly, bi-weekly, or monthly) for the Cupping Flight, 19.99 for the Black Box