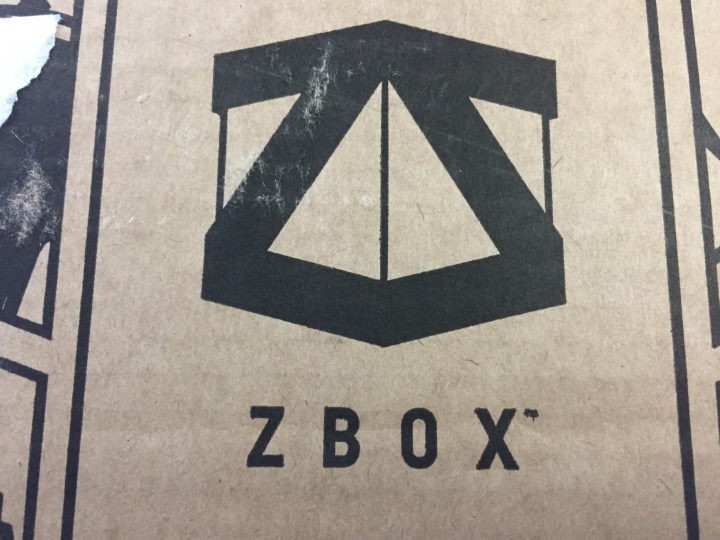 ZBOX is here! ZBOX is a geeky subscription box from the UK. The box is printed with their logo and classic faces from pop culture such as Deadpool, Cap, Boba Fett, and the Joker.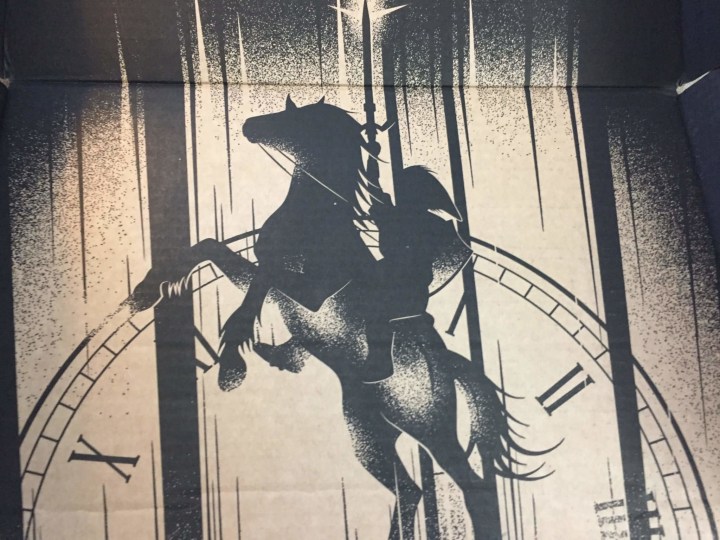 I always love how the lid of the box is printed on the underside! The art is also the print on the shirt and the magazine cover. This is Link from The Legend of Zelda, and his horse Epona, in front of a clock most likely symbolising the time aspect in Ocarina of Time. (A Link to the Past also featured alternate timelines!)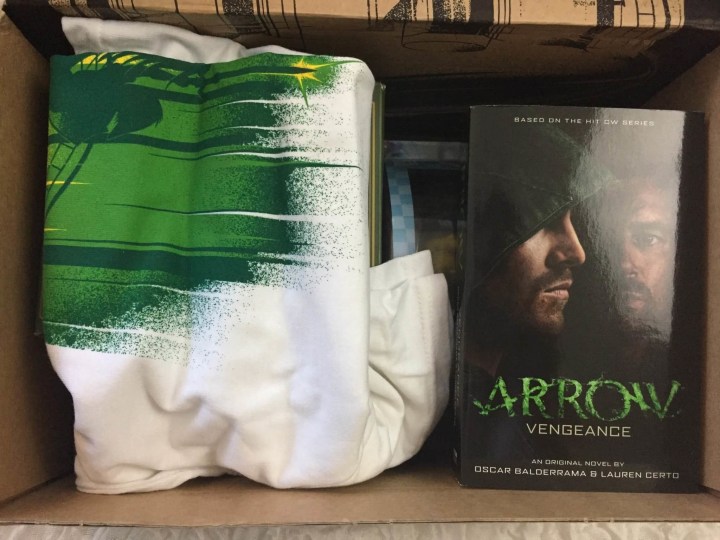 First look — lots of green!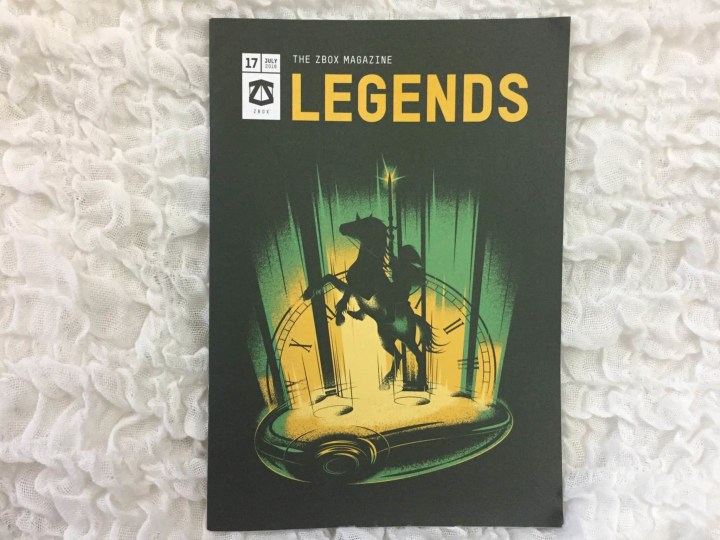 July's theme is LEGENDS.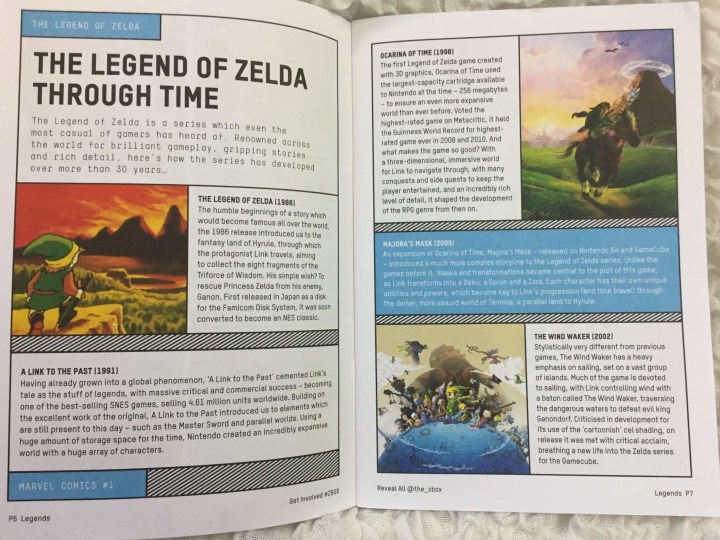 The ZBOX magazine is so well done. I love flipping through it; it has all sorts of articles and isn't just limited to listing out what's in the box. I love this overview of the Zelda games!
Legend of Zelda Shirt (~$10 USD) I love the green and gold colour scheme, which is classic Legend of Zelda. I also like that we were sent a white shirt! ZBox's shirts always fit me comfortably; they're fitted but not tight.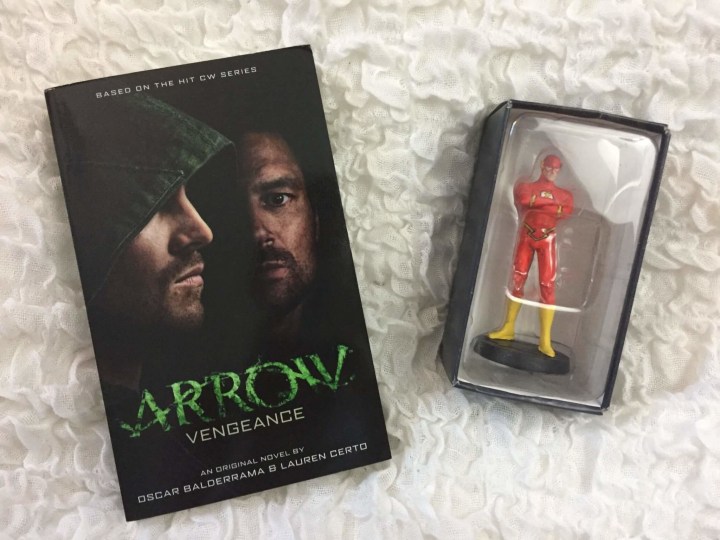 Arrow: Vengeance ($6.50 USD) This paperback would be a great introduction to the series — admittedly my knowledge of this show is minimal, despite it being filmed here in Vancouver!
The first novel based on the hit Warner Bros. TV show Arrow. Oliver Queen returns from the dead to create his persona as the Arrow. Yet others work in the shadows to fashion his downfall… and plot the destruction of all he holds dear.

Also a survivor of Lian Yu, Slade Wilson's ultimate goal is Oliver's doom, and he recruits Isabel Rochev, whose hatred for the Queens knows no bounds. Brother Blood, while seeking to do what is right, also finds himself inextricably tangled in Wilson's machinations.

This is the untold story behind the rise and fall of the Arrow.
Metal Flash Statuette (~$10 USD) Thorough googling left me empty-handed except that I believe this item is exclusive to ZBOX! It's got a nice weight to it, but the paint job isn't the greatest.
Close-up on the details.
Hyrulian Shield Mug ($13.50 USD) YES A MUG! And a nerdy mug at that! This mug is emblazoned with the shield of the Hyrulians, and it's just awesome. It's handwash only and not microwave safe, so I'll have to take good care of it to keep it looking majestic.
Princess Peach Pull-Back Racer (~$12) These figures are selling for around $12-15 on EBay right now — this is a pull-back racing car (no batteries needed!) and it features Peach! I always chose Peach when I played Mario Kart… I'm terrible at Mario Kart. (The streets are safer without me on them). I have a friend obsessed with Mario Kart (and Mario in general) so I think she will get a kick out of this!
July's ZBOX had a value of $52 which isn't bad — I guessed on the prices I couldn't find, but I'm thrilled with the shirt and the mug and will totally be reading the book!
Have you tried out ZBOX? What did you think of this month's box?
Visit ZBOX to subscribe or find out more!
The Subscription
:
ZBOX
The Description
: The ZBOX is a monthly geek box themed around your favourite geeky interests and will include a variety of items tied to a monthly theme. Each month you will be sent a box containing over £35 worth of exclusive, licensed merchandise. Perfect as a monthly treat or a gift for your geeky friends!
The Price
: $29.00 per month