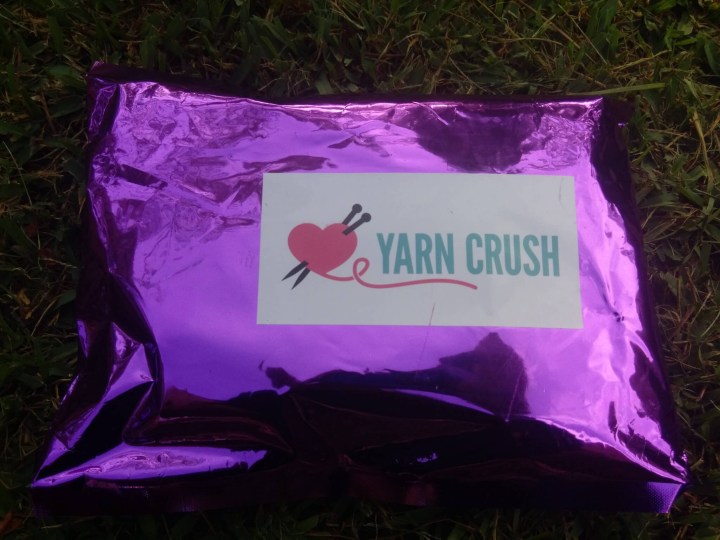 Sock Crush is a new box offered by Yarn Crush.  Each box contains enough yarn to make a pair of socks, a sock pattern and a bonus gift.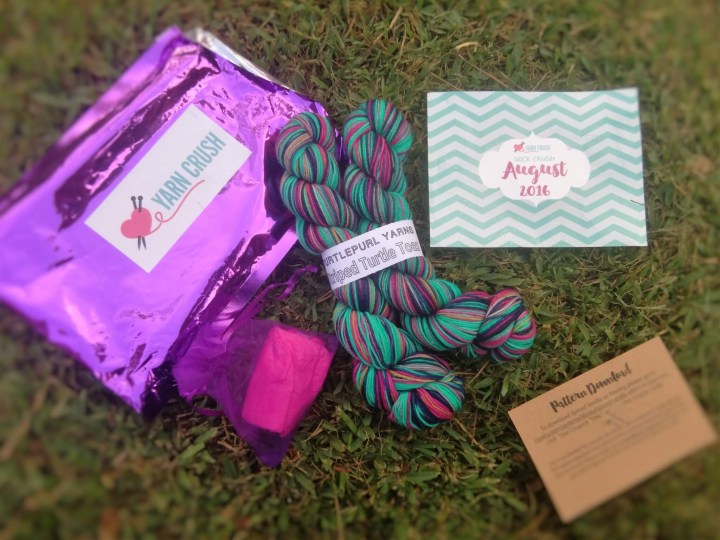 If you choose to subscribe to Sock Crush month to month, the price is $26.99 per month.  If you prepay for 3 months, the price is $25.99 per month.  If you prepay for 6 months, the price is $25.49 a month.  And, if you are totally committed to this box of swoon worthy yarn, you can prepay for a full year and the price drops to $24.74 a month.
You can also choose to get your subscription bimonthly (every other month).  The price for bimonthly is $28.99 for month to month, $28.00 per box for 4 months (2 boxes), $27.33 per month for 6 months (3 boxes) or $27.00 per month for a year (6 boxes).  Shipping to the U.S. is $3.50 per box.
You also get to have some input to the colour way that you get.  You can choose between Warm, Cool, Neutral and Surprise Me.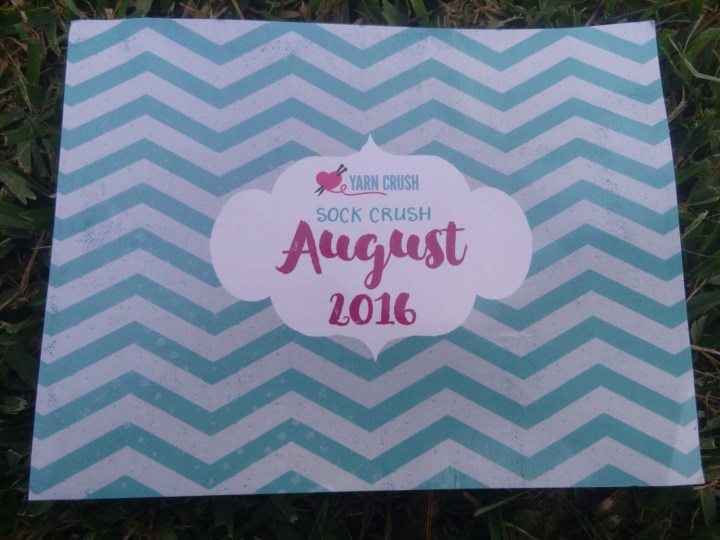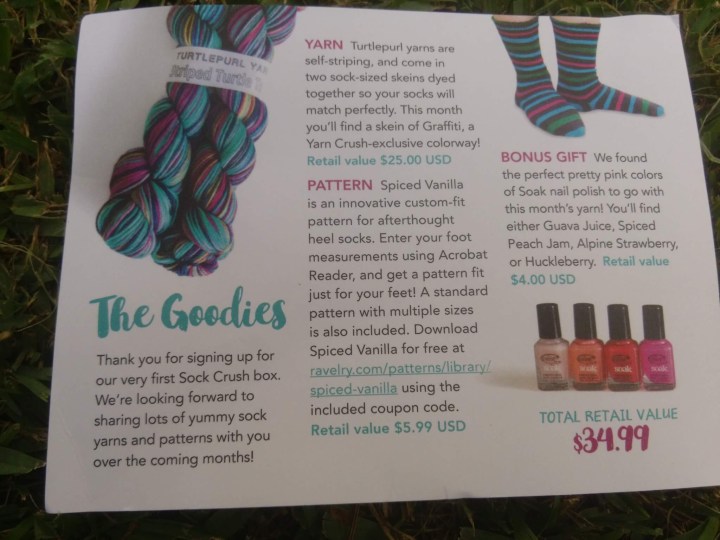 This product information card introduced us to Sock Crush's initial offering and included a description of each item and the retail value of each.  The total value of this box was $34.99.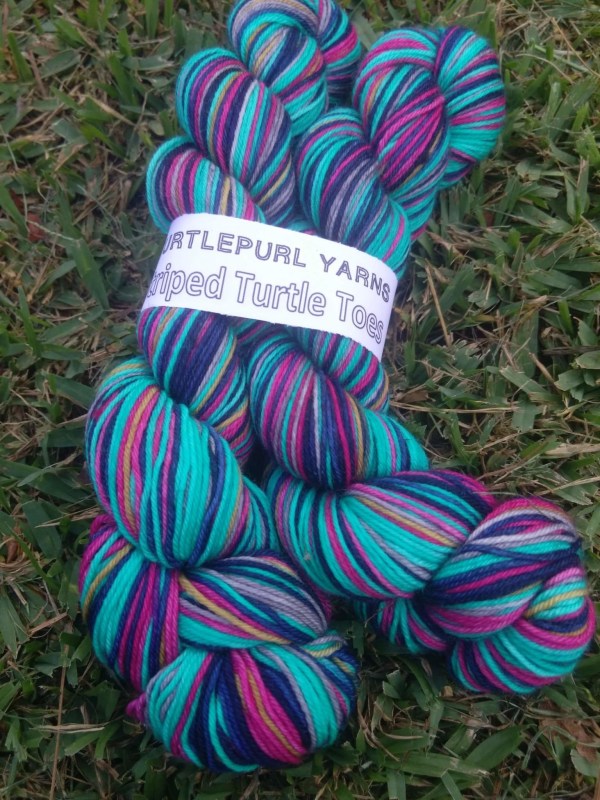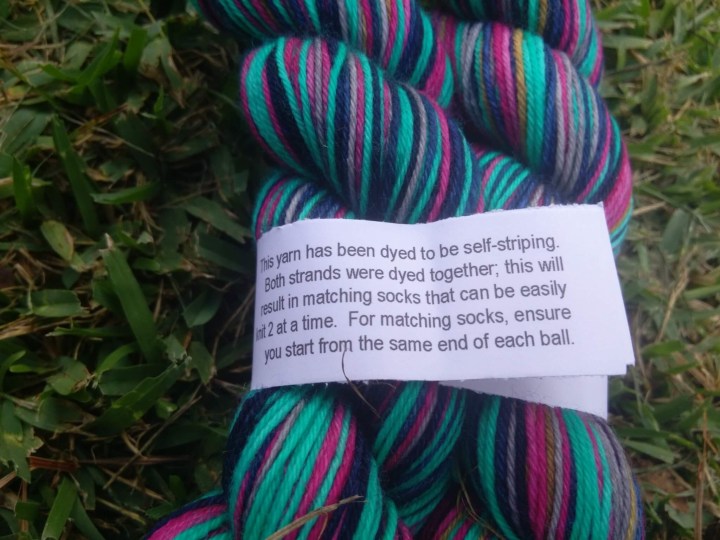 This is the yarn.  Are you swooning with me like a 13 year old girl in at a boy band concert?   Isn't it gorgeous?
The yarn is called Striped Turtle Toes by Turtlepurl Yarns. ($25)  The color is labeled Graffiti and it is 75% Superwash Merino and 25% Nylon – 4 ply.  The hank is actually two hanks wound together (so you can make two socks at once) and totals 450 yards/100 grams.  "This yarn has been dyed to be self-striping.  Both strands were dyed together, this will result in matching socks that can be easily knit 2 at a time.  For matching socks, ensure you start from the same end of each ball."
A note from a yarn aficionado without a ball winder.  Carefully wind the hank onto a ball.  I was most successful with putting a chair upside down and placing the hank around two of the legs in order to keep it from getting tangled while I wound it into the ball.  Or you could get someone to hold it for you.  But, whatever you do, don't try to work from it in the hank.  It will not end well.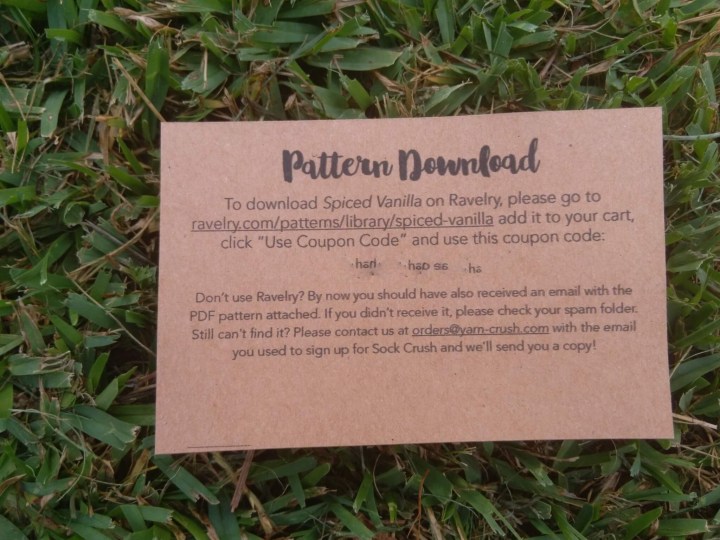 This card included a code to download the Spiced Vanilla sock pattern (5.99).  I blurred out the actual code.  You could use the code and download it off of Ravelry (a popular knit and crochet social site if you aren't familiar) or they will also email you a copy of the pattern.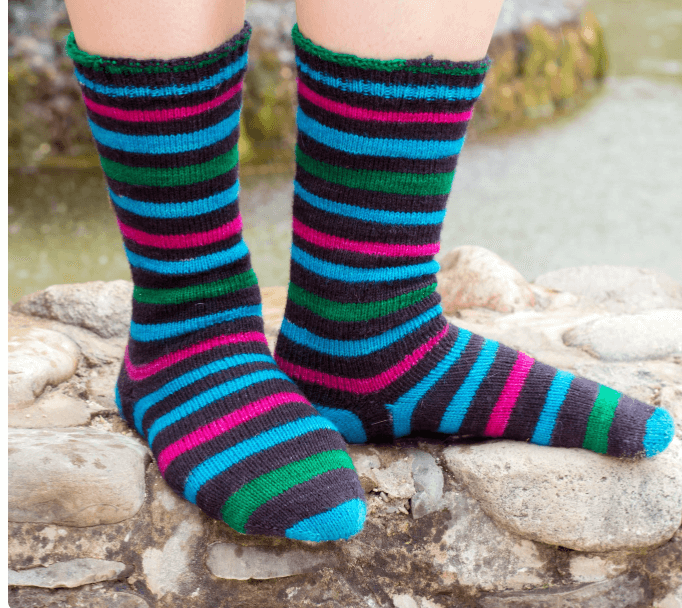 This is the picture of socks knitted from the pattern (different yarn).  Stripey and cute, but alas I'm not a knitter.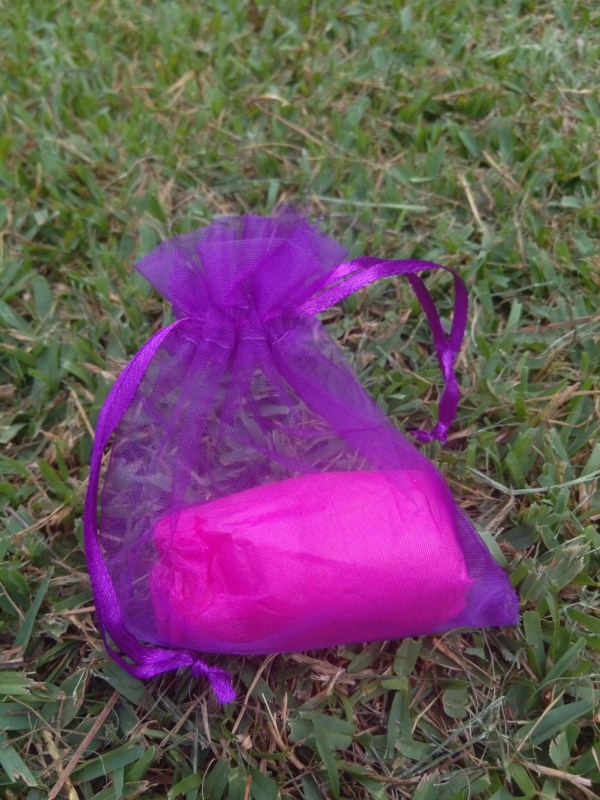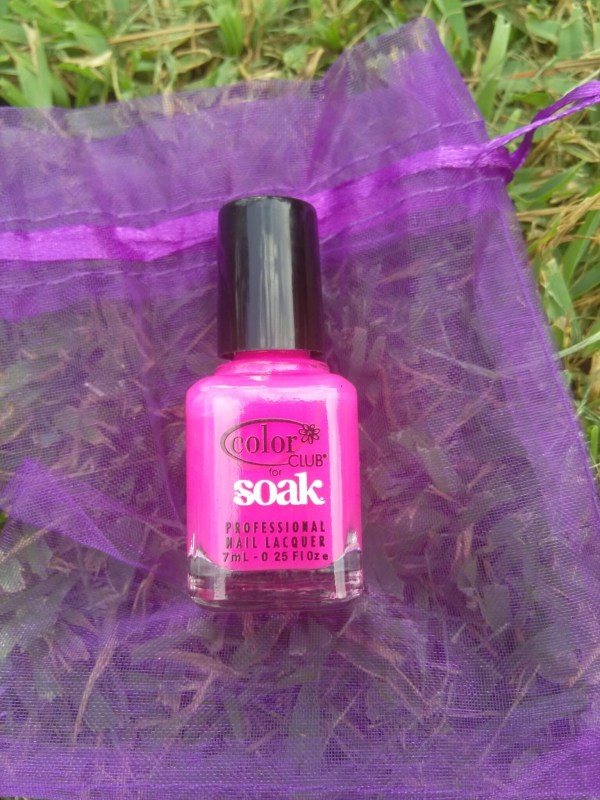 This was the Bonus Gift in this month's box.  Color Club for Soak Professional Nail Lacquer ($4.00) in Huckleberry.  Color Club partnered with Soak Wash to create nail colors designed to matched the color of your Soakworthy project. It's a gorgeous bright pink color that perfectly matches the bright pink of the yarn.  It inspired me to create the yoga socks below.
Look at that pretty yarn!  Love it!!  These are called yoga socks.  The toe is open so I can show off the pretty pink nail polish.  (I haven't got that far yet.)  Here's the pattern I used.
I loved the initial offering from Sock Crush by Yarn Crush.  The yarn was absolutely beautiful!  And the nail polish was the perfect complement.  My only request of Sock Crush would be to pretty please include a crochet pattern for socks for me and the other crocheters that are crushing on their newest offering.
Did you order the new Sock Crush box?  Do you love your new socks as much as I do mine?? You can save $5 on your first box with coupon code HELLO.
Visit Yarn Crush to subscribe or find out more!
The Subscription: Sock Crush
The Description: Sock Crush is a sock knitting subscription box from Yarn Crush! Get enough premium yarn to knit a pair of socks, a PDF sock knitting pattern, and usually a small bonus gift!
The Price: $26.99 per month
See Sock Crush in the Hello Subscription Box Directory!
The Categories: Fiber Crafting Subscription Boxes. Knitting Subscription Boxes.
The Reviews: See all our Sock Crush Reviews.