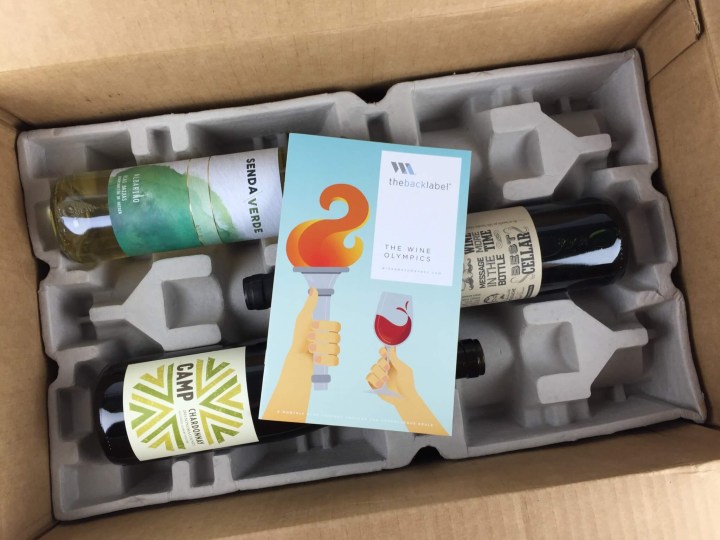 Wine Awesomeness is a wine club subscription box  – great wines thoughtfully curated around a fun theme. You can choose reds, whites, or mixed —  One of the things that we like about this subscription is that they include rosé in with the whites!
You can adjust your preferences to style, frequency and even skip a month right in your account. The 3 bottle box costs $45, and the 6 bottle box is $75. We get a six bottle mixed box – it's one of the few wine subscriptions we can get in Pennsylvania.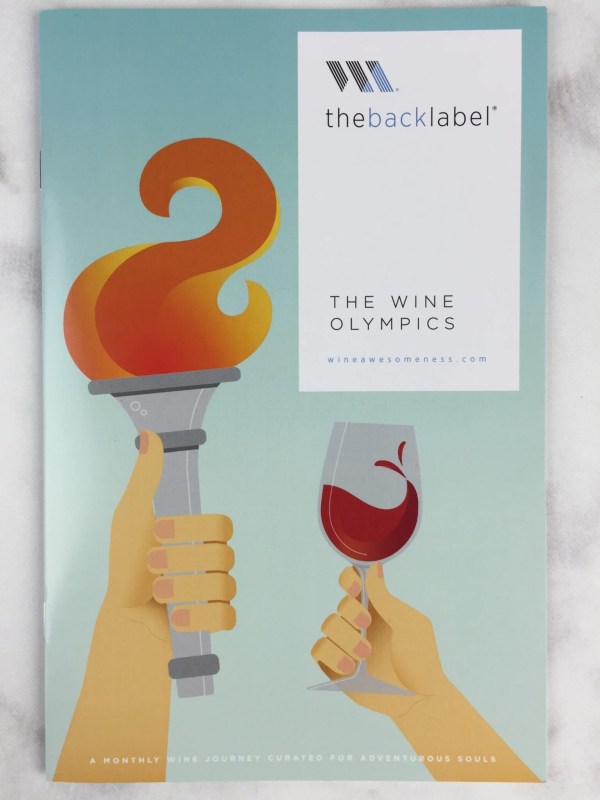 The theme this month is "The Wine Olympics."
The mini-mag is full of cool stuff — full page intros with detail on the wines, paired recipes for each, and even several articles on the theme and its relation to wine culture.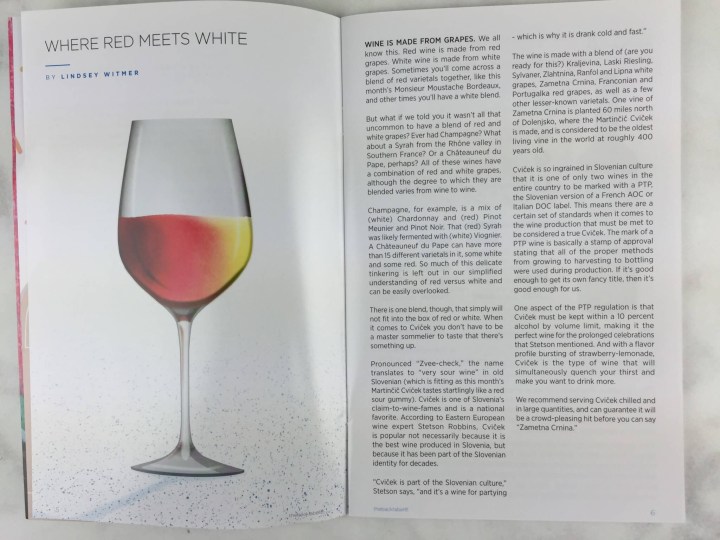 This is such a great, accessible mini-mag.  This is my favorite wine subscription because of the theme and the magazine (and the great wine!).  In keeping with the bridge-building spirit of the games, this Month's theme explores some great wines that bring together white and red grapes in a single bottle.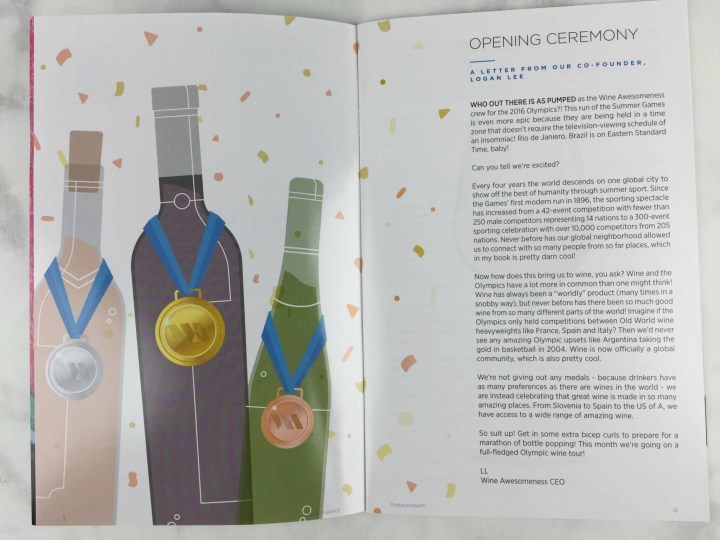 This month's letter is all about the similarities of wine and the Olympics.
Each wine has its own information page including the following:
Wine Name
Grape
Location
What you should do while drinking this wine (many tongue in cheek)
What to eat with the wine
What to listen to while you drink the wine
A cool chart showing a visual on the Acid, Body, Tannin, and Fruit of the wine
Wine Bouquet
Tasting Notes
Description
Recipes:   We usually pick the recipe that is closest to what we're already eating and grab the corresponding bottle!
Everything this August 2016!
August Wine Awesomeness: Whites
2015 Camp Chardonnay:  This chardonnay is produced from sustainably or organically farmed Sonoma Valley grapes.  It has a bright citrus profile that tends to the dry side, a characteristic accentuated by partial aging in French Oak.  2% Viognier grapes add a hint of apricot.
2015 Senda Verde Albarino:  Made from 100% Albarino grapes, this creamy and acidic white hails from the Saines Valley of Northern Spain.  Cooler and wetter weather, as well an additional period of aging on the lees creates a richness that complements the citrus and fruit flavors.
2014 Jeanette Eger Feinherb Riesling:  Surprisingly sweet for a Riesling, this wine has a light body and and a variety of citrus flavor notes.  It doesn't fail to deliver on the expected minerality, either.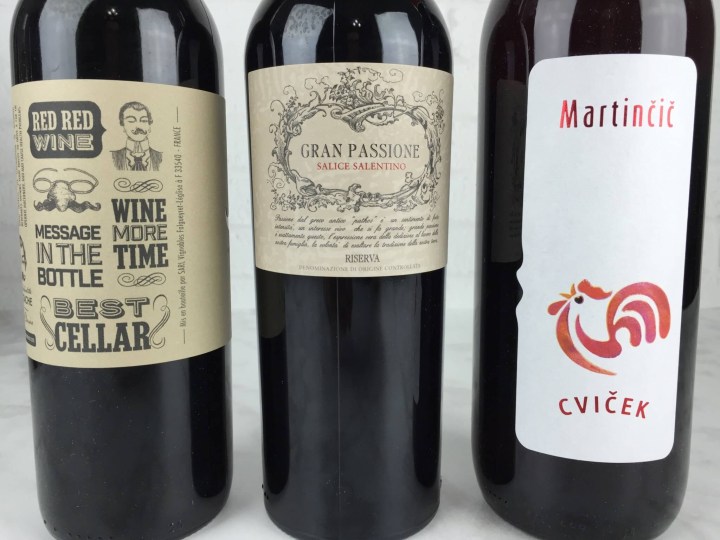 August Wine Awesomeness: Reds

2014 Monsieur Moustache:  This Bordeaux blends merlot and cabernet sauvignon to create a fruity and moderately tannic red that has rich tone and flavors of dark berries and currants.
2012 Gran Passione Salice Salentino:  Grown in the sun-baked Southwest of Italy, this red is aged extensively in oak and steel, mellowing the fruity notes and developing a powerful body, with an assertive level of tannin and flavors of baked blueberries and blackberries.
2015 Martincic Cvicek:  This quirky wine combines many red and white grapes to create a very acidic and sour palette.  Notes of Raspberry and currant emerge through the strongly tart, citrus profile.
Bonus!
A couple bonus items!  While we usually get a Lindt square the Quaker was a new and bizarre addition. Yes, we will eat it – but prob not with wine.
Quaker Cranberry Almond Breakfast Flats:  Quaker's more adult version of their granola bar.
Lindt Excellence A Touch of Sea Salt Bar Sample: Lovely Lindt chocolate with a bit of salt — no way to go wrong there!
The back of the mag had Olympics drinking games. Funny but not quite as classy as last month's watermelon wine keg.
What did you think of this month's Wine Awesomeness theme? You can get your first month (3 bottles) free, just pay $22.50 shipping and handling – click here to activate the offer – no code necessary!
Visit Wine Awesomeness to find out more or to subscribe.
The Subscription
:
Wine Awesomeness
The Description
: Get 3 or 6 bottles of red, white, or mixed, curated monthly. WA membership comes with tasting notes, recipes, and music suggestions. Awesomeness!
The Price
: $45 per month
The Coupon
: Get $10 off your first club 6-pack box!
Use this link
and coupon code
YAY10
to get the deal.
Ships to
: All states except Alaska, Hawaii, South Dakota, and Utah. Yep, this wine club ships to Pennsylvania.