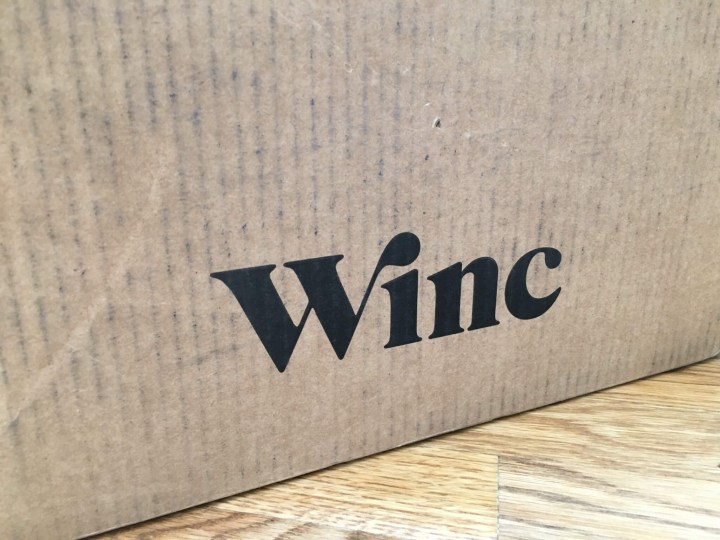 Winc (formerly Club W) is a wine subscription service that sends wine directly to you each month based on your personalized palate profile.  A "global winery," Winc advertises that it has "direct relationships with vineyards and farmers to make exceptional small lot wines at prices impossible to achieve at retail."
If you're like me, you find yourself buying the same wines every time you go to the store–you've found those bottles you like, and it seems too risky and expensive to buy something else just to try it.  Plus, those store employees are either clueless about wine or make YOU feel clueless about wine.  Winc is the perfect solution!  You fill out a quick survey about what tastes you like–black coffee, citrus, etc., and Winc makes a customized recommendation of 3 bottles that fits what you like.  Then, for $6 flat shipping (or free if you pick a 4th bottle), it comes to your house!  What could be easier than that?
The new packaging (Club W rebranded to Winc) continues to be good protection for the bottles.  I find the design of the internal holders fascinating.  Keep in mind that someone 21+ will have to sign for your box.
Welcome to August, which is back-to-school time for those of us in the south.  But before that, there is Olympics, and that seems like a perfect reason to get together for some "networking."  This month, like last month, I went with Winc's suggested wines instead of messing around with the selection.  I'm not 100% convinced that Winc is actually customizing my box–there's really no way they'd send me a semi-sweet Riesling if that were the case, given my repeated preference for super dry wines.  But I am here for you, Dear Reader, and that means my taste preferences are not really primary.  Drink the wine and tell us what it's like, lady.  You got it!  I assembled some smart and fun women for our networking, laid out some cheese and crudite, and went to town.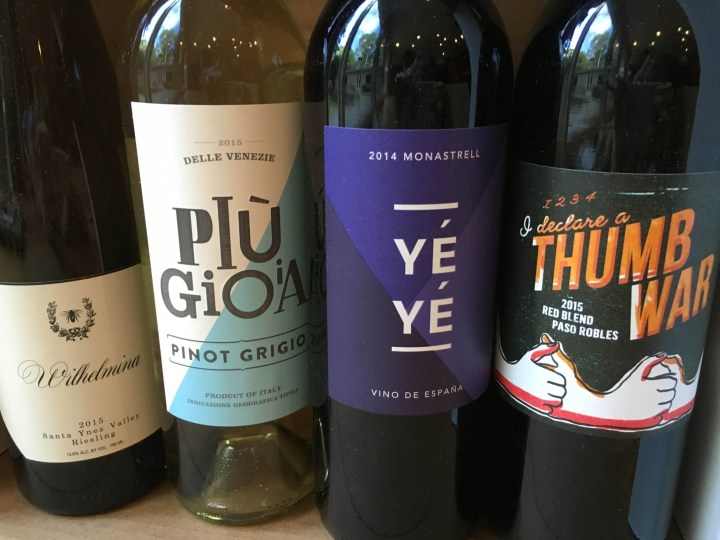 As always, Winc sent cool information cards about each wine, with coordinating recipes to go with them.
We started light with the aforementioned 2015 Wilhemina Riesling.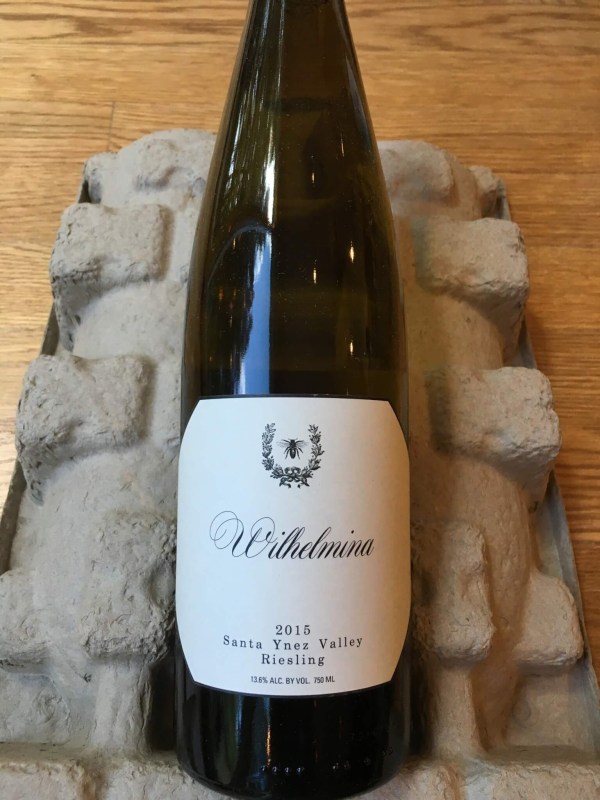 So, Riesling.  Riesling is a great wine.  My parents brought Riesling to my college graduation in the late 90s.  At its best, it's off-dry, fruity, crisp, and well-balanced between sweetness and tartness.  The Wilhemina is a light gold color in the glass (a bit brighter than the Piu Gioia later on in the review).  It smells like peach candy (remember Juicifuls?  Speaking of the 90s.  Just like that.)  This Riesling is a bit weightier in the mouth than I think is typical.  It's definitely sweet to start, more of that peach candy, but it quickly picks up an ozone-y minerality in the back of your throat, like a rainy day.  The finish is quick and clean.  You know, this is a really nicely balanced wine.  The sweetness to start is not my thing, but if you are a Riesling fan, you will really like this wine.  It would go well with any kind of light fare, like our crudite, and would temper the heat from spicy Chinese or Tex Mex.  Drink it super cold on a hot day.
The next white was the 2015 Piu Gioia Pino Grigio.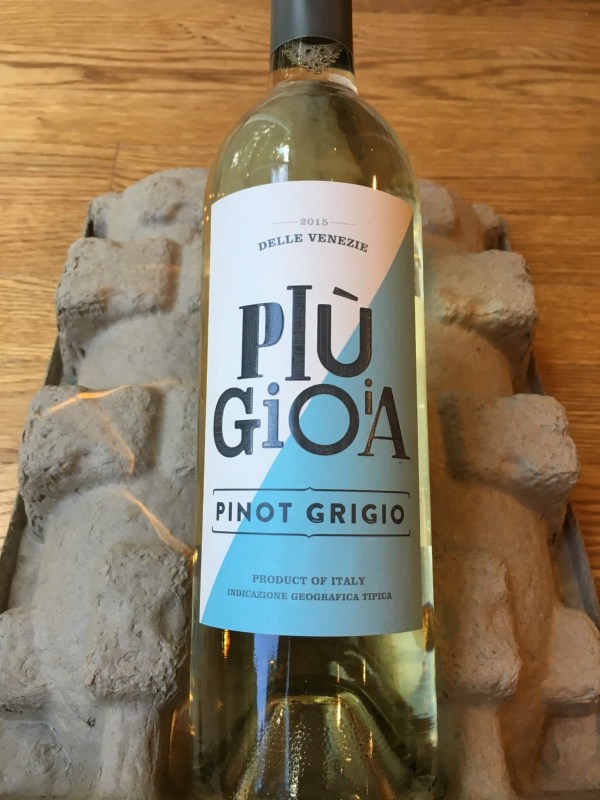 Italian Pino Grigios are one of the best value-for-quality-whites you can find.  They're great with outdoor fare, fish, or anything you might eat while day-drinking.  It's a very light lemon color in the glass and has a funky-lemon smell.  It's bright, juicy, and mouth-coating, a bit more than a "typical" pinot grigio.  This wine tastes of grassy lemon (lemon is a theme, obvs) with a bit of unexpected oakiness on the finish. In spite of the oak, it's dry enough to go with most anything.  I'd categorize this one as "inoffensive."  You can serve it to your snobby friends in a casual setting, or bring it to a picnic.  It was the group's favorite among the wines we tried.  I put an ice cube in mine and liked it better that way.
Next up was our first red, the 2014 Ye-Ye Monastrell.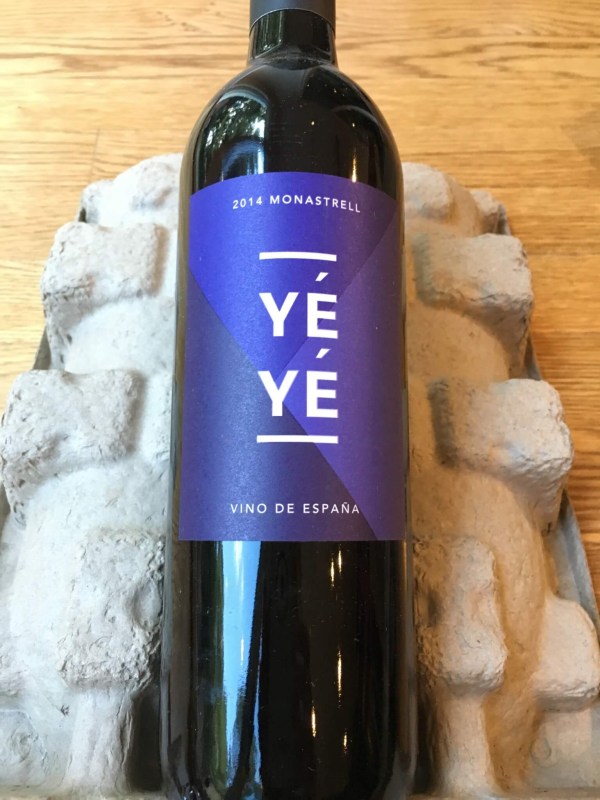 Monastrell is a new varietal for me, and it doesn't have the best reputation, but it's improving.  The wine is ruby in the glass and has a berry/spice aroma.  It's juicy and fairly thin in the mouth, tasting of cherry and pepper, with a bit more fruit at the end.  The finish lingers and is spicy.  I'd say this one is a little rough around the edges but smooths out as you drink it.  It went decently with the swiss cheese on the platter but would go better with something a bit more substantial, like sausage or sharp cheddar cheese.  We drank it room temperature but it improved as it warmed up in the glass.
Our last wine was the 2015 Thumb War Red Blend.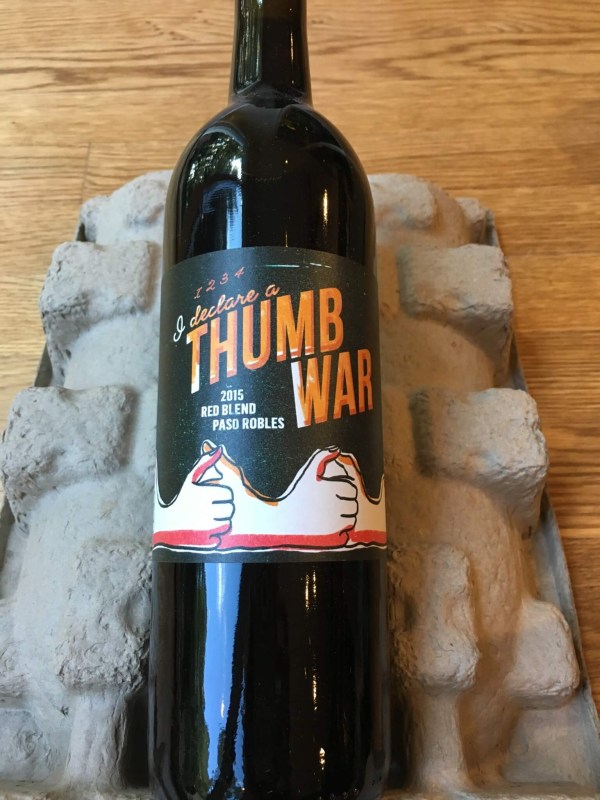 The conceit with the Thumb War is that the wine is a 50/50 blend of two wines, which change from bottling to bottling.  The 2015 is a 50/50 Merlot and Syrah blend.  I expected this one to be fat, and it definitely was.  It's a pretty purple in the glass and berry on the nose.  It's thinner than I expected, and super tight to start.  The tasting notes tell you to let it "breathe" for 20 minutes, and that's not bad advice.  Remember that it's better to let the wine breathe in the glass than in a bottle–surface area is key.  As this warmed up and aired out, it got oaky, almost like a bourbon.  It had a strong chocolate finish that lingered.  This went well with our blue cheese and preserves, and would also be good with "big food," like a steak and potatoes.  The Cab fans in your crowd will like this one for sure.  We drank it room temperature and let it warm in the glass.
So, August had some interesting wines.  I wouldn't say that they were exactly "my" wines, but they were a good mix for a crowd.  We are all looking forward to some cooler temps and interesting wines in September.  I can't wait to see what we get next time!
Have you tried Winc yet? You can use this link for $20 off your first order – no coupon code required! ($25 total for 3 bottles, but you can grab an extra bottle and get free shipping!)
Visit Winc to subscribe or find out more!
The Subscription
:
Winc
The Description
: Each month Winc will make new recommendations for you based on your 5 question Palate Profile and previous wine ratings. Go with their suggestions or make your own selections from the ever-changing assortment. Winc works directly with wine makers. There are no middlemen, which means you get better wine for less.
The Price
: $45.00 per month