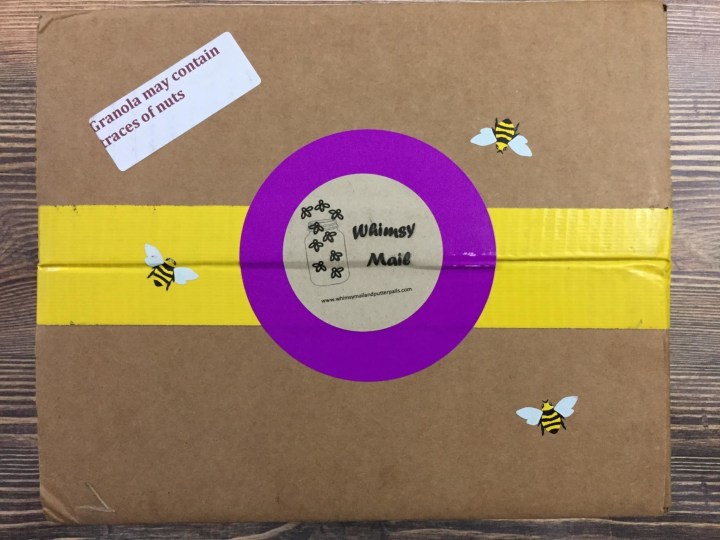 Whimsy Mail and Putter Pails is a Canadian subscription box aimed for tweens aged 8-12. Whimsy Mail is geared for girls, and Putter Pails is for boys. This is a review of the Whimsy Mail box, because I may be in my 30s but I'm young at heart. Whimsy Mail ships in a plain cardboard outer box and is packed with brightly coloured paper squiggles. So many squiggles.
Even though this is a box for tweens, it's still really fun for grownups too!
Each month the packaging tape is patterned, and it's usually a clue to the theme — I always have fun trying to guess! The yellow tape and bee stickers is pretty clear — though I hope it's honey and not actual bees, because I have melissophobia.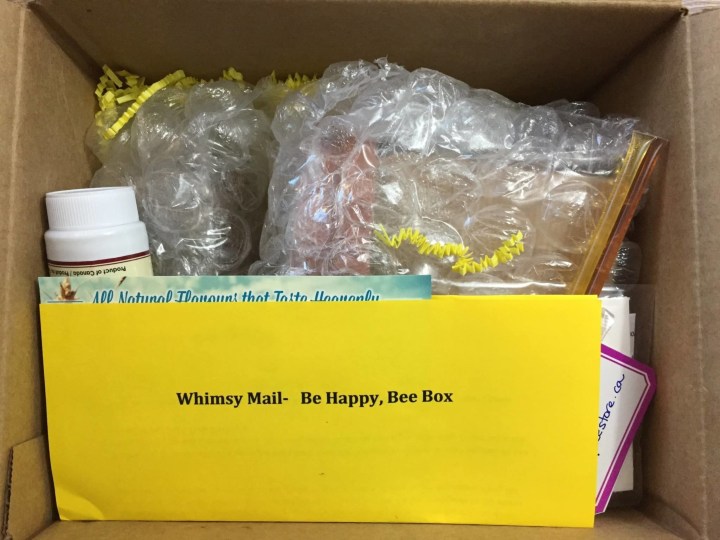 Still cautious, I pressed onward!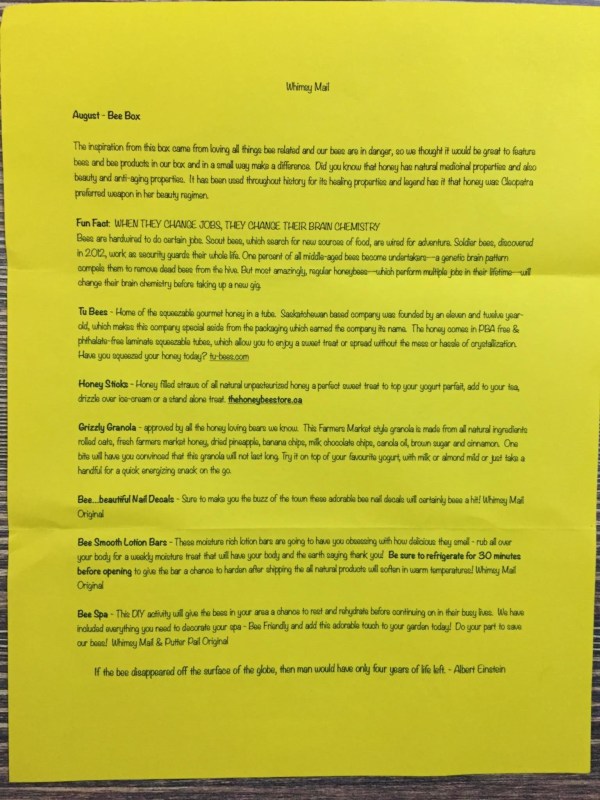 The information sheet is always simple and clean, and a fun read.
This month's DIY kit was a Bumble Bee Spa! Using a terracotta planter, rocks and stones, and brightly coloured paints, you can make a bee bath for your garden's bees to have a drink and rest. I didn't even know bees drank water, so there you go. What I love about Whimsy Mail's DIY projects is they send you absolutely everything, right down to the paintbrush!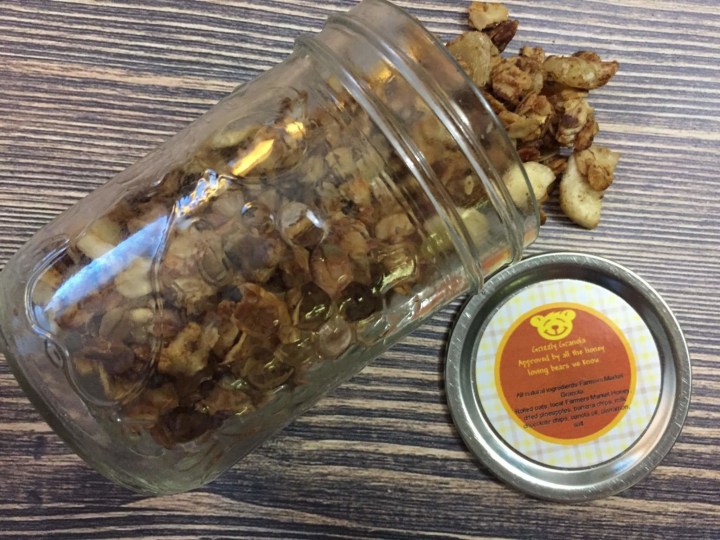 This Grizzly Granola is delicious! It's got a bit of everything — dried pineapple, banana chips, chocolate chips, and cinnamon. I ate it by the handful without anything else, and it was so good!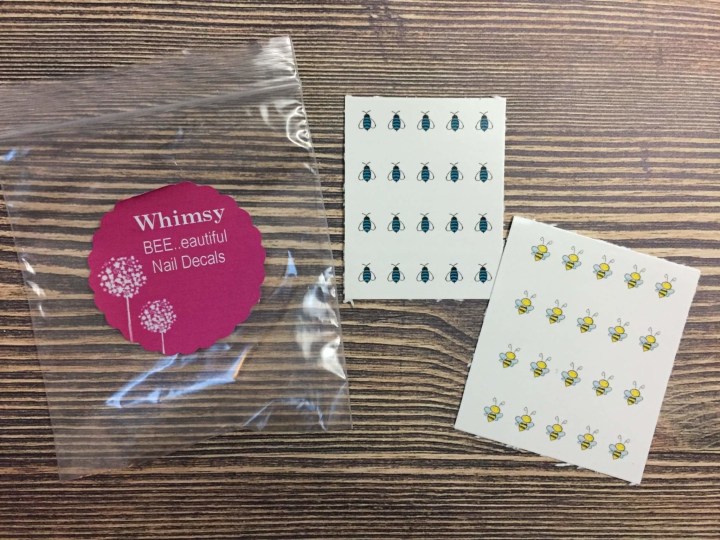 I've been doing a lot of my own nail art lately so I was excited to see these Bee Water Decals! They're super easy to apply; you put them on similar to temporary tattoos on your skin. The bee designs are actually really cute and great for summer.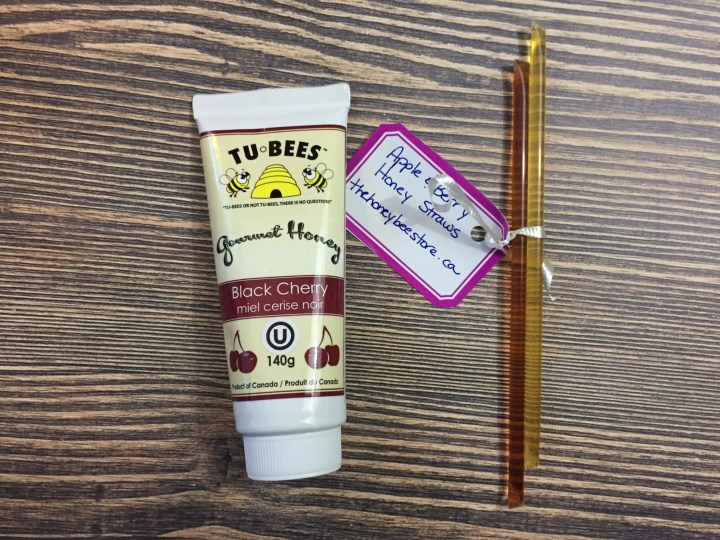 Honey in a tube is a great idea. No sticky bottle or jar to fight with! This is a black cherry flavour and it's absolutely delicious. It has a bit of a tartness to it from the cherry. Tu-Bees sell for $4.95 and come from Saskatchewan! There are so many flavours, too — I may have stock up on the vanilla and coconut. We were also sent some honey straws from The Honey Bee Store! I like using these for my tea, but these are flavoured so I think I'll enjoy them on their own as a treat.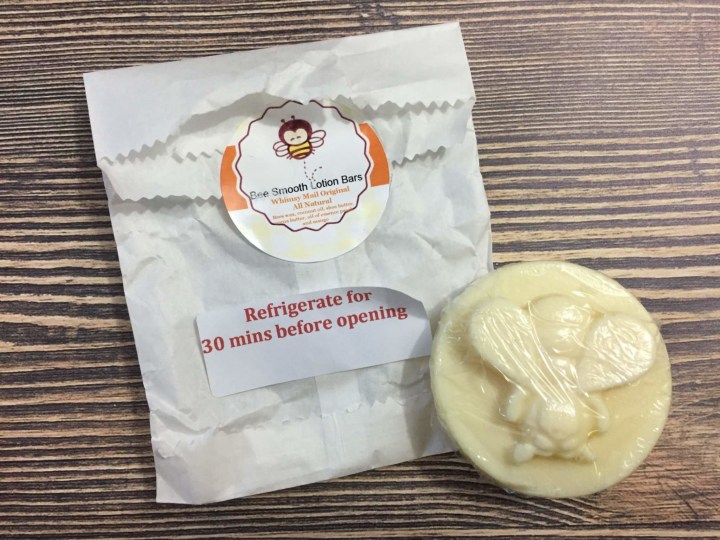 I've never tried a Lotion Bar before, and this exclusive by Whimsy Mail is a great way to start. The scent is very mild and natural, and when I rubbed it on my skin after letting it chill/harden, it softened up and was easy to apply. This is great for the dry patches on my elbows and knees.
August's theme was another great spin on summer! I love that Whimsy Mail goes with really specific and creative themes. The DIY projects are always a nice addition and are fun for anyone who's creative, young or old! I am really excited about the food items included this month — the granola was fantastic and I'm thrilled with the honey products.
What did you think of Whimsy Mail this month?
Visit Whimsy Mail & Putter Pails to subscribe or find out more!
The Subscription
:
Whimsy Mail & Putter Pails
The Description
: Unique Canadian monthly subscription box for tweens with a NEW THEME every month! We feature items we know you will love as much as we have loved picking them out for you! Whimsy Mail for Girls and Putter Pails for Boys!
The Price
: $31.90 per month