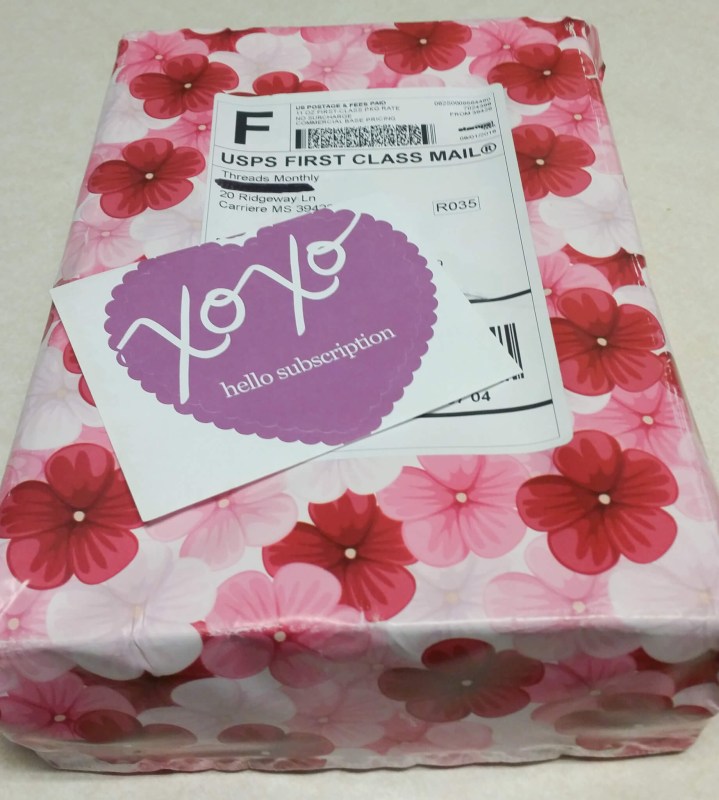 Threads Monthly is a subscription box for "women who love clothing and accessories."  Each month promises one t-shirt, one or two pieces of jewelry, and a themed accessory, all for $20 a month.  I reviewed this box with the help of my budding fashionista daughters, aged 14 and 11.  The box is aimed at women, but my girls wear adult clothes and the items in the package were perfect for tweens, teens, and grownups too! Yet again, Threads Monthly served up a box that both my daughters really liked.
This month, the box came packaged in this lovely flowered wrapping – so pretty!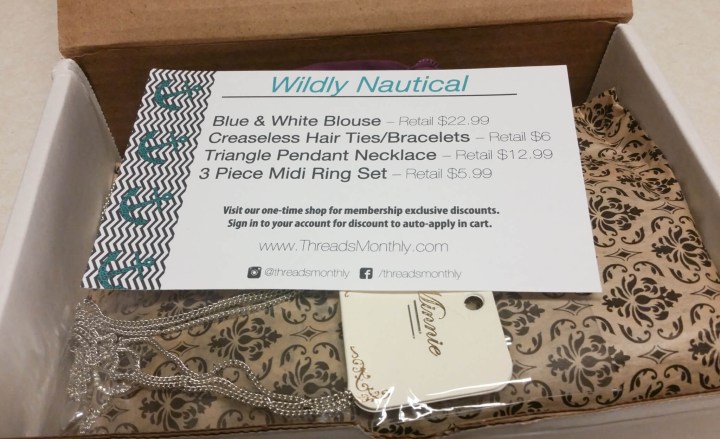 Opening the box, the prettiness continues.  We love how the goodies come wrapped inside as well as out – makes opening the box each month a lot of fun.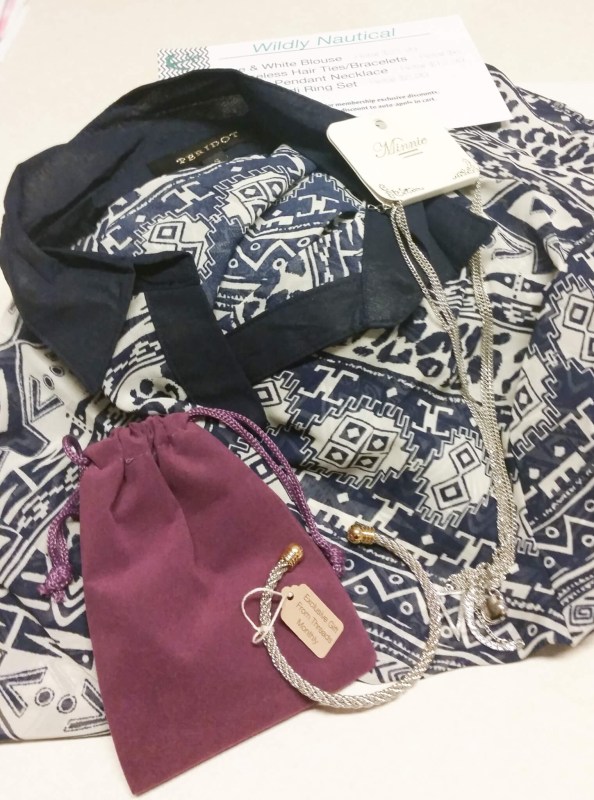 Here's a look at everything in this month's box.  We were loving the navy blue and the silver colored jewelry as we opened the box and the girls were super excited to try things on.  Let's see what we got!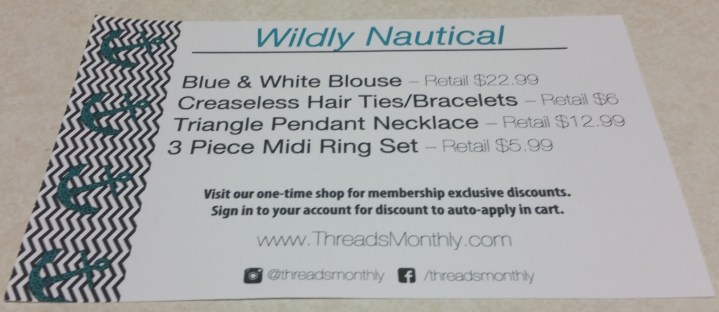 The enclosed card provides a list of items, as well as the suggested retail price for each.  The card also provides the theme for the box – "Wildly Nautical."  Fun!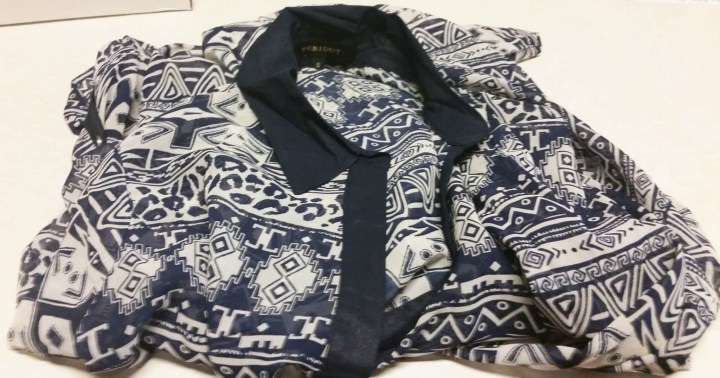 The Shirt:  This month's shirt is a gorgeous, navy and cream-colored print tunic.  The pattern is fun and the cut of the shirt is comfortable and flattering.  The material is soft and flowing, so the tunic hangs super nicely when you wear it.  The material is a little sheer, but with the low neckline, you'd probably always wear a cami under it anyway.  We all really loved this shirt.
Here is my younger daughter wearing the shirt.  So pretty!  She looks forward to wearing it to school this fall and winter.
Accessory:  Creaseless Hair Ties/Bracelets.  Not really a themed accessory (at least I can't figure out why these are nautical), but my girls both have long hair and love this type of hair tie.  This is a great selection with gorgeous jewel-toned ribbons.  This item will get tons of use in our house!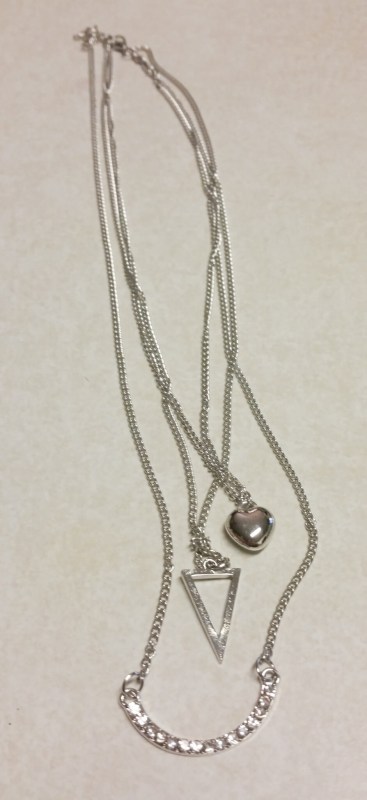 Jewelry #1:  Triangle Pendant Necklace.  Such a pretty necklace – it is a triple chain with a heart, a triangle, and a sparkly arc.  It is so simple, but the three chains and pendants really make this necklace something pretty to look at.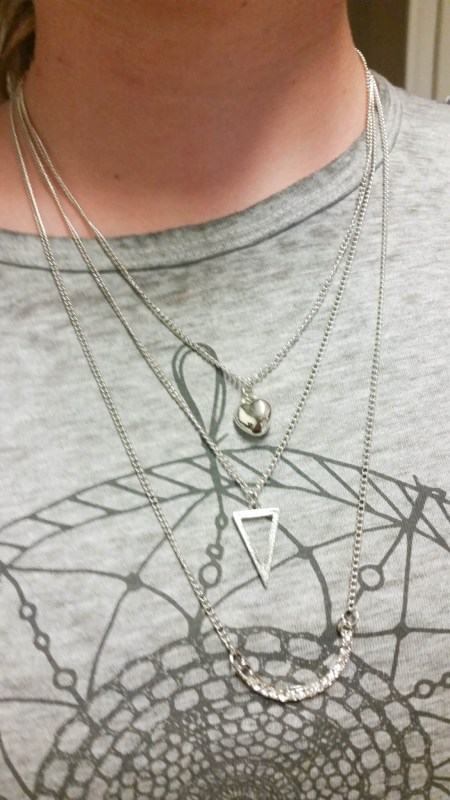 Here is my daughter modeling the necklace.  The length of each of the chains is perfect to highlight each pendant separately, while still showing off the necklace as a whole.  (Yeah – it probably does look better over a plainer shirt.  My younger daughter is not much for plain shirts, but my older daughter who is drawn to plainer clothing is excited to wear this necklace!)
Jewelry #2:  3-Piece Midi Ring Set.  What a cute set of rings!  And perfect for the nautical theme – a ship's wheel, an anchor, and a sparkly stone.  These rings are just adorable – alone or together!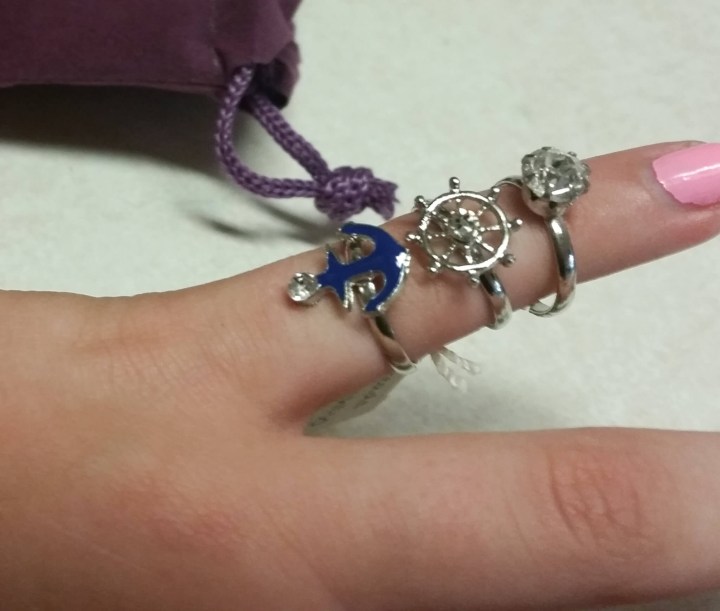 And here is my daughter modeling all three at once.  The rings are tiny, but should fit most hands.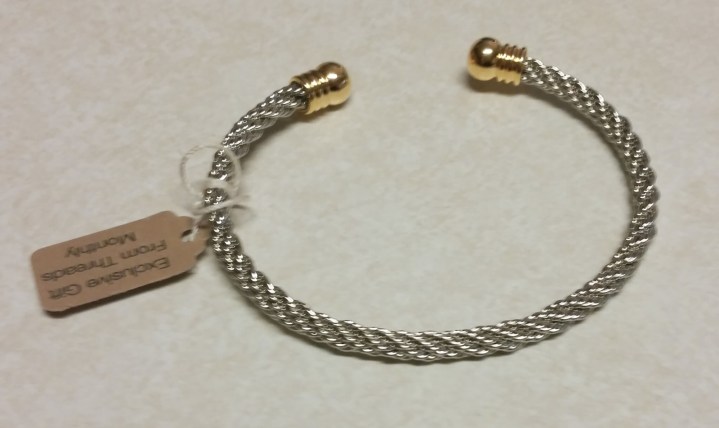 Bonus:  Rope Bracelet.  Although it isn't listed on the card, Threads Monthly included this great bonus gift – a pretty "rope" bracelet.  This too is perfect for the nautical theme and a very versatile piece of jewelry.  It can be worn with pretty much anything!
My daughters and I love Threads Monthly.  Between the three of us, we have liked everything in every box we have received – and more often than not, we all like most of the items.  This is a real accomplishment for Threads Monthly.  Jewelry is so personal – it's hard to pick pieces to make everyone happy.  But Threads Monthly provides a great variety of items within each month's box, as well as from month to month…there are definitely going to be pieces that appeal to anyone.  The variety of jewelry and the variety of shirts makes Threads Monthly a lot of fun – we love getting this box in the mail.  This subscription box is appropriate for teens and grownups, as well as older tweens who wear grownup sizes (subscriptions are from adult S to adult XL, subject to inventory availability).  Bottom line – Threads Monthly is a totally fun subscription box that we love to get!
What did you think about Threads Monthly? Save 20% with coupon code HELLO.
Visit Threads to subscribe or find out more!
The Subscription
:
Threads
The Description
: Included in every month's subscription is one T-shirt, one or two pieces of fantastic jewelry, and one "Monthly Themed" accessory.
The Price
: $20.00 per month