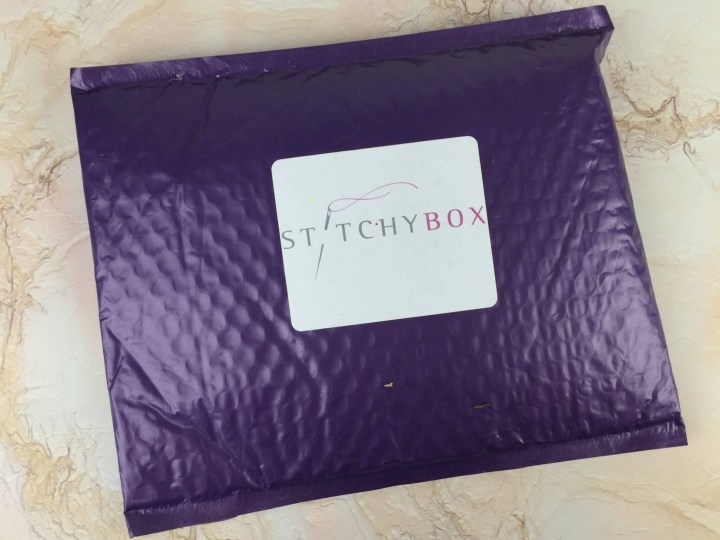 StitchyBox is a bi-monthly subscription box for counted thread embroiderers and cross-stitchers! There are two options – the Big Picture Box and the Detail-Oriented Box. With both styles you'll receive a variety of threads, from staples like DMC to specialty threads you may not have met yet, and embellishments, stitching accessories and other goodies! They also have a "Just the Threads" subscription for anyone who is a fiber fiend! This subscription no longer comes in an actual box and ships in a little mailer, which I prefer!
With the Big Picture Box choose
2 Fat 16ths (one 14-16 count Aida, one 28-32 count linen OR evenweave – your choice) OR
1 Fat 8th (Aida, linen or evenweave).
With the Detail-Oriented Box pick
2 Fat 16ths (one 32-36 count linen, one 40 count linen) OR
Select 1 Fat 8th (either 32-36 count linen or 40 count linen)
They also now offer add-on subscriptions (also available stand-alone): Buttoned Up (40 hand-dyed buttons from Hillcreek Designs, selected to match the color palette of each StitchyBox shipment) and Stitch It Up (XS charts). AND a 3-kit limited edition series from Hands On Design!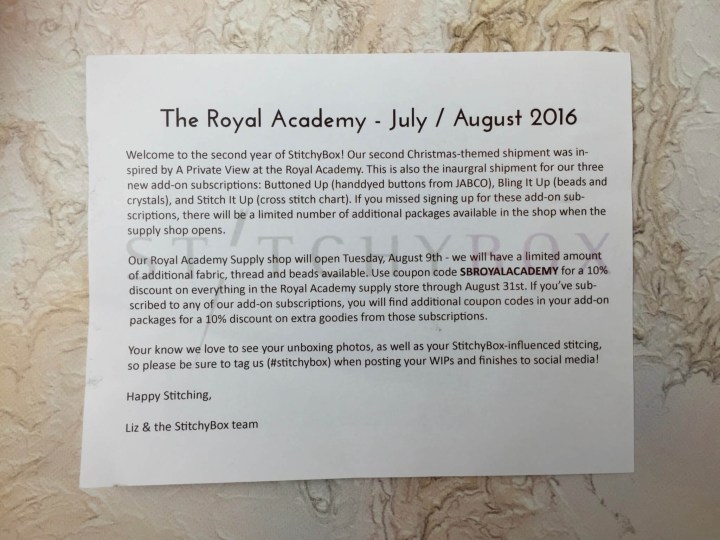 The information card gives a bit of details about each item, plus info about the supply shop (you can buy more of what you love, but usually only for a limited time – supplies are sometimes hand-dyed just for this box).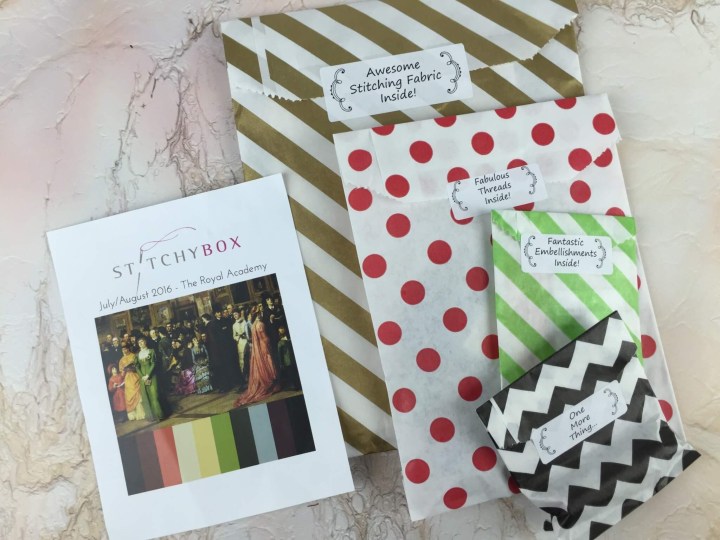 This month the inspiration was The Royal Academy. It's Christmas themed in color/palette but I love the art inspiration!
Antique White With Silver Sparkles Fabric Flair ($14): I received 1 fat quarter of this subtly sparkly fabric. It's a 32 count evenweave and has a gorgeous regal look.
The fabric glimmers instead of glints – and I think it's the first "crystal" included in Stitchy Box, but I'm not 100% certain. Since I'm addicted to crystals, this was perfect for me!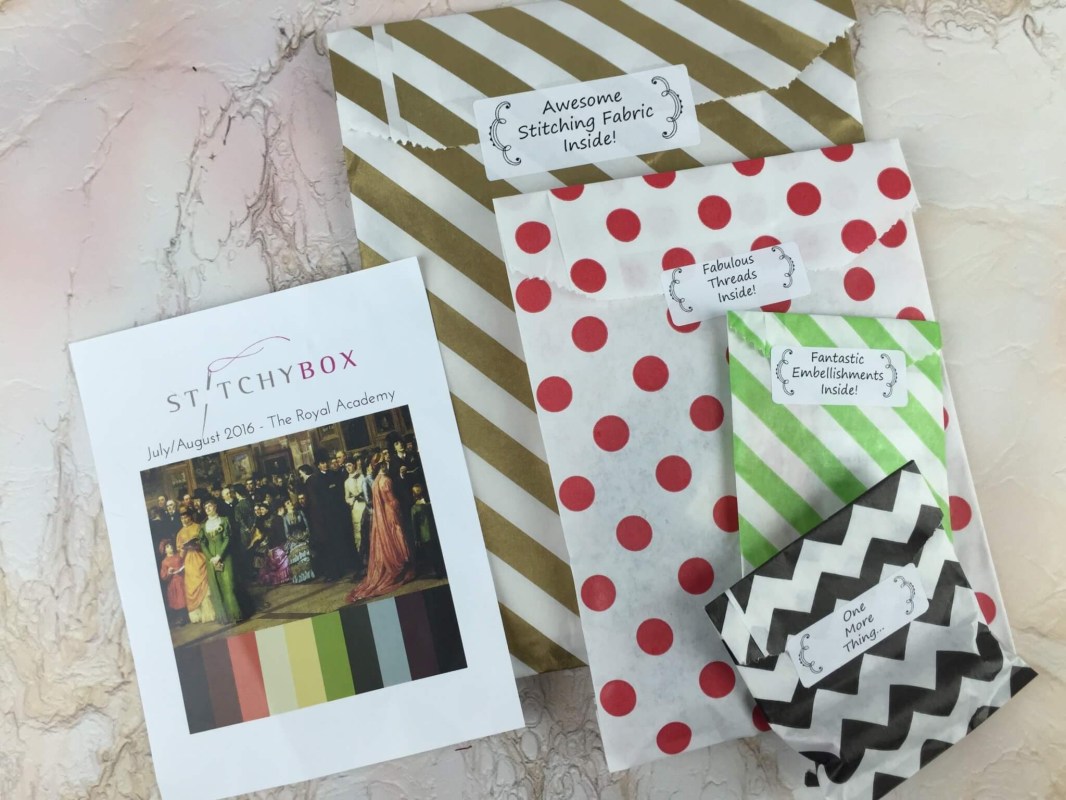 The Gentle Art Simply Wool Blue Spruce ($2.50) This has the deep rich color of an evergreen in the winter, just slightly on the blue side!
The Gentle Art Limited Edition Spiked Punch!: I love the gentle art, and this softly pink overdyed thread needs to be a sangria in one of my pieces, don't you think?
Classic Colorworks Rainy Day Cotton Floss ($2.40) Why is rainy day purple? Do I care? Not really, I love purple.
Dinky-Dyes Stringy Bark Silk Thread ($4.50) Well this is pretty perfect for a tree trunk, or even for a traditional sampler. I just got my download of The Frosted Pumpkin's National Parks sampler. I'm wondering if I can work this one in! It seems just right.
Florimell Silk Floss Leaf Green ($6.95)  Even though this is a Christmas themed box, this vibrant green is calling to me for a springy piece.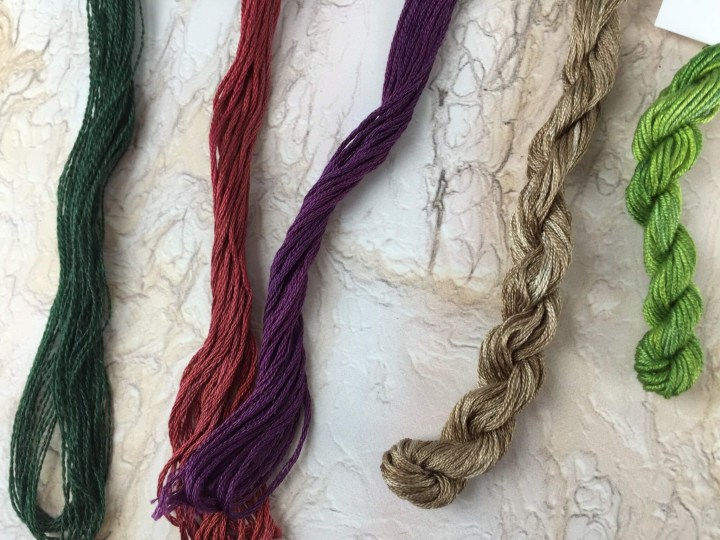 These are all gorgeous and the perfect weight for cross stitchers like myself!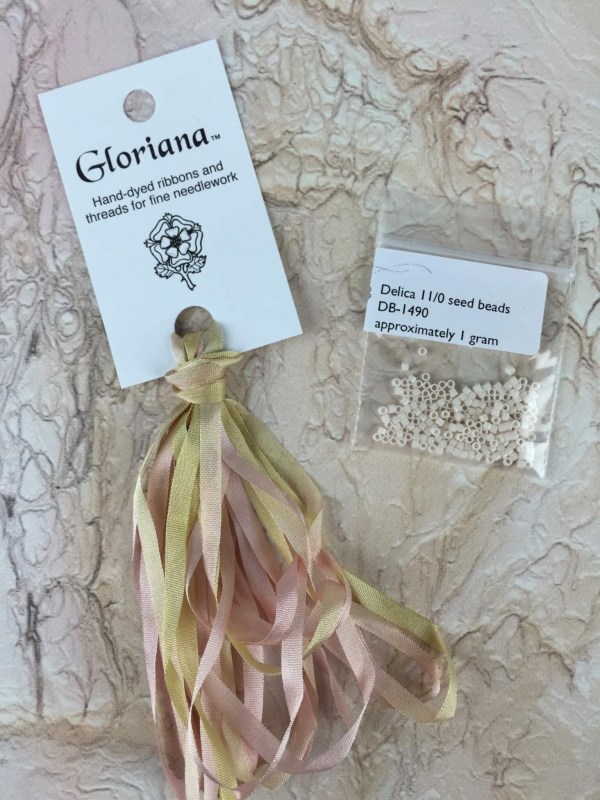 Gloriana Hand-Dyed Ribbons & Threads Mango Sorbet ($6.50) Oh, I don't know about me and ribbon embroidery. This does scream ice cream to me, but I'm thinking it would be great as a finishing accent, although if I was a Mirabilia lady it would be great to work in.
Opaque Bisque White Delica Miyuki 11/0 Seed Beads ($0.47) Ditto on these beads!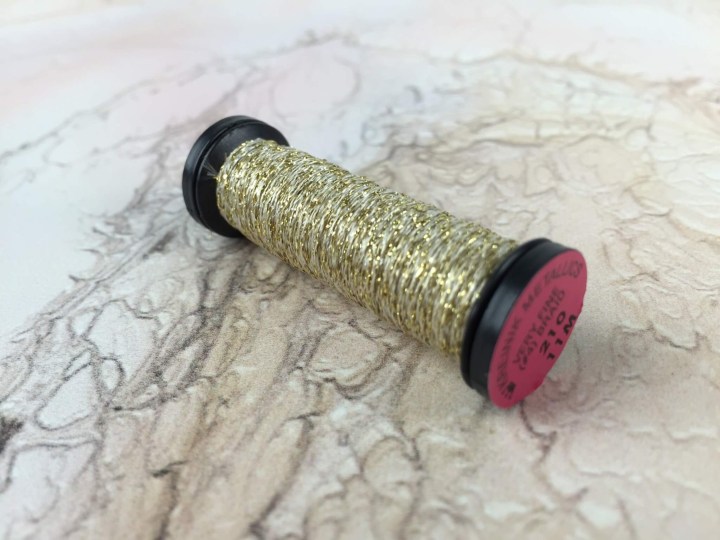 Kreinik Metallics Very Fine #4 Braid Gold Dust ($2.87) Yay! This is perfect for adding some glitz and glam to my holiday stitching!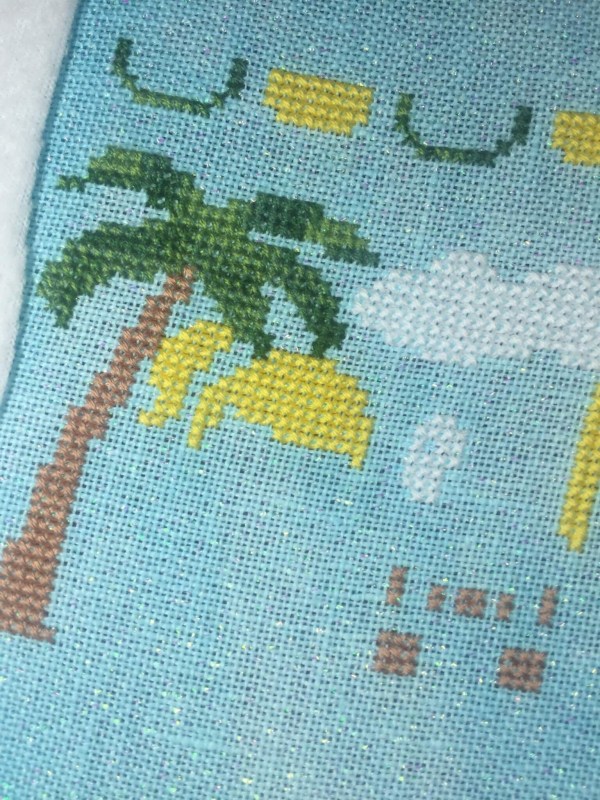 I do not have a finish this month. Sadface. However I thought I'd share my palm tree because it's a great example of what you can do with variegated threads. The top 2 fronds are stitched with single Xs and the bottom ones I flipped one strand end to end against another and just stitched it up like I normally do. I thought it had a nice effect for top vs. bottom (same thread on the watermelon!). This thread was from the April box, Planet Earth Fiber Green Foliage 6-Ply Silk!
I calculated about $43 in value for this month's box – which was a lot more than normal! They really outdid themselves with this holiday theme and I think what this subscription is doing is fun and exciting for stitchers! I keep all my threads organized and when I pull the threads for a new project I just replace as many as possible with my Stitchy Box threads! It's really so much fun!
Visit StitchyBox to subscribe or find out more! Save 10% off your first month with coupon code SUBK2.
The Subscription
:
StitchyBox
The Description
: Each themed box contains two cuts of stitching fabric along with a variety of threads and embellishments to get your creative juices flowing.
The Price
: $36.50 per month