Stars Hollow Monthly will feature 3-5 products which are inspired by the Gilmore Girls and the fictional town of Stars Hollow.  (Inspired by, meaning items that relate to, are inspired by, or are artistic renderings of the show and its inhabitants/characters.)  For $29.95, you can expect anything from tee shirts (on occasion), home decor, fashion accessories, bath & body items, and much much more.  The goal for the Stars Hollow Monthly Box is to send subscribers items they will adore as fellow Gilmore enthusiasts, but also items anyone would enjoy – high quality items that won't gather dust in a drawer somewhere.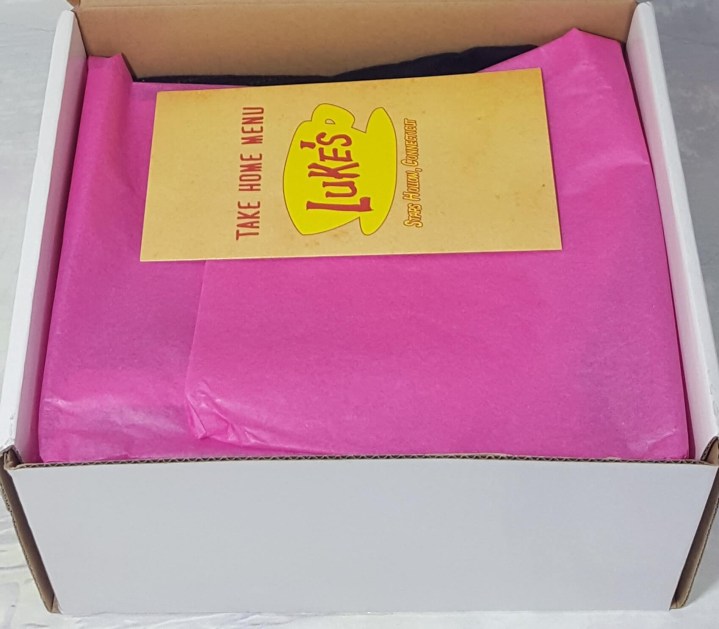 Hmm, what's under the Luke's Diner menu?  I can't wait to find out.
Everything in the July Stars Hollows Monthly Box.

Luke's menu is actually a fold out information sheet for the box.  Since Luke is a creature of habit, the outside of the menu hasn't changed (someone please hire Kirk).  The inside of the menu contains a list of the box contents with pricing, as well as discount codes for some of the items.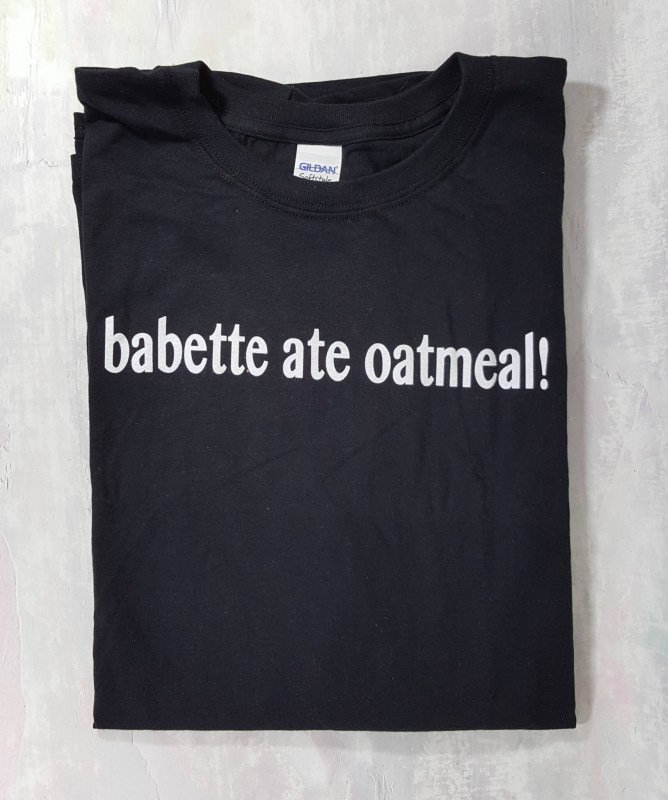 babette ate oatmeal! Tee ($19.95):  Ah, one of Kirk's failed ventures, the daily T-shirt featuring topical headlines from things he saw around town.  Instead of being humorous, he decided to keep it real.  While Kirk was peddling his wares for $14.95, this version is slightly higher.  Nostalgia costs extra and then there's inflation?  Or maybe we had to pay him royalties?
Sterling Silver Adjustable Coffee Ring ($37.95):  For the true coffee lover, this ring features a steaming cup o' joe in sterling silver.  So cute and fun.  This fits my pinkie when not adjusted.  I didn't want to stretch the band too much because the steam would be too far from the cup.  This link will take you to a similar ring.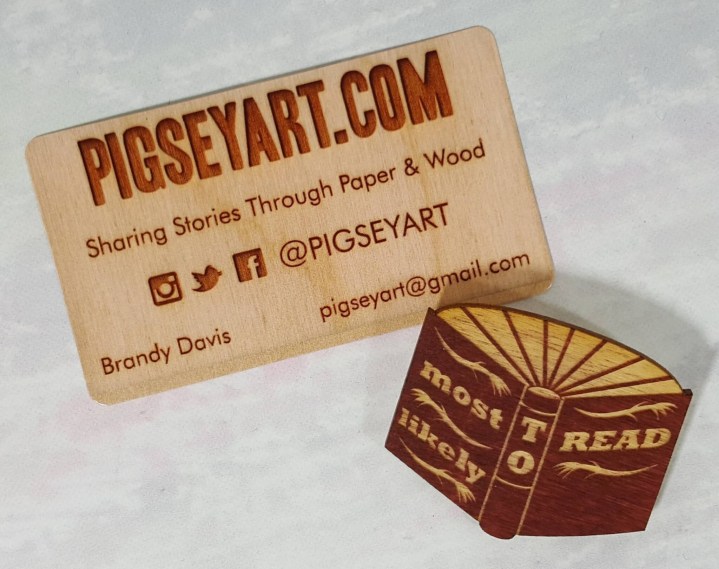 Rory's Exclusive "Most Likely To Read" Wood Pin ($7.95):  Designed by Pigsey Art, and an exclusive for the Stars Hollow Monthly Box, this wood pin sums up Rory.  During the course of Gilmore Girls, Rory was constantly reading.  In fact, over 300 books were referenced in the show, and there are several reading challenges based on those books.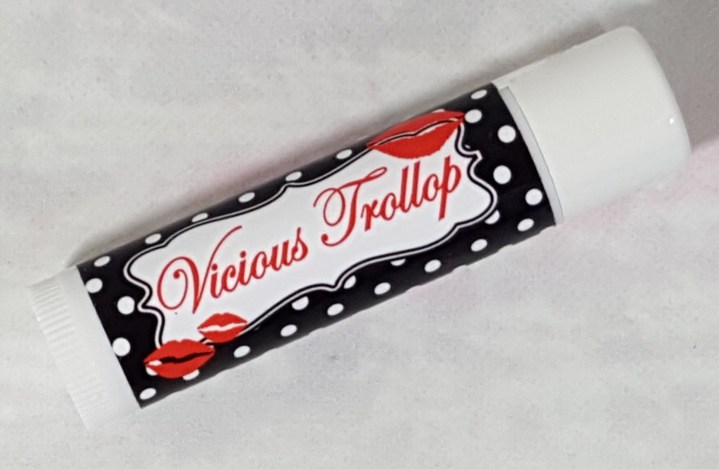 Exclusive Vicious Trollop Tinted Lip Balm – Red Berries ($2.50):  It could've been called Dirty Whore.  LOL!  This exclusive was created by If Lip Balms Could Talk.  This is an all natural balm made from a blend of oils and butters including, but not limited to, coconut oil, beeswax, cocoa butter, and Vitamin E.
This month's Stars Hollows Monthly Box came in around $68!  That's more than double the cost of a single box.  I think the lip balm is my favorite thing but only because it's so much fun saying "vicious trollop".  Can November hurry up and come already, so I can see the new episodes?!?  This subscription is like a monthly teaser.  Are you having as much fun as I am with the Stars Hollows Monthly Box?  Leave a comment below and share your thoughts.
Visit Stars Hollow Monthly to subscribe or find out more!
The Subscription
:
Stars Hollow Monthly
The Description
: Stars Hollow Monthly will feature 3-5 products which are inspired by the Gilmore Girls & the fictional town of Stars Hollow. *Inspired by, meaning items that relate to, are inspired by, or are artistic renderings of the show and its inhabitants/characters.* You can expect anything from tee shirts (on occasion), home decor, fashion accessories, bath & body items, and much much more. Our goal for the Stars Hollow Monthly Box is to send our subscribers items they will adore as fellow Gilmore enthusiasts, but also items *anyone* would enjoy- high quality items that won't gather dust in a drawer somewhere. (as opposed to kitschy fandom stuff)
The Price
: $29.98 per month