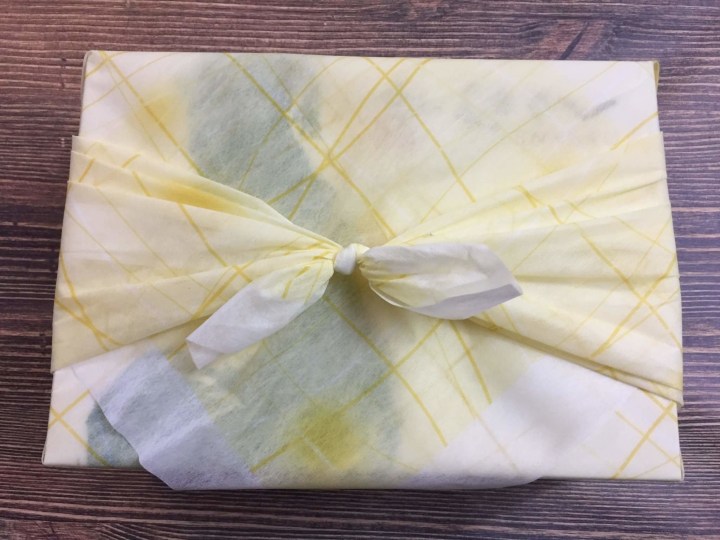 Snakku is the prettiest treat box you will probably ever open. With a focus on more traditional Japanese snacks and treats instead of the widely-known variety, this box always so much fun to open.
My August box arrived in a yellow furoshiki — they're made of paper cloth, but they are so sturdy and hard to tear. The knot this month was so tight I couldn't get it undone, and had to cut it off with scissors.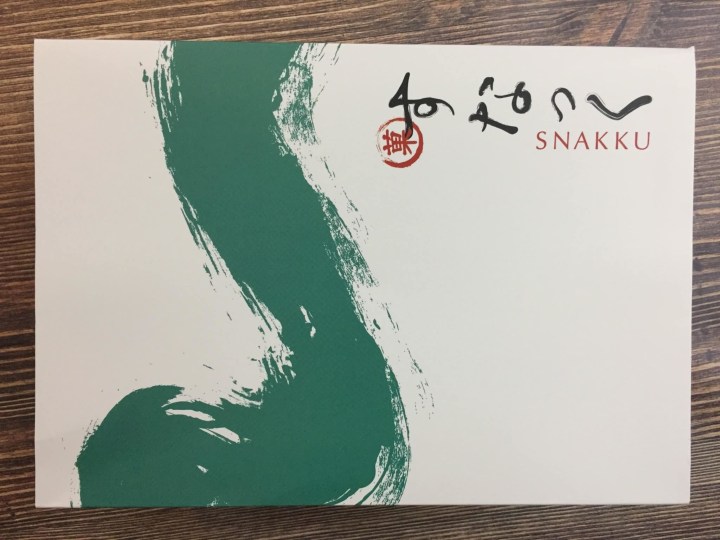 The box inside is also really pretty, and the top slides off length-wise to reveal the goodies below.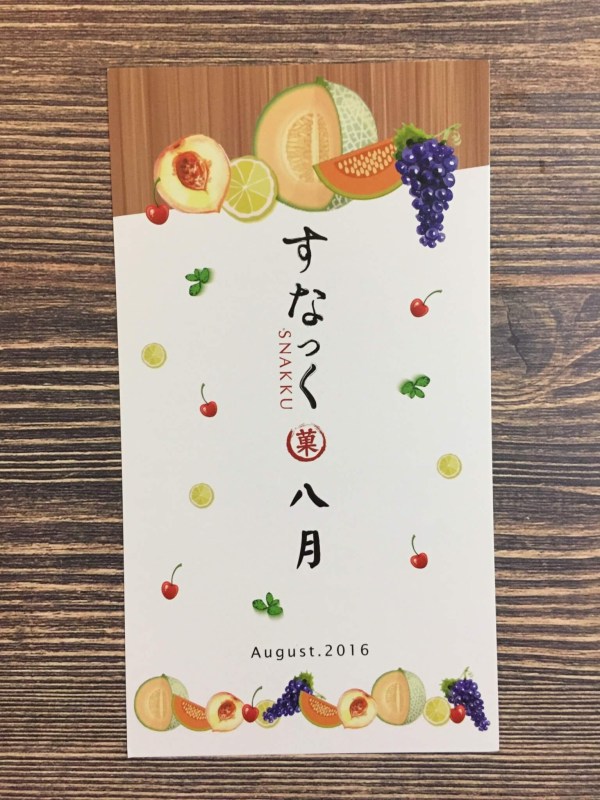 The artwork featured on the printed materials is so pretty! I love the art of the fruits.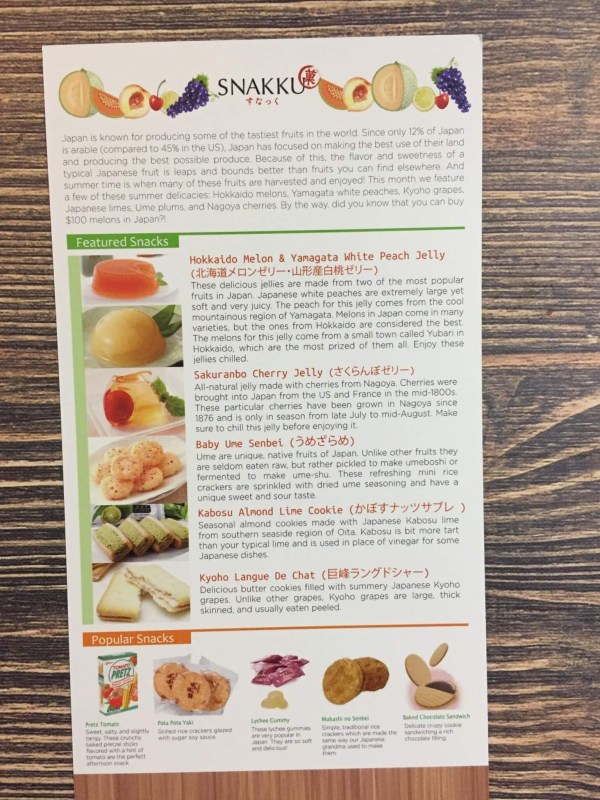 The information card that Snakku sends is also a bit of a history lesson about Japan, as many of the treats featured have been around for a long time and often have very interesting histories. I love that there is a clear photo of all of the items as well, so you can easily figure out what you're about to bite into!
August's theme revolves around the fruits of Japan! To paraphrase briefly, only 12% of Japan is suitable for growing/harvesting fruit, so they make the most of the limited space and focus on producing the highest quality they can. Summer is the high point of harvesting, so that's perfect for the August box! I've had the pleasure of sampling Japanese fruit before (their tangerines are amazing) so I'm really excited.
Hokkaido Melon Jelly, Yamagata White Peach Jelly, and Sakuranbo Cherry Jelly Wow, we were sent three different jellies this month! I chilled them in the fridge overnight and enjoyed them yesterday morning with breakfast. The white peach jelly (right) was my favourite of the three; it has pieces ofpeach pulp inside the jelly to add some texture and additional burst of flavour. While the two larger jellies were quite soft and similar to the texture of Jello, the sakuranbo cherry on top was a much more firm jelly — it actually took a bit of effort to cut off a piece with the spoon. The cherry inside was juicy and tart, and was still pitted. The melon featured is from Yubari, and is one of the most prized melons in Japan.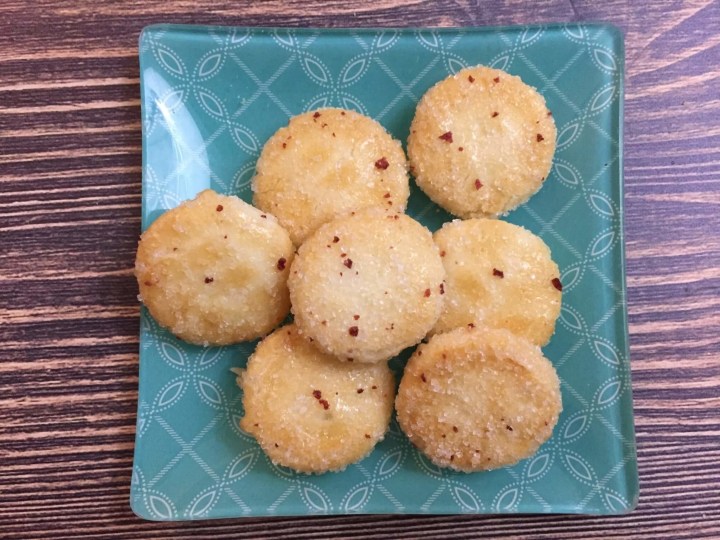 Baby Ume Senbei Ume (sometimes referred to as a Japanese plum or apricot) is one of my favourite Japanese fruits; they're usually dried or pickled into umeboshi, which I adore. The sour/sweet combination is great, so I was interested to see how they translated into a rice cracker. These senbei are dusted with sugar and ume seasoning, and the taste of the ume doesn't really hit right away — it kicks in towards the end, and I really liked it!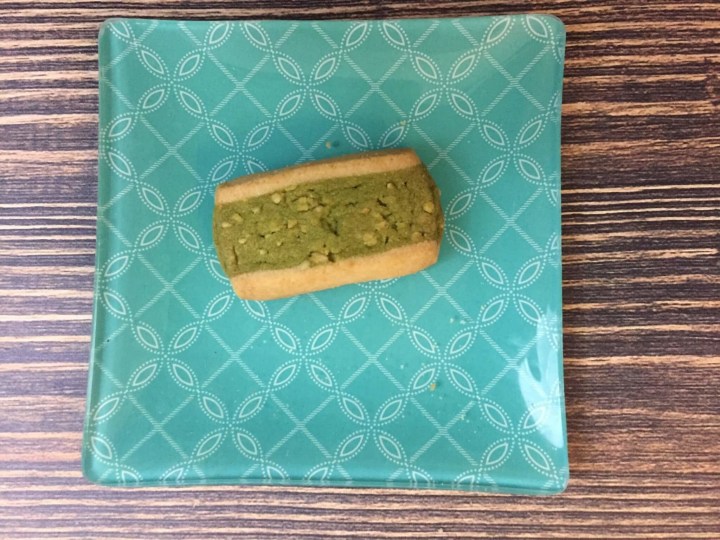 Kabosu Almond Lime Cookie This cookie reminded me a bit of shortbread, but with an almond flavoured base. The lime is tart and flavourful, and really does have a refreshing feel even though it's a cookie.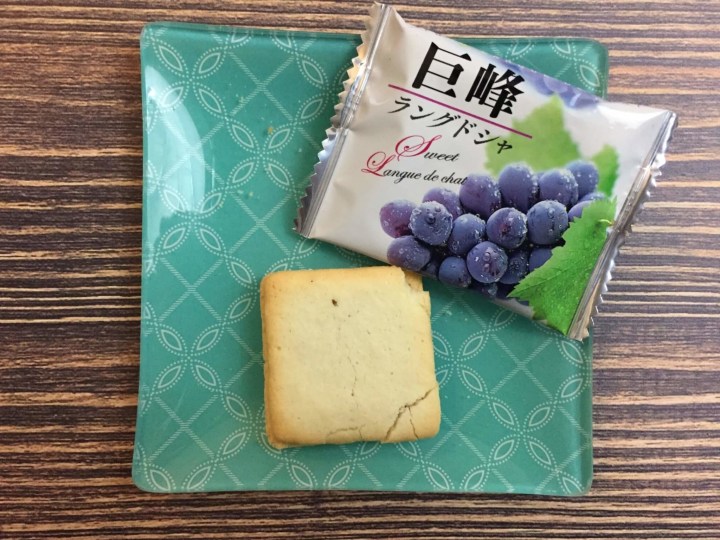 Kyoho Langue De Chat Japanese butter cookies are one of my favourite treats, and whenever Snakku features them I am so happy! These thin, crunchy, butter cookies always have a golden brown edge and usually have something yummy sandwiched between two. This time it's a cream made of Kyoho grapes! The grape flavour is very powerful and sweet, and complements the light buttery cookie nicely.
Snakku always sends along some more popular snacks along with the featured snacks — I'm always happy to see different senbei, or a sweet treat like Pocky every once in a while!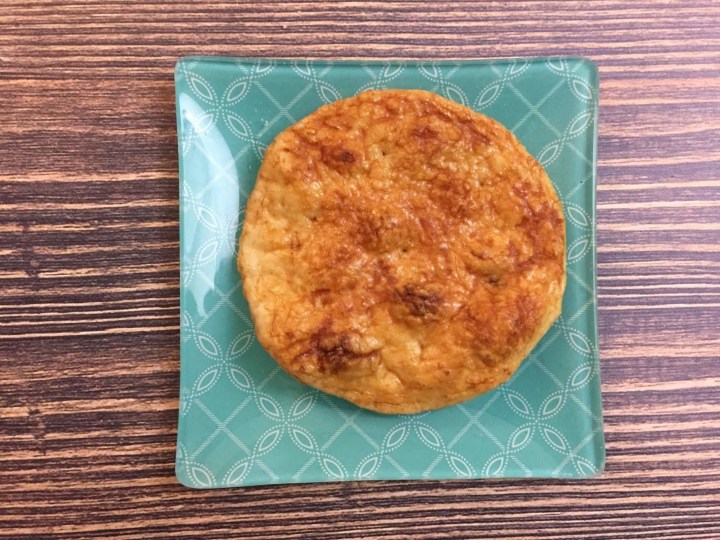 Mukashi no Senbei This senbei is VERY hard and crunchy, and has a strong soy sauce glaze. Simple, delicious, and proves that food doesn't need to have bells and whistles to taste great.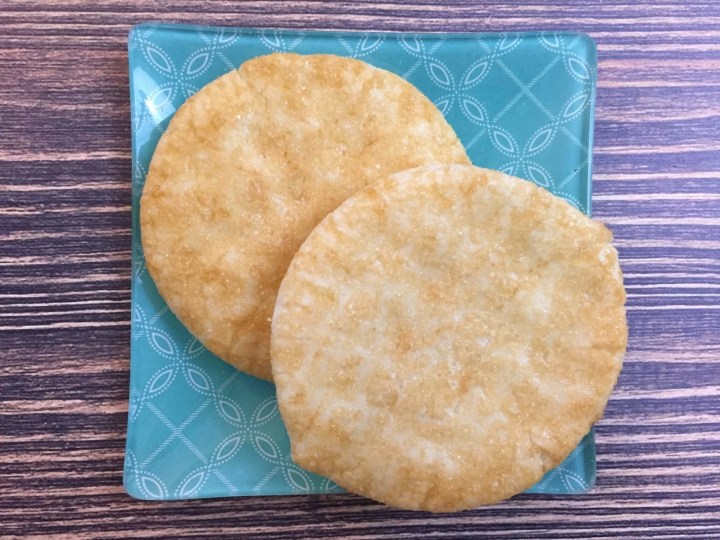 Pota Pota Yaki In contrast, these senbei are softer, sweeter, and a lighter flavour than the above. I loved both equally, but these were definitely a little bit easier to eat! My poor teeth…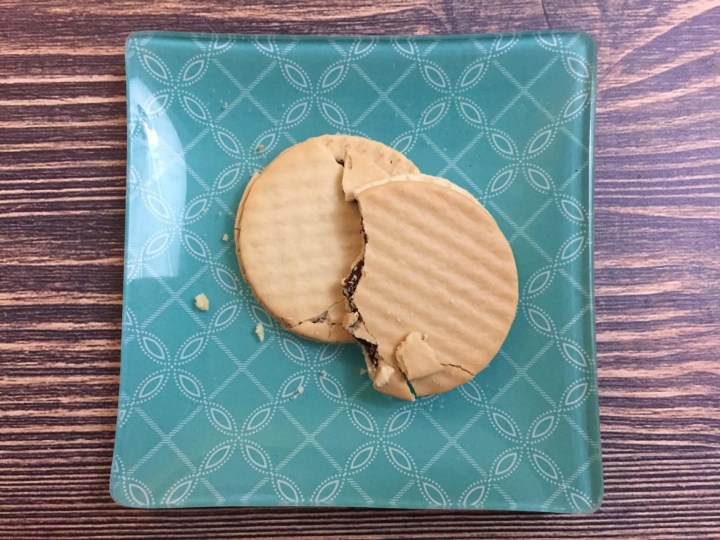 Baked Chocolate Sandwich This packet had two or three cookies inside, and they're tasty but a bit plain. The chocolate inside reminded me a bit of the chocolate icing inside Fudgee-os. The vanilla cookie outside is crunchy and light.
Tomato Pretz These are addicting — thin pretzel/breadsticks with an Italian seasoning. I absolutely adore this flavour!
Lychee Candy Lychee always reminds me of my papa; they were his favourite. If you've never had a lychee before, to me they have a light citrus flavour, but are much sweeter. This gummy is soft and sweet.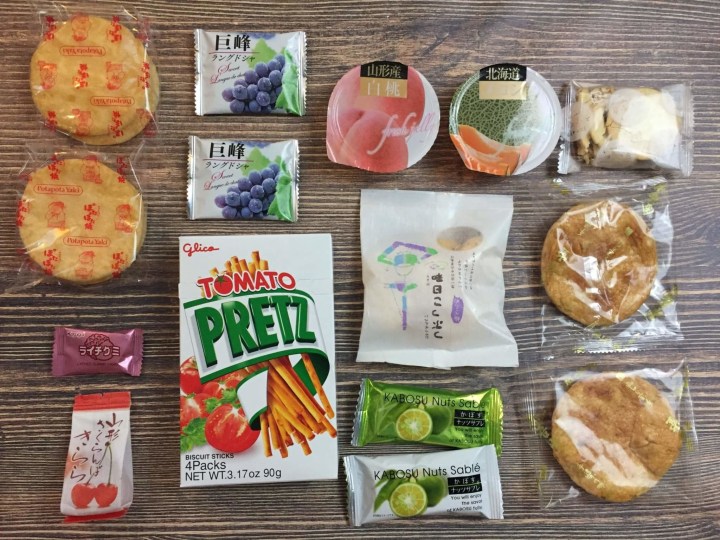 Hands-down this was my favourite Snakku box I have received to date. The emphasis on sweet fruits, savoury senbei, and some familiar flavours hit all the marks for me!
What did you think of this month's Snakku? Save 5% on your subscription with coupon code HELLOSUB.
Visit Snakku to subscribe or find out more!
The Subscription:
Snakku
The Description: Get a collection of hand-picked snacks that you can only find in Japan, along with a selection of familiar & delicious Japanese snacks delivered every month.
The Price: $38.95 per month. Free Shipping to US, $5 shipping to Canada, $15 everywhere else.