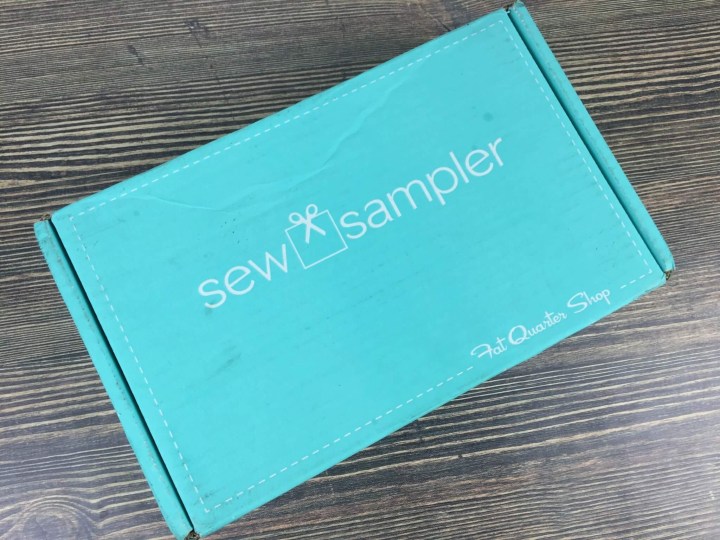 Sew Sampler Box is a quilting subscription box from Fat Quarter Shop that brings quilting goodies!  Signing up is a bit odd for this subscription – you pay a 99¢ membership fee and then you'll be charged monthly when the subscription ships ($24.95 plus shipping – $4.95 US, $12 Canada, $16 everywhere else).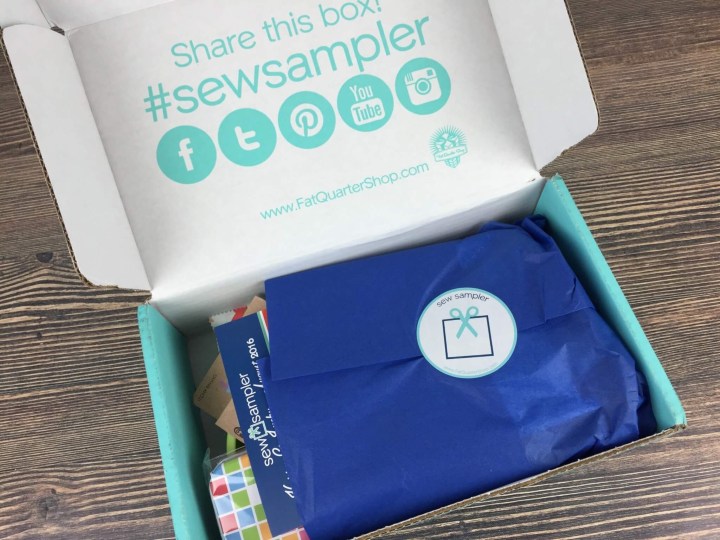 The items are wrapped in beautiful royal blue tissue. The box contains at least 5 curated items, like fabrics, threads, patterns, etc, which you'll need when quilting.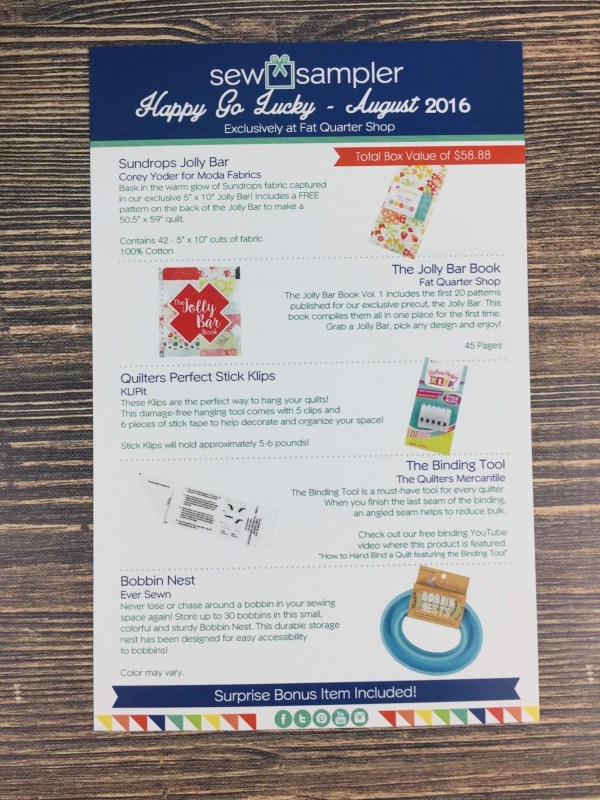 The information card provides more details about the items in the box. Since not all sewing subscriptions provide a great information card, I am happy to see this!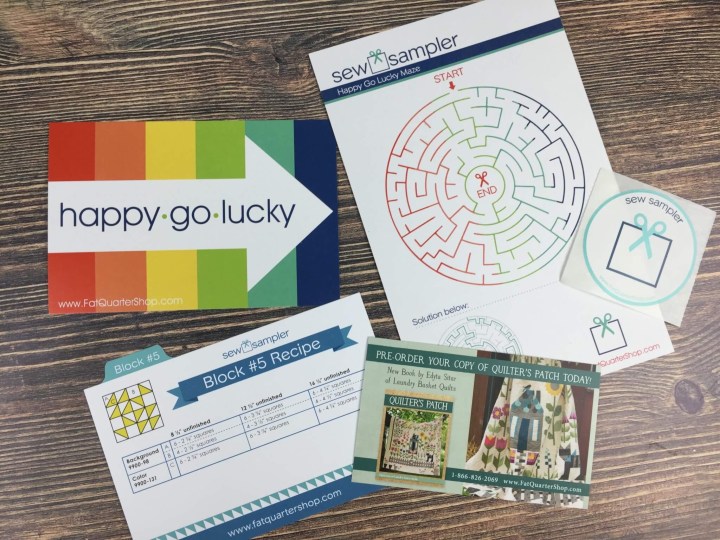 There are also instruction and recipe cards, coupon code, and sticker included in this box. There's also a block of the month "recipe" card and if you want to pick those up or past ones, they sell them for $1.48 (free shipping).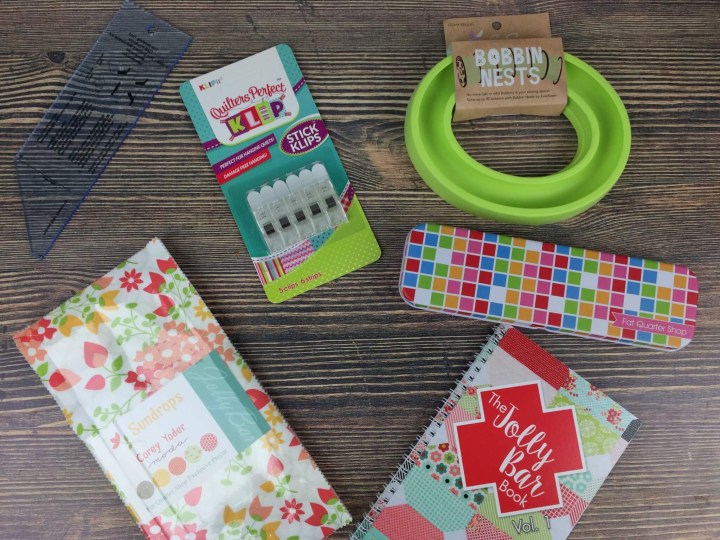 Everything in this month's box!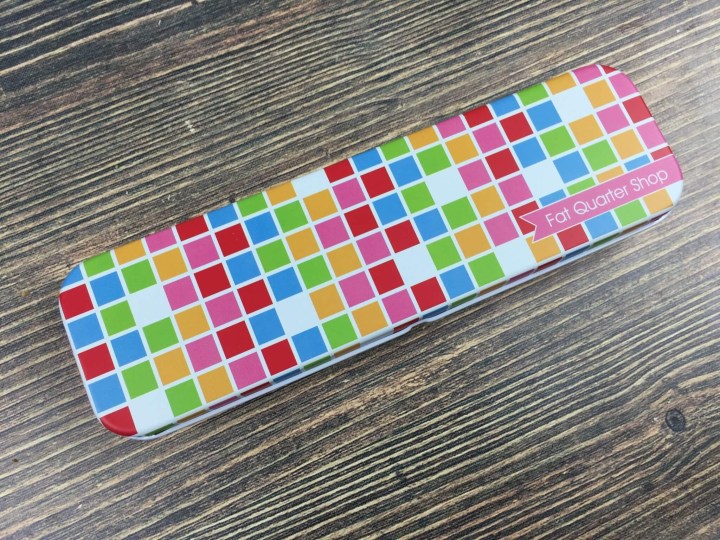 Bonus!
Fat Quarter Shop Pencil Case: This had weird dust all over it inside the plastic. I don't know what that was about, but it's great and useful.
The Quilters Mercantile The Binding Tool ($9.98) Oh this is the perfect utility tool for quilters (you do always need a binding!). They even have a how-to video!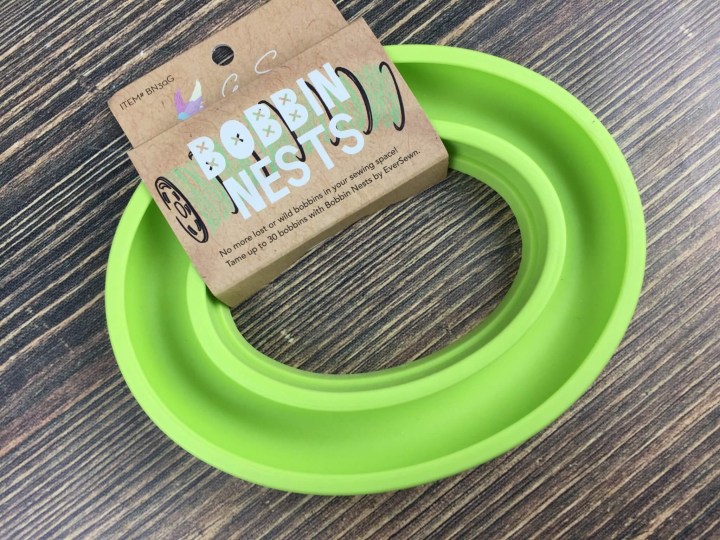 Ever Sewn Bobbin Nest ($9.48) SQUEE! I didn't know these existed and it immediately solves the perennial issue of storing your bobbins.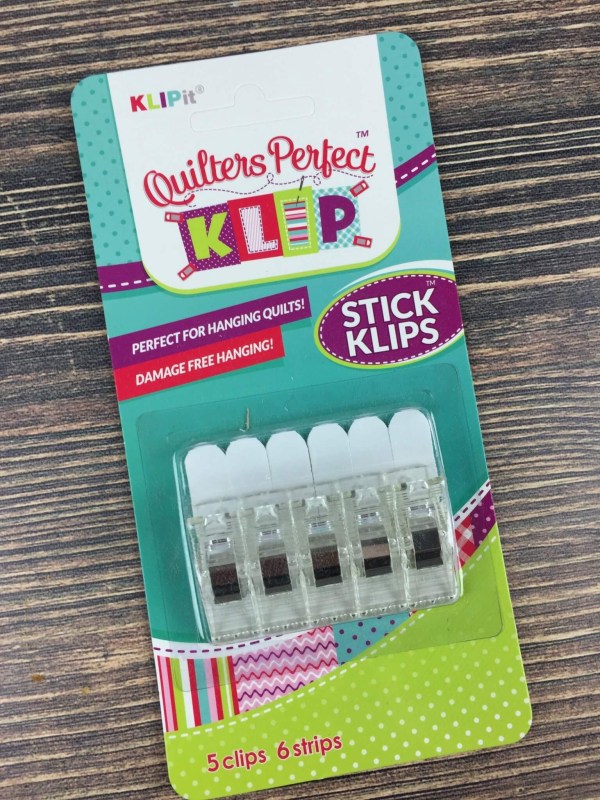 KLIPit Quilters Perfect Stick Klips ($6.48) I can't fathom hanging an entire quilt up with these, but I trust FQS. They're like command strips.
I really need some of the Klipit clips (the mini kind) for sewing with my daughter.  They are available (cheaply!) on Amazon from all sorts of different brands. Let me know your favorite – I can't get over the built in seam allowance.
Fat Quarter Shop The Jolly Bar Book ($9.98) FQS has a new exclusive precut (well anyone can cut fabric in any size, but they're calling it the Jolly Bar). This is a recipe book for the new 5×10 Jolly Bar.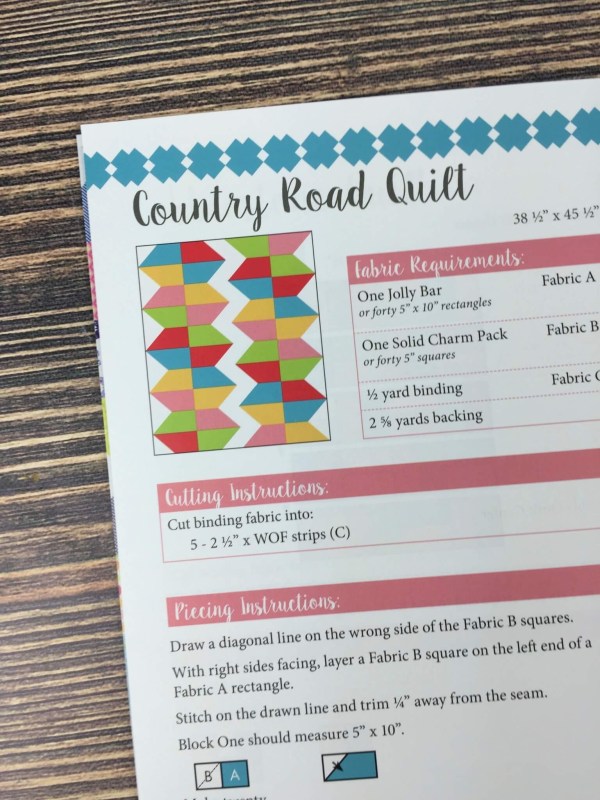 I really love the versatile large size of these precuts. I'm not a big quilter (my bestie is – we just picked out a ton of fabric for the quilt she's making my youngest) but I do like sewing and I generally use the precuts for fun patchwork creations. 
Corey Yoder for Moda Fabrics Sundrops Jolly Bar ($18.98) Love these colors!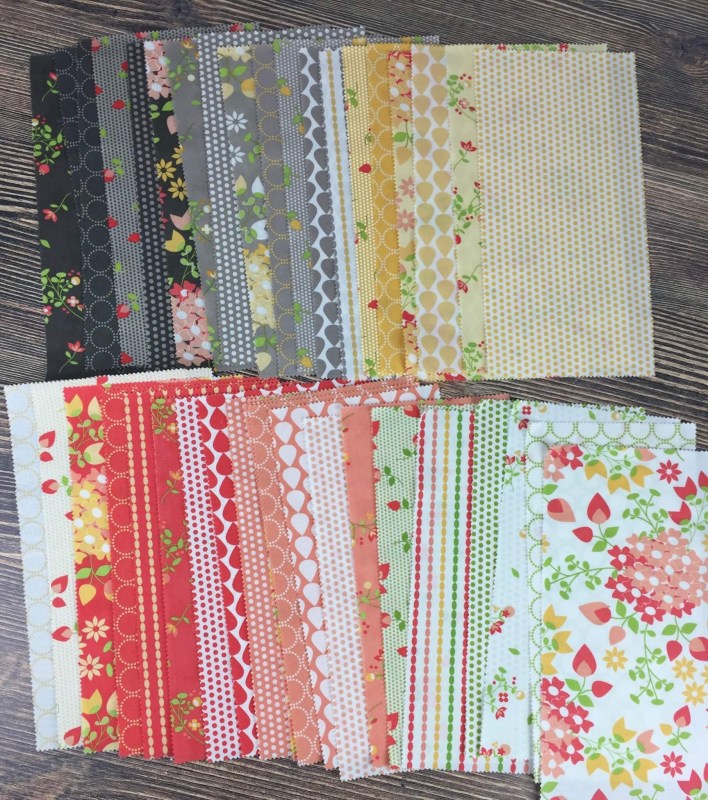 They range from dark to light with florals, ditsy florals, dots, circles, teardrops, and more! This new size means larger blocks of color, and a faster (and more modern-looking!) quilt. I could see myself actually making a jolly bar quilt, what a brilliant idea!
Have you tried Fat Quarter Shop's Sew Sampler?
Visit Sew Sampler to subscribe or find out more!
The Subscription
:
Sew Sampler
The Description
: The Sew Sampler Box is a monthly subscription quilting box that automatically delivers surprise quilting goodies to your door every month! Each month will feature a specific theme sure to surprise and inspire you! At least 5 specially chosen items which may include fabric, notions, patterns, thread and anything in between. The retail value of your items will always be more than your monthly cost! Don't be surprised if you receive exclusive or first-look items. Plus, as a member you will receive special discounts, exclusive deals and BONUS GOODIES!
The Price
: $29.90 per month