RawSpiceBar is a monthly spice blend subscription. Every month for $6 you'll receive small batch, freshly ground spice blends by top chefs for home cooks, plus recipes to create authentic cuisine with the spices. They are launching the shop soon to buy more of your favorite spices!  I really look forward to seeing their inventory — the subscription picks have been great, and I want to see their whole catalogue of blends.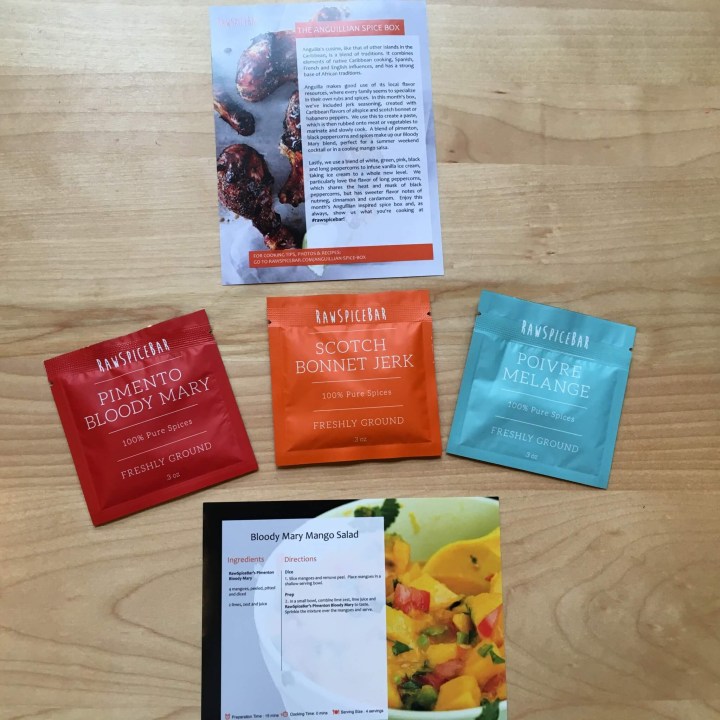 Each month, you'll receive three freshly ground spice mixes that can be used to create dishes evocative of the featured region of the world. The August 2016 shipment featured the food and spices of Anguilla.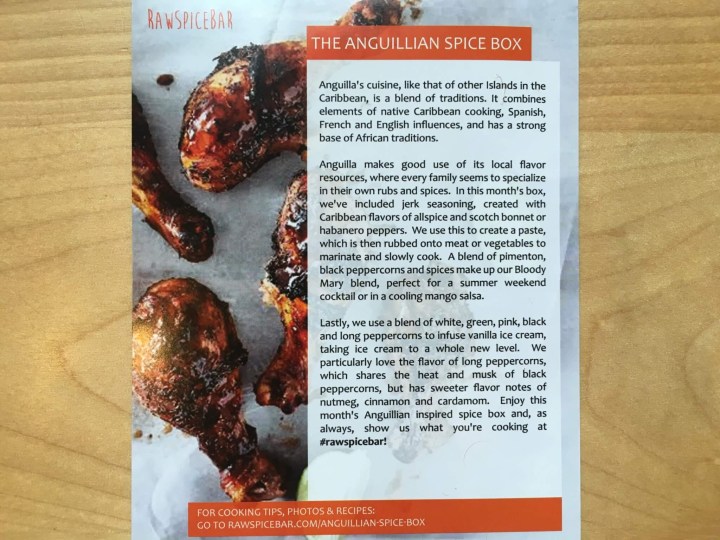 Anguilla is a group of islands in the Caribbean that is a territory of Great Britain. A part of the Leeward Islands in the Lesser Antilies, its cuisine is anchored in African traditions while being influenced heavily by native Caribbean, Spanish, French and English tastes. To bring the taste of Anguilla to home cooks everywhere, RawSpiceBar included the following spice blends in this month's shipment: Pimento Bloody Mary, Scotch Bonnet Jerk and Poivre Melange.
Pimento Bloody Mary smells like a Bloody Mary in a bag! This delightful mix contains Pimentón, celery salt, celery seeds, black peppercorns, Worcestershire powder, cayenne pepper and spices.
RawSpiceBar included a lovely recipe for a mango salad that features the Pimento Bloody Mary mix.
Scotch Bonnet Jerk is a complex mix containing thyme, allspice, nutmeg, cinnamon, black peppercorns, white onion, garlic, cayenne pepper, scotch bonnet pepper and spices.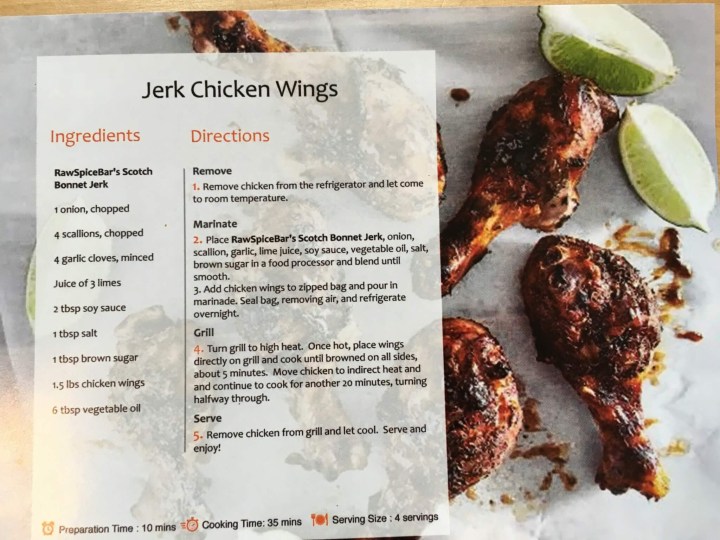 RawSpiceBar included a tantalizing recipe for jerk chicken that utilizes the scotch bonnet jerk seasoning.
Poivre Melange is a mix of colorful peppers: Malabar black peppercorns, Tellicherry peppercorns, green peppercorns, pink peppercorns, white peppercorns and spices.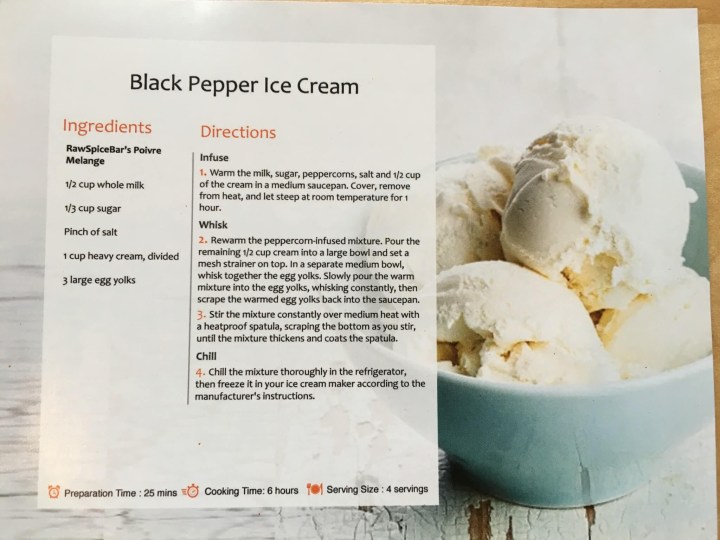 RawSpiceBar included a recipe for Black Pepper Ice Cream that utilizes the poivre melange blend.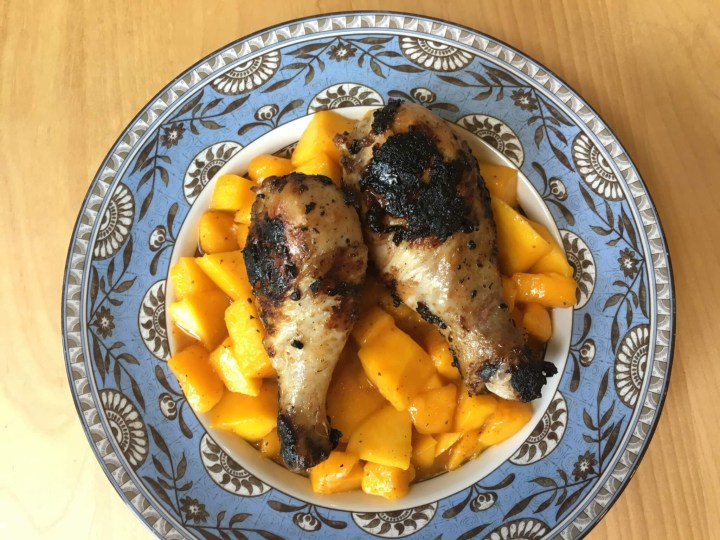 I decided to serve Jerk Chicken Drumsticks alongside the Bloody Mary Mango salad. Both dishes were absolutely delicious! The jerk sauce is incredible on its own, and here it lends the chicken great flavor with only a hint of spice. I made the mango salad pretty spicy, which suited my tastes perfectly, but was a bit much for my preschooler. Next time, I'll tone it down for him. After eating up all of the chicken, my son and I enjoyed finding Anguilla on the globe, and I got the chance to tell him stories about a cruise he went on to the Panama canal when he was an infant.
RawSpiceBar's blends provided a wonderful opportunity for my family to come together to eat delicious homemade food all while experiencing the cuisine of Anguilla. We loved the opportunity to share a meal and reminisce of fun times we've had together.
Do you subscribe to RawSpiceBar? What's your favorite thing about the subscription?
Visit RawSpiceBar to subscribe or find out more! Get one extra month free when you sign up for a 6+-month subscription using coupon code ilovespices.
The Subscription
:
RawSpiceBar
The Description
: Fresh, Authentic Spice Blends. Created by Top Chefs For Globally Inspired Home Meals.
The Price
: $6.00 per month