Rainbow Honey Mystery Bag is a monthly subscription box that brings previews and samples of Rainbow Honey Lab's upcoming new products and collections. Each mystery bag includes 3-6 handcrafted products, ranging from nail polish, shimmers and glitters, as well as handcrafted body and bath care treats. Rainbow Honey Mystery bag is available in Mini, Large, or in parts – Just Nails, Just Soaps and Just Body!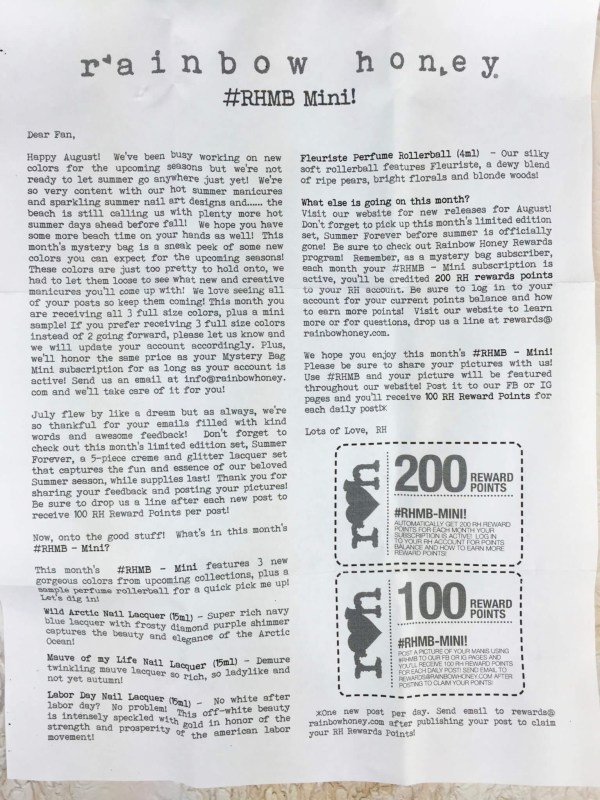 The information sheet includes the name of the items included in the mini bag and all the details! You can earn reward points by posting a picture of your manis, or just simply keeping your subscription active.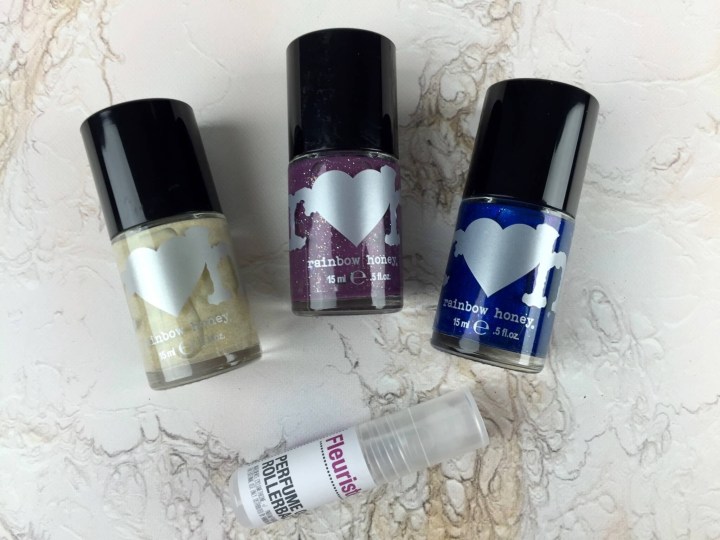 Everything in my August Rainbow Honey Mini Mystery Bag!
Labor Day Nail Lacquer: No white after labor day, so we got this creamy champagne instead. Only my grandma actually follows that rule, I wear white, oh, whenever I want (which is never).
Wild Arctic Nail Lacquer: Deep navy with frosty purple shimmer
Mauve of my Life Nail Lacquer: This is a great summer into fall color – not quite the rich burgundies and bordeaux we see for fall, but something in between.
Fleuriste Perfume Rollerball: My daughter loves these little rollerballs – this one is pears and blonde wood. She thinks they're super fun.
This subscription is downright cheap so it's hard to complain – they're indie, they're fun, and the colors are gorgeous (and last a really long time – my husband played around with a few colors and they're still on his nails ?). But… I really miss that this subscription used to feature the RH glitter toppers! They obviously want me to shop in the store (mmph!) instead, and with the full-size polishes being $10 – I'd probably just stick to this instead and take what I get!
Visit Rainbow Honey Mystery Bag to subscribe or find out more!
The Subscription
:
Rainbow Honey Mystery Bag
The Description
: Each Mystery Bag has sneak peeks and previews of new lacquers, unreleased samples of future collections and exciting new products made by the Rainbow Honey Lab!
The Price
: $12.50 per month