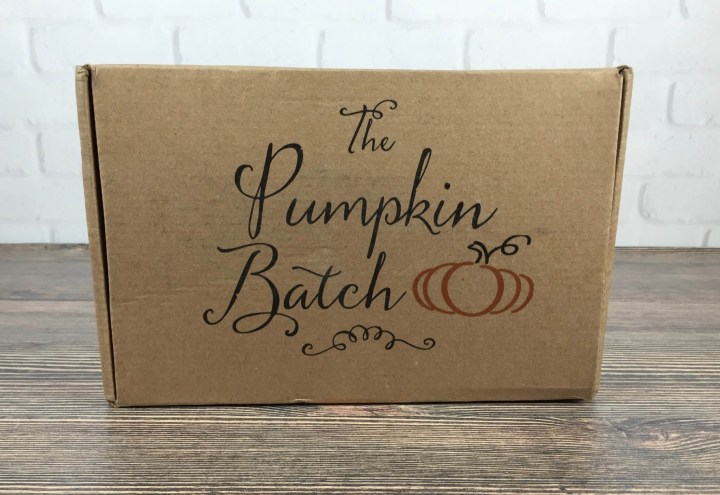 The Pumpkin Batch is a monthly subscription box for pumpkin lovers – every month you'll receive 4-6 products for pumpkin and pumpkin spice lovers – all year round! Products are sourced from small businesses all across the US!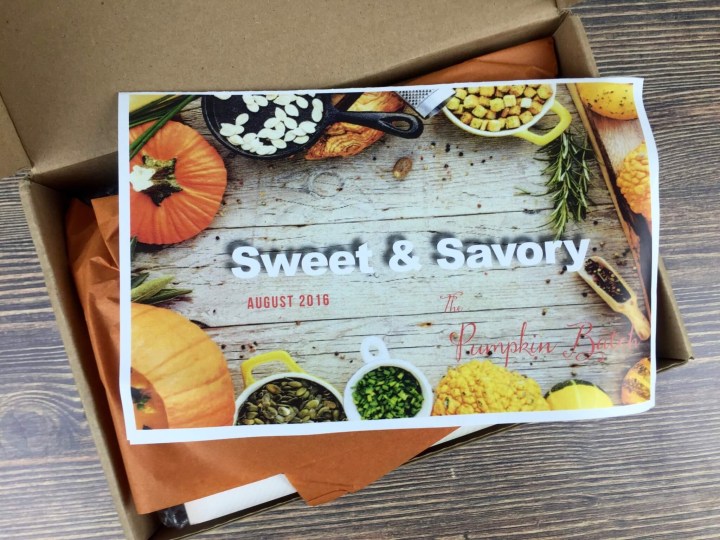 The theme for August is Sweet & Savory!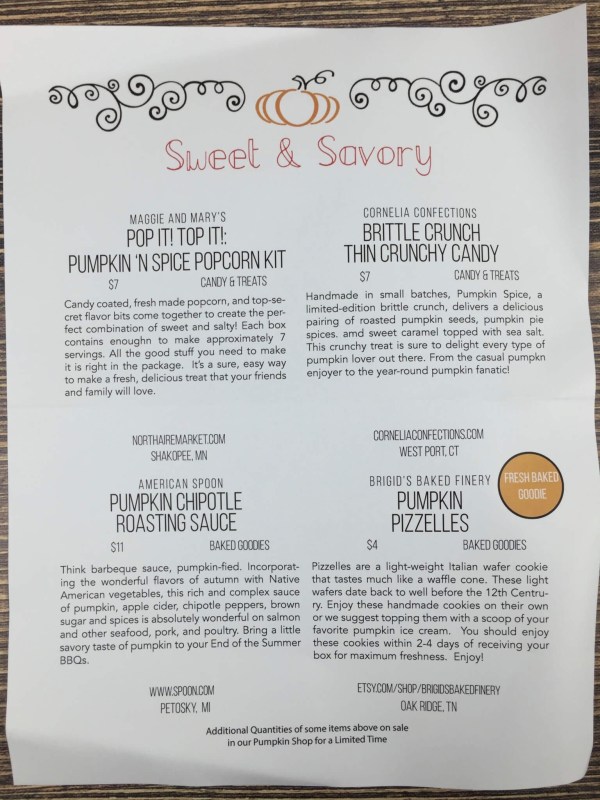 The information card has complete details on each item, including the value, the maker, and the ingredients or other necessary information.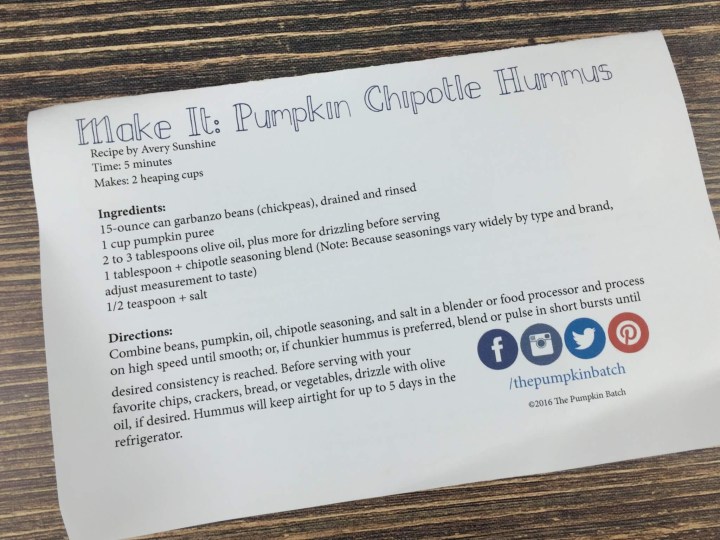 There's also a recipe card included this time. I think pumpkin chipotle hummus sounds delicious! I'm going to put my husband right on that!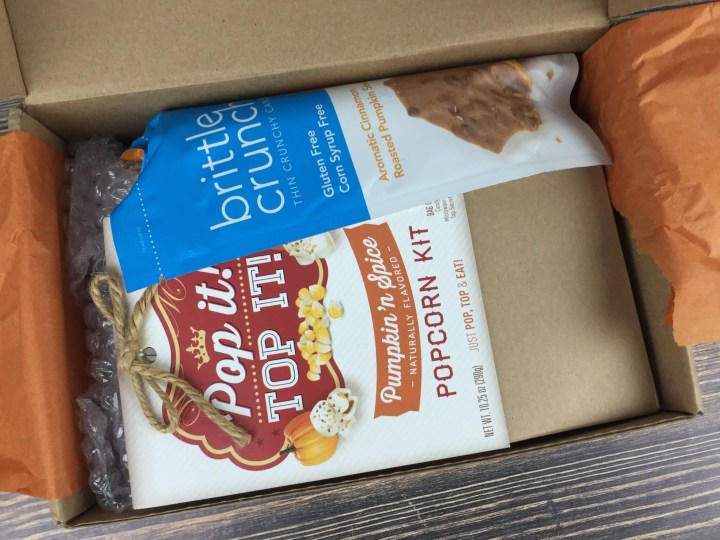 The items are secured well inside the box, which is big and full!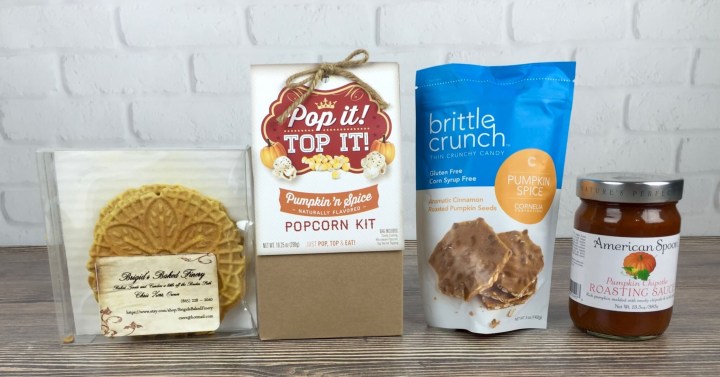 Everything in the August box! I was excited to see it was all food again, because pumpkin.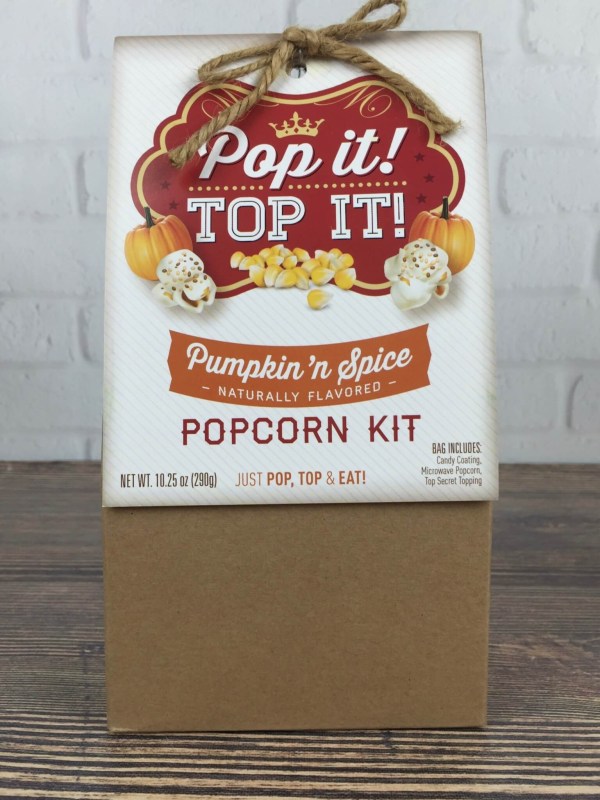 Maggie and Mary's Pop It! Top It! Pumpkin 'N Spice Popcorn Kit ($7) This is a cool little kit that includes microwave popcorn, candy coating, and sprinkles!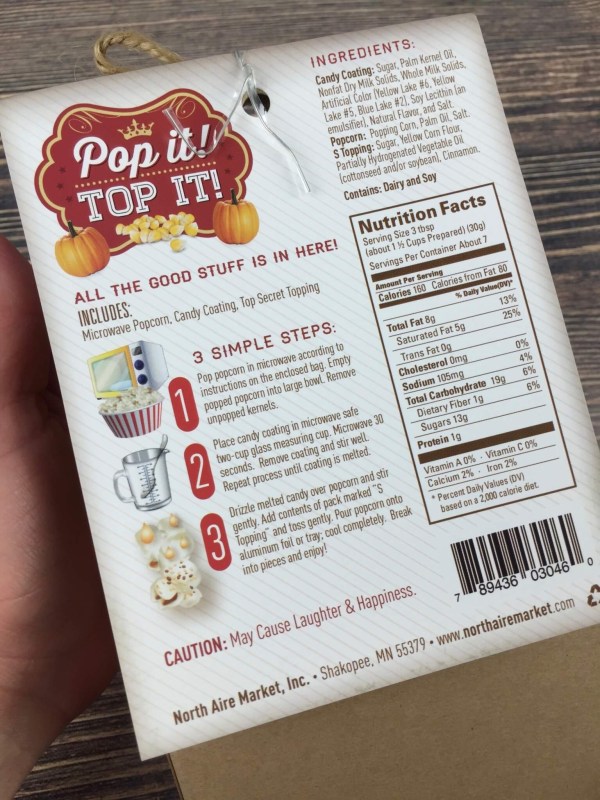 Caution: May cause laughter & happiness!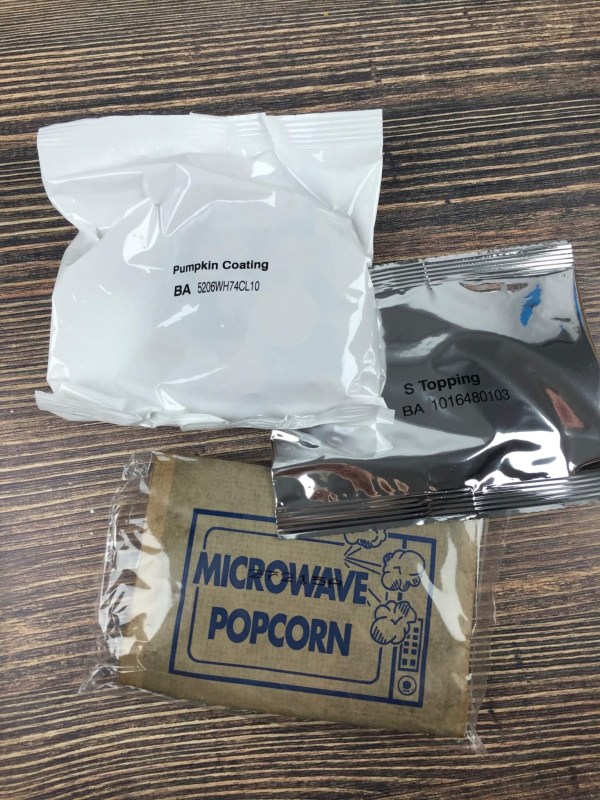 Everything is neatly contained inside.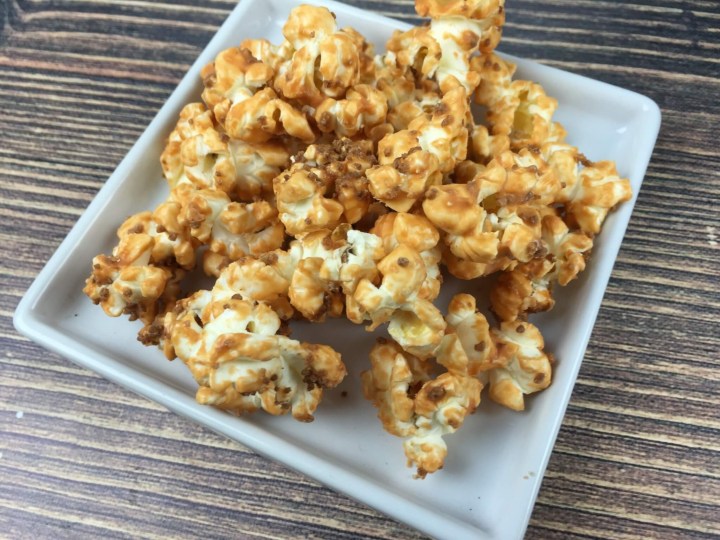 Tada! The chips actually were a bit too thick and we added 1/2 ounce (one packet) of coconut oil to make application of the topping a little easier. A huge hit with our kids!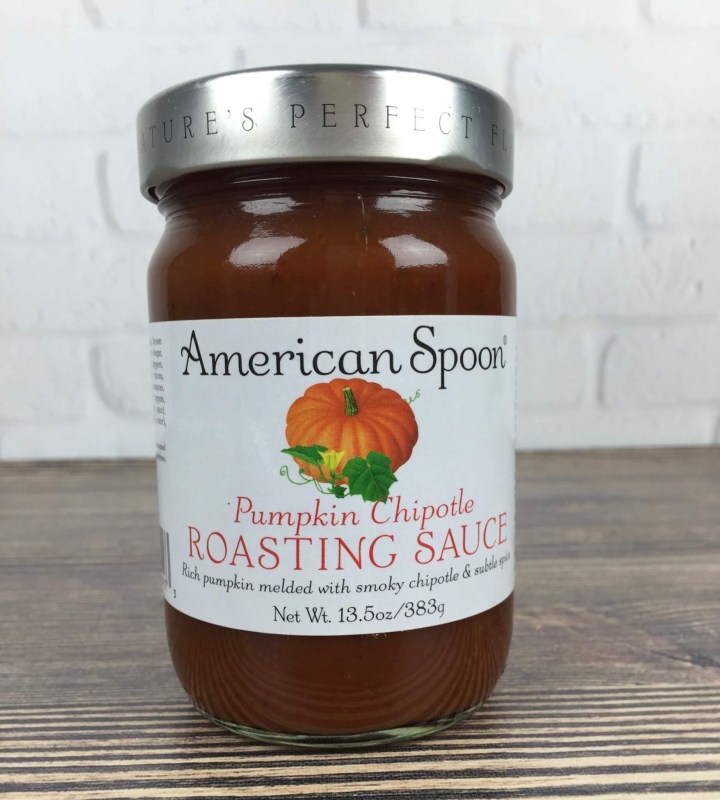 American Spoon Pumpkin Chipotle Roasting Sauce ($11) I was excited to see a savory item nestled in here. This sauce is made from pumpkin, apple cider, chipotle peppers, brown sugar and spices. The card suggests pairing it with salmon or other seafood, pork, and poultry. However, I'm saving it to use with this recipe from American Spoon: Ravioli with Sausage & Pumpkin Chipotle Roasting Sauce! I have some hard cheese that should really set it off shaved on the top. I'm so excited about it, I just have to pick up some ravioli!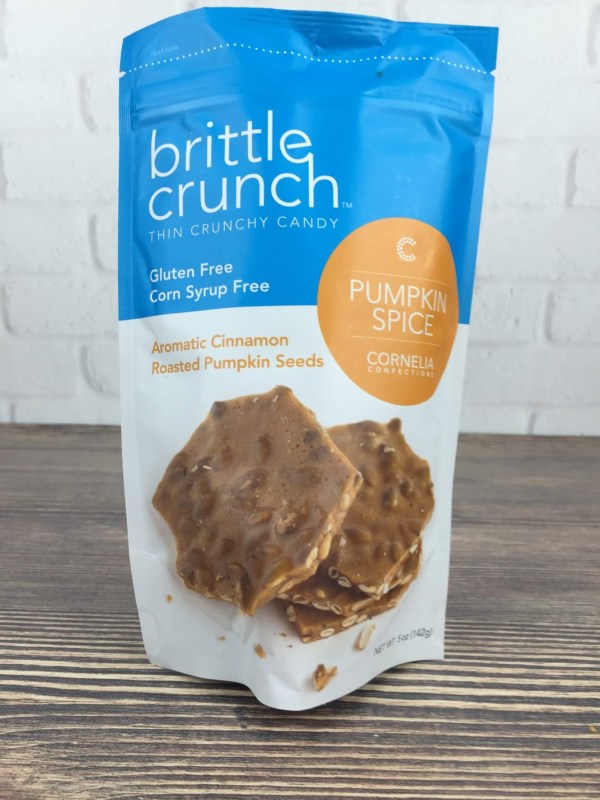 Cornelia Confections Brittle Crunch Thin Crunchy Candy ($7) This brittle crunch is a traditional brittle, except cinnamoned and with pepitas instead of peanuts!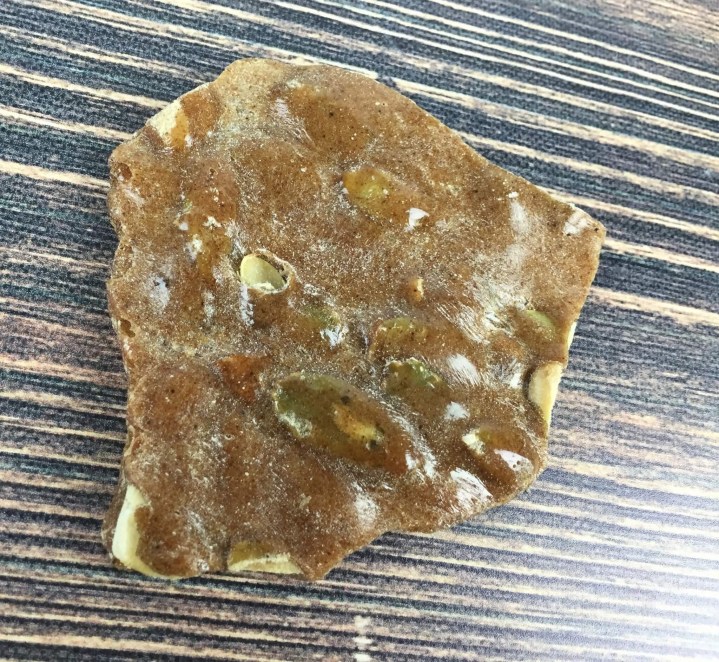 It's very tasty and was fresh and brittle, which was fantastic!
Brigid's Baked Finery Pumpkin Pizzelles ($4) I really couldn't believe that these pizelles (there are 2 in the pack) arrived totally unscathed through shipping. It was amazing.
They're super pretty, and quite tasty!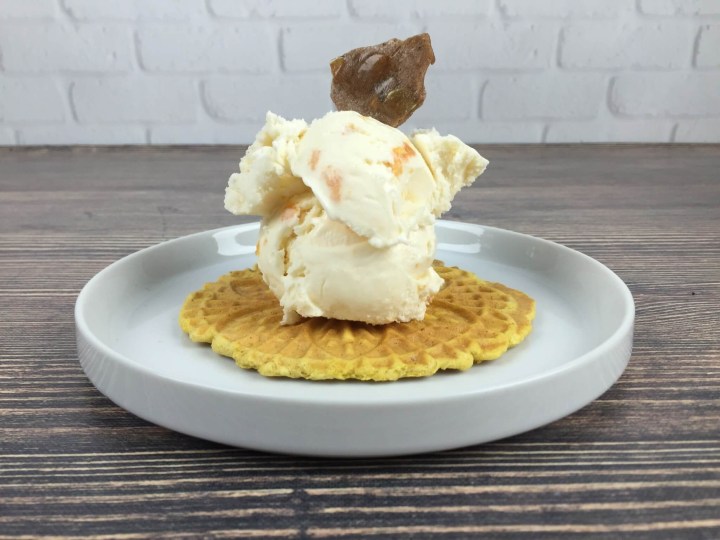 What did you make with your pizzelles? We couldn't help using one as a base for some fresh creamery peach ice cream and topping it with the brittle. What a fun and luxe dessert!
I really do love it when this box is all about the food. The items were all delicious – and really fun! There was about $29 worth of goodies in this month's Pumpkin Batch.
What did you think of this month's Pumpkin Batch?
Visit The Pumpkin Batch to subscribe or find out more!
The Subscription
:
The Pumpkin Batch
The Description
: The Pumpkin Batch offers high quality, hard to find pumpkin products year round to pumpkin lovers. Each subscription box is full of delicious flavors and sweet aromas of pumpkin and pumpkin spice. Each month receive  4 – 6+ pumpkin or pumpkin spice inspired products curated from small businesses across America.
The Price
: $24.99 per month + $5.50 shipping