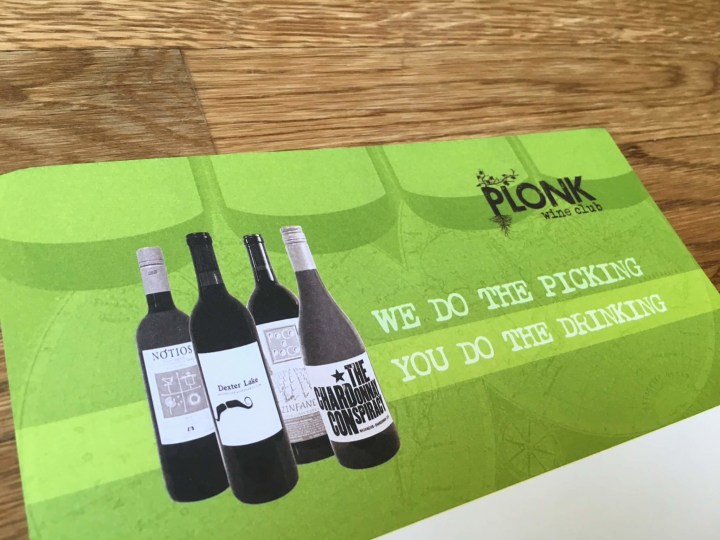 Plonk Wine Club is a wine subscription box offering 2, 4, or 12 bottles per month in either a red, white, or mixed shipment. Plonk specializes in curated artisanal, small batch, rare, and sustainably grown boutique wines.
It's August, and everyone has returned from their awesome-on-social-media vacations.  Time to get some neighbors together to drink wine on a Friday early evening.  We pretended like the humidity wasn't 98% and drank our wine with apps on the back porch while the kids played in the yard and asked for popsicles.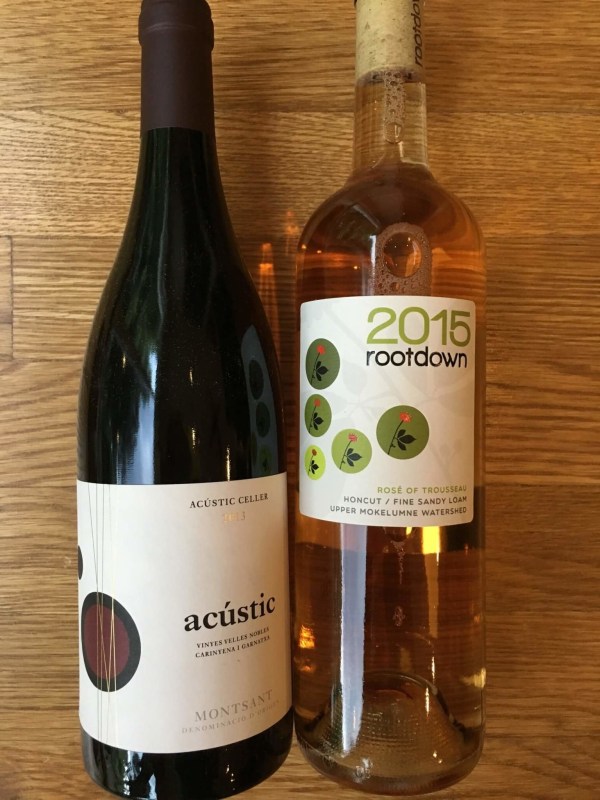 This month, I received the 2-bottle mix.   Plonk prides itself on finding small batch, organic, and other interesting wines that you might not discover on your own.  Each wine comes with informative tasting notes and recipe ideas.  Seriously, these recipes sound amazing this month.  I want to cook them someone to make them for me.  You can get full recipes at the Plonk website.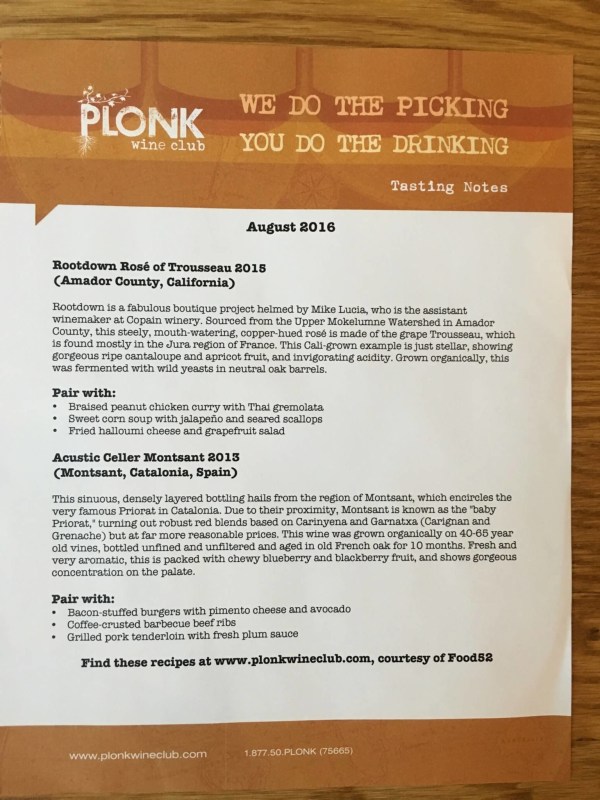 The first wine, I was happy to see, was a rosé, the 2015 Rootdown rosé of Trousseau.  I really have been loving the easy and delicious rosés this summer.
This wine is a delicate light peach in the glass.  It doesn't have much of a nose, which is pretty common with rosé.  This varietal is new to me, and I'd say this rosé is on the austere side on the pink-wine spectrum.  There is definitely a bright peachy-melony flavor to start, but it's backed by a wet stone tang that drops off quickly to a very dry finish.  I love a dry wine, so I thought this was terrific–refreshing, bright, and easy to drink.  A couple of my friends thought it was a bit light on flavor.  We drank it very cold, of course, and the flavor developed a little more roundness from the oak as it warmed up in our glasses.  It went well with the crudite and dill dip we had.  It would go with any summer fare, from fish to light pasta to chicken.  Or you could totally make this into an awesome grown-up slushie, if that's how you roll.
Our second wine was the 2013 Acustic Celler Montsant.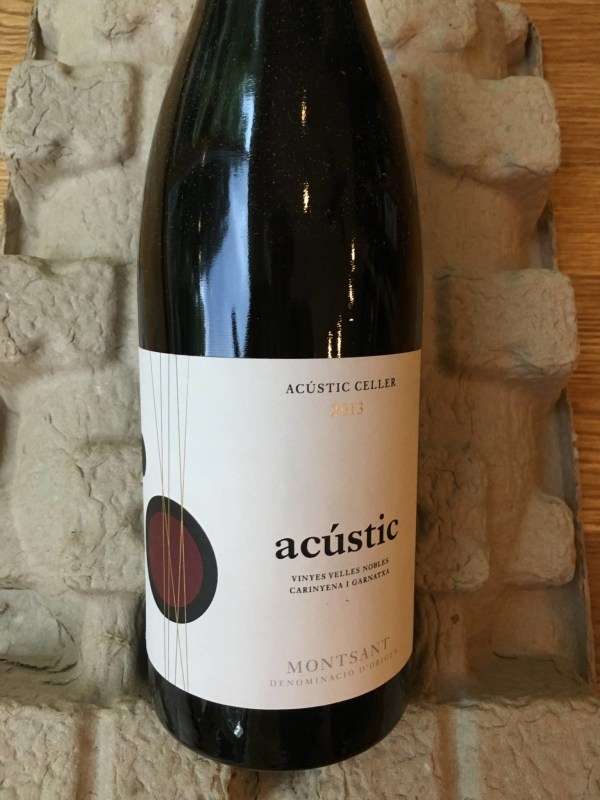 This is another great find by Plonk, a small-production Spanish winery that is turning out interesting and well-received wines.  This bottling is a mix of Carignan and Grenache grapes.  It's a nice dark berry color in the glass and has a strong nose of berry and spice.  The berry flavor carries into the wine, with hints of spiciness and a nice backbone of light tannins.  There's a bit of oak on a medium finish.  This wine has a nice heft to it, unexpectedly for its color in the glass.  This would be a terrific dinner party wine, as it would play well with just about anything you serve, from red meat to Tex Mex to chicken.  It went just fine with our boursin-and-chicken apps.  This was everyone's favorite, surprisingly, since the rosé was also popular.  We drank this off-chill but it would be fine at room temperature, as well.
And that was our August Plonk selection!  It was really outstanding!  I can't wait to see what we get next month!
What do you think about Plonk? If you want to give it a try you'll get a free bottle in your first box – use coupon code HELLOPLONK (excludes 2 bottle 3 month clubs)!
Visit Plonk Wine Club to subscribe or find out more!
The Subscription
:
Plonk Wine Club
The Description
: Plonk Wine Club is one of the top rated wine clubs of the month. Included in each subscription is 2, 4 or 12 bottles delivered to your or your gift recipient's doorstep every month. Detailed tasting notes and expert recipe pairings delivered with every wine shipment, and a Complimentary issue of Imbibe magazine.
The Price
: $50.00 per month