Paper Street Books and Comics is a bi-monthly subscription for anyone who is a fan of books, graphic novels, and other printed awesomeness. Each box has a theme and they do one-time limited edition boxes as well. Choose a book box, a comic books ($27 each) or a box with both ($43) and read your heart out!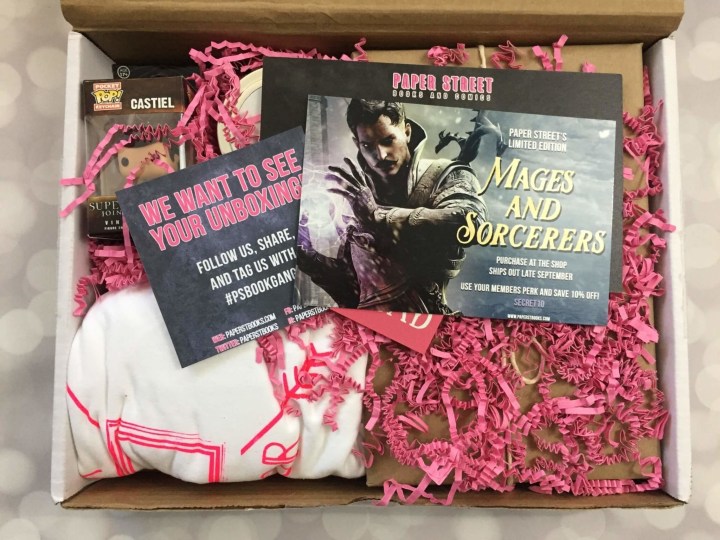 Here's the first look! Pink squiggles!
Various bits of reading before you get into the goodies — this box's theme is Mysterious, and next box will be Dead. There's a limited edition Mages and Sorcerers box on sale now!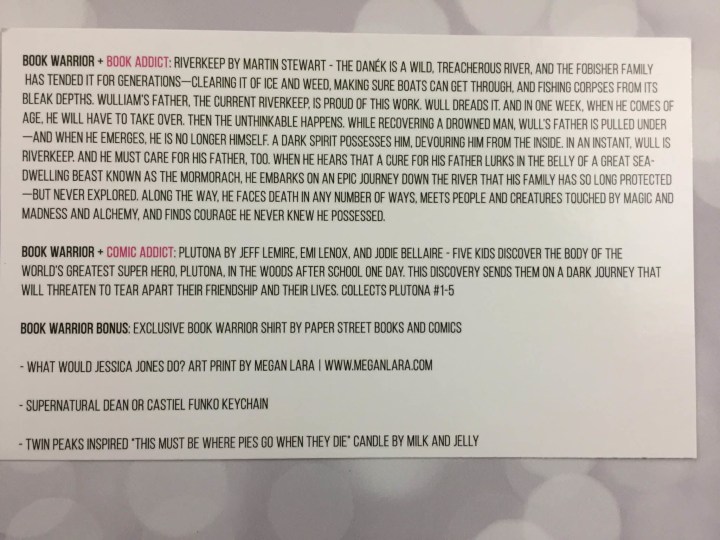 The product info card is a bit wordy, but it does the job. Since my box is the Book Warrior box, it includes both the book and the comic, as well as a bonus t-shirt!
Riverkeep by Martin Stewart ($10) Holy crap, I love this artwork. I think it's absolutely stunning. (Is there a name for art where it uses a limited colour palette?) This is definitely the sort of book I'll enjoy, based on the description.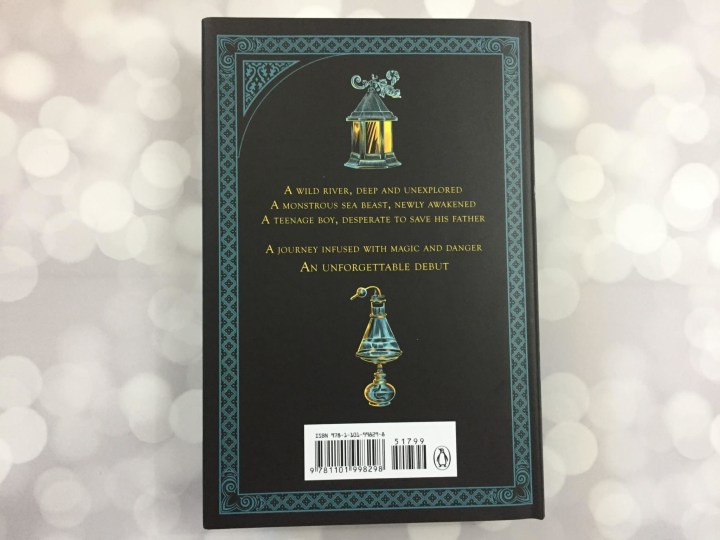 The Danék is a wild, treacherous river, and the Fobisher family has tended it for generations—clearing it of ice and weed, making sure boats can get through, and fishing corpses from its bleak depths. Wulliam's father, the current Riverkeep, is proud of this work. Wull dreads it. And in one week, when he comes of age, he will have to take over.

Then the unthinkable happens. While recovering a drowned man, Wull's father is pulled under—and when he emerges, he is no longer himself. A dark spirit possesses him, devouring him from the inside. In an instant, Wull is Riverkeep. And he must care for his father, too.

When he hears that a cure for his father lurks in the belly of a great sea-dwelling beast known as the mormorach, he embarks on an epic journey down the river that his family has so long protected—but never explored. Along the way, he faces death in any number of ways, meets people and creatures touched by magic and madness and alchemy, and finds courage he never knew he possessed.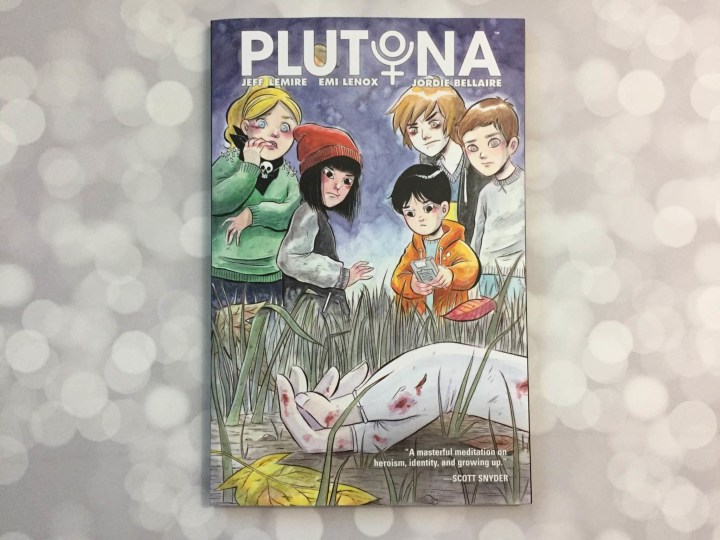 Plutonia by Jeff Lemire ($10) This graphic novel has mixed reviews on Amazon but I'm curious to give it a read. The art is giving me manga vibes, which is cool.
Five kids discover the body of the world's greatest super hero, Plutona, in the woods after school one day. This discovery sends them on a dark journey that will threaten to tear apart their friendship and their lives.
Book Warrior Tee I do love the logo of the t-shirt! It's a unisex M so it's a bit big on me but it's comfortable and cute.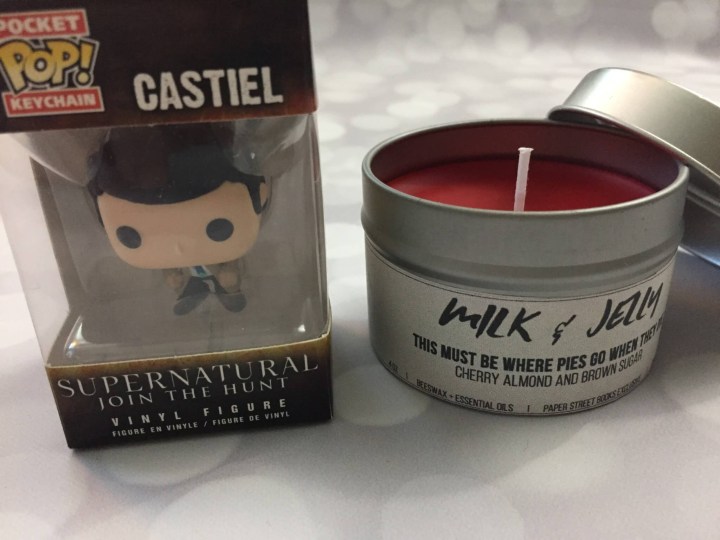 Castiel Keychain ($7) Eeee, Castiel! I don't watch Supernatural anymore (even though they film it pretty much in my backyard), but I'm a huge Castiel fan. I met Misha Collins once so I might be biased.
Milk & Jelly Candle This candle is inspired by one of the most mysterious shows of old, Twin Peaks! It smells of cherry pie, and I really like it. Milk & Jelly seems to be a new indie company and their website says they'll be opening late summer.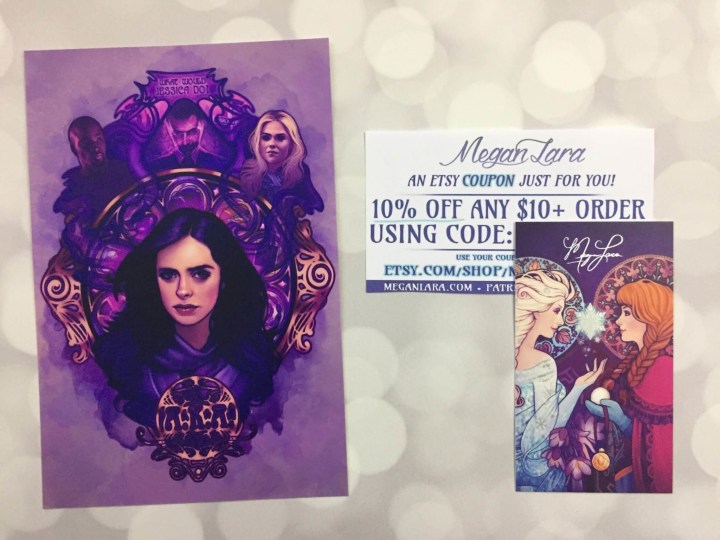 Jessica Jones print by Megan Lara This is pretty cool! Megan Lara's art is pretty famous. I especially love her art nouveau pieces. Jessica Jones was fantastic, and this art print features Jessica, Luke Cage, Trish Walker, and the purple man himself, Killgrave. (Could you be more obvious? Why not call yourself Murdercorpse?) The print is signed on the back by the artist!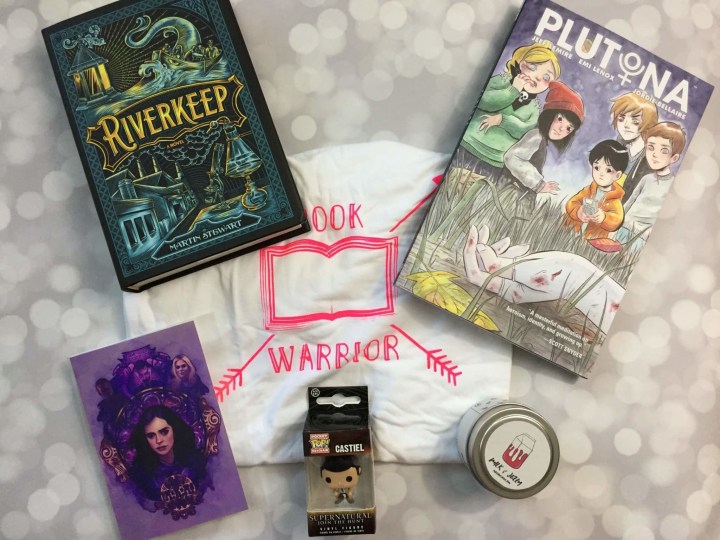 September's "Mysterious" theme was fun to unbox. I'm excited to read Riverkeep and will likely be giving Plutona a read this weekend as it looks like a quick read. The value of the box is a bit harder to calculate but I would say it comes either at or above the cost of the box, but I feel like in boxes like these the curation alone is part of the value.
What did you think of Paper Street Books and Comics' selections for August?
Visit Paper Street Books and Comics to subscribe or find out more!
The Subscription
:
Paper Street Books and Comics
The Description
: Paper Street Books and Comics is a bi-monthly subscription box that offers graphic novels, Adult/YA books, and a combination of both! each box contains a feature book, 1-3 small items based on the theme, and a bonus item for the combo box.
The Price
: $33.95 every other month