Olfactif is a monthly fragrance sampler subscription box whose mantra is
If you think you'll love a scent, try it on. If you're not sure, try it on. And if you think you'll hate it, definitely try it on. Your nose is begging you for more adventures.
Every month you'll receive 3 samples, each of which contains 15-20 applications of an independently designed perfume. Along with every $18 subscription box you receive, your account will be credited with an $18 voucher to use on fragrances from the store. Thus, if you purchase a full bottle of perfume each month, the subscription sampler is free.
Olfactif focuses on niche fragrances, unique scents produced with higher quality and harder-to-find ingredients than you would encounter in a department store. They offer both a unisex scent sampler (this one!) and a men's fragrance sampler.  You can check out our reviews of Olfactif Men here.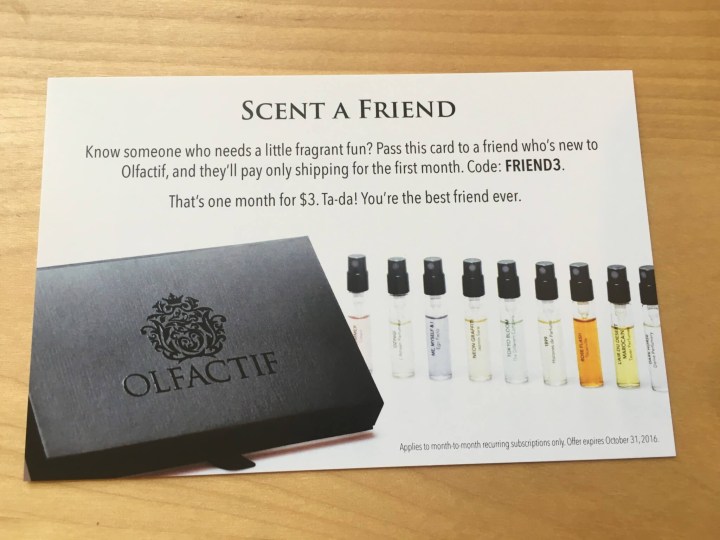 This month, Olfactif enclosed an extra card, offering first boxes for new members for $3. What a deal! Use coupon code FRIEND3!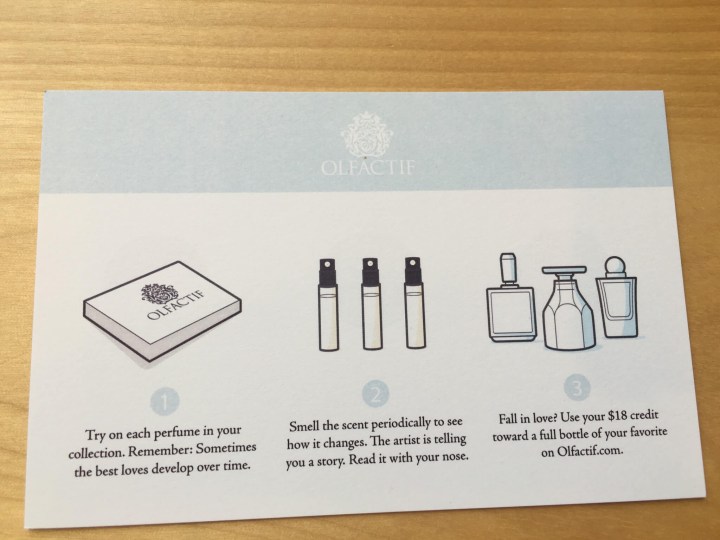 Each sampler contains a card that offers suggestions on how best to appreciate the fragrances: since scents develop over time on the body, don't just assume your first experience will be your last! Spritz the fragrance on and smell it at different times to fully appreciate all that the artist intended to express through the scent.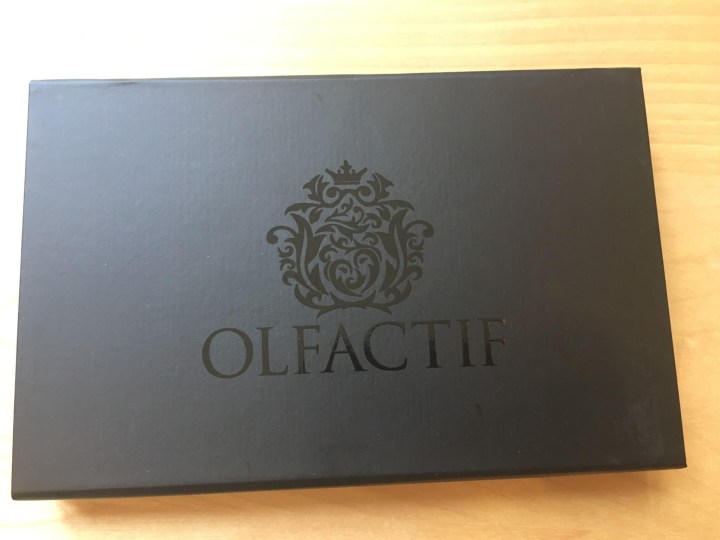 I love Olfactif's new little black box! Larger than the previous iteration, it's still sexy and intriguing all at once–just the way I hope I smell when wearing their scents! The additional space also allows them to put more information on the enclosed information card, which is great!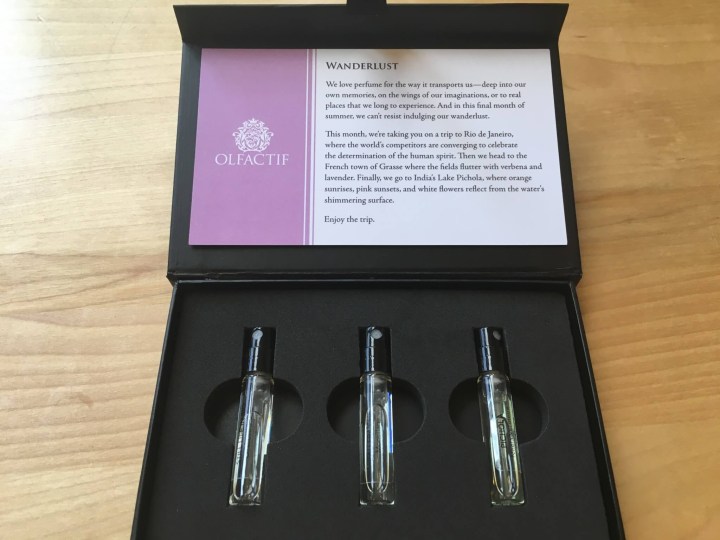 Each month, Olfactif includes an information card about the fragrances. The theme for August is Wanderlust.
We love perfume for the way it transports us–deep into our own memories, on the wings of our imaginations, or to real places that we long to experience. And in this final month of summer, we can't resist indulging our wanderlust.

This month, we're taking you on a trip to Rio de Janeiro, where the world's competitors are converging to celebrate the determination of the human spirit. Then we head to the French town of Grasse where the fields flutter with verbena and lavender. Finally, we go to India's Lake Pichola, where orange sunrises, pink sunsets, and white flowers reflect from the water's shimmering surface.

Enjoy the trip.
The information card gives the general gist of each perfume, as well as the notes.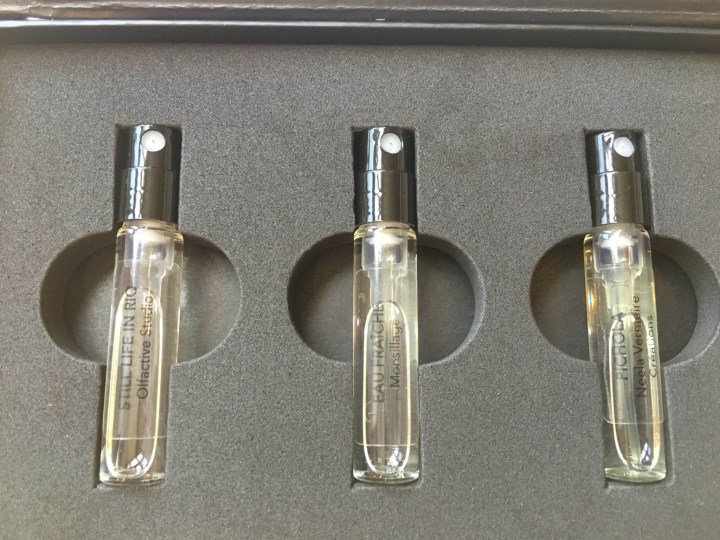 Olfactif August 2016 Wanderlust (all prices listed are for full bottles, available for purchase from Olfactif):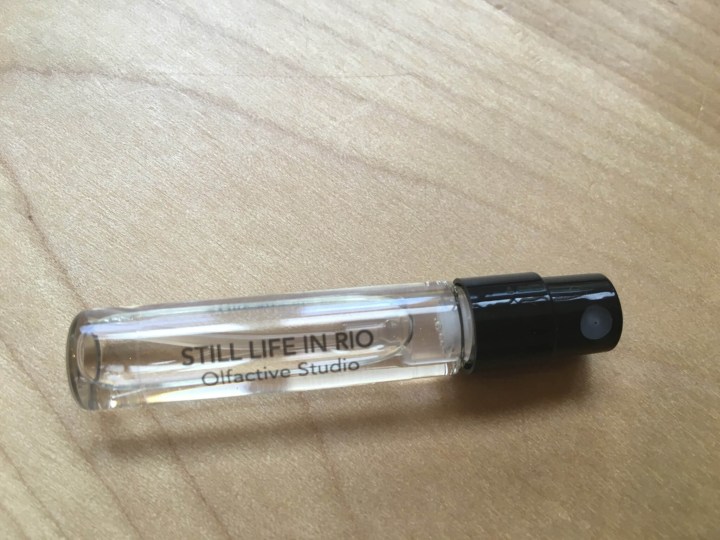 Still Life in Rio by Olfactive Studio ($195; $177 for Olfactif subscribers). Inspired by a stunning photograph of dawn in Rio, Dora Baghriche's homage to Rio is at least as magnificent as that original photograph is beautiful. In it, the initial scents of ginger, mint and mandarin quickly blossom into layers of coconut and lemon, with hints of rum. Oh how I long to visit Rio! If my take on this scent is any indication, I'm sure I'll love it there!
Eau Fraîche by Monsillage ($95; $77 for Olfactif subscribers) was created by Isabelle Michaud to capture the scents wafting through the air above wild fields in Grasse, France, at dawn. The lemon verbena is prominent, with overlays of herbs adding to the experience. I especially love the hint of lilac undergirding the scent.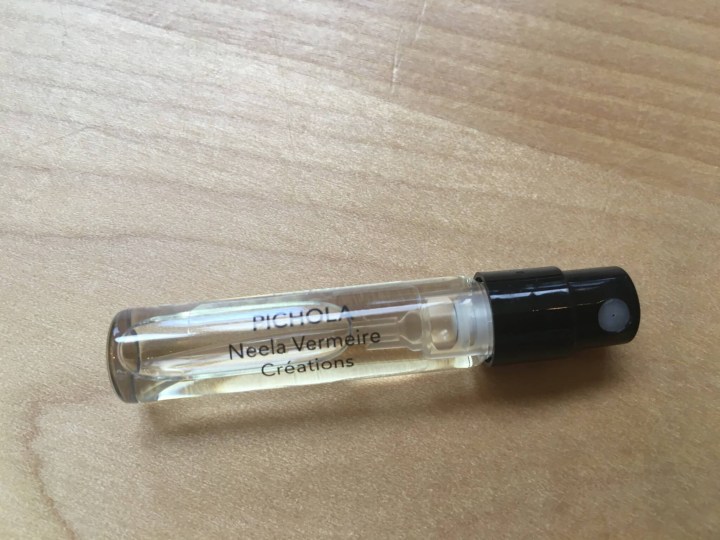 Pichola by Neela Vermeire Créations ($125; $107 for Olfactif subscribers) transports one to Lake Pichola in Udaipur, India. Evoking an array of flowers including magnolias, jasmine and rose combined with sweet citrus and hints of sweet spices, I would wear this scent happily day or night.
I absolutely loved all of this month's selections! I only wish I had more of each one (will this be the month I finally make the plunge and purchase a bottle of my own?). I haven't had so much fun sampling new perfumes in years. Thanks, Olfactif!
Have you tried Olfactif yet? Use coupon code FRIEND3 to try your first month for $3!
Visit Olfactif to subscribe or find out more!
The Subscription
:
Olfactif
The Description
: Get 3 niche, unique fragrances curated around a theme. Purchase a full bottle that month and credit your box price against the cost of the fragrance.
The Price
: $18.00 per month