Oat Box is a subscription service that delivers healthy, tasty, all natural breakfast cereals to your home each month. Each cereal is handmade in Montreal, Canada by Oat Box's in house team of chefs. Each month, you'll receive eight servings each of two different cereals, each of which reflects the current season. You can opt out without charge if the offerings don't appeal to you. If you have food allergies, just get in touch with Oat Box, and they'll be happy to substitute another cereal for you. Along with your cereals, your first month's order will also contain a glass jar that you can use to snack on your cereals on the go. Each bag should last for approximately 3 months from the date of receipt. Shipping is free in both Canada and the United States. For every box shipped, Oat Box has teamed up with the Breakfast Club of Canada to provide one meal to a child at school.
Each shipment of Oatbox arrives beautifully packaged and includes recipes that feature each month's granola selections.
August 2016's box includes Wild Blueberry and Cashew Granola, Apricot and Pecan granola and recipes that feature each of the included granolas.
I loved this month's wild blueberry and cashew granola! The cashews are candied and have a praline-like texture. The blueberries are small but delicious. With the way my kids and I have dug into this mix, it won't last long!
Oat Box included a Blueberry and Coconut Smoothie recipe that features the blueberry and cashew granola. Just looking at it, though, I can tell that while I'll drink it, I won't appreciate it as much as I would the granola on its own. This granola is too precious to lose some to an underappreciated recipe. I'm keeping it for breakfast.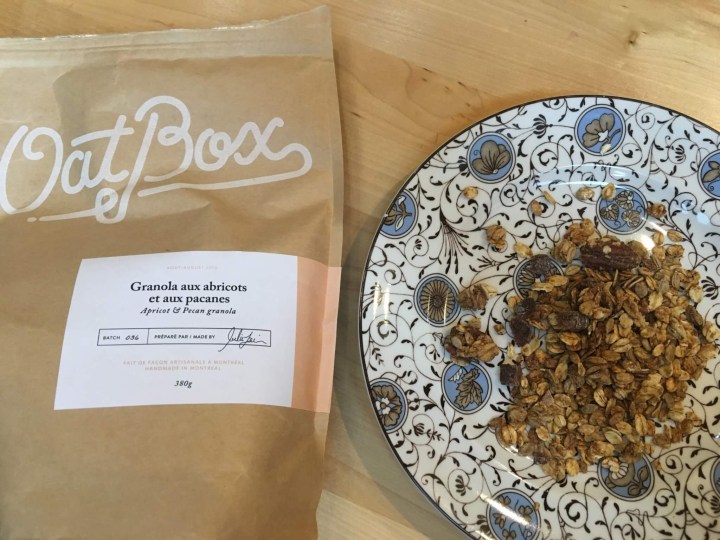 Although I liked the apricot and pecan granola a lot, it wasn't as special as the other three granolas I've received from Oat Box. Each of the components seemed to stand on its own.
The enclosed recipe looked great though! I couldn't wait to make it!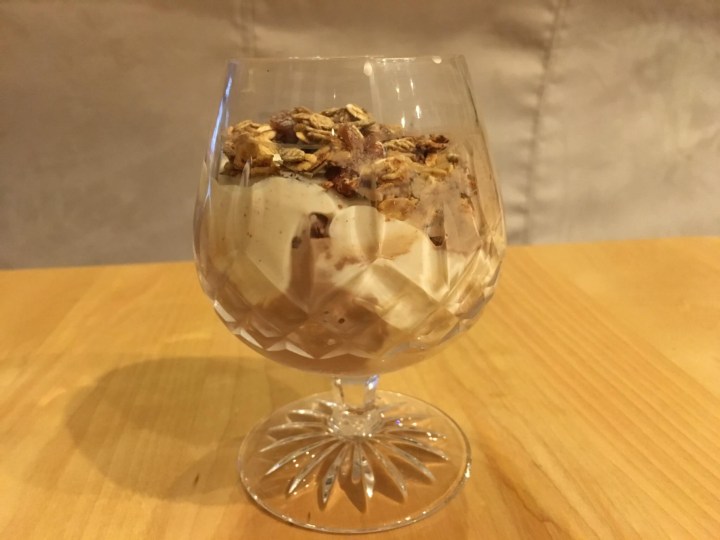 It was even better than I had hoped! The granola really blossomed here. When coupled with the chocolate ice cream and clove whipped cream, the granola took on a new life and added so much more than crunch to the dish. Not usually a huge fan of chocolate ice cream, I gobbled down this sundae!
I love this subscription! As soon as it arrived, I couldn't wait to tear open the box to taste the treats inside. Given how good the cereal is and how quickly my family has been finishing it off, I wish this were a biweekly subscription and not a monthly subscription (I guess I could always sign up for two subscriptions)!
Visit Oat Box to subscribe or find out more! You can save $5 on your first box – no coupon code required, just use this link to sign up!
The Subscription
:
Oat Box
The Description
: Oatbox breakfast cereals are made in Montreal from natural, healthy ingredients and inspired by entrepreneurs, foodies, artists, early birds and busy people.
The Price
: $20.00 per month