MISHIBOX (pronounced "me-she") is a monthly Korean beauty subscription service that sends 5-6 deluxe sized samples and full-sized products for $19.95 a month plus an additional fee for shipping depending on where you need it shipped ($3.95 to the U.S. and its territories).
My items were shipped in a pink cardboard box and were wrapped in teal tissue paper sealed with the MISHIBOX bunny logo.
The presentation was very nice and the items were wrapped in tissue paper. I love product information cards and this one gave a link where you can find a translated list of ingredients for this month's items. It also shows how to figure out manufacture and expiration dates too.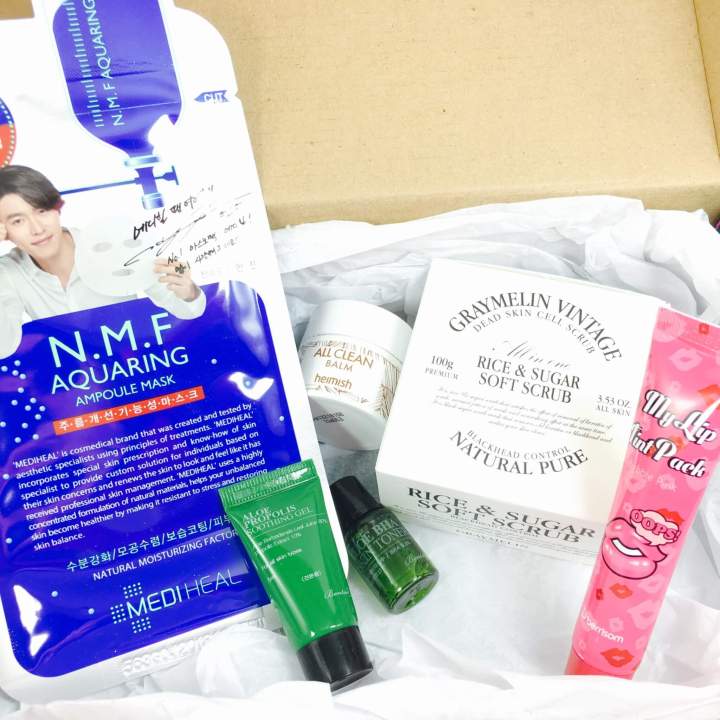 Everything in my box! I am new to the world of Korean beauty but so far I love it for the packaging alone! Korean women love dewy, glowing skin and there are a ton of products out there to help you achieve that look. There may be extra steps that we don't usually take the time for here in the U.S., but with a bit more effort we can come close!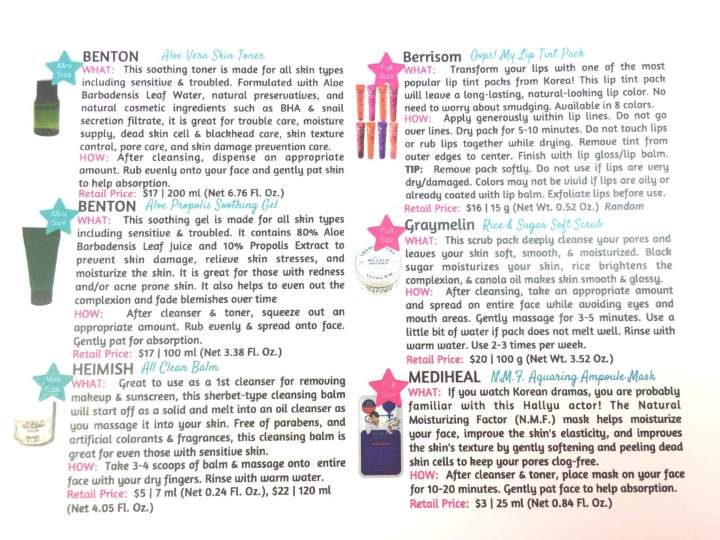 The flip side of the product info card gave instructions on how to use the products and the retail price for the full size. This is one of the most detailed product information cards I have ever seen and it is extremely helpful since most of us probably can't read the instructions on the packages. MISHIBOX doesn't customize the boxes but the items I received this month seemed pretty universal.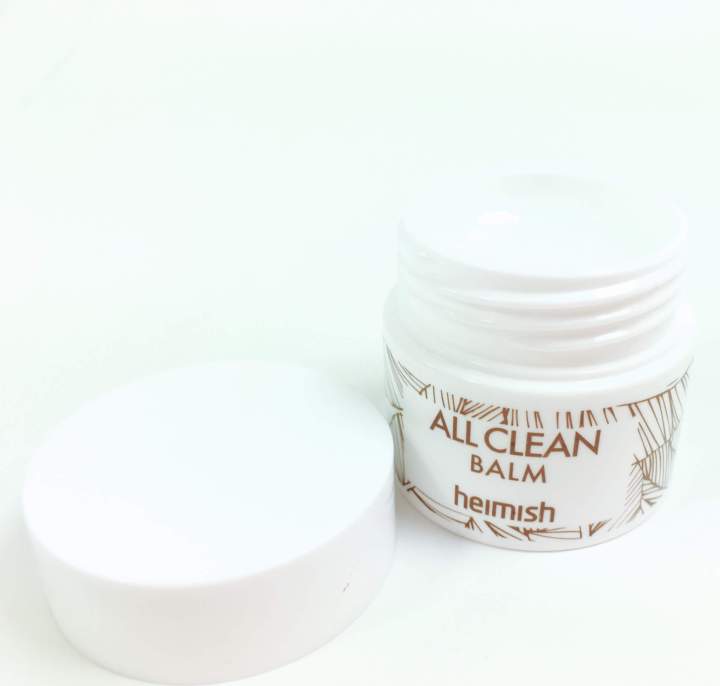 My favorite product this month has to be Heimish All Clean Balm ($5?) which has shea butter, donkey milk, and coconut extract. It starts as a solid, then liquefies to an oil as you spread it over your face. Finally, you moisten your fingers and rub again and it turns milky. Rinse everything away and take a deep breath to enjoy the botanical oils that scent this wonderful cleanser.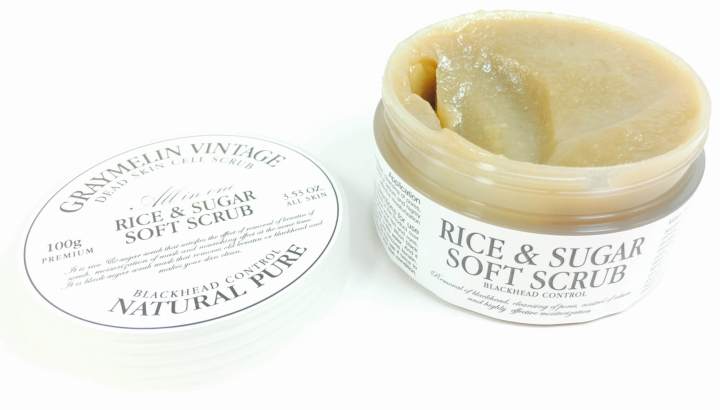 How classic is this Graymelin Vintage Rice & Sugar Soft Scrub ($32) packaging? I didn't notice any scent in this product that is designed to deeply cleanse pores and leave behind soft skin. Contains black strap molasses powder as a humectant, canola and macadamia oils for moisturizers, and rice powder for exfoliation. It left my skin soft and smooth and gently glowing but not beet red (take that, Vasanti!). Perfect for my skin!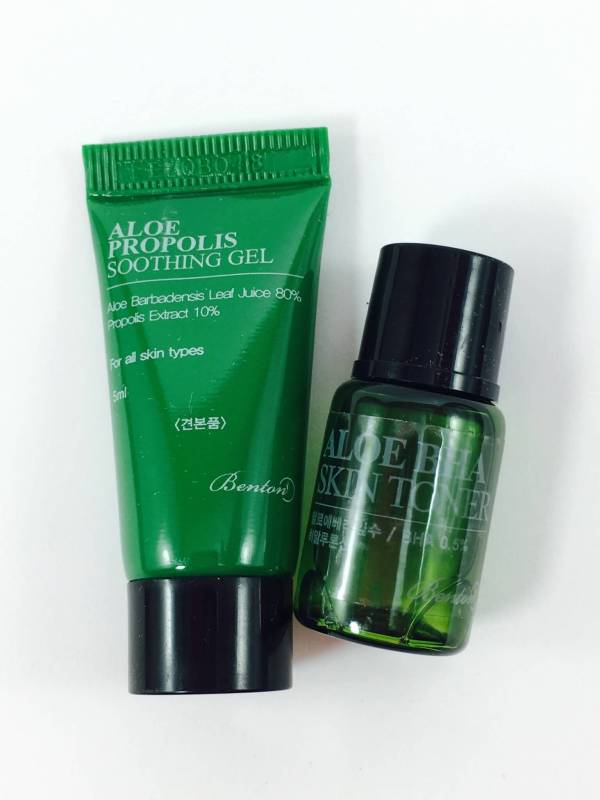 Benton Aloe Propolis Soothing Gel ($1) has aloe juice to calm the skin and propolis extract, which is antibacterial and anti-inflammatory. I didn't notice any scent and it went on smoothly. Follow with your usual moisturizer.
Benton Aloe Vera Skin Toner ($1?) is probably the first item containing snail mucous that I have (knowingly) put on my face! It also has aloe juice to soothe and salicylic acid to exfoliate and relieve redness. I didn't really notice any scent and it wasn't slimy at all.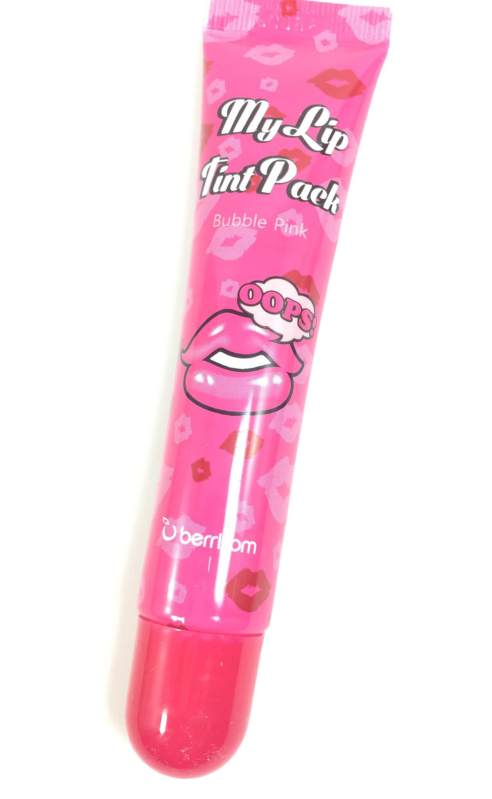 Berrisome Oops My Lip Tint Pack in Bubble Pink ($9 on sale, or $3.67 each if you buy the 6 pack) This was a fun product to try and I was pretty amazed at the results! Just apply (kind of) thickly to clean lips and let dry without rubbing them together for 5-10 minutes. Then peel off, like a scab (sorry) and abracadabra, you magically have a long-lasting lip stain that won't transfer. You can then apply a balm or gloss over top for a polished look. Make sure your lips are exfoliated or the color may be uneven and don't apply outside of your lip line unless you work at a circus and have a name like Bobo.
See, it looks and feels (and tastes) weird but it leaves a very subtle stain that lasts for several hours.

Mediheal N.M.F. Aquaring Ampoule Mask ($3) This special edition packaging features a Hallyu (Korean Wave, or pop culture) actor on the front. It is supposed to help both dry and oily skin and keep the pores clog-free.
I loved my August MISHIBOX! My box had a value of $51! This box was fun and yet at the same time it addressed several important skin care concerns. Korean skin care may be cute but at the same time it has to be hardworking since there is a lot of competition in the market. Keep in mind that K-beauty products are known to contain some rather strange ingredients (Snail slime! Donkey milk!). Having said that, I can't wait to see what will come in the next box!
What do you think of MISHIBOX? Do you have a favorite Korean skin care item?
Visit MISHIBOX to subscribe or find out more!
The Subscription
:
MISHIBOX
The Description
: MISHIBOX will send you a curated box with a combination of 4 – 6 deluxe-sized samples and full-sized Korean beauty products from a wide range of Korean brands. MISHIBOX is all about finding the best Korean beauty products for you to try from both brands that you already love and the brands that we think you will love.
The Price
: $19.95 per month