Luxe Pineapple Post is a monthly beauty subscription box that features 4 or more beauty and beauty lifestyle items a month curated around a theme. Items featured may include anything in the makeup, skin care, hair care, beauty accessory, jewelry, or clothing accessory categories and more.
Luxe Pineapple Post is $24 a month and is available in 1, 6, or 12 month options. Monthly subscriptions are billed on the 1st of the month; 6 and 12 month subscriptions will autobill after their term is up. Luxe Pineapple also has a shop where you can purchase items similar to the ones they send in their boxes and offers a rewards program on shop purchases.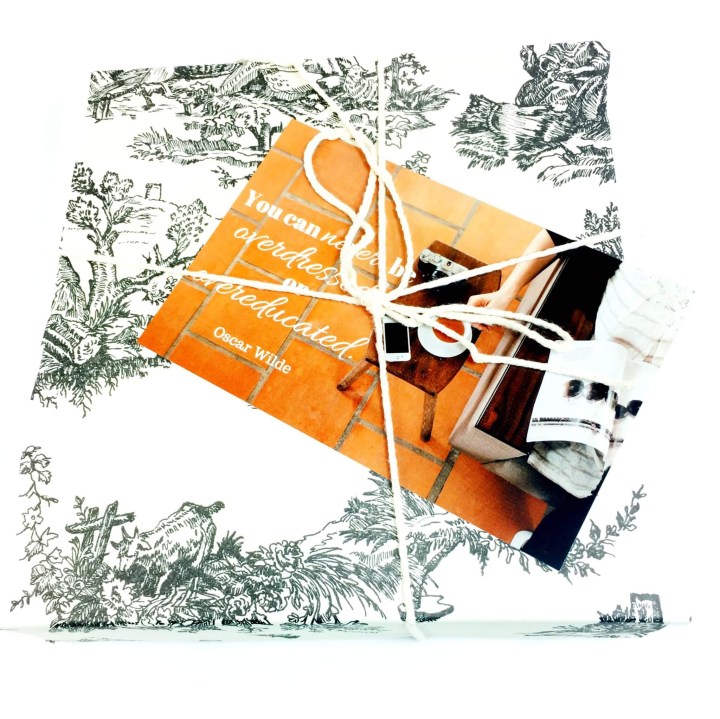 My Luxe Pineapple Post arrived in a padded envelope and contained a box wrapped in toile print tissue paper tied up in twine and had a product information sheet inside. The products inside the box were wrapped in more of this beautiful paper.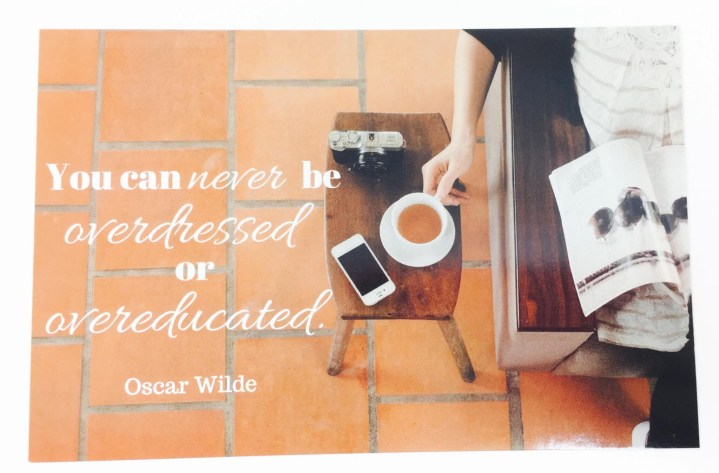 There was a card with a quote from author Oscar Wilde about the importance of being spiffy.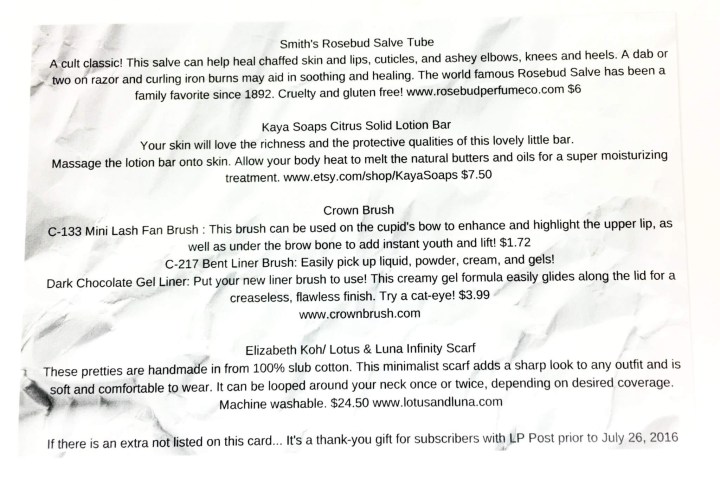 The flip-side of the card contained the product information and suggested retail price for each item along with the product's highlights and where you can purchase them online.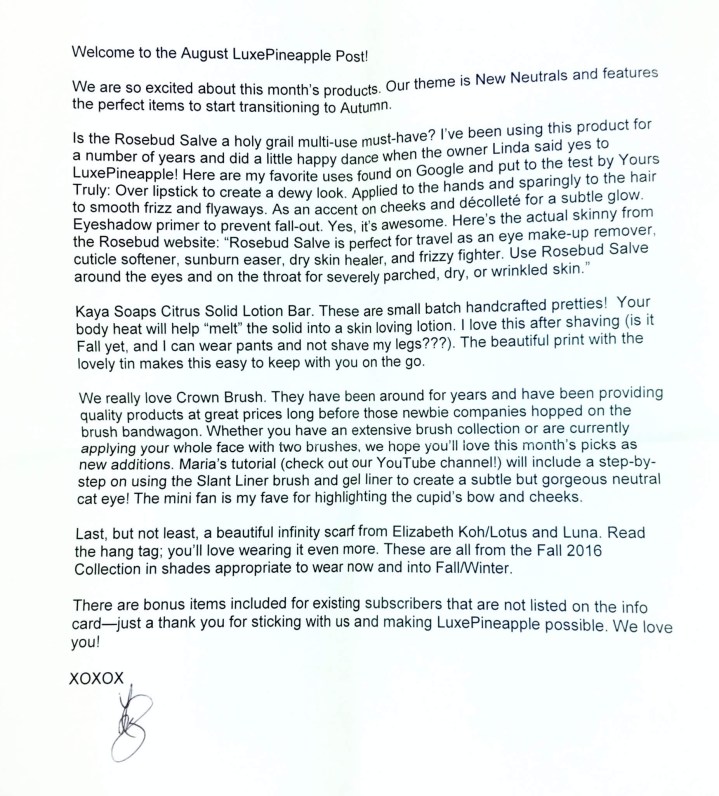 The August box included an introduction letter that explained the theme for the month and how the items in the box fit into that theme. This month's items are the "New Neutrals" and will help us transition into fall. It also gave more detailed instructions on how to use the items in the box.
I received 8 items this month! It looks like 2 of the items are bonuses for anyone who had a subscription prior to July 26, 2016.
Kaya Body Lotion Bar in Citrus ($7.50) Orange, lemon, and grapefruit oils infuse this solid moisturizing bar with a chocolate orange scent that I absolutely love! Also contains shea butter and coconut oils and goes on super smooth. This will soften not only the elbows and knees but also the cuticles, heels, and hands.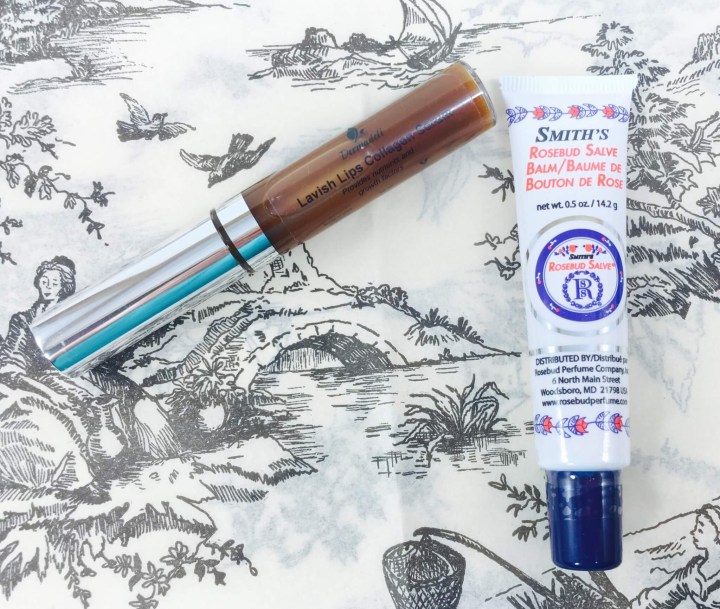 Dermadeli Lavish Lips Collagen Serum ($28.99) (Bonus Item) This was my first ever Dermadeli product and it addresses a problem that I suffer from: no lips syndrome. It contains cherry powder, lactobacillus/kelp ferment filtrate, and pomegranate juice extract. I am not sure if it is supposed to smell bad or if I just got lucky. I went ahead and applied it to my lips (which should be done twice a day) and felt a tingling sensation for just a few moments. I didn't notice any immediate change in my lips but will keep it up for a few weeks and see if it helps.
Smith's Rosebud Salve ($6) The Rosebud Perfume Co. has been around since 1892 and aims to provide multi-purpose products such as this one that can be applied to lips, elbows and knees, cuticles, diaper rash, and minor burns. Petroleum based with a scent that I will describe as "old fashioned" and that fades pretty quickly. It left my lips smooth and was still on 2 hours later.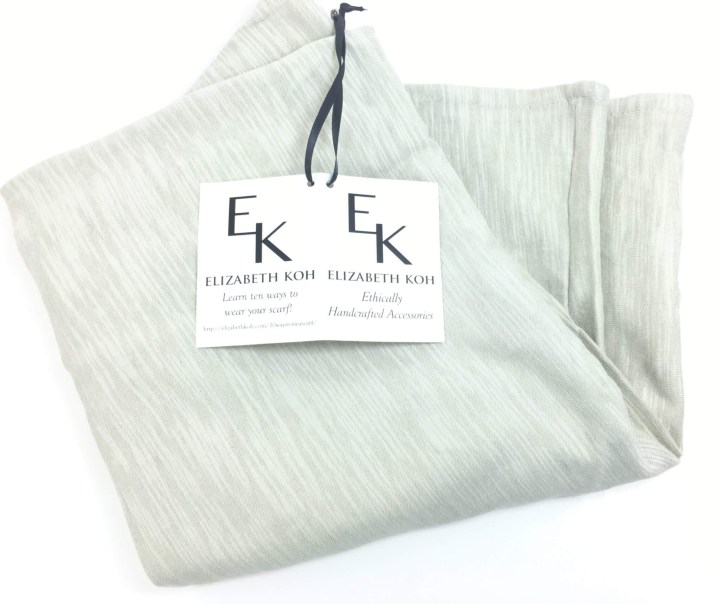 Elizabeth Koh Infinity Scarf in Rich Sand ($28) At first I thought this was a pillow case since it is the approximate size and shape but then I looked closer and discovered it is an infinity scarf. It is made out of preshrunk cotton jersey and each scarf sold helps to house homeless and abandoned children in Thailand. It is big enough to wrap around twice and will transition well into the winter.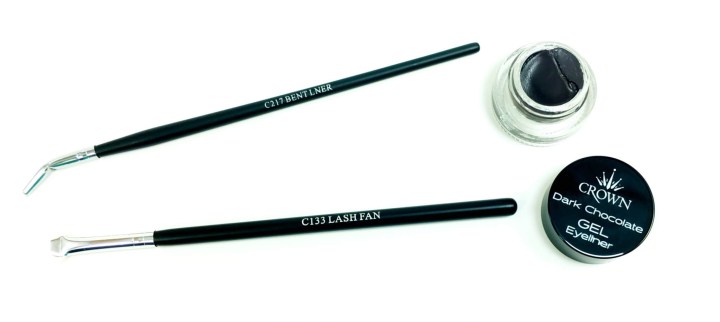 Crown Brush #C133 Mini Lash Fan Brush ($1.72) is a synthetic bristled brush that can be used to highlight the cupid's bow or under the brow bone or to wipe away shadow fall out.
Crown Brush #C217 Bent Liner Brush ($2.25) is a synthetic bristled brush that can be used to apply most liquid or powdered liners and to help you achieve a winged liner look. I thought that it worked better than any other eyeliner brush I have ever tried.
If you want to practice your wings or just achieve an everyday look then you can use Crown Brush Dark Chocolate Gel Eyeliner ($3.99). I prefer to receive brown eyeliners rather than black, which at my age is too harsh (although grey would be nice too). I found that it went on smoothly and evenly without skipping. Like any gel eyeliner you need to work quickly or it will start to dry and clump.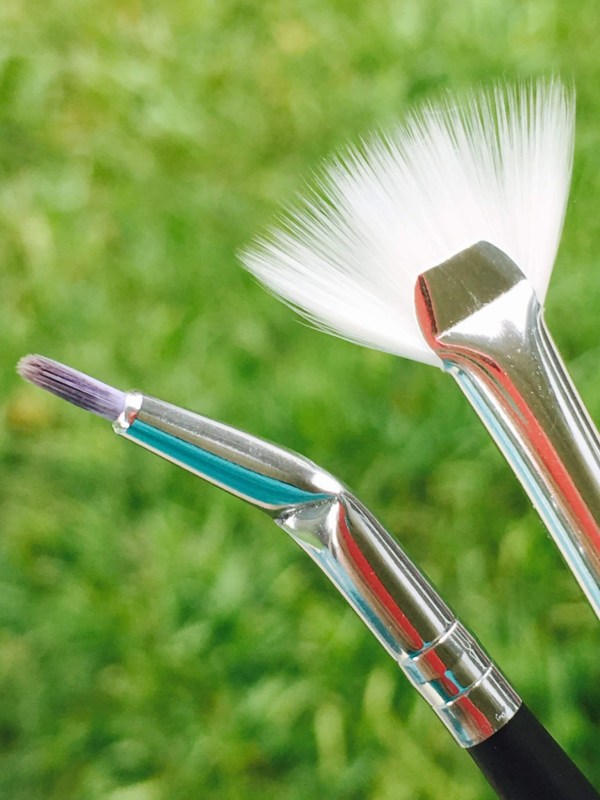 I was impressed with how well these inexpensive brushes worked!
Here is the gel eyeliner swatched (using the bent liner brush) on my arm.


Pineapple Lovely Glass Nail File ($5) (Bonus Item) I have never owned a glass nail file before and this one gets the job done with more style than my usual emery board.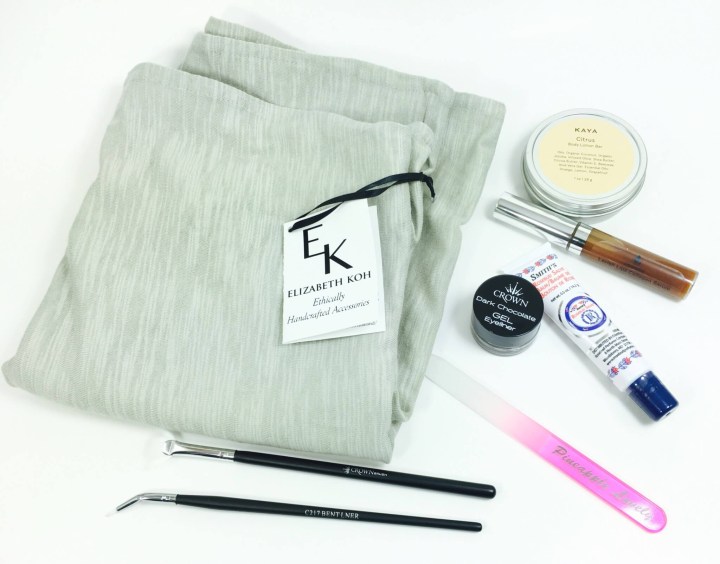 I loved my August Luxe Pineapple Post! This month's box had a value of $49.46 for the regular items and a total of $83.45 with the bonus items! The items fit perfectly with the New Neutrals theme and I feel like I can now face fall in style!
Have you tried Luxe Pineapple yet? Save $5 off your first box with coupon code HELLO5.
Visit LuxePineapple Post to subscribe or find out more!
The Subscription
:
LuxePineapple Post
The Description
: The thrill of beauty discovery brought to you monthly by LuxePineapple! Each month we'll send you 4 or more beauty and beauty lifestyle items packaged in a pretty pink box. Boxes can include anything in the makeup, skincare, hair care, beauty accessories, jewelry, clothing accessories, categories and more.
The Price
: $24.00 per month