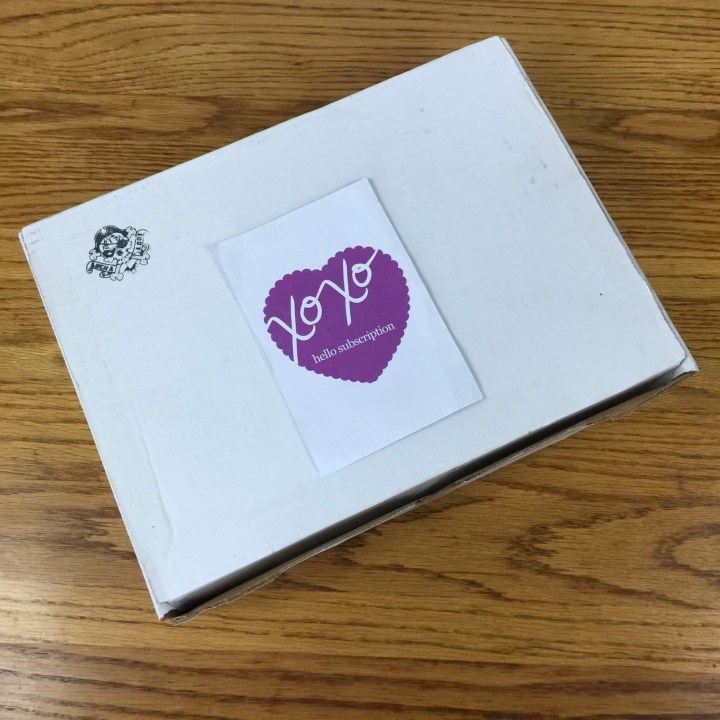 Lucha Loot is a monthly subscription box devoted to all things Lucha Libre! Lucha Loot is committed to officially licensed 100% items with lucha libre collectibles including DVDs, magazines, posters, art and more, plus lucha masks, all with royalties paid to or purchased directly from luchadores.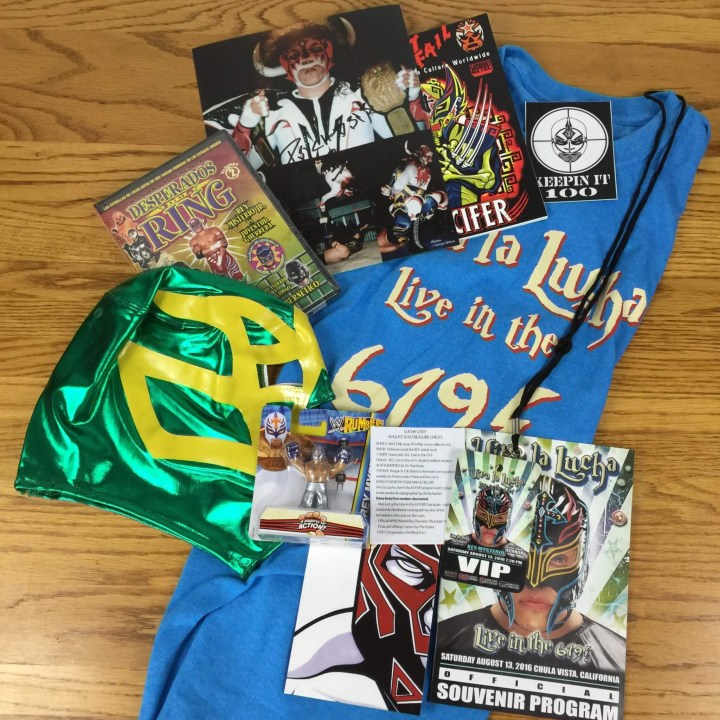 T-shirt, autographs, DVD and more.  There is a lot of loot packed into this treasure box.  There are two sizes of Lucha Loot – the Lucha Loot Standard Chest ($19.95 + $8 shipping), and the Lucha Loot Deluxe Booty Chest ($29.95 + $8 shipping). I subscribed to the Deluxe Booty chest!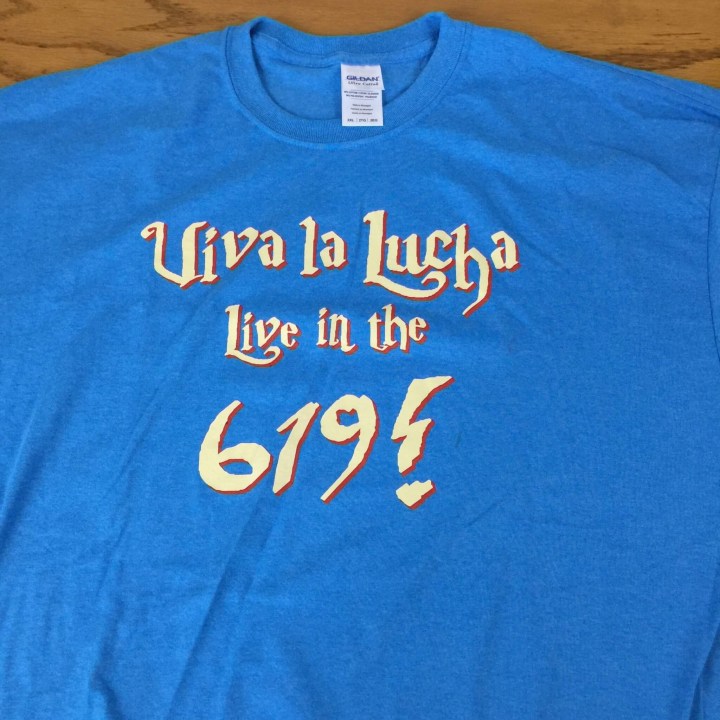 Viva La Lucha: Live in the 619! T-Shirt.  This is the t-shirt to commemorate the Lucha Libre event from August 13th, 2016.  I like that the font is reminiscent of the titles from the Harry Potter books/movies.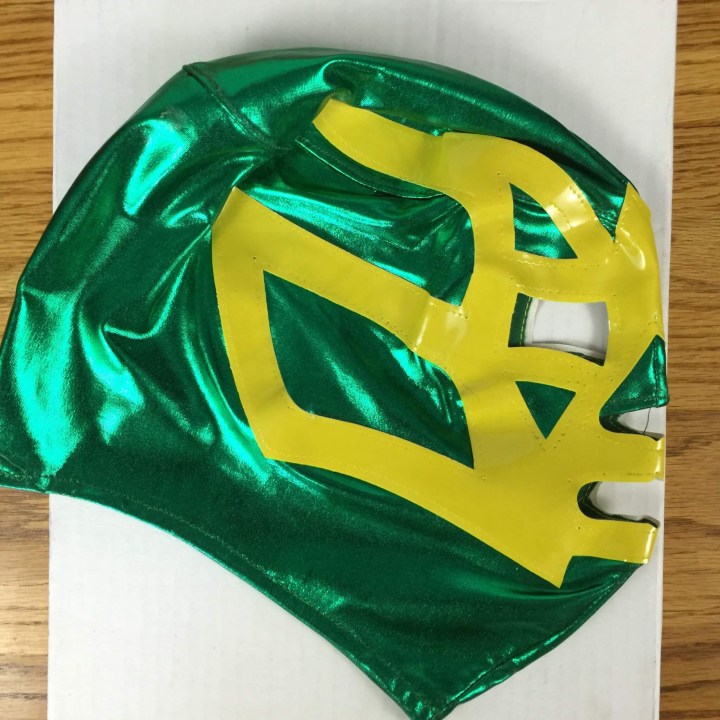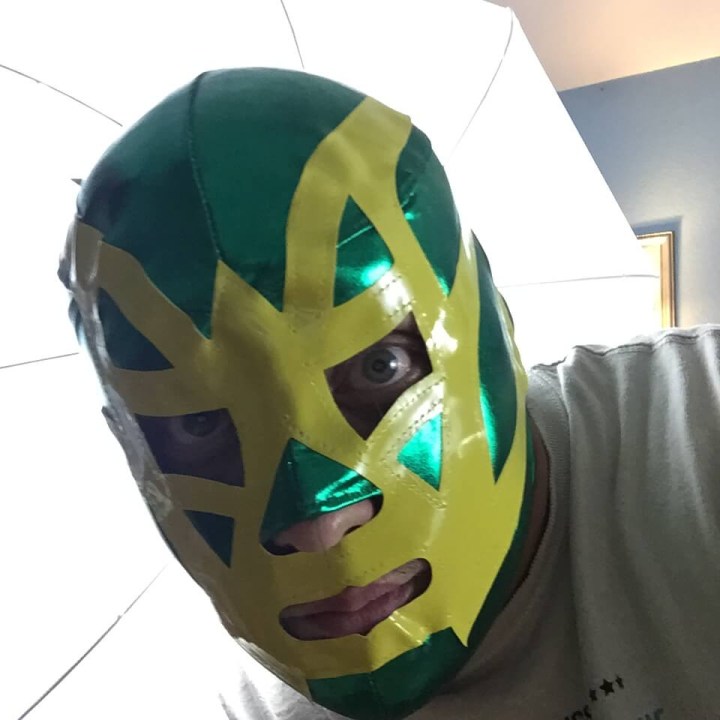 Fishman Mask.  This mask looks amazing and wears well.  The mask uses a zipper as opposed to being tied in back.  Green and gold make for an incredible looking mask to go with the ever-growing collection.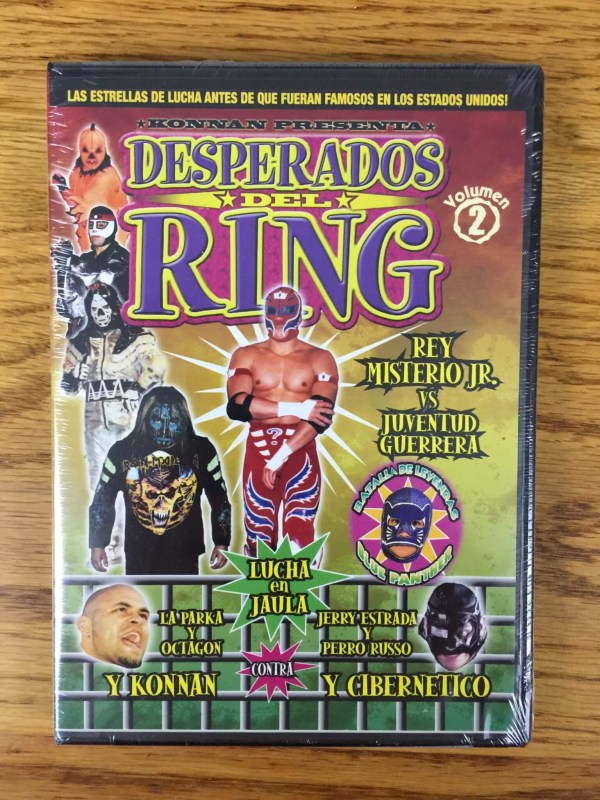 Desperados Del Ring Volume 2.  This is a super wrestling show full of some of the greatest luchadores in the world.  There are many very recognizable names within this incredible collection of Lucha Libre matches.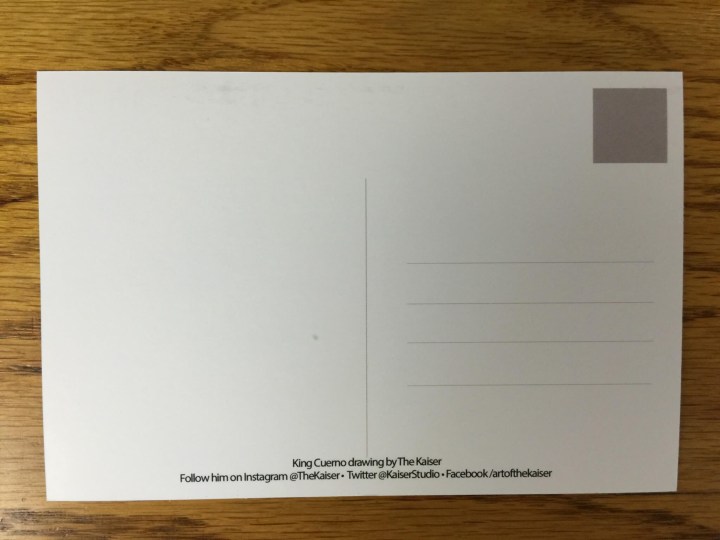 King Cuerno Postcard.  A postcard from The Kaiser, a remarkably talented artist.  Be sure to follow @KaiserStudio on Twitter to see more artwork.
Keepin' It 100 Sticker.  Long time professional wrestler Konnan now has his own podcast and this sticker is the logo for it.  I like the black and white look to it.
Rudo Can't Fail magazine.  Issue #10 has tons of news and photos from the world of Lucha Libre.  I enjoy receiving this magazine each month with Lucha Loot.  I just wish I was able to get my hands on issue #1.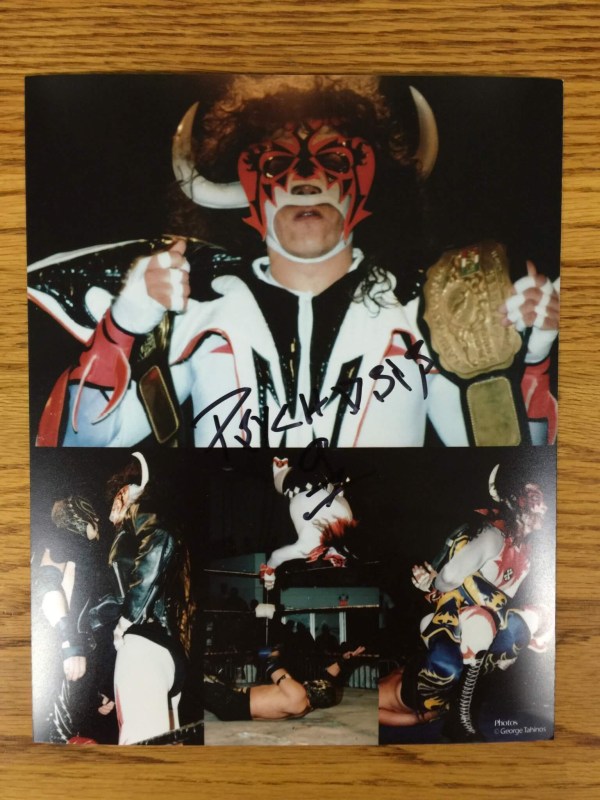 Psychosis Autographed 8×10 photo.  Lucha Loot is amazing with the way they include autographed items from some of the greatest in lucha libre today.  Psychosis has been around for a long time and really hit the mainstream back in his ECW and WCW days.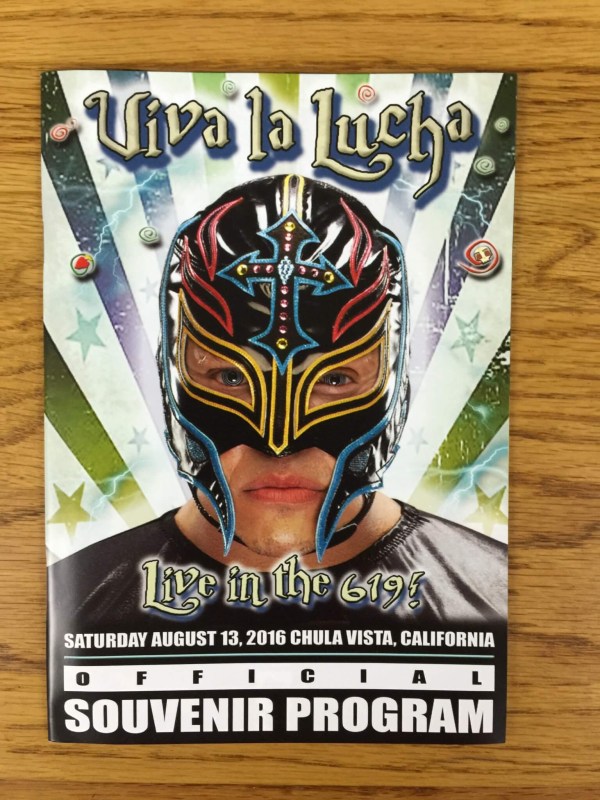 Viva La Lucha: Live in the 619! Official Souvenir Program.  This program is from the Lucha Libre event from August 13th, 2016 and is extra special since it includes an autograph inside.  Myine was autographed by Ultimo Panda.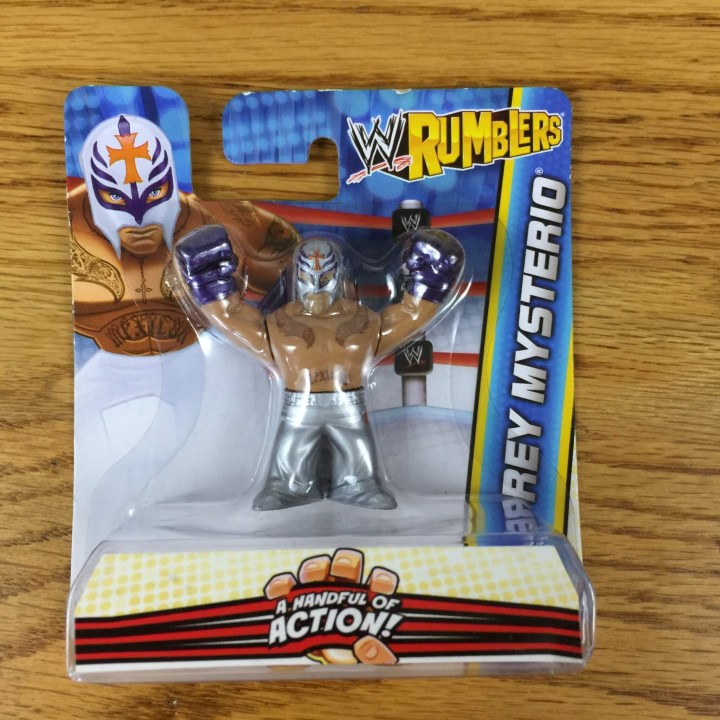 WWE Rumbler Toy from Mattel.  Rey Mysterio is the really cool looking toy with exaggerated stylish features.  It definitely goes well with the Lucha Libre collection.
VIP Pass for Viva La Lucha: Live in the 619!  I thought this was a fun item but then I was even more surprised when I turned it over and found an autograph from Psychosis!  Lucha Libre did it up big this month with 3 autographs!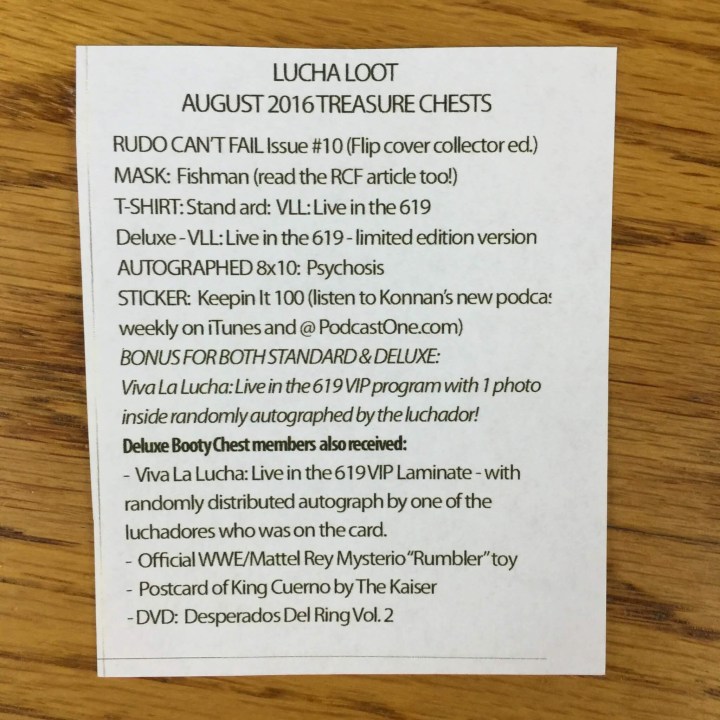 Lucha Loot Description List.  A nice and concise list of everything packed inside this extraordinary subscription box.  I look forward to seeing what's in these boxes every month!
This is easily one of my favorite subscription boxes.  There is a nice variety of items which is something I definitely love about this box.  I'm looking forward to seeing what Lucha Loot has in store for the upcoming months!
Visit LuchaLoot to subscribe or find out more! Save 10% on your first box! Use coupon code TRYLL.
The Subscription
:
LuchaLoot
The Description
: Lucha Loot is the first monthly subscription lucha libre themed "blind box." Every month we curate a new box full of lucha libre related treasures – guaranteed to include an adult "commercial" mask, t-shirt and the latest issue of Rudo Can't Fail, a new English language lucha libre zine – PLUS bonus goodies, many exclusive to Lucha Loot.
The Price
: $19.95 per month