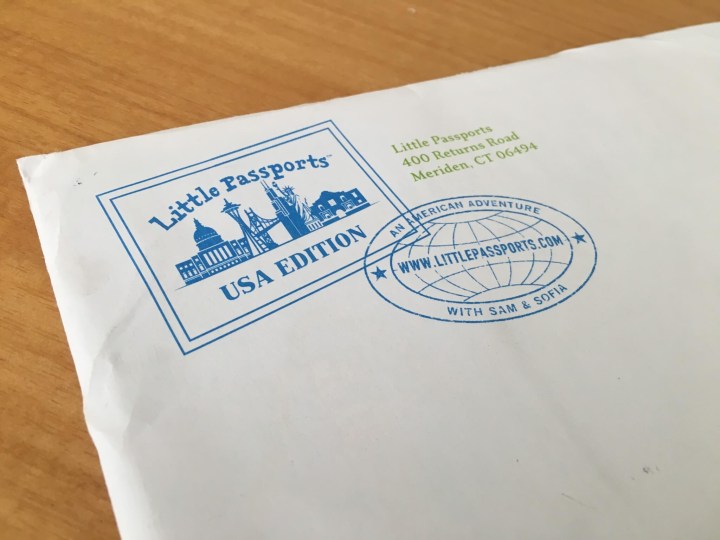 Little Passports (USA Edition) is a kids' educational subscription with crafts and fun activities about the fifty states.  This box is designed for children 7-12, but any bright kid 5+ would like it. Your kids will learn about the geography and culture of the United States with the USA Edition.
This month, Sofia and Sam visit New Jersey and Montana.  The box contains a cute double-sided activity book, postcards from each state, stickers for your field guide, and two stand-up models.
The postcards, stickers, and models are brightly colored and fun.  If you were stuck on a bridge in New Jersey but wanted to be home on the range, you could fold your postcard into a paper airplane and fling it toward the mainland in the hopes of eventual rescue.
The stickers are for the Field Guide (you DID save the Field Guide, right?) and cover the state bird and flower and so on.  There are even "pushpin" stickers to mark the map poster (which you also saved?).  Nice, quality stickers.  New Jersey decided to go non-specific on its state animal.
The models are punch-out coated paper and this month made very tall and obsolete brick smokestack and a funny pushcar that people theoretically take on the boardwalk.  My 9-year-old was super unimpressed with the fold-and-tape construction this month.  She had to re-engineer the boardwalk car to stand up independently, and the smokestack is just a rolled up paper on a base.  Better luck next month, hopefully.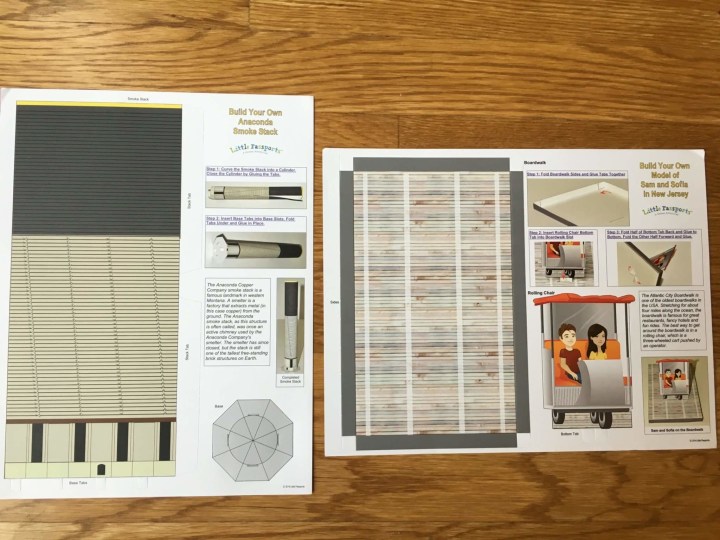 The activity book flips over and upside down to cover both New Jersey and Montana.  It's a glossy, colorful, 32-page activity book with fun facts and games about the states.
Everything I know about New Jersey comes from Judy Blume novels, so I actually learned some things this month.  Some of the highlights of New Jersey include Sam and Sofia's note and map, evil sticky sand that you should definitely not let your kids make unless you live outside, a decent connect the dots activity, phonograph science, a matching game, and a recipe for salt water taffy that I think I've been talked into making, since I did not allow the sticky sand.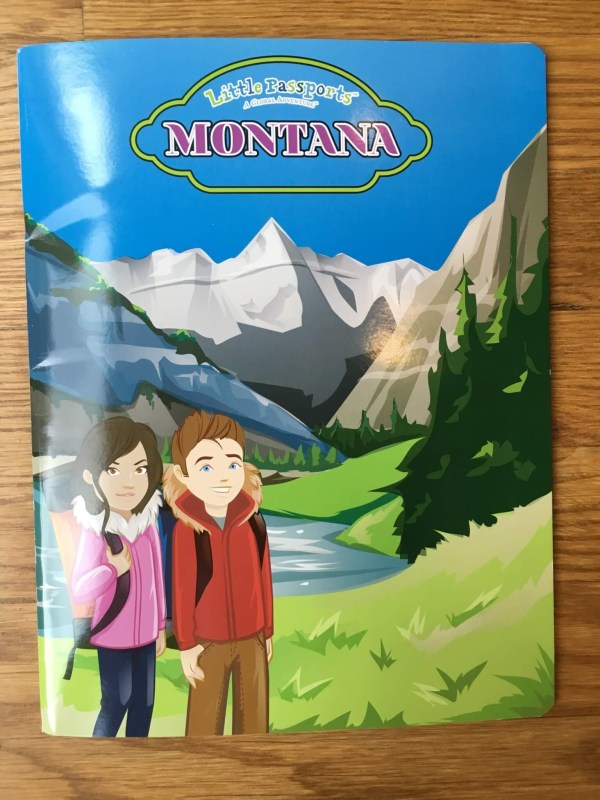 On to Montana, which looks pretty gorgeous, if you ask me.  Highlights of Montana include the letter and map, a not-too-hard logic game, DINOSAURS, and two fun science experiments.
Another quality box!  The activities are fun and age-appropriate, and they do a good job highlighting some interesting aspects of the states.  Nonreaders will need help but older kids can do everything on their own.  We can't wait to see where they go next month!
This would be a great grandparent or aunt/uncle gift, or a supplement to a homeschool curriculum, especially ahead of a roadtrip or visit to another part of the country.
Save $15 on annual subscriptions! Use coupon code WELCOME15.