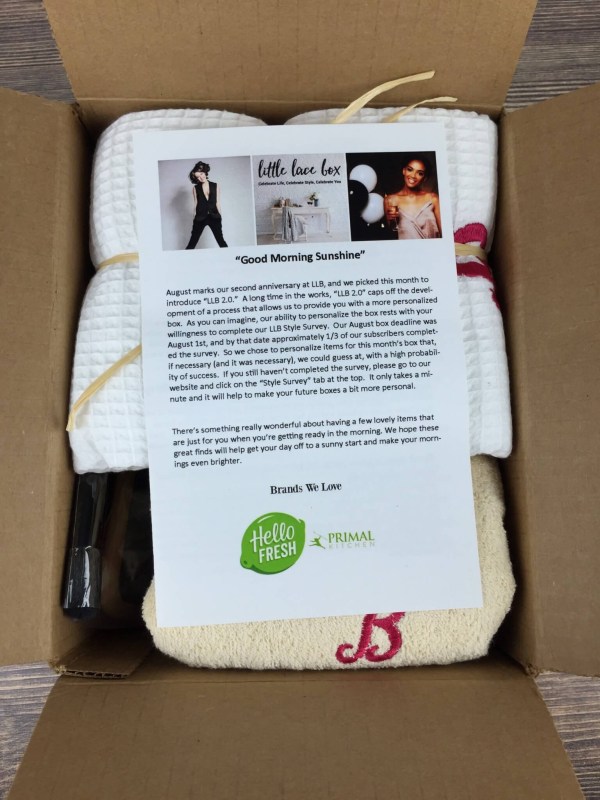 Little Lace Box is a fun and unique bimonthly subscription box for women.  Every box is curated around a unique theme and contains beauty, lifestyle, and home products that you will love! It's one of my favorite boxes because it's so themed – it's like getting an experience in a box. I feel challenged to live up to the expectations of my LLB boxes, if that makes any sense. They also have the inexpensive Serendipity by LLB, meant to come in the interstitial months, which is available for $12.99 bimonthly, but we recommend an annual plan because you save $3 every month!
The letter on the top details LLB 2.0 – now that Little Lace box is 2 years old (I can't even believe it!) they're moving to more personalized boxes. When you sign up you'll have the opportunity to fill out a quite detailed style survey!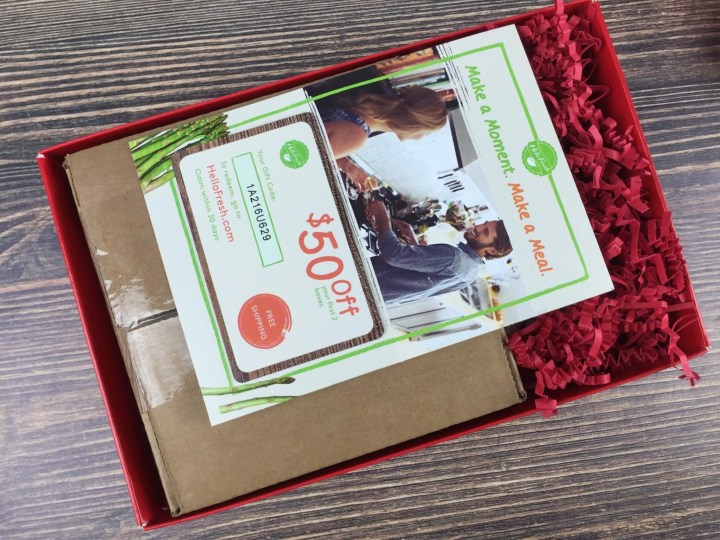 Little Lace Box is having a great deal on their subscriptions with free gifts included on 3- and 6-box plans – see the bottom of this post for details!
A Hello Fresh deal was included: $50 Discount on your First two Boxes! Use coupon code  AUG50HF. Valid for new customers only. Classic, Veggie or Family Box. Expires 08-31-2016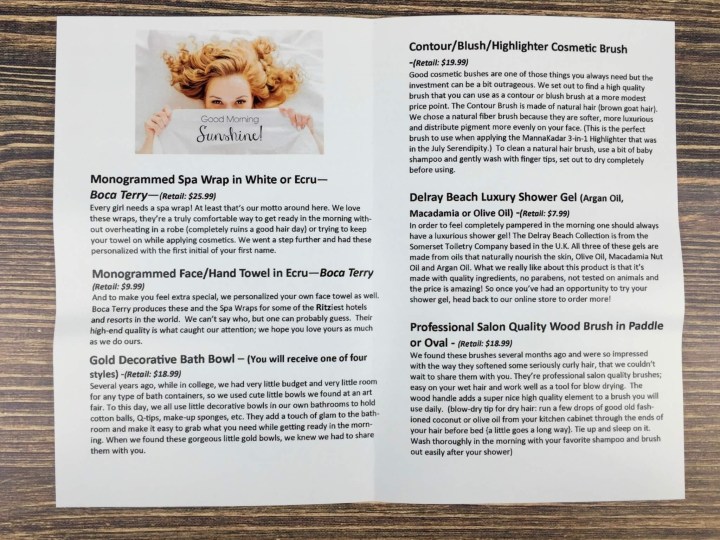 The theme for the August box was Good Morning Sunshine!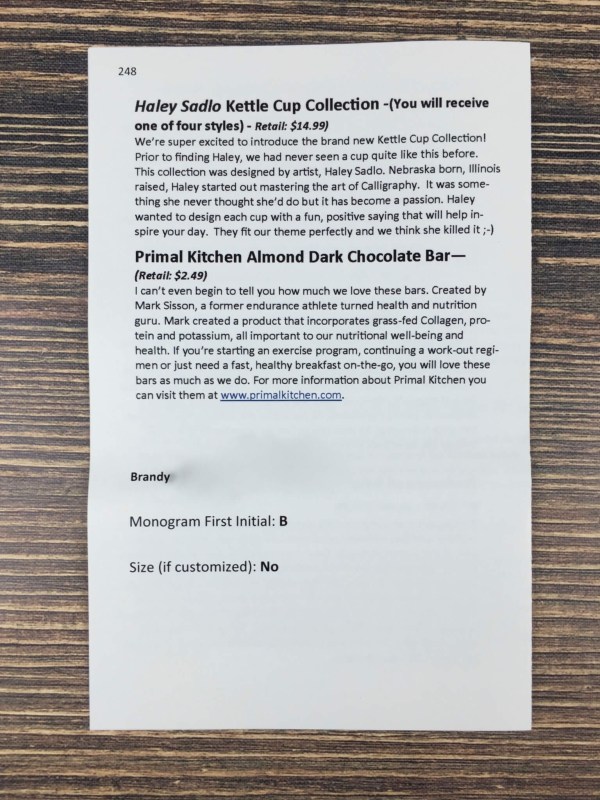 The booklet gives the details on all of the items.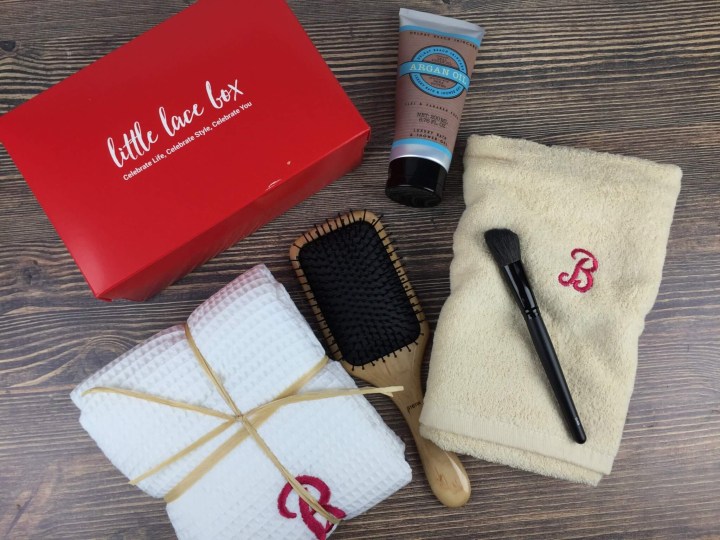 There was so much stuff this month not everything fit in the red Little Lace Box!
Everything in the August box!
Professional Salon Quality Wood Brush in Paddle Style ($18.99) Some subscribers received an oval brush. This is a really nice brush and it goes straight to the kid – I just chopped off all my hair to right below my ears!
Contour /Blush/Highlighter Brush ($19.99) This brown goat hair brush uses natural hair to distribute pigment more evenly.
I agree with LLB's note that quality brushes can be outrageously priced – it's always nice to get one in a box. Perfect to use for contouring & highlighting.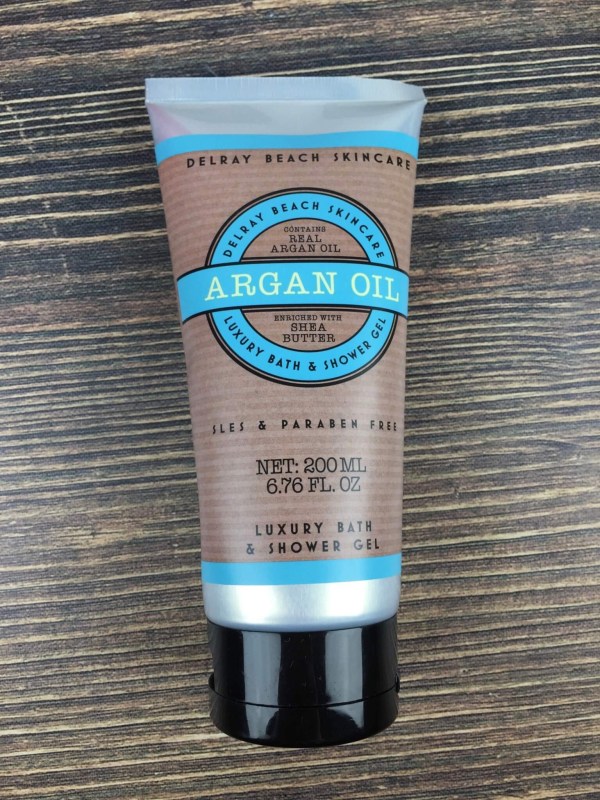 Delray Beach Skincare Argan Oil Luxury Shower Gel ($7.99) I received Argan oil – olive and macadamia nut were also sent out! The natural oils in all 3 help moisturize your skin, and this gel is made without parabens or SLE!
Gold Decorative Bath Bowl  ($18.99) Subscribers received one of four designs – mine was a quatrefoil style design and it's super pretty!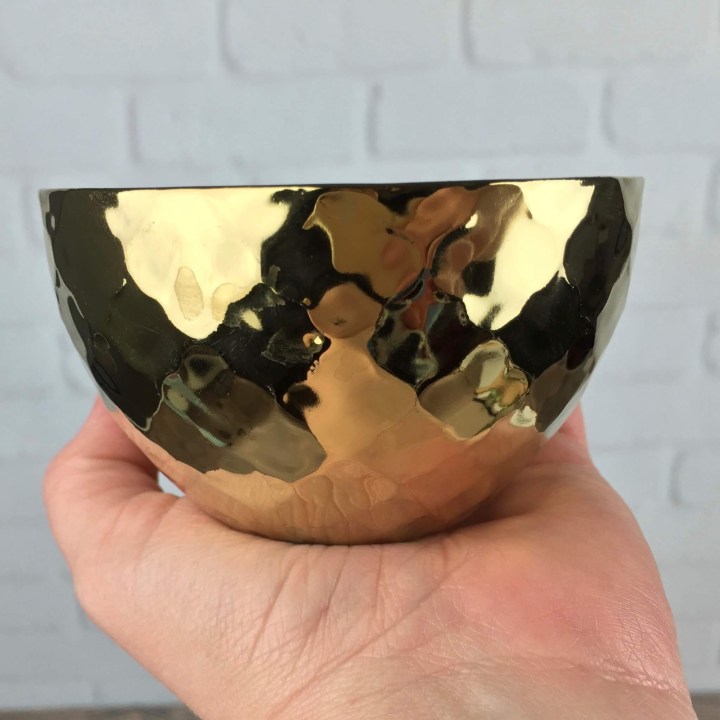 This bowl is perfect for bringing some shine to your boudoir or bathroom, and for collecting all those little bits that would otherwise stay on your counter, with a lot of style!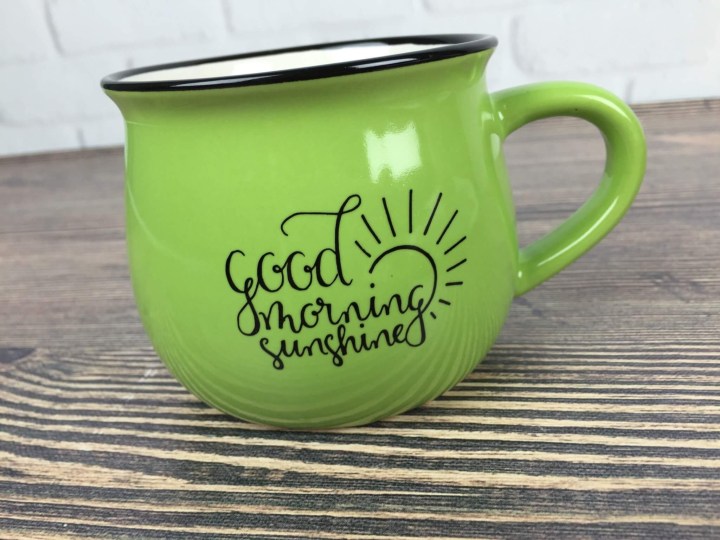 Haley Sadlo Kettle Cup Collection ($14.99). This one says:  Good Morning Sunshine! Subscribers also received one of four designs. This one is so bright and cheery and matches my daughter's personality so well that she's getting it as a back to school gift on Monday. Perfect for morning oatmeal with a nice wide area for her toppings!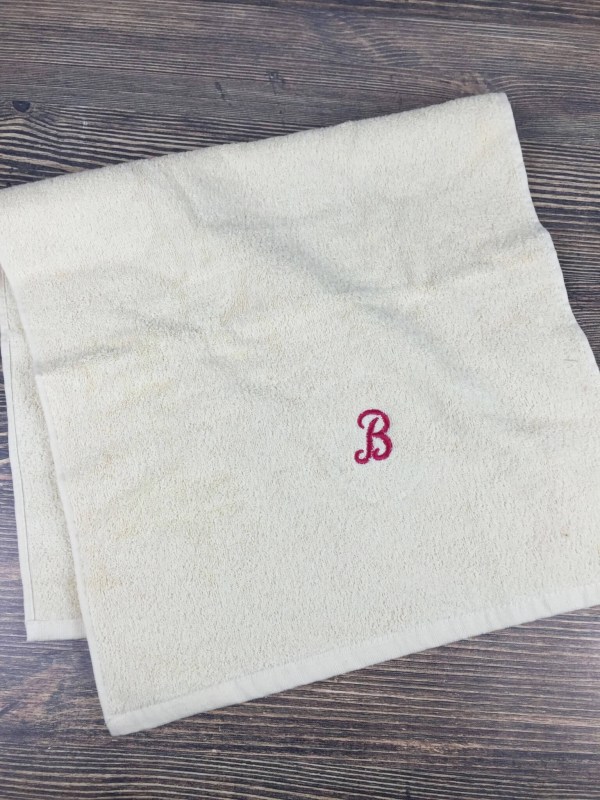 Boca Terry Monogrammed Hand Towel In Ecru ($9.99) Boca Terry produces the towels for "the Ritziest hotels and resorts in the world" and it's soft enough that you can guess what that is!
I admit – I don't love the ecru, although it's probably more practical than white for washing your face.  I wished this matched the wrap – but since only Ecru was sent out for the towel, I'm happy to have received the wrap in white!
I will probably use this as my car towel! (what, you don't have a car towel? I must have car towels – and yes, they're usually monogrammed so nobody gets mixed up!)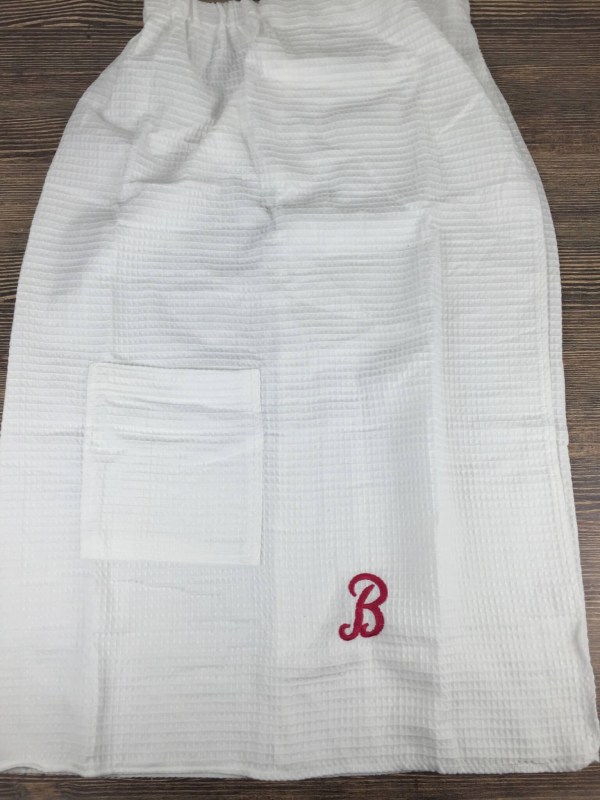 Boca Terry Monogrammed Spa Wrap In White ($25.99) This is a great wrap – and honestly perfect for after drying off and putting on makeup. I'm a hot mess when I get it all on, and this helps protect everything. It also has a cute pocket!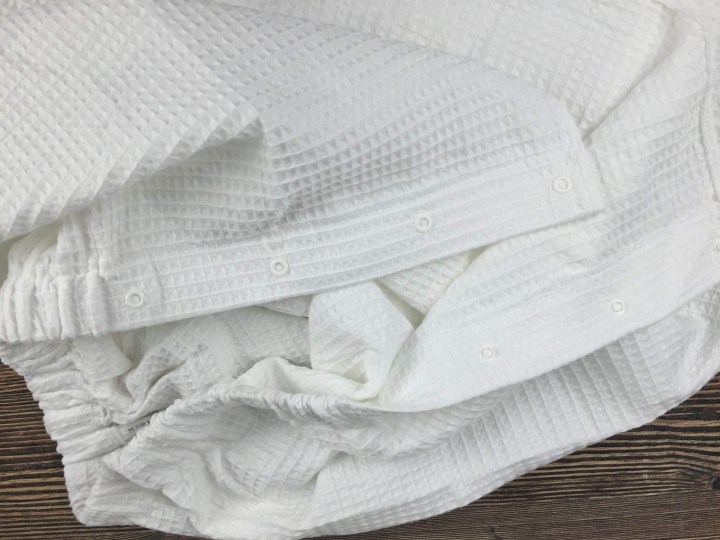 The wrap is super adjustable with elastic and 4 plastic snaps – it will fit a wide range of body sizes. Kudos Little Lace Box!
Primal Kitchen Dark Chocolate Almond Bar ($2.49) Protein + collagen + chocolate! This bar got a little melty in transit. I tried this the other month in an Urthbox and wasn't a fan (it's totally psychological). It's husband approved though, so it ends up in his pile!
I thought this box was pretty fantastically curated, and it had nearly $120 in value packed in. I loved how this box included necessary items that we often forget to update or improve (blush brush, hair brush), along with some great morning luxuries like the bowl and wrap!
What do you think about Little Lace Box this month?
Don't forget to use these coupons if you'd like to subscribe!
Save $20 on an annual subscription (6 boxes). Use coupon code  HELLO20.
 Save $15 on an 6 month subscription (3 boxes). Use coupon code  HELLO15.
Just want to try one box? Take $10 off your first box. Use coupon code  HELLO10.
Visit Little Lace Box to find out more or to subscribe!
The Subscription: Little Lace Box
The Description: Get hand-curated, nearly impossible-to-find designer products directly to your doorstep every month. Your monthly box will be brimming with high-end, brand name beauty, lifestyle, and home products to treat yourself to and dazzle your friends during your next night out.
The Price: $59.99 for a single box, $149.97 for 3 boxes, $269.95 for 6 boxes