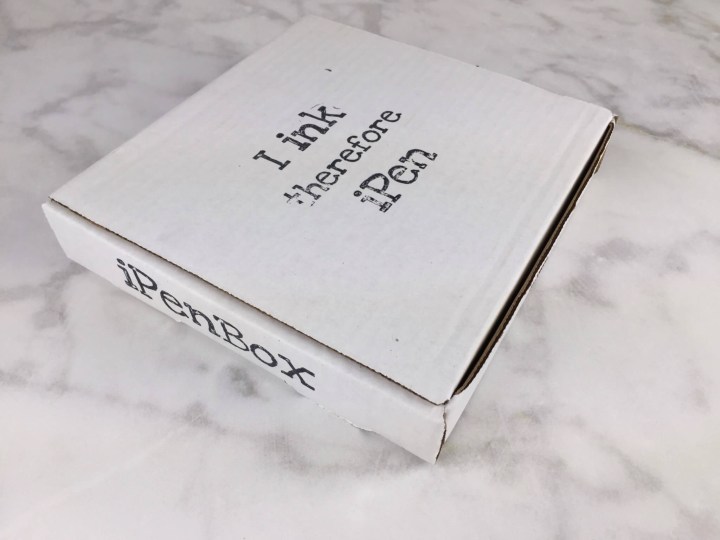 The iPen Box is a monthly subscription box that offers varieties of pens, paper, and inks every month, delivered straight to your door. For only $30.00 per month, you'll get 6-9 new, unusual, cool, and innovative pens and paper products based on a monthly theme in every box.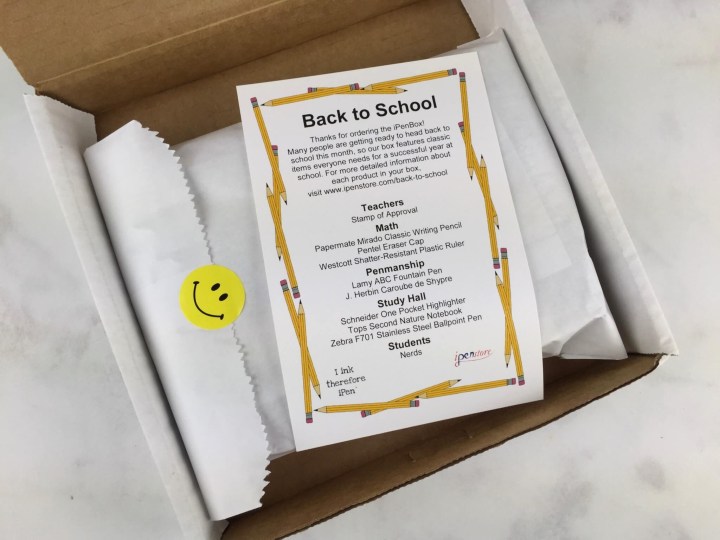 It's the most wonderful time of the year! Wait, what? Ok, so maybe going back to school is only wonderful for us pen and office supply nerds (who doesn't like strolling down the supply isle and buying new things? 'Dat Post-it section….) but regardless of your feelings about it, it's happening and you might as well make the best of it! That's where this month's iPen box comes in: their theme of Back of School has something for everyone!
The information card gives you a list of all the items inside the box.
Everything in my iPen Box!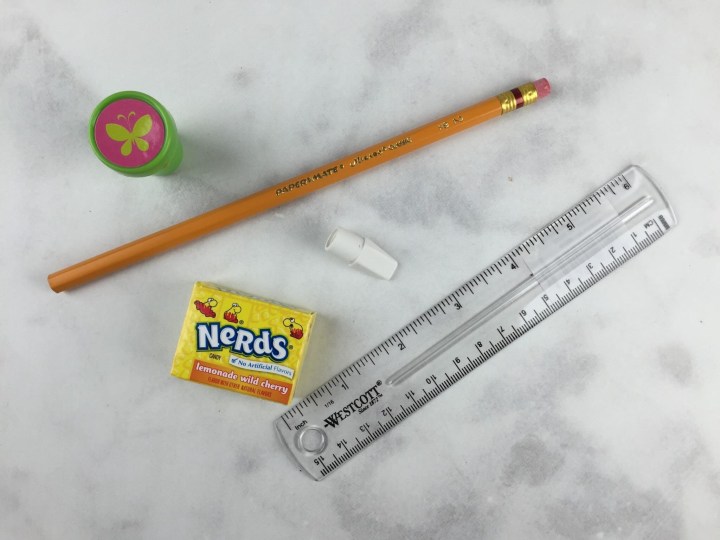 Stamp of Approval
As kids, we yearned to see that coveted stamp or sticker on our homework sheet- a good mark was wonderful- but to see special approval from our teacher in the form of a colorful sticker or stamp? Oh, one could dream! Whether you were a regular sticker collector or someone who nurses childhood trauma from not getting enough of them, thanks to iPen, you know have a stamp of your own! Our stamp is in the shape of a butterfly and uses bright red ink to ensure that your mark is noticeable. Use it in your planner, mark your student's papers, or use it to encourage your own children- this adorable thing will get its point across. My sample was done in my Hobonichi Techo planner which contains Tomoe River paper. I found that some extra pressure was required to ensure a proper print and that it required a little bit of time to dry. It bled pretty well through the Tomoe paper as well as the note pad that came in the box, so be aware of that tendency when deciding on how you're going to use it.
Papermate Mirado Classic Writing Pencil
What is school without the token #2, HB pencil? We all have memories of making sure that we had at least one 2B with us, because nothing else would do when filling in those little dots (shudder). Founded initially in 1940, the Frawley Pen Company (later becoming Paper Mate) has been in the business of supplying students of all ages with quality writing utensils for a long time. The basic and iconic pencil in our box would be welcome at any SAT sitting and performed just as expected. And I'm not even going to lie- sharpening this bad boy up with a vintage, hand crank, wall-mounted sharpener totally made my day!
Pentel Eraser Cap
There were students who ran out of pencil quickly, and then there were ones like me who always used up the eraser first! In sympathy to the accident prone, Pentel has us covered with an extra eraser to fit over the back of your pencil. When I was in school, these things took on all shapes and colors, but ours is a demure white and takes on the classic, 'your pencil won't even roll during an earthquake' shape. It did well in erasing print, however I think that the actual pencil eraser did a little bit of a cleaner job.
Nerds
I love these things and won't even tell you how long they lasted after I first laid eyes on them. Our box contained Lemonade Wild Cherry.
Wescott Shatter-Resistant Plastic Ruler
Rulers are a handy tool for just about anyone and are pretty much typical fare for the average elementary back to school shopping list. This sturdy ruler from Westcott is small, perfect for pencil cases and small hands and is clear, allowing the surface below to be easily seen. It also boasts the perk of being shatter-resistant, a property which I declined to test, but if you are a mom (or a klutz like me), it's a feature that you'll be thankful for. The ruler measures (see what I did there?) 6 inches (15 cm) long.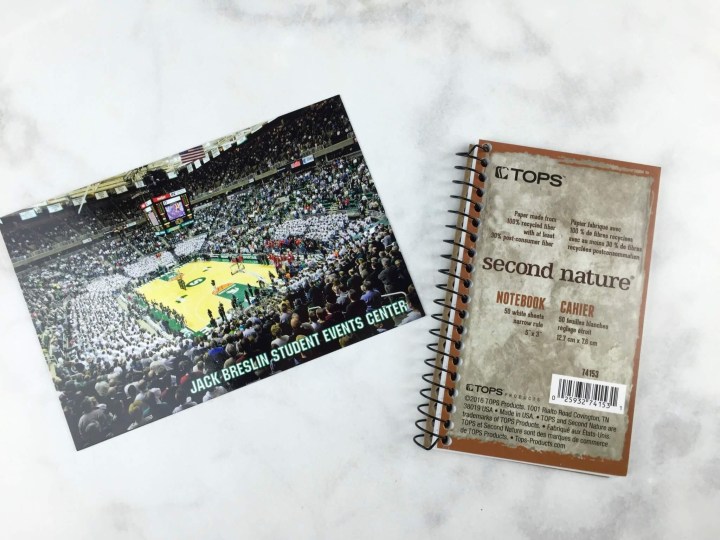 Jack Breslin Student Events Center Postcard
In our box was also a post card featuring the Jack Breslin student events center at Michigan State University. This card clearly leaves you with no excuse NOT to write home while at school.
Tops Second Nature Notebook
This little notebook is a handy size to keep on your person, or stashed away in a pencil case. It's made from 100% recycled fiber, which is probably where the name comes from. It took fountain pen ink fairly well- there was some strong ghosting and even some bleed through, but I've seen other notebooks do much worse.
All-in-all, the notebook seems to be a pretty run of the mill .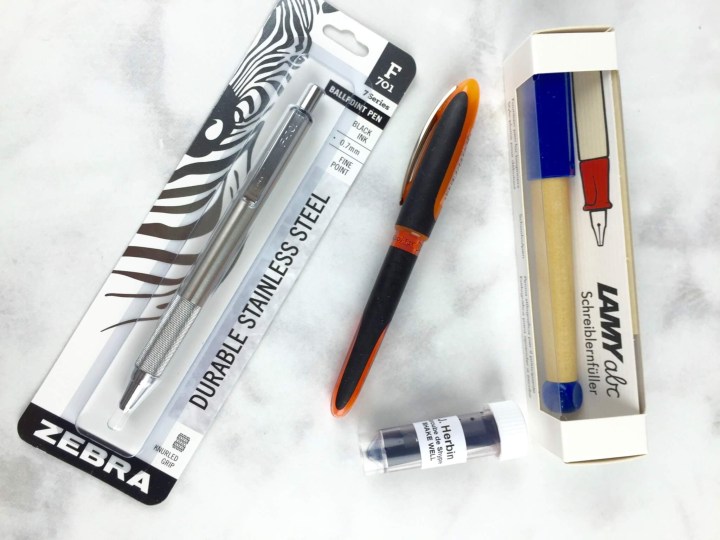 Zebra F701 Stainless Steel Ballpoint Pen
The Zebra pen is a basic ball point, but with some pretty cool features. Its body is made of durable stainless steel and the knurled grip section gives you a solid hold. Besides looking pretty nice, you'll likely still have this pen when you graduate high school or college.
Schneider One Pocket Highlighter
Many notes will be taken, but some are more important than the others- this is where a good highlighter comes in. Perhaps not the companion of too many elementary students, an older scholar or teacher will appreciate this visually appealing highlighter. The first thing you notice is that the fluorescent liquid is visible. The second thing you do is to waste half an hour upending the pen back and forth. Ahem. Our pen was a brilliant orange and had a nice rubber grip that ensured that your perfect line wouldn't be marred by a slip of the hand.
J. Herbin Caroube de Shyre
If a neat fountain pen isn't enough to convince your minions that handwriting is fun (and totally still relevant), then shaking the glittery ink sample included in our box just might do the trick. Caroube de Shypre (translated as Cyprus Carob) joins the heralded 1670 line of inks produced by French ink masters, J. Herbin. Established in 1670 (you read that right), J. Herbin is the oldest name in ink production in the world. Some of their original formulas used to produce ink for famous names like Louis XIV and Victor Hugo still reside in their Paris headquarters. The 1670 line of inks were birthed to celebrate the travels of the company's founder, J. Herbin; Caroube de Shypre is the fifth in this line, following after J. Herbin's popular Stormy Grey, Rouge Hematite, Bleu Ocean, and Emeraude de Chivor. What makes these inks special are the gold/silver particles suspended in the ink. Give the bottle a gentle shaking before filling up a pen or dipping a nib and you've got an ink that absolutely dazzles! With the right handling and optimal paper, the shading and shimmer of these inks is unparalleled.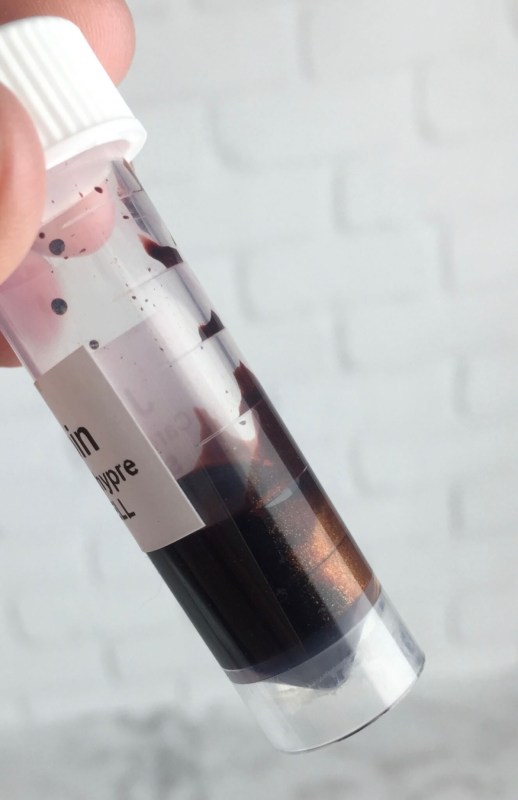 Caroube de Shypre is a gorgeous brown that boasts red highlights and green/gold sparkle. These inks are a treat to see, but to get the best of them, some cautions are suggested: 1. Shake that bottle! The gold/silver pretties tend to settle on the bottom. 2. Not all paper is created equal! Different paper will bring out different properties of ink. Tomoe River paper is by far, the best paper that I have found for the 1670 line. 3. Be careful of what pen you use with inks that have suspended particles. Nibs and feeds can become clogged when there's more than just ink involved so consider using a dip nib, or try out a pen that isn't worth a lot of money (don't forget to agitate the pen a little if it's been sitting- the particles will settle there too.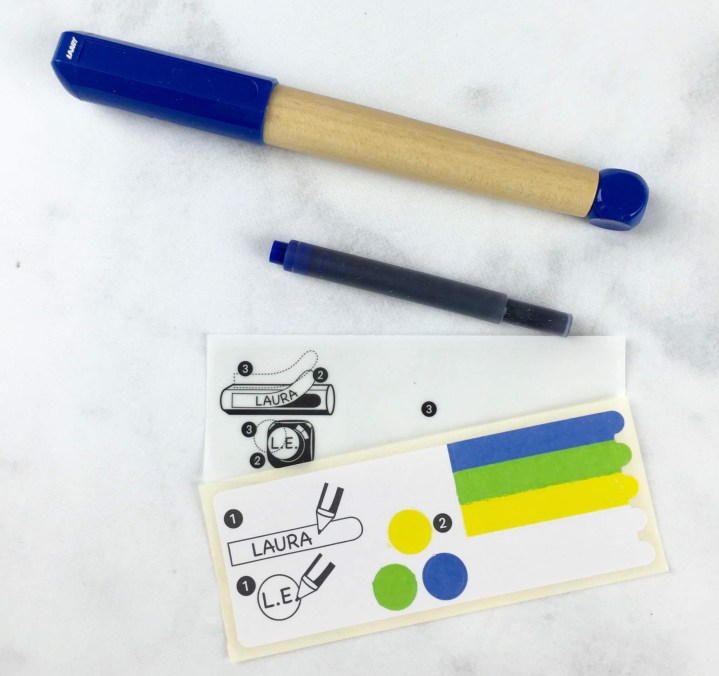 Lamy Abc Fountain Pen
Huzzuh for fountain pens!! – especially those which cater to the next generation of scribes. Encourage a child in the discipline of penmanship with this beginner-friendly pen from well-known German pen company, Lamy (pronounced Lah-mee). The ABC was developed in collaboration with educational experts to be most useful to young beginning writers. The body is sized for the hands of children and the non-slip grip encourages their fingers into a relaxed and natural position. The body is made of maple wood and the plastic cap and end are shaped so that the pen will not roll easily. Stickers are included in the box so that a name can be prominently displayed on the specially formed depression on the cap (great feature for a class setting!). The nib is very forgiving for beginning writers; unlike regular fountain pens, the ABC's has a more ball-like tip which grants leniency to children trying to find the right angle.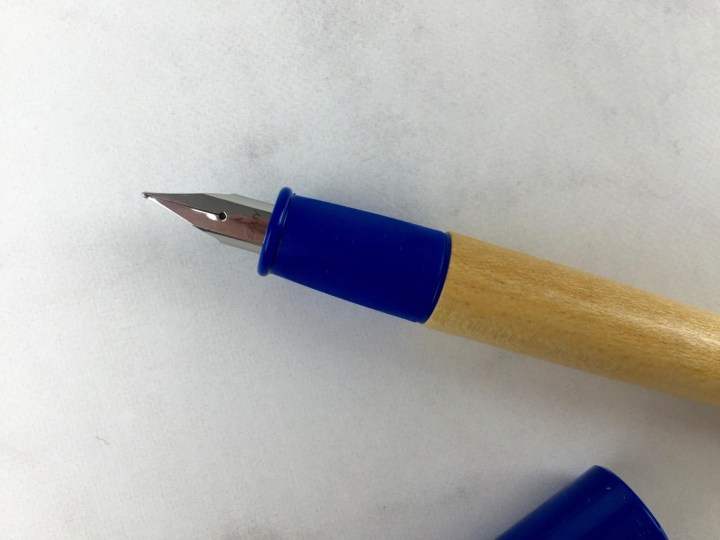 The nib is marked with an 'A' instead of the typical nib size markings and stands for Anfänger, the German word for beginner. It comes with an easy to use cartridge (an adult may be needed to help push it into place) and is compatible with Lamy's Z24 cartridge for when they become solidly addicted and yearn for bottled ink. From personal experience with other Lamy fountain pens, I'd say that this one is very close to their medium nib, though a little thinner, and it is indeed very forgiving when writing. Nice pen and a nice addition to the iPen box!!
The tip is a versatile chisel that allows for both wide and thin lines and it cleanly marked over both lead and ink. I liked this highlighter- it didn't smear what I wrote and was fun to pla….I mean, write with. Schneider, another German company name in the world of quality instruments, has been in business since about 1947.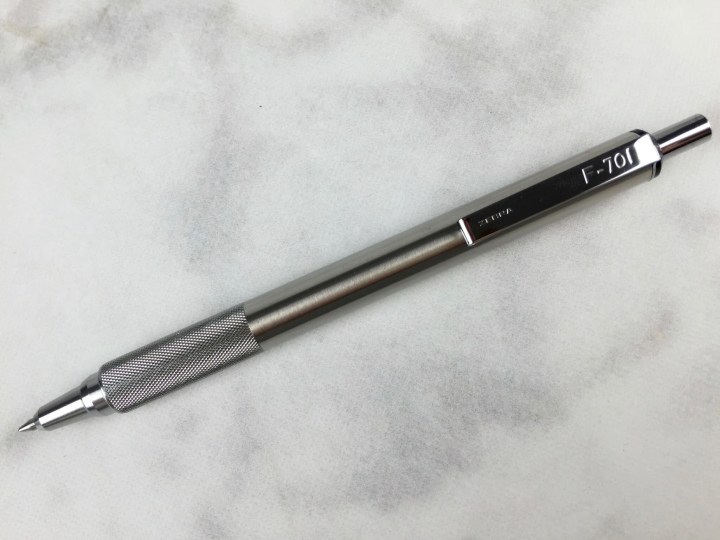 The plunger to advance the pen tip is very smooth and quiet and was designed so that your awesome note taking skills wouldn't disturb anyone else (give this pen to the 'clicker abuser' in your life). It features the company's original easy glide ink and is refillable. Basically, this pen is a ball point on some steroids. It has a great weight in your hand and performs well.
Ink sample 1.
Ink sample 2.
The Zebra Ball Point Pen sample.
Notebook test (front).
Notebook test (back).
Highlighter sample.
What did you think of the The iPen Box?
Visit The iPen Box to subscribe or find out more!
The Subscription
:
The iPen Box
The Description
: This is for anyone who loves pens, paper and inks. iPenBox is a subscription box for the pen, paper and ink enthusiast, delivering a monthly box of products to your door. Each month this mystery box will be filled with new, unusual, cool and innovative items from the pen, paper and ink world. We travel the world to find the best products and hand pick 6-9 items around a fun monthly theme!
The Price
: $30.00 per month