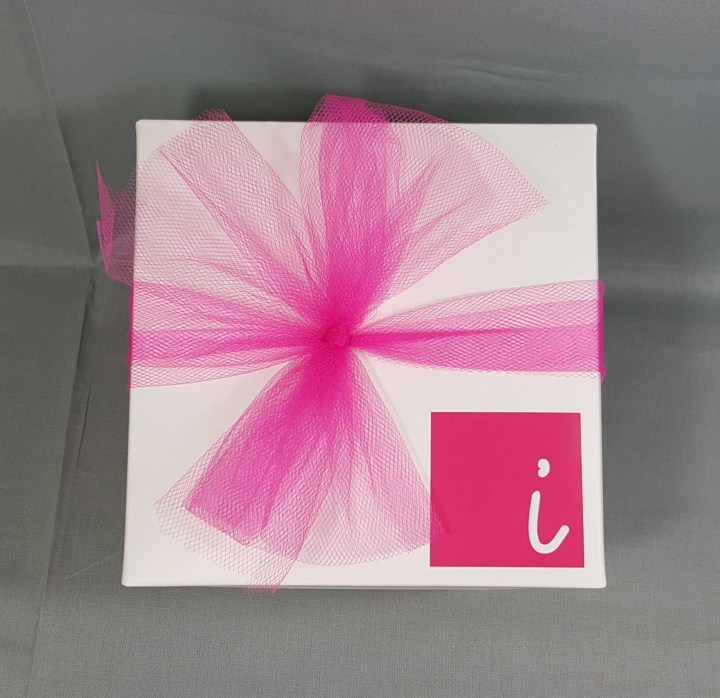 Instaglam is an accessory and clothing subscription box that creates perfectly styled outfits and sends them straight to your door!  Each box includes a top and three accessories such as a scarf, earrings, bracelet, and sunglasses.  Pre-paid subscribers with an extended plan will receive a survey each month to select the top style, unless it was selected at time of purchase.  The 3 accessories will coordinate with the theme.   Subscriptions start at $59, but the price drops significantly for prepaid terms.  Add-ons such as pants, wallets, purses, shoes, etc. are available at an additional cost.  Sizes XS-3X are available.  The theme for June was A Pop of Pink.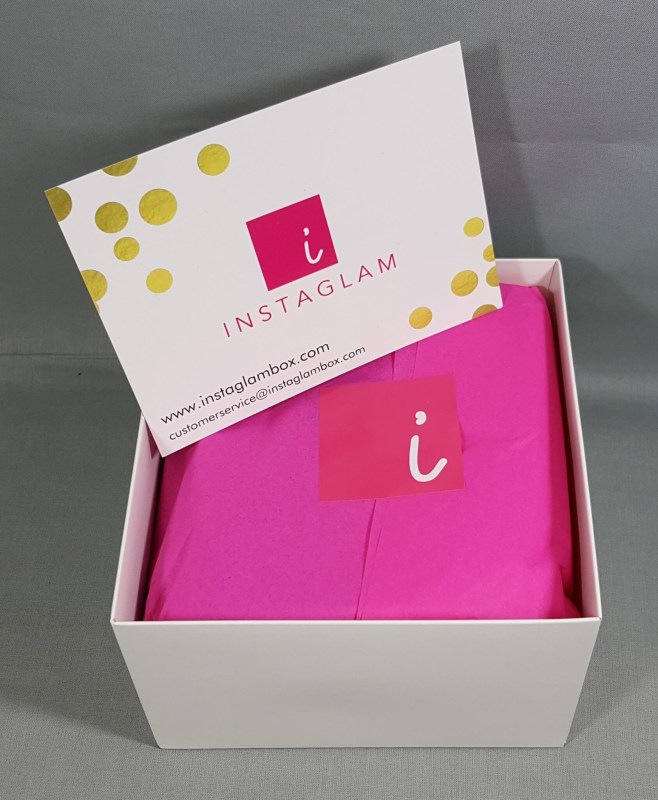 ICYMI, Instaglam has updated its packaging!  Items now arrive in a gift box, complete with a tulle bow.   So cute!
The box does not come with an information sheet.  Instead, there is a card that provides details for completing a return.
Everything is always packed so neatly.  This month, I did not make any substitutions and took the Instaglam box as prepared.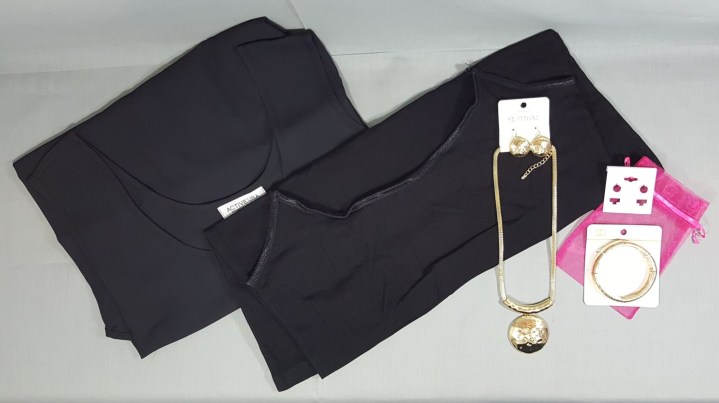 Here's the June Pop of Pink box.  Yes, it's mostly black.  One of the add-ons for the month was a pair of pink lace shorts.  Click here to see the full box.
Oori Goldtone Stretch Bangle ($?):  This is a modern style stretch bangle featuring a brushed texture surface.  As you can see in the pictures, it catches the light and has a pretty sparkle.

Festival Goldtone Hammered Medallion Necklace & Earring Set ($?):  If you've read some of my other reviews, you know I love statement necklaces.  This one is no exception.  In spite of the heavy look, it is actually very light.  The simple design makes it easy to wear the pieces as a set or mix with other items in your jewelry collection.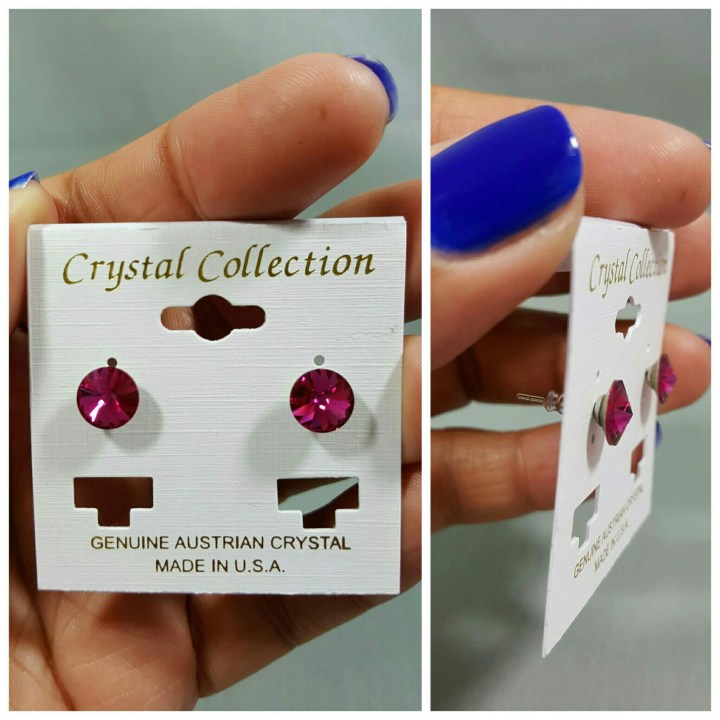 Crystal Collection Pink Austrian Crystal Earrings ($?):  These are simple pink rivoli earrings, approximately 7mm in diameter with a silvertone post.  A simple way to add a pop of pink to your outfit.
Bozzolo Cami in black ($6.50-$8.45):  This is the 3rd version of this cami that I have received from Instaglam, each in a different color.  Good thing that I like it, right?  The longer length is my favorite feature because it brings the hem down to my hips.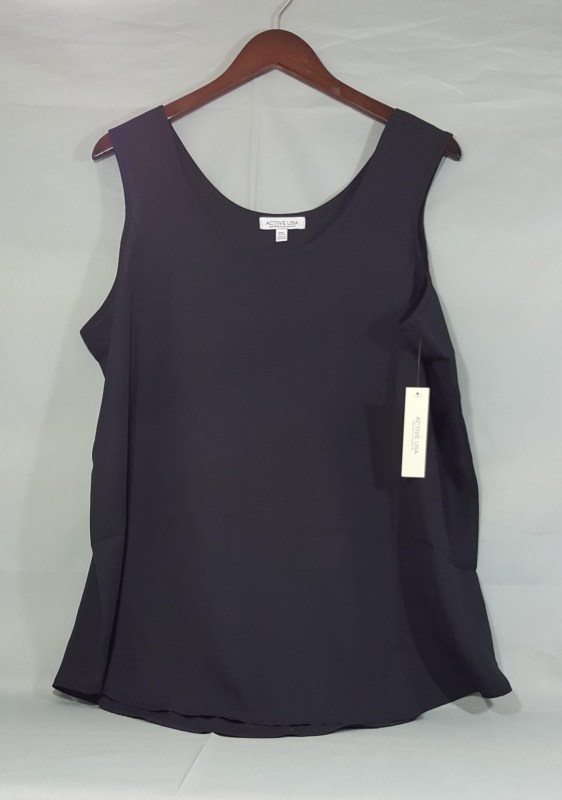 Active Basic USA Sleeveless Top ($9.99-$15.99):  This is a basic polyester sleeveless top/tank.  I wasn't able to link to this exact top because I'm not a wholesaler.  However, the pricing is for a similar style on Amazon.com.  This was the reason I didn't alter my assortment – this top is perfect for Florida's hot summer weather.   As you'll see in the picture below, this is somewhat sheer.  Depending on your comfort level, you may or may not want to wear the cami underneath.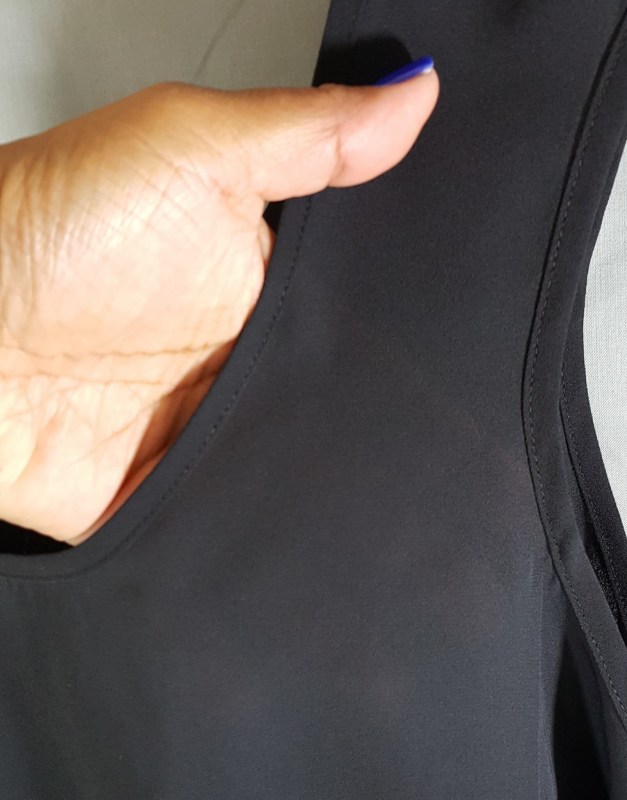 This isn't super sheer, but you can see my hand though the fabric.
I gave up on trying to calculate a value for the items in this box.  Since most pieces were purchased from wholesale dealers, I couldn't access the sites.  However, if I had to make a guess, I'd say that the items totaled between $50-$60 (using the higher end of the apparel prices).  This falls in line with the cost of a single box.  I like Instaglam because each month I get basic pieces added into my wardrobe, and they can be styled together for a very trendy look.  The themes are cute and items are seasonally appropriate.  Here's a look at the current collection, Mint to Be
Visit Instaglam to subscribe or find out more!
The Subscription
:
Instaglam
The Description
: Instaglam is a new accessory and clothing subscription box. Each box includes a Top & 5 Accessories such as Scarf, Earrings x 2, Bracelet, and Sunglasses. Sizes XS-3X.
The Price
: $59.00 per month