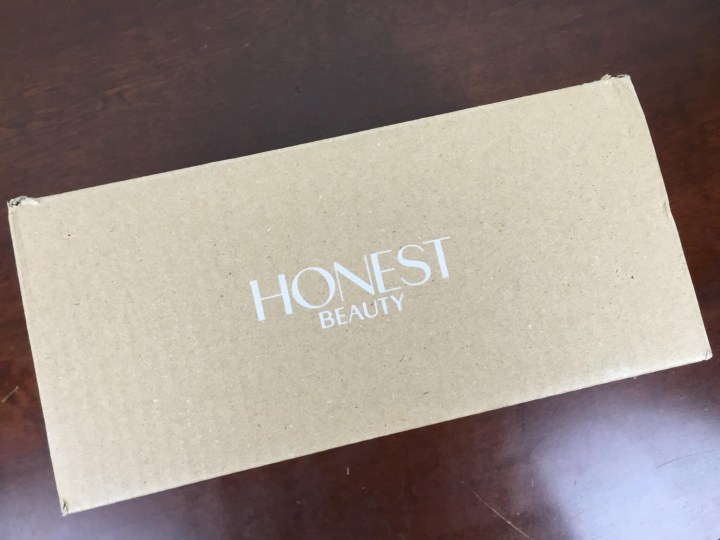 Honest Beauty is a monthly subscription service that sends skin care products and cosmetics to your home. Honest Beauty utilizes the same standards of its sister company, The Honest Company. Safety and effectiveness are of utmost importance. Honest Beauty's monthly subscription is a 3-item bundle. Each month that you receive your bundle, you can then select up to 5 additional items to include with a 25% discount off MSRP. The monthly Honest Beauty 3-item bundle costs $50. As a shorthand, put your 3 most expensive products in your bundle. The items in the bundle average out to $16.67 each. Add-on items at a 25% discount that exceed an original cost of $22 will cost more as add-ons than they would in the bundle.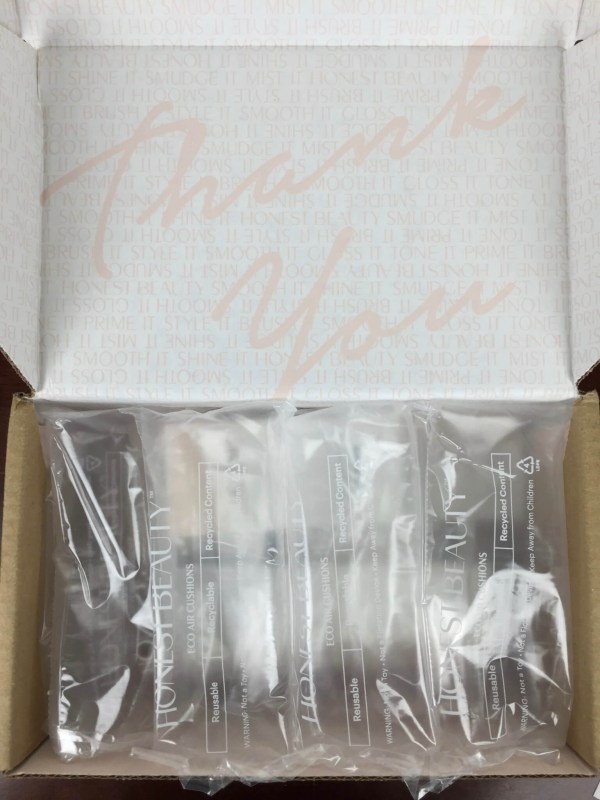 Everything arrives safely packed with air bladders to keep products from shifting.
This month, I placed the following 3 items in my bundle: Everything Cream Foundation, Beyond Protected Daily Beauty Fluid, and the Everything Tinted Moisturiser (Oil Free). I also chose 5 add-ons to max out the value of the bundle, including some of the makeup items as well as the hydration mist which has become a staple for me after trying a sample! At the time of purchase Honest had a promotion on for a free eyeliner, so I grabbed that too!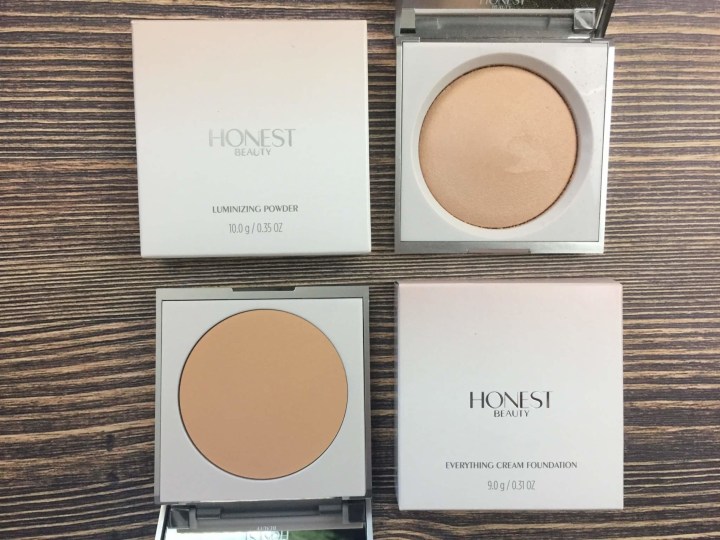 The Luminising Powder ($25) in Midnight Reflection is a a baked illuminating powder similar to MAC mineralised skinfinishes. I chose the lightest shade for my fair skin. It doesn't contain any talc, which is great. I also chose the Everything Cream Foundation ($30) in the lightest shade as well, Snow, to go with the powder. There is a bottom compartment containing the makeup sponge. I found the foundation was just a hair too dark for me (I'm so pale!) but for the summer months when I have a bit of colour, it's perfect.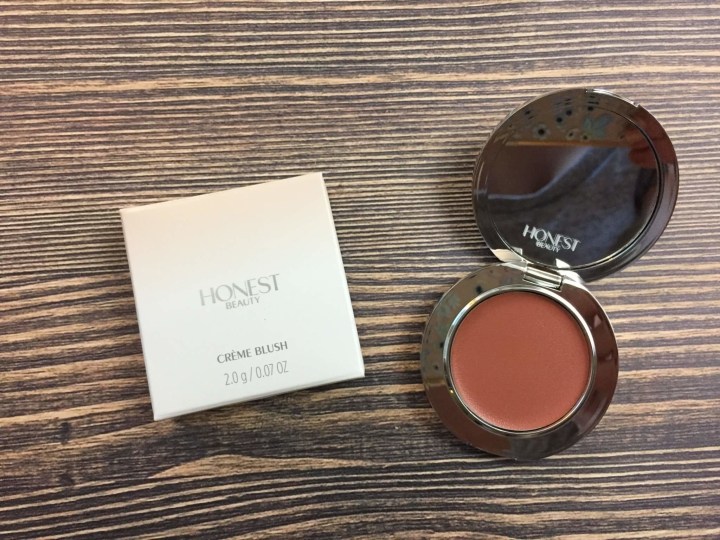 The Cream Blush ($22) is available in six shades — I chose Truly Exciting, a rose pink. It applies well and doesn't dry too quickly so you can blend it easily.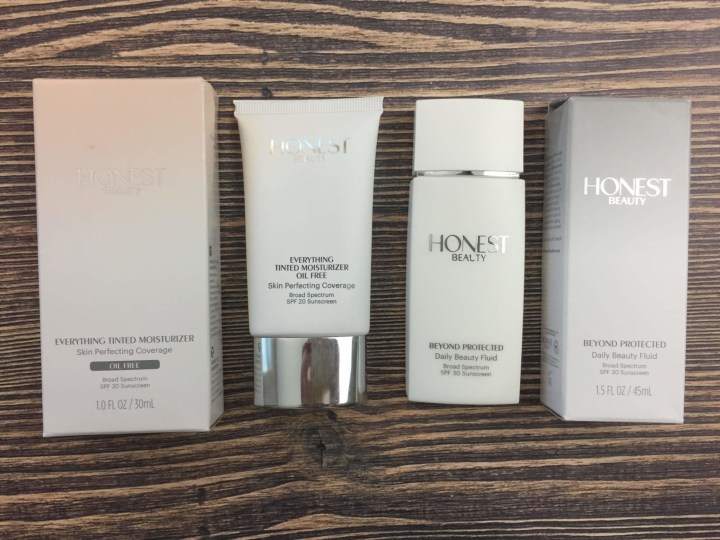 The Oil Free Everything Tinted Moisturiser ($28) ended up being a happy accident — my skin is dry and I should have chosen the regular formulation, but clearly I wasn't paying attention. But I actually really like this formulation, as it applies more like a mattifying sunscreen and doesn't feel too wet. It has SPF 20 and my shade is Simply Alabaster. The Daily Beauty Fluid ($28) is an untinted moisturiser with SPF 30. Both bottles have nice thin nozzles, which allows you to control how much you squeeze out.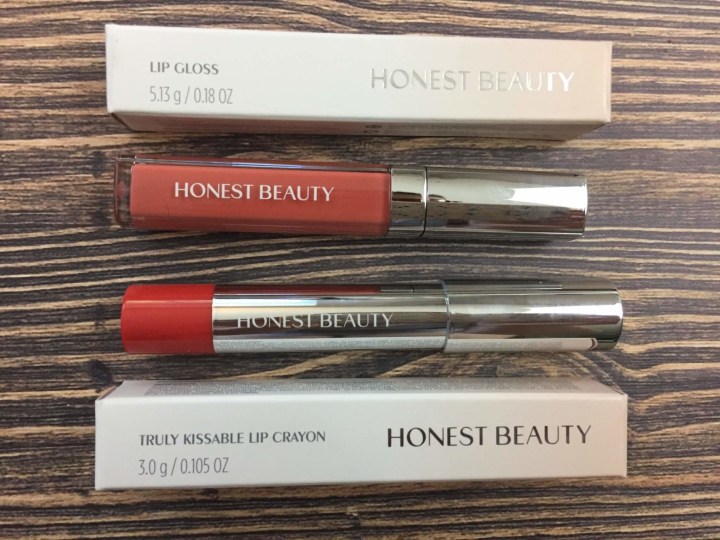 I made a beeline for the lip products for my bundle, too! The Lip Gloss ($18) is in Kind Kiss, and it's a peachy apricot colour for summer. It's a medium-coverage gloss that isn't too sticky. The Demi-matte Lip Pencil ($18) in Strawberry Kiss is pigmented, but doesn't have much lasting power. It bled like crazy and transferred instantly onto my coffee cup. For a demi-matte finish, I was disappointed in it.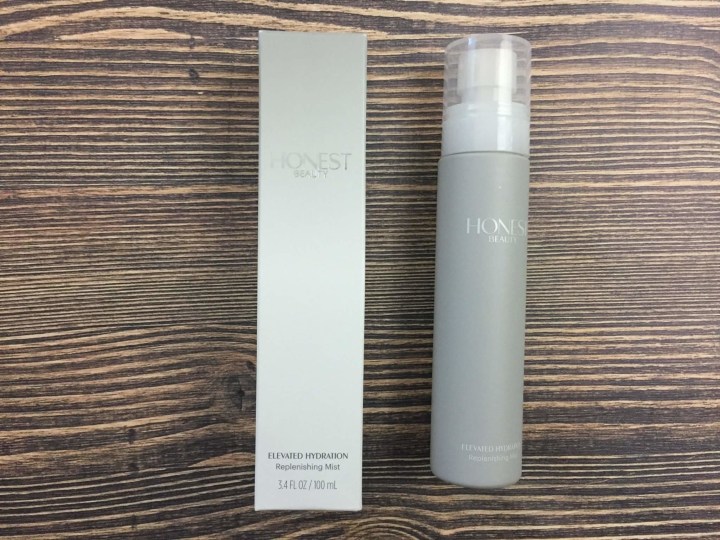 Since it's summer and I don't do well in the heat, I picked up the Elevated Hydration Mist ($16). It's infused with chamomile, calendula, and aloe to hydrate skin. And it just feels nice on a hot day!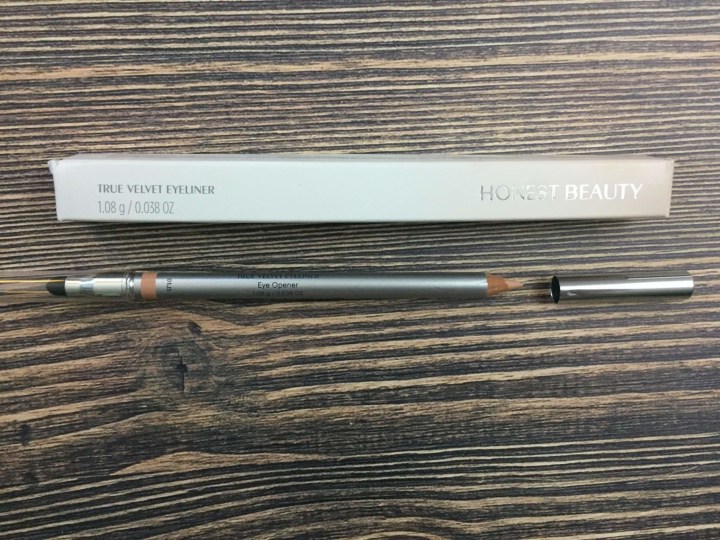 My free bonus was the True Velvet Eyeliner ($16) in Eye Opener. This is a light nude colour you can use to line your lower lash line and inner corners to brighten your eye area. I found it easy to apply and it didn't pull at the sensitive undereye area.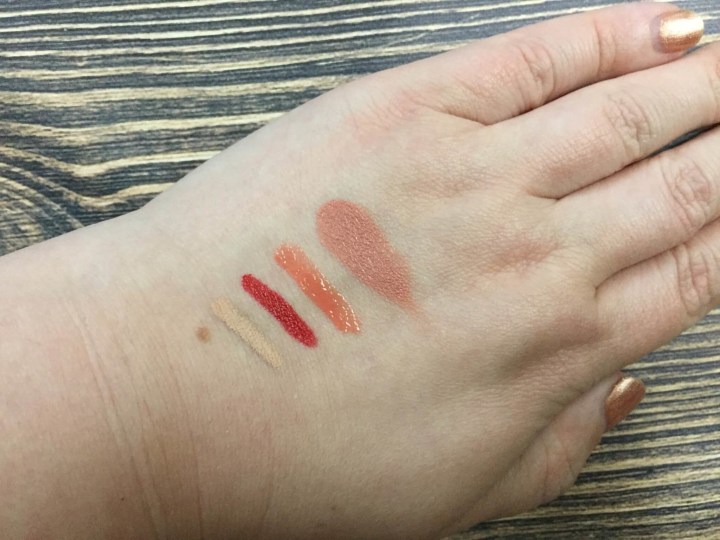 Swatches! Eye Opener, Strawberry Kiss, Kind Kiss, Truly Exciting.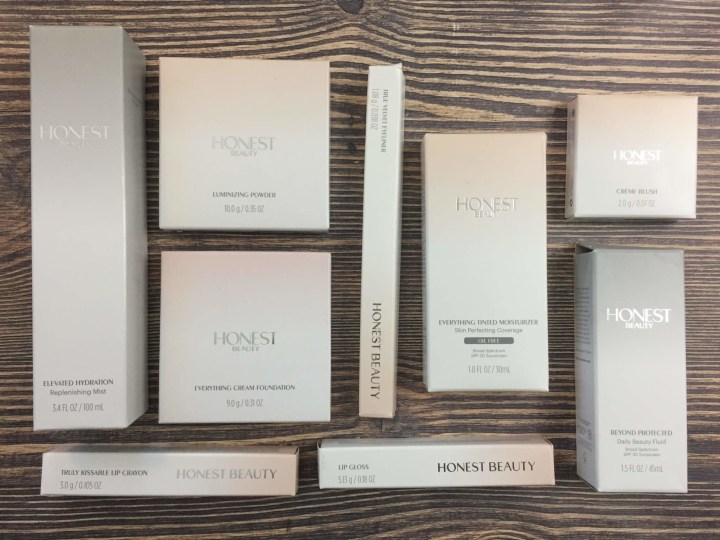 My Honest Beauty bundle (excluding the bonus) has a total value of $124.25 before taxes and shipping. With the eight items included that averages to $15.53 per item which is very reasonable! All the items full price would have cost me $185, so that's a savings of $60 to bundle. I enjoyed my first experience with Honest Beauty — I didn't love everything, but everything is natural and safe and will be used and enjoyed.
Have you tried Honest Beauty? What did you think of the products?
Visit Honest Beauty to subscribe or find out more!
The Subscription
:
Honest Beauty
The Description
: Honest Beauty is a comprehensive line of skincare and makeup that has been formulated to match the standards of The Honest Company. Their Honestly Free Guarantee means the products perform safely and beautifully with no questionable ingredients! Line consists of face, lip, eye, and cheek products for makeup, as well as enhance, protect, cleanse, and hydrate products for skincare!
The Price
: $50.00 per month